Idyllic Scenery and Local Treats! 5 Places to Visit in Misaki, Okayama
Misaki, located an hour by train from Okayama City, is home to the scenic Ohaganishi Rice Terraces, Miyasumi Park, and Honzanji Temple. This article introduces five destinations that shouldn't be missed in Misaki, as well as the region's famous raw egg over rice, cafes, and accommodations.
Misaki: A Scenic Town Just One Hour by Train from Okayama City
Ohaganishi Rice Paddies in autumn. Photo by Pixta
Okayama Prefecture, situated between Hiroshima and Osaka, is a popular sightseeing destination in western Japan. Some of its famous highlights include the Kurashiki Bikan Historical Quarter, Okayama Castle, and Okayama Korakuen Garden.
Misaki is a town located just one hour by train from Okayama City, the prefecture's capital. Misaki boasts idyllic scenery and attractions that ate unique to the tranquil rural areas. These include the Ohaganishi Rice Terraces that offer splendid scenery in all seasons, and a three-storied pagoda nestled in the forest.
The town is also the leading egg producer in Japan. You can enjoy raw egg over rice, a delicious dish that is uniquely Japanese.
This article will introduce five things to see in Misaki, recommended accommodations, cafes, food, and access routes!
5 Destinations with Amazing Views in Misaki
1. Ohaganishi and Koyama: Rice Terraces with Beautiful Seasonal Scenery
Spring scenery. Picture courtesy of Misaki Town
A rice terrace is a water paddy located on a slope. This type of land has been used for centuries to grow what little rice was possible on the predominantly mountainous lands of Japan. This gorgeous scenery, formed by rows of water paddies in various shapes and sizes, is truly the fruit of rural culture.
The Ohaganishi Rice Terraces in Misaki is one of the leading rice terraces in Japan. It is made up of 750 water paddies that cover a mountain sitting at 400 meters in altitude.
Photo by Pixta
The main appeal of the Ohaganishi Rice Terraces is the scenery that can be enjoyed during each season. The water paddies sparkle in the spring, young and green rice plants adorn the terraces in the summer, ears of golden rice begin to droop in the autumn, and blankets of snow cover the fields during the winter. Numerous photographers visit the terraces to snap photos of the gorgeous seasonal landscapes.
The Ohaganishi Rice Terraces also have a tour path. The entire trail can be traveled in ten minutes by car or 90 minutes by foot. Nearby is Ohaga-Nishi Tanada Park, which is equipped with a parking lot and cafes. In other words, you can enjoy the beautiful scenery at your own pace.
Picture courtesy of Misaki Town
Misaki is also home to the Koyama Rice Terraces (Japanese), which cover the mountainous area sitting at 560 meters in altitude.
2. Miyasumi Park: Cherry Blossoms and Azaleas
Picture courtesy of Misaki Town
Miyasumi Park is known as a popular hanami (cherry blossom viewing) spot in Okayama. The entirety of Lake Asahikawa can be seen from an observation point located at 270 meters in elevation.
Come spring, about 5,000 cherry blossom trees are in full bloom and adorned in illuminations during the spring festival. As the cherry blossoms begin to fade, the more than 10,000 azaleas start to bloom. If you're lucky, you might even catch the cherry blossoms and azaleas in bloom at the same time!
In autumn, the area becomes a prime fall foliage viewing spot.
3. Honzanji Temple: A Mystical and Beautiful Three-Storied Pagoda
Picture courtesy of Misaki Town
Honzanji Temple has an ancient history that goes back to 701. For centuries, the temple was revered as sacred ground to Buddhist ascetics training on the mountain.
While Honzanji Temple may be a temple of the Tendai sect (a school of Japanese Buddhism), it is also closely linked to Honen, the founder of the Jodo sect of Buddhism. This comes from an account stating that Honen was born shortly after his parents prayed at the temple in 1132.
Several ancient buildings are found on the temple grounds. The main hall and Hokyoin pagoda (a pagoda used for memorial services) were constructed in the 14th century, while the three-storied pagoda was built in the 17th century. These structures are also registered as nationally designated cultural properties.
4. Yanahara Fureai Kozan Park and Kozan Museum: Train Lovers All Aboard!
Picture courtesy of Misaki Town
Misaki was once home to the Yanahara Pyrite Mine and flourished as the top iron sulfide mine in the East. Before the mine was permanently closed in 1991, trains carrying ores would come and go daily. The surrounding area was also filled with the homes and businesses of miners working there.
Yanahara Fureai Kozan Park is a remnant of that period. Eleven of the railway cars that transported ores are exhibited at the park.
The Yanahara Kozan Museum, which has reconstructed the 1955 mining site and explores the lifestyle of miners, is also located inside the park. This is a great place to experience the retro Showa Period atmosphere.
5. The Clouds of Mt. Futakami: Witness Nature's Mysteries
Picture courtesy of Misaki Town
The 689-meter-tall Mt. Futakami is where you can view a sea of clouds at dawn. This occurs around November, when the temperatures are drastically different between day and night.
Visitors can marvel at the mountain floating above the clouds alongside the glistening morning sun. It's also worth seeing the colors that change with each hour.
Picture courtesy of Misaki Town
Located on Mt. Futakami is a temple called Ryosanji Temple. It has a long history beginning in 714 with many highlights, including a statue of Avalokiteshvara, the temple's main object of worship.
The Goho Festival—held from midnight on August 14 until early dawn on the 15th—is an unusual festival that is rare to encounter in Japan. During the festivities, the gohozane, or those divinely possessed by the guardian deities protecting Buddhism, will emerge from the darkness while spectators run to avoid being captured by them.
Accommodations to Fully Enjoy Nature's Charms
Picture courtesy of Misaki Town
To enjoy the sea of clouds and other natural landscapes, we recommend staying a night in Misaki.
The Chambre d'hote E is an old Japanese home renovated into a guesthouse. The couple who owns the guesthouse resides there while raising farm animals and plowing the fields themselves.
Please check the official Facebook (simple English support available) for reservations.
Picture courtesy of Sanso Yanahara
Want to greet the morning while surrounded by fresh mountain air? Then we recommend Sanso Yanahara. The lodging has Japanese and Western-style rooms. There are even log cabins exclusive to a single group for the day. You shouldn't miss out on soaking in the goemonburo (*), a traditional Japanese bathtub.
Meals are entirely homemade using ingredients produced in Misaki. You can also order a barbeque meal.
Check out the official website (Japanese) for reservations.
*Traditionally, a goemonburo is prepared with water boiled over an open fire. At Sanso Yanahara, a water heater is used instead for safety purposes.
Popular Food and Cafes! Try Raw Egg Over Rice
Shokudo Kamecchi. Picture courtesy of Misaki Town
When visiting Misaki, you'll want to try the regional cuisine. Misaki is widely known across Japan as an iconic place for raw egg over rice, or "tamago kake gohan."
This dish consists of raw eggs eaten over piping-hot rice. Japan has a custom of consuming raw eggs due to the amazing quality control and rare occurrences of food poisoning. Eggs from Misaki are particularly celebrated for having no odor, high nutritional value, and being delicious.
The most famous restaurant in Misaki is Shokudo Kamecchi (Japanese), accessible five minutes on foot from JR Kamenoko Station. Hitoyasumi, located about a 15-minute drive from Yanahara Fureai Kozan Park, is another popular location for this dish.
Picture courtesy of CHEZ NOUS
Some people may still be apprehensive about eating raw eggs. That's okay! There are other cafes in Misaki that serve tasty desserts and lunch menus.
CHEZ NOUS is a restaurant you should stop by when visiting the Ohaganishi Rice Terraces. They serve daily lunch specials during the weekdays. On weekends (except in the winter), they serve falafel sandwiches—a take on Israelian food in sandwich form—made with homemade okara (soy pulp).
How to Get to Misaki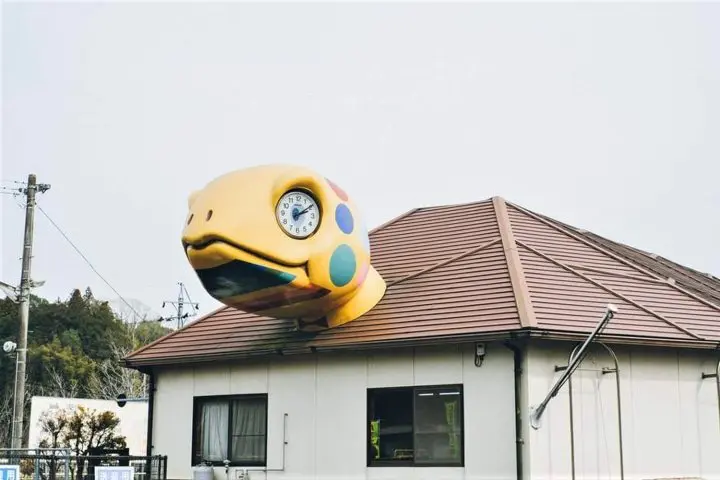 Kamenoko Station. Unique art is found all around the town. Picture courtesy of Misaki Town

Driving is the main method of transportation in Misaki. If you'll be booking a car rental, we recommend renting a car from JR Okayama Station or Tsuyama Station. Feel free to refer to this MATCHA article that introduces how to rent a car in Japan and what reservation websites are available.

In fact, you don't necessarily need a car to enjoy Misaki. For instance, Shokudo Kamecchi is within walking distance from JR Kamenoko Station. Yanahara Fureai Kozan Park is also easily accessible by bus.

Moreover, Misaki is perfect for traveling around by bicycle (Japanese). However, the rental shops around JR Kamenoko Station only offer drop-bar city bicycles (mamachari). If you have your own bike, you have the option of bringing it with you on the train in compliance with JR West's rules (Japanese).

Have fun on your next trip to Misaki, a hidden gem in western Japan!

Main image courtesy of Misaki Town
Sponsored by Misaki Town

The information presented in this article is based on the time it was written. Note that there may be changes in the merchandise, services, and prices that have occurred after this article was published. Please contact the facility or facilities in this article directly before visiting.