AEON MALL Shinkomatsu: An Excellent Shopping Spot near Kanazawa
Komatsu Airport offers easy accessibility when traveling to Kanazawa, Kaga Onsen, and other destinations in the Hokuriku region. AEON MALL Shinkomatsu is located just 20 minutes away! You'll find here many popular shops and local charms, such as Kutani ware pottery.
AEON MALL Shinkomatsu: A Great Shopping Spot in the Hokuriku Region
AEON MALL Shinkomatsu is the first large-scale shopping mall in the Hokuriku region. In addition to famous Japanese and Western brand-name shops, this mall offers the latest products from Komatsu City and local specialties from Ishikawa Prefecture, a region that is best known for Kanazawa, a historical city.
The building's exterior and interior feature Kutani ware pottery ("Kutani-yaki"), a traditional craft from Ishikawa. This is an enjoyable spot not solely for shopping but also for sightseeing!
About Komatsu Airport and Komatsu City
Komatsu Airport in Ishikawa is known as the gateway to the Hokuriku region. It offers direct flights connecting to Taiwan, China, and Korea.
It is also convenient to access Hokuriku's main sightseeing spots, including Kanazawa and Kaga Onsen, Fukui Prefecture, and Toyama Prefecture, as well as the Kansai region starting with Osaka.
It's only 24 minutes from Komatsu Airport to Komatsu Station, the nearest JR station.
Holders of the Takayama-Hokuriku Area Pass can also purchase a shinkansen ticket and limited express train ticket at Komatsu Station. Plus, you'll be able to board a train smoothly because the station is less crowded than Kanazawa Station.
From Komatsu Station, a complimentary shuttle bus will take you to the front entrance of AEON MALL Shinkomatsu in just eight minutes. You won't need to worry about bad weather because most walking areas are covered.
You can also reach AEON MALL Shinkomatsu by taking a Hokutetsu-Kaga Bus, getting off at Oki Bus Stop, then walking for a few minutes.
Komatsu is also home to the original Komatsu factory, a global manufacturer of construction machinery. Visitors can try operating the world's largest dump truck in front of Komatsu Station at Komatsu-no-Mori (Komatsu Green Park).
Additionally, plans to extend the Hokuriku Shinkansen to Komatsu Station by 2024 will result in convenient access to all parts of Japan.
Komatsu is increasingly becoming an attractive destination for visitors interested in various sightseeing spots.
Many Famous Japanese and International Brand Names
As the first large-scale shopping mall in the Hokuriku region, AEON MALL Shinkomatsu proudly houses the only ZARA shop in the area alongside duty-free services.
axes femme is Japan's first exclusive women's brand. The clothing features designs using frills and other attractive elements. The brand's concept is to be loved by worldwide customers by offering various clothes, shoes, and accessories.
Those wanting to enjoy a feminine style will surely find a clothing item that catches their eye.
SAC'S BAR Plus is a select shop focusing on made-in-Japan leather bags and miscellaneous goods.
PORTER has a wide selection of bags popular among domestic and international visitors. The shop also offers duty-free services.
The SAC'S BAR Plus inside AEON MALL Shinkomatsu differs from a typical SAC'S BAR. There's a corner where you'll find products from its original brand kissora.
kissora bags have a warm touch with an attractive leather that improves with age. Many of the items are made by Japanese craftspeople who have collaborated with Italian brands.
Exclsuive Products in the Hokuriku Region
You'll find an AEON Supermarket inside AEON MALL Shinkomatsu. There are local specialties (*), including Kaga pears, horsehair crabs, and sweet shrimp. Of course, the supermarket carries a wide selection of sweets by famous Japanese confectionery makers
There are also products exclusively sold in the Hokuriku Region. While strolling inside, you'll discover regional delicacies popular among locals.
In particular, Kikuhime-brand sake was the first in Japan to use 100% Yamada Nishiki rice, a top-quality sake-brewing rice. This is Ishikawa Prefecture's representative sake beverage.
Complimenting the sharp taste is a delightful, sophisticated fragrance. Many Kikuhime fans don't hesitate to purchase this sake wherever it's sold.
There's also UKEIAN's Gold Leaf Castella Sponge Cake. This dessert uses eggs from a breed of chickens called Ukokkei, which produce rich-flavored yolks. It has a luxurious appearance and is a popular souvenir for friends or oneself!
*The items on sale can sometimes change depending on the season.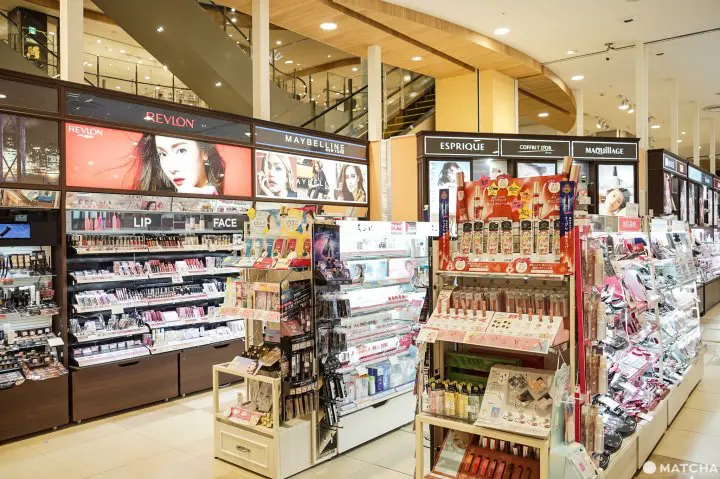 The cosmetics corner is lined with famous brand names and natural make-up companies.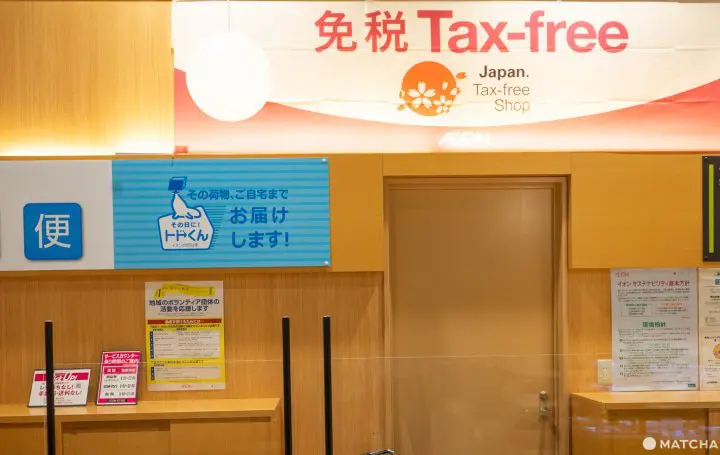 Purchases made at the AEON MALL Supermarket can be processed at their duty-free counter.
When you buy something at another duty-free shop, please follow the necessary steps at that location.
With so many attractive items to purchase, visitors at AEON MALL Shinkomatsu might buy more than originally planned. But no need to worry.
AEON MALL makes shopping more convenient by offering a variety of coin lockers (see photo above).
There are regular-sized lockers and ones where you can push the entire shopping cart into. You'll also find refrigerated locker units. These are complimentary for AEON shoppers.
Just store your goods inside, then return for more enjoyable shopping. You can repeat this cycle as many times as you want.
AEON MALL: An Art Gallery Decorated with Kutani Pottery
Ishikawa Prefecture is famous for its Kutani ware, or Kutani-yaki in Japanese. Craftspeople use clay dug up from the Kutani Mines to create exquisitely colorful traditional works.
Flower Square, in the center of AEON MALL Shinkomatsu, showcases the Kutani-Gosai-Bashira. This pillar features 108 Kutani-ware dishes stretching up to the third floor. This is the ideal spot for taking photos to share on social media (see photo above).
Near the south entrance of Flower Square's elevator area, the back wall has been turned into a relief board featuring Kutani-ware-inspired designs.
Inside the mall are models of dump trucks and heavy construction machinery made by a Kutani-ware artist. As you walk through the mall, it feels like you're inside an art gallery.
Picture courtesy of Starbucks Coffee
In recent years, many Kutani-ware pieces have featured modern designs. Additionally, many famous brands are developing new products incorporating Kutani ware pottery.
In particular, Starbucks Coffee Shops across Ishikawa Prefecture sell Kutani-ware mug cups. This is part of the JIMOTO-made Series, showcasing products that incorporate local culture. Since they're extremely popular, it's also difficult to find them.
The Starbucks inside AEON MALL Shinkomatsu has a wide selection of these mugs, making it easy to buy one.
AEON MALL's Starbucks wall is decorated with Kutani ware, enabling visitors to visualize the local culture.
From Hakusan Terrace on the mall's third floor, visitors get a great view of Mt. Haku: one of Japan's Three Famous Mountains.
Nearby is a children's space where parents and kids can enjoy the beautiful scenery while having a meal.
A Restaurant Zone Featuring Famous Hokuriku Gourmet Food
AEON MALL Shinkomatsu has two food zones: the Komatsu Food Corridor and Food Forest.
Komatsu Food Corridor
The Komatsu Food Corridor is notable for its checkered-patterned ceiling. Guests can enjoy a tasty meal while surrounded by modern Japanese design.
This food zone has famous Japanese shops offering yakiniku (grilled beef), set meals (teishoku), nabe pot entrees, ramen, tonkatsu pork dishes, and other cuisines. Visitors can enjoy a wide range of flavors!
Lovers of fresh seafood won't want to miss out on Mori Mori Sushi, one of Hokuriku's famous conveyor belt sushi chains.
Food Forest
For parents and children, we recommend the food court called Food Forest.
In addition to tatami-mat seating, this food court has the largest LED Wall of any shopping mall in Japan. Children will be glued to this bright, colorful display!
Komatsu Marche's Budo no Mori
AEON MALL is also home to Komatsu Marche, an area lined with sweets shops.
Among them, you'll find Budo no Mori (formerly Budo no Ki), a western-style confectionery that started in Kanazawa but now has locations throughout Japan. They celebrated their 40th anniversary in 2022.
Cake (upper left), Nyanko no Baum (upper right), cream sandwich (lower left), pudding (lower right)
Our recommended item is the cream sandwich. This cookie has a distinct almond fragrance with a cream filling made from Japanese butter and two kinds of raisins. The full-bodied flavor is something you won't grow tired of.
The best-before date for the Kokeko no Pudding is six months away, making it an ideal souvenir upon returning home.
Enjoy Shopping at AEON MALL Shinkomatsu
Many people use Komatsu Airport after visiting Kanazawa, Kaga Onsen, Fukui Prefecture, Toyama Prefecture, or any of Hokuriku's famous sightseeing spots.

Located near the airport, AEON MALL Shinkomatsu allows visitors to enjoy gourmet food and shopping in a gallery-like environment.

Make your Hokuriku excursion more memorable by purchasing an exclusive souvenir from this area!




Sponsored by AEON MALL

Written by

Lin

The information presented in this article is based on the time it was written. Note that there may be changes in the merchandise, services, and prices that have occurred after this article was published. Please contact the facility or facilities in this article directly before visiting.