AEON MALL: Shop for Japanese Fashion, Food, and General Goods
AEON MALL is a popular shopping complex in Japan. Fashion brands, lifestyle goods, souvenirs, Japanese cuisine, and a movie theater can be found in one place. In other words, this mall is perfect for all-day fun of all ages! Read on to learn about the features of the mall and the brands available.
AEON MALL: A Brief Introduction
AEON MALL is a shopping mall chain that is popular across Japan.
The mall houses a variety of specialty shops. These include a supermarket, a small department store (AEON STYLE), clothing stores, general lifestyle stores, bookstores, a movie theater, drugstores, and sports and leisure stores.
Since the space is designed to meet the needs of consumers, it's a place where you won't grow tired no matter how long you stay. You can have the ideal shopping experience when visiting Japan just by visiting the AEON MALL.
A Wide Range of Japanese Fashion and Goods
There are several clothing stores at AEON MALL. Lovers of Japanese fashion will surely get excited when walking around this facility. It may even feel like you've walked straight into a 3D magazine catalog.
Many Japanese fashion brands make simply designed clothing that also incorporates contemporary trends. These clothes can be worn daily in various situations. It's no surprise that these versatile designs have earned Japanese fashion international recognition.
Some younger brands have also captured the interest of international visitors, including "niko and...". Despite being a popular brand, their products are available at reasonable prices.
Picture courtesy of AEON MALL
studio CLIP is a store that sells general merchandise. The brand's adorable, yet natural designs have amassed fans of all ages.
At AEON MALL Makuhari New City, you'll even find a collaboration store opened by WA ORiental TRaffic—a popular shoe brand—and the aptly named socks brand Kutsushitaya (literally "sock shop"). Here, you can try on different socks and shoe pairings and receive styling advice from staff.
*This service is only available at the Makuhari New City location. Please note that each AEON MALL location has its own features and selection of stores.
Looking to add some color to your everyday life? Then these two brands should be the first to check out!
While DAISO is a 100-yen shop that many are familiar with, THREEPY is a 300-yen shop. Many large stores of this kind can be found in AEON MALL. You will be filling your basket to the brim with goodies in no time.
The wide aisles make it easy to browse with a shopping cart. The stores offer a large variety of products, so you'll easily find the specific item you're looking for.
AWESOME STORE is a reasonably priced lifestyle store that was first established in Harajuku, Tokyo.
These practical products at low prices are a treasure trove of content for Instagrammers and YouTubers. This store carries everything from household appliances to party supplies and camping equipment.
Picture courtesy of AEON MALL
3COINS has expanded into providing unique services such as purchasing overseas products on the behalf of customers.
The stores in AEON MALL carry a selection of goods that help to improve your quality of life, all while being available for reasonable prices. Likewise, they sometimes have products made in collaboration with anime characters that are sold in limited quantities!
AEON MALL aims to be a place where people of all ages can enjoy themselves. This is why every mall has a complete selection of store vendors. This not only includes stores intended for a female demographic, but also various stores that specialize in kids' clothing, men's products, sporting goods, and more.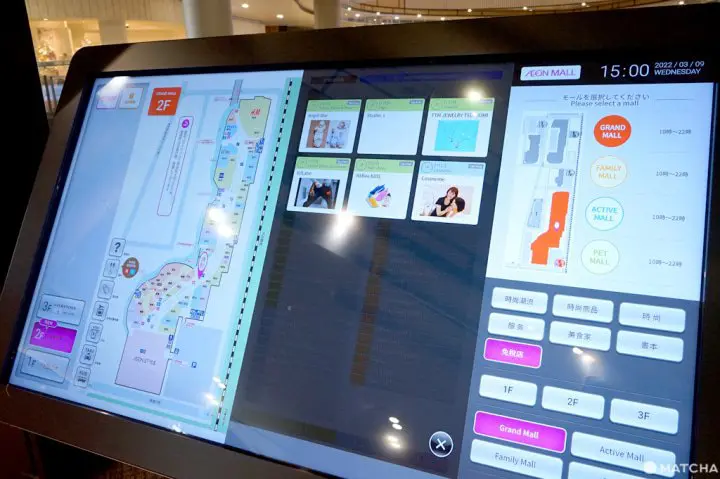 Touch screen directories installed with multiple languages are found on every floor at the AEON MALL. These directories can be used to look up stores or locate duty-free shops.
Diverse Dining Options from Japanese to Exotic Cuisines
AEON MALL offers a treasure trove of gourmet food. You'll find classic Japanese food like yakiniku, tonkatsu (pork cutlet), and sushi as well as a selection of cuisines from other countries.
In Japan, it's not uncommon to wait in line outside when visiting a popular restaurant. At the AEON MALL, however, you'll be able to comfortably wait indoors even if there's a line.
AEON MALL also has an impressive food court. You can easily try various dishes from popular restaurants. You'll not only find fast food chains, but famous restaurants serving exclusive menu items.
A Sliver of Life as a Local! Supermarkets and Bookstores
AEON MALL isn't only a place to buy fashionable and trendy goods. Various products rooted in the Japanese lifestyle are also sold at the mall.
AEON Supermarket
AEON Supermarket is a helpful friend to families. The supermarket has a selection of perishable foods, cup ramen, finger foods, fruit, and more!
AEON MALL also sells products from its own brand called TOPVALU. It is more inexpensive and known for its high quality thanks to their products being made in collaboration with famous brands.
If you plan to visit AEON Supermarket, don't pass up on TOPVALU products!
Many alcoholic beverages are also sold at the AEON Supermarket.
This includes domestic and imported craft beers, prize-winning Japanese sake, and umeshu (plum liquor). These alcoholic beverages are popular with international visitors and can be purchased for reasonable prices! Sake is also available in mini bottles like the one pictured above, making them handy to give as gifts.
If you plan to buy mini sake bottles as souvenirs, be sure to check out these Japanese-styled tote bags and wooden message tags. Use these products to give your recipients a heartful gift.
Neko Neko Shokupan
Picture courtesy of AEON MALL
Neko Neko Shokupan, a buzzed-about bakery, also has a store inside AEON MALL.
Neko Neko Shokupan refers to cute, cat-shaped bread loaves. It is made with 100% domestic wheat flour and baked with milk, heavy cream, and no water. You can enjoy its sweet milky flavor in a single slice of toast.
You might even be able to get your hands on a Neko Neko Shokupan lucky bag at an AEON MALL (*) near you!
*Only applies to some AEON MALL locations
A Bookstore that Enriches Your Daily Life
Tsutaya Books, which has stores in AEON MALL, is known as a revolutionary bookstore in Japan.
Tsutaya Books goes beyond your basic definition of a bookstore. It not only carries books, but also stationery, general and lifestyle goods, local specialty products, and character merchandise. You can catch a glimpse of the Japanese lifestyle while encountering high-quality products.
The comic book section is lined with rows of charming manga series. You'll find it hard to leave empty-handed after checking out the extensive selection available.
Exclusive Japanese Movie Goods
There's also a movie theater inside AEON MALL. Although it may be difficult to understand Japanese movies without subtitles, be sure to check out the goods corner next to the theater! You'll sometimes find anime and actor-related merchandise that aren't sold overseas.
A Pet Food Paradise
There's even a full selection of pet products available at AEON MALL.
It's likely many won't be travelling with their pet dog or cat in Japan. But you should still check out the pet food, clothes, and accessories sold by various brands like Wellness, TOPVALU, and PETEMO.
AEON STYLE
AEON STYLE is a department store within AEON MALL. The store carries apparel, general goods, household appliances, and products for infants and toddlers.
The store carries many products from TOPVALU, AEON's in-house brand. You'll be able to get your hands on high-quality Japanese products and original goods at fair prices.
Pictured above are T-shirts made in collaboration with popular brands. If you stumble upon these products, you might get the urge to collect them all!
AEON MALL: A Top-Notch Shopping Mall in Japan
Want to watch a movie, eat delicious food, and do a bit of shopping? At the same time, what if you don't want to spend too much time on these activities? AEON MALL is a great option because it has everything you can imagine in one place.
AEON MALL is very popular with international visitors and an indispensable spot for Japanese people. This truly is a "shopping paradise" that will enrich your life with color and excite you!
Written by Lin
Sponsored by AEON MALL

The information presented in this article is based on the time it was written. Note that there may be changes in the merchandise, services, and prices that have occurred after this article was published. Please contact the facility or facilities in this article directly before visiting.