Fun for Adults and Kids! AEON MALL: Enjoy Great Shopping in Japan
AEON MALL is an ideal store for buying souvenirs from Japan. Clothing, food, cosmetics, appliances, and other items are on sale at reasonable prices. There are also special services for children and overseas visitors. We introduce AEON MALL and its special features.
AEON MALL, a Popular Shopping Spot in Japan
AEON MALL is a popular shopping center with locations throughout Japan. They carry a wide range of products including daily goods, cosmetics, fashion, and pet-related items. In addition, visitors can also enjoy entertainment such as movie theaters.
AEON's premises are bright and well lit, the hallways are wide and spacious, and they have high ceilings—ideal conditions for shopping.
The convenient store layout makes it hassle-free to get around this large facility, and easy to find the items you're looking for.
AEON MALL can satisfy a variety of shopping needs and is frequented by people of all ages. By going to AEON MALL you can enjoy a fun day of shopping and also get a feel of contemporary Japanese lifestyles.
TOP VALU: A Store Brand Offering Inexpensive High Quality Items
It's probably safe to say that when people go shopping, they're not only curious about the quality of products, but also about the prices.
At AEON MALL you'll find the AEON Supermarket. The store also has their own original brand called TOPVALU. This brand offers a wide selection of items that are high quality yet reasonably priced.
By producing goods in collaboration with major brands, TOPVALU is able to significantly reduce costs while also maintaining the high quality of their items.
For example, TOPVALU premium draft beer is sold at low prices unprecedented in Japan. This fact became a hot topic of discussion on the internet.
At AEON Supermarket they have a full lineup of goods in addition to TOPVALU items. For example they sell Daiginjo—a premium sake made with only the best parts of the rice—at a reasonable price.
Shopping at AEON is so enjoyable that it feel like being on a treasure hunt!
At AEON you'll also discover a large selection of confectionery items. The shelves are jam packed with sweets and snacks that both children and adults will enjoy.
AEON's Convenient Facilities Make Shopping Enjoyable!
If you've been enjoying your shopping, before you know it your shopping cart will be completely full.
AEON MALL provides customers with lockers of various sizes. There's even a special refrigerated locker allowing you to store perishable goods for free!
Also, complimentary lockers let you store your shopping cart and its contents—just as they are. This saves you the time and effort of taking your purchases out of your cart, one by one, and then putting them in the locker.
With this handy option you'll be able to enjoy your shopping even more.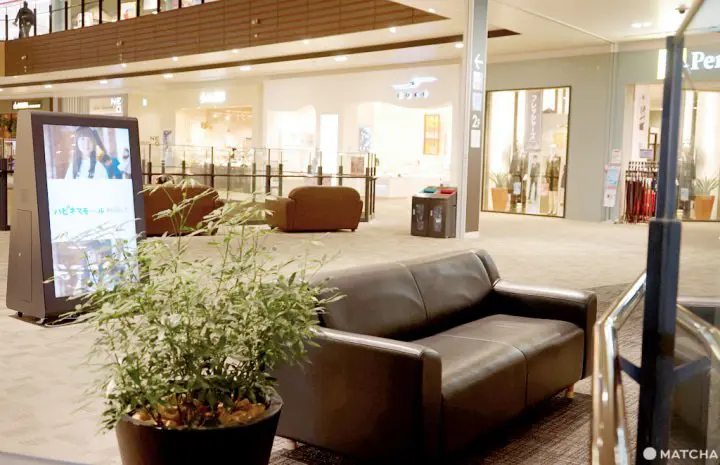 In several places within the mall, there are sofas for taking a rest break. A unique point is that the sofas are located in areas slightly separated from the stores.
In typical shopping centers, sofas or benches are usually located directly in front of stores. Because of this, customers might feel a sense of urgency to hurry back and finish up their shopping. With that in mind, AEON decided to position the sofas where people could actually forget about shopping and relax.
Also, at AEON MALL the parking is usually free. Even if you come by car, you don't have to worry about any additional fees (some exceptions apply). This is just another example of AEON's thoughtful consideration towards customers.
Inside AEON MALL there are also game centers and other facilities where you can have fun with several kinds of gachapon (capsule-toy vending machines), puzzle games, and so on. In other words, during a shopping break, both children and adults can enjoy a wide range of entertainment.
A Fully Equipped Kids' Facility
AEON MALL is also fully equipped to meet the needs of families with young children. Parents have access to microwaves for heating up baby food, hot water to warm up bottled milk, and so on.
In consideration for Moms and Dads, the nursing room has a door for privacy.
There's also a convenient children-sized toilet, something that you don't usually see in other countries.
When you go to a Japanese shopping mall, you often see colorful toddler shopping carts decorated with animation characters. You'll also find them at AEON MALL.
In particular, the AEON MALL baby shopping carts are known for being easy to push, even with just one hand. The halls are wide and spacious, so it's easy and comfortable to move around.
Throughout the mall, there are also small vending machines that are the perfect height for little children.
Airport AEON Stores Are Ideal for International Visitors!
AEON MALL locations can be found throughout Japan. Some store locations are also near airports such as AEON MALL Narita, AEON MALL Tokoname, and AEON MALL Okinawa Rycom.
All can be easily reached from the respective airports. During a free moment, international visitors can do some last minute shopping before heading back to their country.
AEON MALL Narita
Picture courtesy of AEON MALL
You can get to AEON MALL Narita in just 10 minutes by taking a complimentary shuttle bus from Keisei-Narita Station.
One of the highlights of this shopping complex is the collaboration between Unari-kun, Narita City's mascot, and Hello Kitty.
One washroom is colorfully decorated with Hello Kitty and Unari-kun motifs. There's also Sakura Court, where customers can enjoy looking at cherry blossoms throughout the year.
Both places can be enjoyed as sightseeing spots as well.
AEON MALL Tokoname
Picture courtesy of AEON MALL
AEON MALL Tokoname is located near Nagoya's Chubu Centrair International Airport. Inside the mall, a unique spot features the world's largest Maneki Neko (beckoning cat) at over 6.5 meters in height.
To get to AEON from the airport, there's a free shuttle bus. Alternatively, you can hop on a train and arrive in just three minutes.
AEON MALL Tokoname is ideal for international visitors who want to pick up some Japanese food, fashion, or confectionery before heading back home.
AEON MALL Okinawa Rycom
Picture courtesy of AEON MALL
From Naha Airport you can get to AEON MALL Okinawa Rycom by car in 40 minutes, and by highway bus in 50 minutes.
The mall's first floor features a 2.5 meter tall figure of Shisa—Okinawa's guardian deities. The other attractions include a large water tank housing a variety of fish, and a famous Okinawa ice cream shop.
There's a tropical, Okinawa kind of atmosphere throughout the mall.
Coupons and Duty-Free Shops for International Visitors
At some AEON MALL locations, just present your passport at the service counter and you're eligible to receive a 500 yen discount coupon, or a Kumamon (Kumamoto prefecture mascot) reusable eco bag. See photo above.
The mall also has a duty-free shop selling famous western brand products. Shopping here will be especially enjoyable for international visitors.
Multilingual Support
Many AEON MALL locations have floor information counters offering multilingual support. Vending machines also include this multilingual option, so visitors don't need to worry about the language barrier.
Visit AEON MALL for a Memorable Shopping Experience!
AEON MALL is a spacious complex where shopping is easy and fun.
All retail shops have been placed on the mall's lower floors, so elevator and escalator waiting times are minimal.
AEON MALL is the kind of place where customers can savor a smooth and enjoyable shopping experience—in other words, a magical paradise.
Written by Lin
Sponsored by AEON MALL

The information presented in this article is based on the time it was written. Note that there may be changes in the merchandise, services, and prices that have occurred after this article was published. Please contact the facility or facilities in this article directly before visiting.