Exciting Ocean Discoveries in Iwaki: Seafood, an Aquarium, and Great Views
One of the most exciting destinations on Japan's Pacific coast! Iwaki is home to an impressive aquarium and marine life museum. A famous fishing port, the city offers exquisite seafood! We introduce places to visit, dining facilities, and an excellent kamaboko (fish cake) specialty store in Iwaki.
Iwaki: Enjoy the Ocean's Splendor Through All Senses!
Iwaki, a city in Fukushima Prefecture, is especially known for its flourishing fishing industry. This is one of the cities where you can get Jobanmono, the exquisite seafood that is the pride of Fukushima.
The reason why Iwaki is so rich in seafood is that two ocean currents meet right off its shores. The warm Kuroshio Current and the cold Oyashio Current each bring plankton that attracts large numbers of fish and other marine creatures.
A visit to Iwaki should definitely include sampling the excellent local seafood! At Aquamarine Fukushima, one of the largest aquariums in the country, you can learn all about the features of ocean creatures from around the world! We also recommend visiting the Iwaki Marine Tower for splendid views of the surroundings. And why not rest overnight at the hot springs in Yumoto Onsen? At the Spa Resort Hawaiians, you can get in touch with yet another culture that the Pacific nourished.
Read on to learn more about the charms of Iwaki, a city that can be reached by direct train in about two hours from Tokyo!
The First Stop for Delicious Seafood! Iwaki Lalamew
Iwaki Lalamew is a shopping center that includes a fish and seafood market, dining facilities, as well as souvenir and local product shops. It is also the terminal for boat cruises that take passengers along the beautiful shores of Iwaki.
At the fish and seafood market, you'll find anything from freshly caught fish and crustaceans, (many of which are still alive and kicking!) to octopus and squid, as well as processed seafood such as dried, marinated, and canned specialties. Fish paste products in particular are a famous Iwaki delicacy; you'll be amazed at the variety of kamaboko fish cake available.
Inside the building, you'll find various shops selling Iwaki and Fukushima products, from signature confectionery and snacks that are ideal as souvenirs to beautiful local handicrafts!
The best products of Fukushima are gathered here and, believe us, you might have a hard time deciding what to choose. Make sure to ask the friendly staff for advice; they'll be happy to recommend Iwaki or Fukushima items based on your preferences.
If you need an energy boost after looking around, try a shimiten, a donut snack filled with a soft mugwort mochi rice cake. You might have never thought that donuts and mochi cakes could go this well together! The aromatic, refreshing taste of yomogi (mugwort) makes it an incredible flavor combination!
If you're really hungry, stop for lunch at Phoenix, a seafood restaurant located on the second floor of Iwaki Lalamew. This is a great place to enjoy luxurious seafood bowls filled with pieces of fresh seafood. The content of their signature Onahama-don Seafood Bowl (2,000 yen with tax) changes depending on what is in season; on the day of our visit, it contained tuna, salmon, shrimp, sea urchin, octopus, ikura (salmon roe), and other delicious seafood. Every piece tasted heavenly!
Phoenix offers a wide range of dishes for any taste, from spaghetti with seafood to fried fish set meals and crispy, deep-fried oyster dishes. You'll be able to enjoy your meal overlooking the beautiful bay!
Masterfully Made Fish Cake! Taste Kisen's Exquisite Products
The kamaboko fish cake made by Kisen is a brand product of Iwaki that we highly recommend. Kamaboko, just like any nerimono, is made from fish paste. These products have a high nutritional content while being very light (great news for those who want to be careful about the calorie content of their food), and have a distinctive springy texture.
Kisen was established in 1963, by the grandfather of the current owner, Mr. Komatsu. The company has been specializing in kamaboko fish cake right from the start. The fish cake products made in Iwaki had been in high demand at supermarkets in the Tokyo area until March 2011, when the Great East Japan Earthquake struck, bringing with it a series of disasters that devastated the entire area along the Pacific coast of Japan.
Transportation and communication networks were interrupted in Iwaki for several months after the earthquake and tsunami that followed. By the time Kisen's staff re-established contact with their old clients in the capital, the supermarket shelves were already filled with other products.
In order to revive their business, they decided to focus on making products that were irreplaceable. For instance, the kamaboko that tastes like pacific saury hamburger (sanma no po-po-yaki, *1), a local flavor, was developed as a new product after the great earthquake and has been a great hit with customers.
*1 Pacific saury hamburger, or sanma no po-po-yaki, is a type of hamburger made with minced pacific saury mixed with onions, miso paste, ginger, and other ingredients.
Let us introduce to you three products made by Kisen that we highly recommend, along with tips on how to enjoy their refined flavors to the fullest. Since they are processed marine products, they don't require sophisticated preparation and can be enjoyed casually at home.
1. Crab Shell Kamaboko
Picture courtesy of Kisen
A product that stands out through its unique color and shape! Kisen's Crab Shell Kamaboko is made using red snow crab; the paste is placed on a crab shell, covered with crab leg meat, and steamed.
For this item, the crab's shell is used as a platform for the fish cake.
Picture courtesy of Kisen
The Crab Shell Kamaboko can be enjoyed as a snack or side dish, and just like any kamaboko fish cake product, with a dash of wasabi and soy sauce. You'll be amazed at its rich crab flavor! Those who like Japanese sake should definitely try pairing it with a drink, maybe even with some dry sake from Aizu, a Fukushima region famous for its delicious sake.
Kisen's Crab Shell Kamaboko: three-piece set 3,000 yen (after tax)
2. Uosashi - Simple, Pure Kamaboko
Picture courtesy of Kisen
Uosashi is the kamaboko product that Kisen is most proud of. Unlike any other fish cake products on the market, starch is not used in its making. You get to enjoy the pure, rich flavor of fish.
An insider's tip: enjoy the first bite as it is, without any soy sauce or wasabi. The taste of pure fish paste will amaze you! Needless to say, this product also goes great along with sake.
Uosashi: five-piece set 1,800 yen (after tax)
3. Fried Fish Paste Balls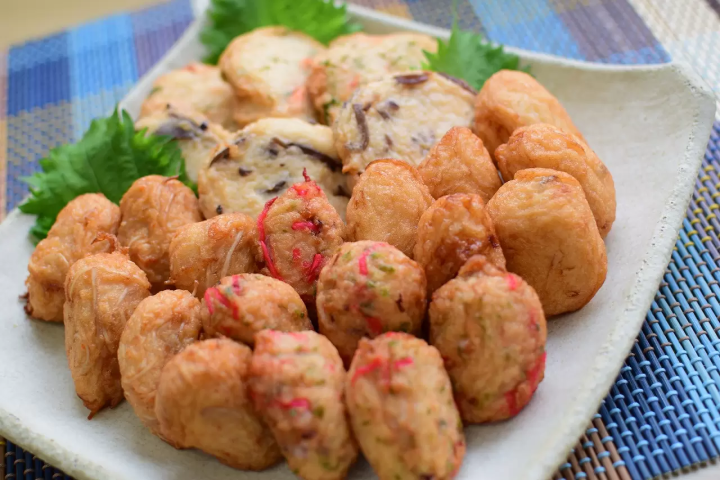 Picture courtesy of Kisen
Those familiar with Japanese cuisine surely know age-kamaboko, a type of fish paste product mixed with vegetables and other ingredients and then fried. These fried fish paste products are enjoyed as side dishes or in hot pot dishes like oden.
Oden dish. Picture courtesy of Kisen
The fried fish paste balls made by Kisen have been highly acclaimed for their excellent texture, flavor, and juiciness at national competitions like the Oden Summit held in Odawara, another city that is famous for its kamaboko products.
The Exquisite Agekamaboko sets are available in three sizes on Kisen's online shop and are made upon order. When boiling these refined fish paste balls into oden, use white dashi broth (*2), which enhances their deep, original flavor.
*2 White dashi broth, or shiro dashi, is dashi soup broth made with kelp and bonito flakes, to which sugar, mirin, and a tiny amount of sake are added as flavor enhancers.
Exquisite Agekamaboko: Ume set 1,880 yen; Take set 3,200 yen; Matsu set 4,730 yen; Special set 6,230 yen (*all prices are after tax)
Kisen handles other attractive products in their online shop. One example is their series of kamaboko fish cake products that pair incredibly well with wine! Do take a look at the entire lineup. If you like kamaboko fish cake and want to use it creatively in a wide range of dishes that look and taste good, take a look at Kisen's recipe page for inspiration.
Aquamarine Fukushima: Learn About Marine Life and Ocean Currents
One of the most exciting places to visit in Iwaki is Aquamarine Fukushima, an educational facility dedicated to marine life and the environment. The glass-covered main building stands out in the bay. Glass was chosen not only for aesthetic reasons but also for the very practical purpose of letting the natural light inside; entire ecosystems are recreated in the exhibition areas.
The variety of the exhibits is stunning! As you enter the main gate, head first to the "Exciting Satoyama/Jomon Village" area, where you'll meet various animals and birds inhabiting the forests of Japan; these include Japanese raccoon dog, Eurasian Otter, owls, and other creatures.
Also near the entrance is the Goldfish Gallery; in addition to tanks with various types of goldfish, including species that were bred anew at this very facility, you can also enjoy displays of art and handicrafts of Japan featuring goldfish. Visiting this gallery, you'll understand the special place that goldfish occupy as a motif in Japanese culture.
Once in the main buildings, you'll first see an exhibition about the evolution of life and prehistoric marine creatures. Many of the fossils on display are authentic!
One of the most fascinating exhibition areas is the re-creation of Fukushima's natural environment, with its mountains and rivers, plains, and the Pacific coast. It's amazing to have all the natural variety of Japan's third largest prefecture re-created in miniature within a few square meters!
As you admire the greenery and clear streams, you'll be caught by surprise by an astonishing view: a giant tank re-creating the meeting point of the warm Kuroshio Current and the cold Oyashio Current! Tens of thousands of sardines can be seen swimming in the crystal blue waters–it's an impressive view that helps you understand right away why Iwaki and Fukushima's Pacific coast are so treasured as fishing grounds.
From the floor below, you can see the lower part of this giant tank. This is where large tuna fish that are at least one meter long lurk. The triangle-shaped tunnel opens up right between the two currents, and you can actually see the differences in water consistency and other features.
The exhibits continue with tanks showing coral reefs and deep sea creatures, rare fish, and other displays that reveal the beauty and richness of ocean life.
Once outside, there are nature-inspired playgrounds, an area where visitors can try their hand at angling (*advance booking is required), and even a beach! We suggest saving at least half a day to enjoy the charm of this facility at leisure.
Picture courtesy of Aquamarine Fukushima
At the restaurant Aqua Cross, you can enjoy a wide variety of seafood dishes. Pictured above is the Hemmingway Swordfish Minced Meat Cutlet (1,000 yen), a set meal inspired by the novel "The Old Man and the Sea." The swordfish cutlet is a crispy, flavorful delight that makes you appreciate the bounty of the ocean even more.
After your visit, stop by the souvenir shop Jomon where you can find charming products themed after the animals that live and grow at Aquamarine Fukushima. Some of the most popular items are the animal print marshmallows or the soft rice cookies filled with sesame cream called Daifuku, after one of the seals at the aquarium.
If you're looking for keepsakes, check out the colorful stationery, the adorable plushies, or the eco bags!
Iwaki Marine Tower: Breathtaking Views of the City and the Ocean!
Another wonderful place to visit in Iwaki is the Marine Tower in Misaki Park.
From the Sky Deck, which is located 106 meters above sea level, you can enjoy a commanding view over Iwaki City and Onahama Port, the bay, and the beach. The majestic beauty of the ocean will remain engraved in your memory, making you want to revisit this charming city again in the future.

Enjoy the Ocean From Various Perspectives in Iwaki
Iwaki is the best destination if you wish to enjoy excellent seafood and learn more about ocean life and Japan's fishing industry. The easiest way to travel there is by taking the limited express Tokiwa or Hitachi on the Joban Line from Tokyo Station or Ueno Station. You'll be getting off at Izumi Station; the trip takes about two hours.

There are excellent accommodation facilities in Iwaki, from hotels to hot spring ryokans. For a leisurely stay, we suggest staying at a ryokan in Yumoto Onsen; the seafood dishes prepared at local ryokans are heavenly!

For souvenirs, don't forget to pick up kamaboko fish cake specialties from Kisen. They have a relatively long shelf life, are easy to preserve and prepare, and taste amazing! If you ever want to recollect your trip to Iwaki through local flavors, remember that you can always order Kisen's kamaboko products online.

Written by Ramona Taranu
Sponsored by Reconstruction Fishery Processing Industry Market Recovery Promotion Center

The information presented in this article is based on the time it was written. Note that there may be changes in the merchandise, services, and prices that have occurred after this article was published. Please contact the facility or facilities in this article directly before visiting.