Amazing Seafood and Historic Shrines! Shiogama, a Fishing Port Near Sendai
The city of Shiogama is close to the scenic Matsushima Bay, less than 30 minutes by train from Sendai. Shiogama boasts a flourishing fishing and seafood processing industry, as well as a rich history. Visit this charming city to enjoy exquisite seafood and marvel at splendid millennium-old shrines!
Shiogama, a City of Seafood Delights and History
Between Sendai and the scenic Matsushima Bay lies Shiogama, a city famous for its fishing industry and history of salt production.
The foundations of this community by the ocean have been laid in times immemorial. By the Heian Period (794 - 1185), the place name "Shiogama" was often mentioned in waka poetry; it was associated with images of lonely boats floating above the waves under the moonlit sky, and with the tears of fisherpeople who made a living by producing salt out of seawater.
Standing witness to the city's rich history is Shiogama Shrine, also mentioned in Heian period chronicles and currently one of the must-visit destinations in the city.
In this article, we introduce amazing places to visit in Shiogama, including the gorgeous Shiogama Shrine, along with local seafood products that should not be missed!
Shiogama Fish Market: Tuna Auctions and Fun Interactive Exhibits
Shiogama Fish Market is where the local catch is unloaded and auctioned to wholesale dealers.
Visit this market in the early hours of the day between May and December and you can witness the impressive tuna auctions. While several tuna varieties are caught offshore of Shiogama, the city ranks first in Japan when it comes to bigeye tuna; this type of fish is in season from around September until December.
Sanriku Shiogama Higashimono is a special local brand of bigeye tuna that the citizens are particularly proud of. Criteria such as freshness, color, the balance of muscle and fat, and flavor are taken into consideration when labeling a tuna fish "Sanriku Shiogama Higashimono".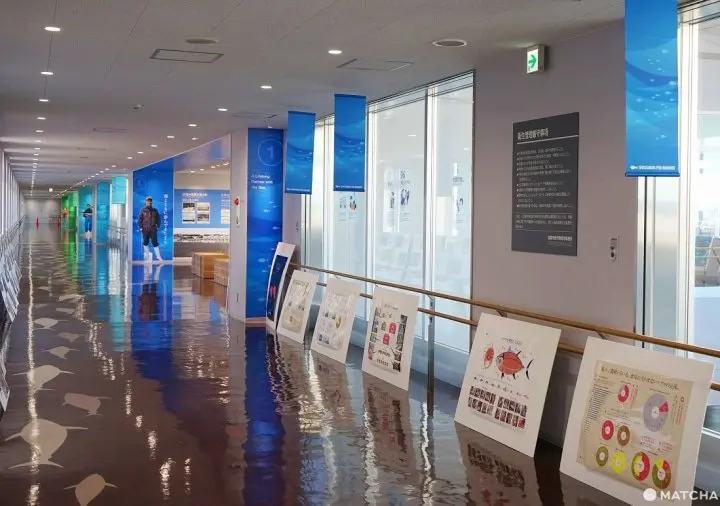 The tuna auctions can be viewed from the Fish Museum, which is located on the second floor of the market. This facility has amazing exhibits that show how important the fishing industry is for the city, and how deeply connected it is to local lifestyles.
Some of the exhibits are interactive, like this tuna 3D puzzle! You get to learn about local fish and seafood varieties by playing. There are many videos and pictures showing the dedication of the locals involved in the fishing and seafood processing industries.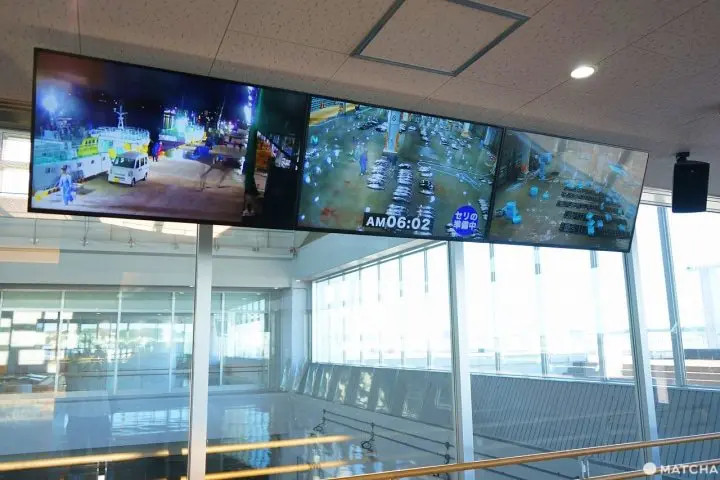 Even if you don't make it to the morning tuna auctions, you can watch a time-lapse video of 24 hours at Shiogama Fish Market. A visit to this museum will be an eye-opening experience!
Shiogama Seafood Wholesale Market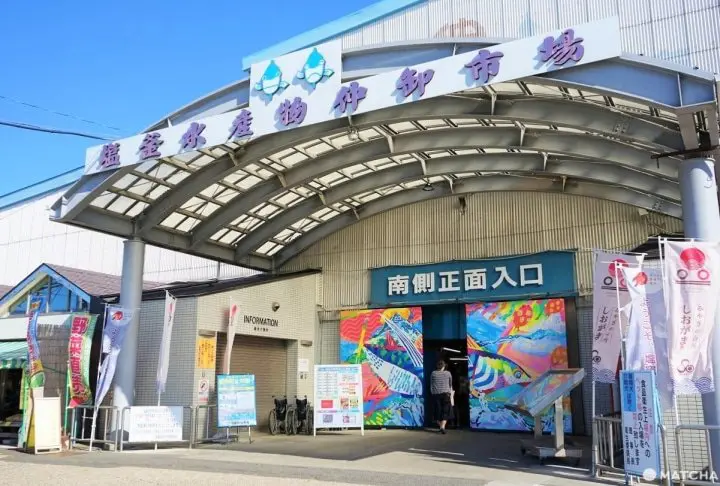 Just about 600 meters away from the Shiogama Fish Market is the Shiogama Seafood Wholesale Market, where retail merchants sell fresh seafood or processed goods to end-users. This is the place to come if you wish to buy local produce or try out freshly made seafood dishes.
The variety of seafood available here is astounding! From tuna, salmon, and other types of fish to squid and octopus, oysters, and crustaceans–there are so many products carefully displayed at every shop.
Processed seafood sold in packages, canned items, and dried products that you can buy to enjoy at home are also available.
In every section of the market, there are eateries where customers can take a break and enjoy delicious dishes made with fresh seafood.
For exquisite seafood bowls, drop by Kase, a store located in section 8. Freshly cooked rice is generously topped with large pieces of seafood. These dishes look good and taste heavenly! Shown above is their Sanshoku Tuna bowl, or Three-Color Tuna, which features three different types of tuna. It's amazing to notice the subtle flavor differences between them!
Kase offers various types of seafood bowls and even sushi! The main dish comes along with steaming miso soup and pickles, so make sure to come with an empty stomach.
Kaishin: Exquisite Shiogama Seafood Products Available for Online Purchase!
Picture from Kaishin's online shop
Established 13 years ago, Kaishin has quickly become one of the representative brands of Shiogama. Specializing in processed seafood, their products can be ordered exclusively from their online shop or from the gift catalogs of large department stores.
The Great East Japan Earthquake in March 2011 was a turning point for Kaishin. After just two years in business, the company lost its factory; relatives of their employees had also lost their lives.
The company slowly recovered, but had lost many of its former clients–the retail shops that used to handle their products. This prompted them to develop new products, and they proceeded onwards, convinced that "only truly delicious products will be loved enough to last."
Simply Delicious and Easy to Enjoy at Home! 3 Recommended Products by Kaishin
We picked up three excellent products that Kaishin takes pride in. These products feature the wonderful flavors that made Shiogama's seafood famous. You can order them from Kaishin's online shop (Japanese only).
1. Boiled Fish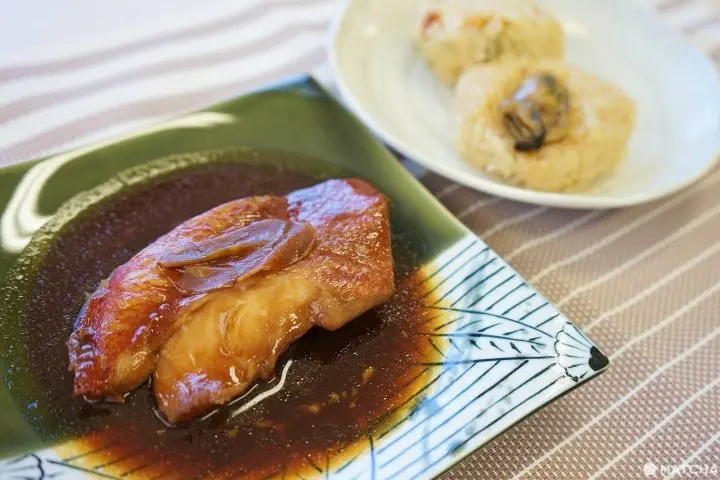 The Boiled Fish specialties made by Kaishin are currently their most popular products. These rich-tasting fish dishes are ready-made and delivered frozen. All you have to do is heat the packages in boiling water for about 10 minutes, and then carefully take out the contents on to a plate. The secret to their refined taste lies in the sauce; made using fragrant soy sauce and seasonings, the sauce used to boil the fish has a balanced aroma that complements the flavor of the fish exquisitely.
Kaishin's Boiled Fish products come in three varieties: channel rockfish, ocean perch (red rockfish), and sablefish. These excellent fish specialties taste amazing when paired with Japanese sake!
Kaishin Boiled Fish: 778 yen (after tax)
2. Glutinous Rice Balls with Seafood
Seasoned glutinous rice balls, called "okowa" in Japanese, are festive snacks enjoyed on special occasions. While they may look similar to the more casual onigiri rice balls, making okowa requires special ingredients and involves many more steps: the glutinous rice is steamed and mixed with dashi broth, then seasoned and mixed with additional ingredients. This is why okowa are rarely homemade these days. Many people in Japan prefer to order them at specialized shops and have them delivered ready-to-eat.
Kaishin's okowa, called Date Musubi, are made using seafood broth. The rice used is a combination of Date Masayume (regular rice) and Miyako Koganemochi (glutinous rice), two types of rice made in Miyagi Prefecture. This rice combination is widely loved because it doesn't harden when getting cold and is of the highest quality.
The Date Musubi are available in five flavors: plain, multigrain rice, octopus, sea skirt, and oyster. The plain version lets you fully enjoy the flavor of the seafood broth and the softness of the rice, while the multigrain version was developed with a healthy balance of nutrients in mind. These delicious snacks are delivered dry; heat them for a few minutes in the microwave oven and they turn into soft, fragrant snacks! They taste wonderful in combination with Japanese green tea.
Date Musubi: 1 piece: 270 yen (after tax); a set of 8 pieces: 3,240 yen (after tax) *For set packages, shipping is free of charge in Japan.
3. Tuna Steak
Delicious Tuna Steak is another product that you can buy from Kaishin. After the large tuna brought to the fish market are cut into rectangular chunks, all the remaining parts are collected and prepared as steak. Nothing edible should be discarded–this is a principle held dear by all those involved in the fishing industry.
Kaishin's Tuna Steak brings you the rich flavor of tuna subtly seasoned in a way that makes it easy to enjoy casually. Since the product is ready-made, all you have to do is heat it up for a few minutes in the microwave. Served with salad and maybe a whiskey highball, it's excellent for dinner!
Please check Kaishin's online shop to find the products introduced above, as well as other tasty seafood specialties that are easy to enjoy at home!
Shiogama Shrine and Shiwahiko Shrine: Protecting the Livelihoods of Local Fishermen
After visiting the local fish markets and sampling delicious seafood dishes, do visit Shiogama Shrine and Shiwahiko Shrine. Located on a hill with a view of the ocean, these two shrines combined are a spiritual landmark of the city.
The origins of Shiogama Shrine can be traced more than a millennium ago; it has been mentioned in historic chronicles going back in time as far as the Heian Period (794-1185). It enshrines the guardian deities of the ocean, of fisherpeople, and of salt making.
Shiwahiko Shrine has its roots in Sendai. It is dedicated to the guardian deity of agriculture, industry, and national development.
Both shrines are cherished by the local community. On the day of the shrine festival, July 10, their deities are carried in two gorgeous mikoshi (portable shrines) all the way to the port. They board two ceremonial boats, one with the head of a dragon and one with a phoenix head, and go for a cruise in the waters off Shiogama's shore. A similar parade can also be enjoyed on Marine Day, celebrated on the third Monday of July.
Take the time to enjoy the serenity of the shrine grounds. The prayer halls and gates are decorated with beautiful wooden carvings. The vivid details reveal just how important these shrines are for the residents of Shiogama.
An impressive bronze lantern dating back to the Edo Period (1603-1868) is displayed on the grounds of Shiogama Shrine. This lantern was donated to the shrine by Date Chikamune, the ninth lord of the Date domain, in 1809, as a sign of gratitude to the gods after winning an important battle.
The Shiogama Shrine Museum is also on the shrine grounds; it exhibits documents and precious historical objects from the shrine's collection. The splendid portable shrines used at festivals are also displayed here! They each weigh a ton, and 16 people carry them down the stairs from the shrine all the way to the port!
In addition to temporary exhibitions featuring historical artifacts, the museum has an excellent permanent exhibition on the history of salt making. Salt, along with water, is a mineral that is essential to the human body. Moreover, in Japan, salt is often used in purification rituals at shrines and ceremonial competitions such as sumo.
Last but not least, near the Shiogama Port, there is a small island connected to the land through a bridge. This island is home to Magaki Shrine, which is also part of the Shiogama Shrine complex. Access to the island is possible only on weekends and holidays. Magaki Shrine is not only a very photogenic sight but also a poetic landmark; the loneliness of the island under moonlight has inspired many poems in ancient times. Do stop by to see it if you visit the port!
Enjoy a Trip to the Charming Port City of Shiogama!
A votive plaque showing the festival of Shiogama Shrine and Shiwahiko Shrine displayed at a store within the Shiogama Seafood Wholesale Market
In Shiogama, you'll feel the local's love for the fishing industry and their deep connection to the ocean at every turn; being able to witness such dedication and pride is an inspiring experience in itself.

Furthermore, Shiogama is a beautiful city; its shrines and ocean views are magnificent! Add to this the exquisite seafood available at the local fish markets, and you'll agree that Shiogama is a wonderful destination for a leisurely trip by the ocean. Combine it with a visit to Matsushima Bay, which can be accessed in about 15 minutes by train, or with a trip to Sendai, and your trip will cover one of the most scenic areas in the Tohoku Region.

Written by Ramona Taranu
Sponsored by Reconstruction Fishery Processing Industry Market Recovery Promotion Center

The information presented in this article is based on the time it was written. Note that there may be changes in the merchandise, services, and prices that have occurred after this article was published. Please contact the facility or facilities in this article directly before visiting.