Mackerel Curry!? Uncover This Culinary Secret in Choshi Near Tokyo
Choshi, a city in Chiba Prefecture, is a popular sightseeing destination about two hours from Tokyo. This article introduces Shida Kanzume, a local company making high-quality canned food called Mackerel Curry. We also feature Wosse 21, home to great souvenir shops and restaurants.  
Chiba's Choshi Area: Japan's Largest Fishing Ground
Choshi City in Chiba is less than two hours away from the heart of Tokyo, sitting at the easternmost tip of the Kanto Plain. It's considered to be one of Japan's most prosperous fishing towns. For 11 consecutive years, the nearby Choshi Fishing Port has recorded the largest catch of fish in all of Japan.
The reason why so many fish are caught at this port is deeply connected to ocean currents. First of all, there's a junction line (shiome) marking the intersection of a warm ocean current called the Japan Current (Kuroshio) with a cold ocean current called the Oyashio Current. Secondly, the fresh waters of the Tone River are nutrient-dense, resulting in a high concentration of plankton attracting large volumes of fish off the coast of Choshi.
Every year, about 200 different varieties of fish and seafood are unloaded at the Choshi Fishing Port. These include mackerel, sardines, pacific saury, bluefin tuna, and red bream.
The seafood is sold fresh by wholesalers. It's also processed into a variety of dried and canned products that are shipped across Japan.
The most famous product is the canned Mackerel Curry. It gained popularity 25 years ago and has a large number of faithful fans today. The can's yellow-colored packaging is unique and eye-catching.
Today's article will feature Shida Kanzume, the cannery that's been producing Mackerel Curry for many years. In our interview, we learned about their canning process and discovered the secret to their great-tasting products.
Shida Kanzume: A Long-Standing Japanese Cannery
Shida Kanzume, the company that produces Mackerel Curry, was founded in 1905.
In the past, there were no refrigeration facilities in the vicinity of Choshi. As a result, a large quantity of fish caught in Choshi went unused, and these leftovers were often turned into feed and fertilizer.
The company had a strong desire to use the leftover fish and not let it go to waste. Spurred on by a "mottainai seishin," or no-waste attitude, the company began canning their products.
At the time of their establishment, Shida Kanzume was also part of the sheet metal industry. With the knowledge gained from that business, they apparently took recycled beer cans and pacific saury fish (sanma) and developed a canned product called Saury Kabayaki—a first in Japan.
Though Shida Kanzume began canning their fish with a desire not to be wasteful, they have never compromised the quality of their products.
"In the past, our canned products might have used leftover fish, but that is certainly not the case today. Fundamentally, we use frozen fish, but all the fish are caught in season and frozen at their peak freshness." These statements were made by Yuma Ikeda, Shida's Head of Production Control.
Mr. Ikeda added that if their only intention was to produce canned goods at a low cost, they could probably use fish that lost some of its taste and was not in season. However, Shida Kanzume's goal is not only to produce inexpensive canned products. They also want to make products that have customers saying, "Shida canned goods are great because they're so delicious!"
With that in mind, Shida Kanzume does its best to use seasonal fresh fish that are unloaded at the Choshi Fishing Port. Mr. Ikeda also mentioned that there was a time when they became a little too obsessive about this and could not generate profits.
Shida Kanzume is extremely particular about the flavor of their canned products. During our visit, we sampled the Mackerel Curry and Tomato & Iwashi.
Mackerel Curry: Filled With Chunks of Large Mackerel
Mackerel Curry was first developed more than 25 years ago and is one of Shida's leading products. Thanks in part to a 1990s TV drama featuring Choshi City, this canned fish quickly rose to prominence and became a household name.
As the name says, this is a curry rice sauce filled with large pieces of mackerel (saba). It also contains potato pieces and carrots, but it's the generous chunks of mackerel that give this dish an unmistakable presence. You'll get hungry just looking at it!
Picture courtesy of Shida Kanzume
Take a bite and you'll be pleasantly surprised when the tender meat of the fish gently crumbles in your mouth! There's no fishy odor whatsoever—the mackerel combines with the curry spices creating a flavorful dish that's easy to eat.
Of course, you can serve it over white rice and enjoy it as a delicious curry rice. But Mr. Ikeda recommends that you enjoy it like an appetizer to accompany your sake. The large pieces of fish are easy to pick up with chopsticks, and we were told that many people enjoy eating this dish with alcohol.
Mackerel Curry: 338 yen after tax (1 tin, 190 grams), 7,280 yen after tax (24 tins, 190 grams each).
Tomato & Iwashi: A Canned Product That Gives You a Luxurious Feeling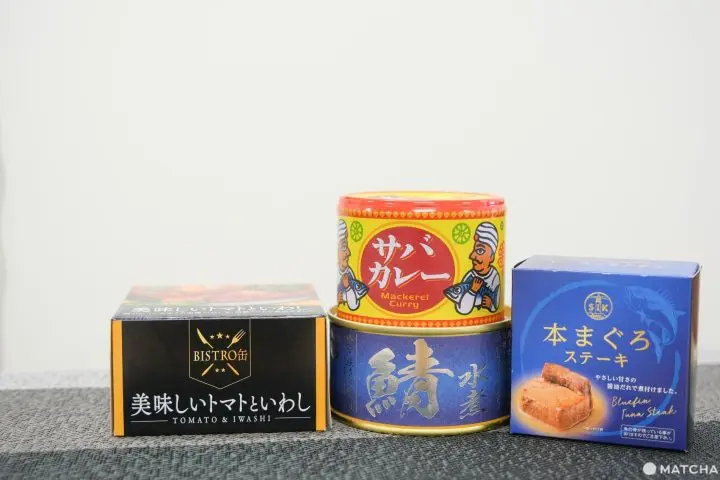 Choshi's coast is a famous sardine (iwashi) fishing ground—sardines account for roughly 60% of their overall fish catch. So naturally Shida Kanzume also produces canned sardines.
Even among their many canned sardine products, one of their top sellers is Tomato & Iwashi. Product development began back in 2018, and it focused on three specific points: raw materials/ingredients, taste, and product differentiation.
On the left: Mr. Kobayashi
"At the time, a market for healthy products and canned appetizers had been established in the canning industry. Our company started developing canned products—based on the concept of a 'complete meal'—that couldn't be duplicated by other companies," said Toshiyuki Kobayashi, head of product control and development for Shida Kanzume.
With a goal of creating canned goods that give you a luxurious feeling when you eat them, Mr. Kobayashi and his staff taste-tested dozens of different types of tomato puree from a tomato processing plant. They were looking for a puree that would be a perfect match for the taste of sardines.
After a lot of time and effort, the final result was a product called Tomato & Iwashi. The sardines and the acidity of the tomatoes gives this dish its deep, rich flavor. Transfer it to a plate and you would never know that this high quality product came out of a can.
Just by itself it can be enjoyed as a tasty side dish. But if you take a peek at the Shida Kanzume Instagram page, you'll see some delicious looking recipes using canned food in highly creative ways. Please check out these canned food dishes that are made with just the right amount of effort and love.
Tomato & Iwashi: 498 yen after tax (1 tin, 180 grams).
Purchase Shida Products Online and in Local Shops!
Picture courtesy of Shida Kanzume
Shida's canned products can be easily purchased online and at various shops and sightseeing spots in the Choshi area.
Shida offers a variety of products in addition to the ones featured in this article, including Mackerel with Kimchi and Bluefin Tuna Steak. So by all means please take a look!
Shida Kanzume Online Shop (Japanese)
Wosse 21: Find All of Choshi's Tasty Products in One Place
We next visited Wosse 21. This sightseeing spot showcases Choshi's bounty from the sea. It's famous for its wide selection of fresh seafood unloaded at the nearby port, as well as dried fish products and canned goods.
It's only 20 minutes by bus from Choshi Station, and just a stone's throw from Choshi Fishing Port.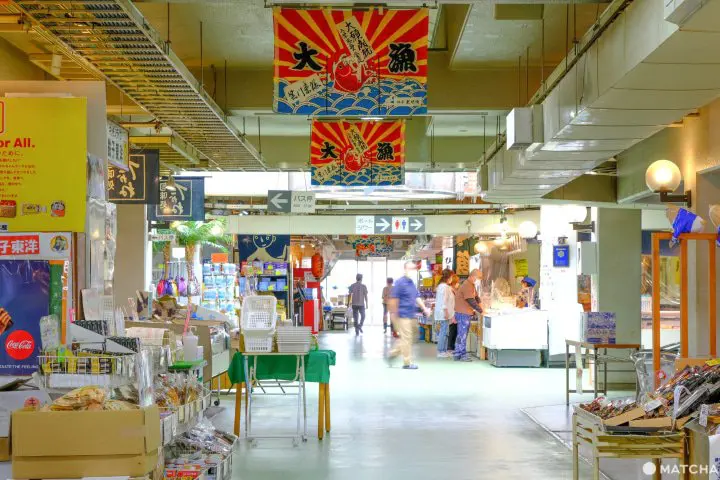 Within Wosse 21 you'll find up to 10 seafood shops and also various restaurants. Among these shops, both Atenbo and Kaheiya feature Shida's canned products.
We also found Iwashi Kakuni, a product that was adopted by Chiba Prefecture's school lunch program from the 1990s. For our Chiba-born writer, it has a nostalgic flavor that brings back memories of elementary school!
Our writer bought it as a souvenir to enjoy at home. That familiar sweet and sour taste—unchanged from days gone by—soon brought a gentle smile to her face. The fish meat almost melts in your mouth and the gentle taste definitely goes well with the rice.
Also, on the premises of Wosse 21 you'll find Seafood Restaurant Wosse. Here we indulged in Iwashi Donburi (a rice bowl topped with sardines) with Iwashi Sauce.
This donburi dish is topped with three large sardine filets, so it has more volume that meets the eye. The sardines were deep-fried to a golden crisp and the savory flavor of the juicy, plump meat inside was unmistakable.
Depending on the day's catch at the nearby port, you can also order a special dish not listed on the menu called namero (*1).
Namero is seasoned with just the perfect amount of salt, so please take your first bite without any soy sauce (shoyu).
*1 Namero: fish tartare. This local cuisine is specific to Chiba's Boso Peninsula. Sardines (iwashi) and other kinds of fish are combined with miso, green onions and other ingredients. This mixture is then pounded with a knife until it reaches a sticky consistency.
Right next to Wosse 21, the 58 meter tall Choshi Port Tower looms overhead (see above photo). The observation deck is 46.95 feet above sea level and offers commanding views of Choshi's skyline and the Pacific Ocean.
This panorama stretches out forever in the distance, and will have both adults and children gazing in amazement!
Also See Inubosaki Lighthouse and the Choshi Railway!
From Enjoy Chiba's Rural Scenery Aboard A Vintage Train!
Choshi boasts one more "number one in Japan." That is Inubosaki Lighthouse. Here visitors can look forward to seeing Japan's earliest sunrise. From the 32 meter tall western-style lighthouse you can fully enjoy an all-encompassing view of the Pacific Ocean.
At the base of Inubosaki Lighthouse there's Kimigahama Beach, which was also chosen as one of Japan's Top 100 Beaches. From Kimigahama Beach you can relish the sunrise—a stunning view with the lighthouse standing in the foreground.
From Enjoy Chiba's Rural Scenery Aboard A Vintage Train!

The Choshi Railway (aka Choshi Den) meanders its way through the city of Choshi. It runs from Choshi Station to Tokawa Station for a total one way distance of 6.4 kilometers. This 20 minute ride gives passengers a nostalgic, retro feeling and is a highly popular local railway line.

From the car window you get unforgettable views of the coastline, as well as of cabbage and sunflower fields. Passengers get to have this luxurious scenery all to themselves! Choshi Railway will take you to Choshi's many famous sightseeing spots.

Choshi is less than two hours from Tokyo, so even a day trip is possible. By all means do pay a visit to Choshi! It's a place where you can sample tasty delicacies from the sea and experience natural surroundings that will cleanse your body and soul.

Written by nagino.an
In cooperation with Shida Kanzume
Sponsored by Reconstruction fishery processing industry market recovery promotion center

The information presented in this article is based on the time it was written. Note that there may be changes in the merchandise, services, and prices that have occurred after this article was published. Please contact the facility or facilities in this article directly before visiting.