Revel in Traditional Culture and Nature! Three-Day Itineraries in Himeji
Himeji is a famous castle town surrounded by mountains and the sea, with Himeji Castle at its center. This destination is brimming with traditional culture and abundant nature. In this article, we will introduce two model itineraries for a three-day trip to Himeji. Read on to find out more!
Discover Japan's Traditional Culture and Nature in Himeji!
Himeji is a city brimming with charming locations enjoyed by enthusiasts of traditional Japanese culture and nature. Some of those spots include Himeji Castle, packed with points of interest down to the details in its architecture, and the remote island of Ieshima where visitors can enjoy bicycling in the peaceful landscape of the Seto Inland Sea.
This article introduces two sample sightseeing itineraries for a three-day trip to Himeji: the Traditional Culture Travel Itinerary and the Nature Travel Itinerary.
We've also included recommendations on Himeji cuisine and treats that are perfect for breakfast or lunch, experiences unique to Himeji, and accommodations.
Traditional Culture Travel Itinerary
Day One: Visit the Area Near Himeji Station
For day one, we suggest visiting locations that are easily accessible from Himeji Station.
Himeji Castle—home to numerous national treasures and important cultural properties—is the first wooden architecture registered as a World Heritage site in Japan. It is a renowned Japanese castle, and it would not be an exaggeration to call it the top sightseeing spot in Himeji.
Himeji Castle's architecture is packed with several points of interest down to the fine details. It has a castle structure specific to Japan centered around the tenshukaku tower (*1) and roof tiles showcasing family crests of previous castle lords.
Tour Himeji Castle with an English-speaking guide to thoroughly learn about the charms of the castle's history and architecture!
*1 Tenshukaku: the tallest structure built in a Japanese castle. It is the symbol of the castle.
Picture courtesy of Nadagiku Sake Brewery
After taking in the charms of Himeji Castle, let's head over to Nadagiku Sake Brewery, which doubles as our place for dinner.
Nadagiku Sake Brewery was established in 1910 and has been in business for over 110 years. This sake manufacturer produces and sells local sake made with select ingredients, such as locally produced rice and water.
Experience the Sake Brewery Tour to get an inside look at a wooden sake brewery, preserved since the brewery's establishment and where sake brewing once took place. You can learn about Japanese sake through a taste-testing experience sampling over ten types of sake.
Additionally, Maegura (*2) is a restaurant with a traditional Japanese atmosphere in the same facility. You can delight in dishes that pair well with sake such as gyunabe (beef hot pot).
*2 Maegura: reservations must be made at least a day in advance to dine at the restaurant in the evening.

Picture courtesy of Nadagiku Sake Brewery
Day Two: See Japanese Architecture and Traditional Craftsmanship
Shoshazan Engyoji Temple was founded on the summit of Mount Shosha around 1,000 years ago.
The Maniden is built in the kakezukuri style, the same architectural style as Kiyomizudera Temple in Kyoto. The sight of this building constructed on a steep mountain slope is a rarity even in Japan.
Get a taste of a Michelin-starred shojin ryori (*3) at Juryo-in, a building constructed in the mid-Edo Period (1603-1868). Having a meal in a place with nearly 1,600 years of history will be an invaluable experience.
*3 Shojin ryori: a type of Buddhist cuisine made without any meat or fish. Instead, the cuisine is centered around ingredients such as vegetables, tofu, and sesame.
Shojin ryori is currently not served at Juryo-in but will be back in service in April 2023. Please check the official website (Japanese) for the latest information.

Picture courtesy of Koyo Seiga
Koyo Seiga is responsible for constructing the roof tiles of numerous shrines and temples, including Himeji Castle.
The manufacturer holds workshops where participants can easily experience producing roof tiles and clay modeling. Highly skilled artisans at Koyo Seiga will teach participants enrolled in the workshops.
You can even try making shachihoko (*4), which can be spotted on the roof of the tenshukaku (castle keep) at Himeji Castle. Learn about the wonders and difficulties behind making Japan's traditional crafts through your experience!
*4 Shachihoko: a mythical creature that is half carp and half tiger. It is believed to prevent castle fires.

Picture courtesy of Koyo Seiga
The Japan Toy Museum was awarded two stars in the Michelin Guide as a spot worth visiting in Himeji.
This private museum has a collection of 90,000 items, from toys to traditional dolls, made to reflect various cultures and aesthetics across Japan. There is also a toy archive housing documents from 160 countries and regions worldwide. Visitors can enjoy themed and special exhibitions held seasonally.
After admiring the unique exhibits by age and locality, it would be a great idea to stop by the museum shop. You'll find local Japanese toys and more on sale, making it great for purchasing souvenirs.

Day Three: Watch Himeji Castle Emerge in the Sunrise
Picture courtesy of Himeji City
Are you interested in doing some last-minute Himeji sightseeing on your last day? How about watching the sunrise at Otokoyama Haisuiike Park and enjoying a panoramic view of Himeji Castle?
Otokoyama Haisuiike Park, located on a hill northwest of Himeji Castle's tenshukaku (castle keep), is a gorgeous scenic viewing spot. You can witness a magical sight as Himeji Castle is illuminated and emerges from the darkness in the morning sun.
While you can admire the morning sun year-round, winter is the best season to marvel at this view. This is due to the sun's position at this time of year. The castle scenery during winter is well worth seeing as it's something you won't be able to witness during your typical Himeji Castle sightseeing.

You managed to wake up early and watch a stunning sunrise. Now, let's try some almond toast for breakfast! This Himeji specialty comes with a generous spread of almond butter on toasted bread.
Our recommendation is Cafe de Muche, credited for being the first in Japan to craft almond butter.
It's also a cafe offering a breakfast service that is uniquely Japanese. This value menu is available for a limited time during the morning. Just order a cup of coffee to receive complimentary almond toast, an egg dish, and salad!

Nature Travel Itinerary
Day One: See Beautiful Nature and Japanese Architecture
On our first day of sightseeing, enjoy the beautiful scenery of nature and Japanese architecture.
Himeji Castle, a registered World Heritage site, is commonly known as Shirasagi Castle meaning "white heron." This comes from the castle exterior resembling a white heron on the verge of taking flight.
Himeji Castle is also where visitors can immerse themselves in nature. During the springtime, around one thousand cherry blossom trees are in full bloom around the castle. It's possible to delight in a signature Japanese scenery woven by Himeji Castle and the seasonal blossoms.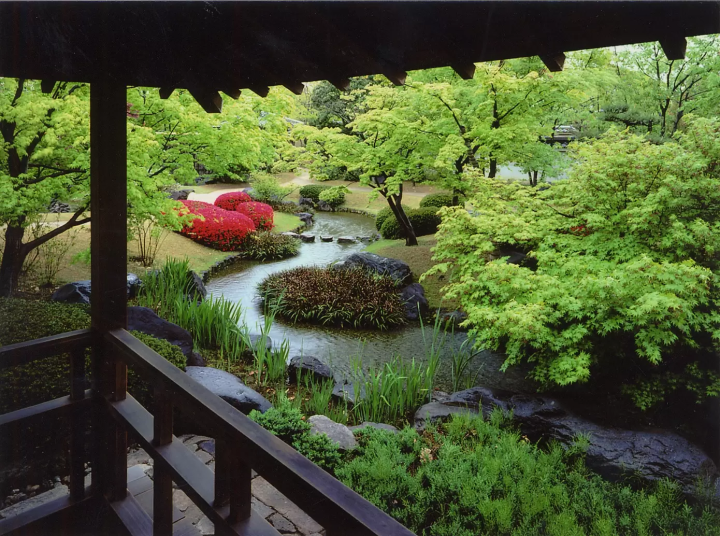 Picture courtesy of Himeji City
Nature enthusiasts should also pay a visit to Kokoen Garden, a Japanese garden within Himeji Park.
You can experience an authentic Japanese atmosphere while enjoying a meal or drinking tea while gazing into the garden landscape.

Picture courtesy of Himeji City
If you're planning a trip to Himeji Castle, let's also schedule a visit to Shoshazan Engyoji Temple.
Engyoji Temple boasts over one thousand years of history and sits on the summit of Mount Shosha. Its magnificent scenery is why the temple became renowned as a filming location for "The Last Samurai," a Hollywood film starring Tom Cruise.
The summit is accessible by either the ropeway or an hour-long hike. Either method will grant you gorgeous autumn foliage in the fall when the leaves turn red and orange hues.
On the temple grounds surrounded by a mystical atmosphere, you can see the Maniden. This impressive building is reminiscent of Kiyomizudera Temple in Kyoto. You can also try activities like the Petal Sutra to merge your mind and body by transcribing words.

Picture courtesy of Himeji City
Day Two: Visit a Remote Island by Boat in 30 Minutes!
On day two, let's take a boat and enjoy sightseeing on a remote island.
The Ieshima Islands are a cluster of 44 islands of various sizes located about 30 minutes by boat from Himeji. Ieshima is a popular spot for enjoying the serene natural scenery of the Setouchi area.
Have fun traveling around the island on a bike rental while soaking up the scenery at a fishing village. Gaze out at the Seto Inland Sea from Kankan Chobo, a viewing spot, or have fun with outdoor activities like canoeing. Around May, you can also catch the whimsical sight of himebotaru fireflies flitting about the area.
The Ieshima Islands are a treasure trove of seafood, boasting catches known to be the best in the Seto Inland Sea. We recommend savoring the exquisite local seafood dishes.

Day Three: Enjoy Nature and Shopping Till the Last Minute!
Picture courtesy of Himeji Rose Garden
On the last day, relax amid gorgeous scenery until the last minute at one of Himeji's leading rose gardens.
Himeji Rose Garden, accessible in 30 minutes by train from Himeji Station, is a flower spot growing 3,500 roses across 800 varieties. The best time to see these flowers are in spring and autumn.
We also recommend taking the time to take plenty of photos at this splendid rose garden where beautiful, multicolored roses bloom!
You can also enjoy a meal while surrounded by roses at tables set up in the garden. Breakfast and lunch are offered in limited quantities, while desserts and drinks made with roses are regularly served at the cafe.

Picture courtesy of Himeji Rose Garden
Himeji Hatoya Kamaboko. Picture courtesy of Himeji Convention & Visitors Bureau
Shopping for souvenirs is something you can't leave out when traveling.
Himeji Station is filled with places where you can shop for souvenirs, most notably Bansankan and piole HIMEJI. You'll be able to squeeze in some last-minute shopping before your departure!
Kamaboko, a product made by thermal processing of minced fish paste, is a specialty of the coastal city of Himeji facing the Seto Inland Sea. We recommend purchasing it as a souvenir from the nature-rich Himeji.
Sake is another product we recommend since it pairs well with kamaboko. We highly recommend sake brewed by Yamada Nishiki, a luxury brewer's rice brand cultivated in the nature-abundant region of Harima. This region is comprised of Himeji and its surrounding areas.
Picture courtesy of Himeji Convention & Visitors Bureau

Picture courtesy of piole Himeji

Stay at a Hotel near Himeji Station for Practical Sightseeing!
Picture courtesy of Hotel Claire Higasa
Want to enjoy Himeji sightseeing more efficiently? Then we recommend staying at a hotel near Himeji Station to access various sightseeing spots easily.
Hotel Claire Higasa, established over 70 years ago, is a five-minute walk from Himeji Station and only ten minutes to Himeji Castle. Soak in a large public bath at the hotel and stay in a concept room with a Japanese ambiance.
Other recommended hotels are Hotel Monterey Himeji, directly connected to Himeji Station with a view of Himeji Castle from the guest rooms, and Hotel Nikko Himeji, just a minute's walk from the station. Himeji Castle Grandvrio Hotel is another option featuring large hot spring baths.

In Conclusion
What did you think of these two model itineraries around Himeji, a city brimming with charming Japanese culture and nature?

There are many more specialty dishes and impressive sights in Himeji that we couldn't fit into this article. Therefore, we recommend staying for two to three nights to fully enjoy sightseeing around the city.

Be sure to refer to this article and enjoy your trip to Himeji!

Written by Mari
Sponsored by Himeji Convention & Visitors Bureau

The information presented in this article is based on the time it was written. Note that there may be changes in the merchandise, services, and prices that have occurred after this article was published. Please contact the facility or facilities in this article directly before visiting.