2 Day Nature Tour in Aso Kuju National Park with Drum Performance
This service includes sponsored advertisements.
An unparalleled heart-pounding experience connecting people, nature, and music nurtured by this great land.
Highlight
DRUM TAO celebrated for its awe-inspiring performances of Japanese taiko drumming is based within the expanding Aso-Kuju National Park, home to Japan's largest grassland area.
DRUM TAO known for their diverse performances both domestically and internationally, continues their creative endeavors in this natural haven. You will feel magnificent power of mother earth right here stimulating their creative inspiration and being the source of their music. This is a special tour that offers an experience found nowhere else.
<The open-air theater, 'TAO-no-Oka' at an altitude of 1,036 meters with a Skyward Stage.>
In this skyward stage with no roof or walls, you can directly immerse yourself in nature while enjoying DRUM TAO's powerful performance against the majestic backdrop of the Aso five peaks. There's a special kind of excitement that can only be experienced in this breathtaking location.
In this tour, we offer special plans, including live performance on the Skyward Stage, as well as exclusive experiences such as Meet and Greet with the performers, After-Party held after business hours and live performance at sunrise.
Experience live performances amidst the ever-changing seasons and weather, where no two moments against the same backdrop exist in this breathtaking stage within the embrace of mother nature.
Tour Dates
1, Monday 6th - Tuesday 7th November 2023
2, Thursday 9th - Friday 10th November 2023
Travel fee
250,000 yen (tax included) per person
Included in the travel fee
・Round-trip transportation from Fukuoka or Kumamoto to the tour venue.
・Accommodation (1 night with 2 meals)
・Each room in our accommodation is equipped with a private hot spring bath.
・Special lunch in the grasslands
・Other activities at TAO-no-Oka
*activities may vary depending on the selected date.
*A portion of the fee will be donated to environmental conservation, preservation, and sustainable operation.
Itinerary
First day
Open-air theater, TAO-no-Oka "Skyward Stage"
This stage is created to allow you to enjoy live performances in the middle of the great nature of Aso-Kuju National Park, the home of DRUM TAO. In this tour, you can indulge in the Skyward Stage live performance featuring leading performers of DRUM TAO and special arrangements, all while seated in your exclusive VIP seats, accompanied by special drinks, for an elegant experience like no other.
After the performance, you'll have the opportunity to ascend to the Skyward Stage for a dedicated photo session. Get close to the drums, capture the moment with the performers and create unforgettable memories with commemorative photos."
"We host a special live performance at the Green Terrace, where you can enjoy breathtaking views of the sunset sky turning crimson. We open a 'Sunset Bar' exclusively for this moment, allowing you to savor a drink while enjoying the beautiful sunset and TAO's performance. Experience a luxurious twilight amidst the serene grasslands bathed in a deep purple hue."
High-quality Japanese-style hot spring hotel
We have prepared accommodations at a renowned and highly popular hot spring resort known as Kurokawa Onsen, located just a 10-minute drive from TAO-no-Oka. Kurokawa Onsen was featured in the 2009 edition of the Michelin Green Guide Japan, receiving an exceptional two-star rating as a hot spring destination. Surrounded by mountains that change their appearance beautifully with each season, this hot spring boasts high-quality mineral waters and offers exquisite dinners prepared with great care. Relax in the nostalgic ambiance of the hotel and enjoy a Leisurely stay.
You will stay at one of the three popular accommodations.
Miyama Sansou https://www.miyama-sansou.com/english/
Waraku http://www.satonoyu-waraku.jp
Kai Aso https://hoshinoresorts.com/ja/hotels/kaiaso/
Second day
Sunrise live performance / Cafe
In the next morning, you can awaken to a refreshing and clear sky, accompanied by a magical landscape at TAO-no-Oka. Enjoy a moment of awakening with coffee and chillout music of DRUM TAO.
Aso-Kuju National Park Special Lunch
Local chefs, specially assembled for this day, will showcase their culinary skills using carefully selected local ingredients in a luxurious manner. Amidst the expansive and magnificent grasslands as far as the eye can see, savor a special lunch.
Optional activity - Journey to explore the nature behind the Skyward Stage
"Yamabuki Springs," selected as one of the "Top 100 Sources of Water", is a hidden gem surrounded by primeval forests. The crystal-clear water reflects the shadows of plants, creating a beauty akin to stepping into a movie scene. Strolling amidst the trees tinged with autumn colors while listening to the songs of birds and the sounds of the wind provides a mystical atmosphere where you can feel the Earth's breath. Local residents will gently guide you through the village, sharing stories and episodes about their community.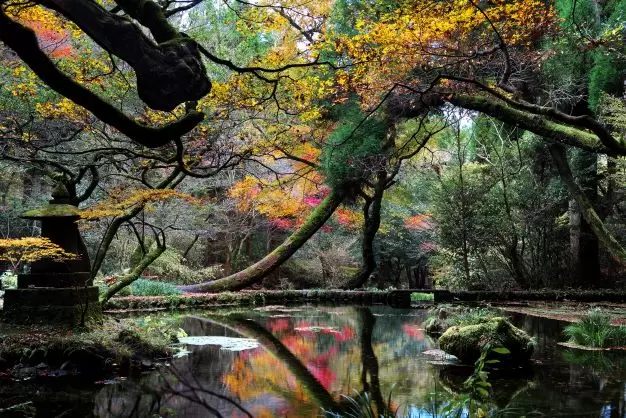 From a vantage point on a hill that offers a 360-degree panoramic view, you can gaze upon the stage at TAO-no-Oka and behold the nostalgic Japanese landscape of terraced rice fields, a sight not typically accessible.Ubuyama village: Behind the Skyward Stage at TAO-no-Oka lies a small village of 1,500 residents. We will take a stroll through the beautiful Ubuyama village alongside the village's inhabitants, who lead their lives amidst nature.*Part of the tour fee will be contributed to funds for environmental conservation.*Please participate in this tour wearing long pants and comfortable walking shoes.
Optional activity(additional fee) - Taiko drumming workshop & DRUM TAO history talk
Taiko drumming workshop DRUM TAO members will provide instruction in taiko drumming. Through interaction with them, you can experience the charm of Japanese traditional instruments, the taiko drums. You can enjoy the experience while wearing DRUM TAO's original happi coat, truly immersing yourself in the atmosphere of a DRUM TAO member. It's sure to be a memorable and unforgettable experience.
History talk As DRUM TAO celebrates its 30th year, discover why they continue their creative endeavors in this region and gain insight into how DRUM TAO's music comes to life. This history talk is presented by the members themselves, sharing their journey and experiences.
More detailed information and notes
Participation Details: For adults, it is based on groups of 2 (age: 13 and over) as the basic unit.
*Due to the style of the hotel, the basic unit is based on two participants.
*If you wish to participate with 3 people or have children accompanying you, please consult with us.
Transportation Details:
・Transportation from Fukuoka or Kumamoto to the venue will be provided by a hired vehicle.
・Transportation to Fukuoka or Kumamoto is to be arranged by participants themselves.
Tour Organize:
・VISIT Kyushu Co., Ltd.(License:Second-class travel agency (Registered with the Governor of Fukuoka Pref., No.2-880))
・FREEPLUS Inc. (License:Second-class travel agency (Registered with the Governor of Osaka Pref., No.2-2575))
Written by
Free Plus is a land operator specializing in travel to Japan headquartered in Osaka. To date, we have a track record of doing business with travel agencies in over 40 countries, and have planned trips for a total of over 740,000 visitors to Japan. We are made up of people from countries all over the world, and we plan trips that exceed the expectations of our customers in each country and deliver stories that move their hearts.

The information presented in this article is based on the time it was written. Note that there may be changes in the merchandise, services, and prices that have occurred after this article was published. Please contact the facility or facilities in this article directly before visiting. Some of our articles contain affiliate links. We kindly ask our readers to exercise careful judgement when making a purchase or booking a service online.

The contents on this page may partially contain automatic translation.