About 30 minutes from Hakata by Shinkansen! 6 Recommended Tourist Spots in Nishinokyo Yamaguchi
This service includes sponsored advertisements.
In this article, we will introduce recommended spots in Yamaguchi City that can be reached in about 30 minutes by Shinkansen from JR Hakata Station! It takes about 35 minutes by Shinkansen from JR Hakata Station to JR Shin-Yamaguchi Station, the land gateway to Yamaguchi Prefecture, where Yamaguchi...
① National Treasure Rurikoji Temple Five-storied Pagoda
The five-storied pagoda of Rurikoji Temple, a national treasure, is considered one of Japan's three most famous pagodas, and is said to be the most outstanding structure of the mid-Muromachi period. By the way, the other two famous pagodas in Japan are the five-storied pagodas at Horyuji in Nara Prefecture and Daigoji in Kyoto Prefecture.
You can enjoy the changing scenery of the four seasons: cherry blossoms in spring, fresh greenery in summer, autumn leaves in autumn, and snowy scenery in winter. Also, it is lit up at night from sunset until 10pm, making it one of the highlights at night.
Around Koyama Park, where the five-storied pagoda of Rurikoji Temple is located, there are facilities where you can experience Ouchi lacquerware, zazen meditation, and pottery, as well as shops offering drinking uiro and Yamaguchi's specialty kawara soba, so you can enjoy some experiences along with your walk. You can also enjoy Yamaguchi gourmet food.
② Yamaguchi Yuda Onsen
The history of Yuda Onsen dates back about 800 years. There is a ``white fox legend'' that says that the white fox was discovered because it was healing a wound, and at the nearest station, Yuda Onsen Station, a large 8-meter white fox welcomes tourists.
Yuda Onsen is also known as a hot spring in the city, and there are over 300 restaurants around the hotels and inns, so you can choose the meal that suits your mood that day.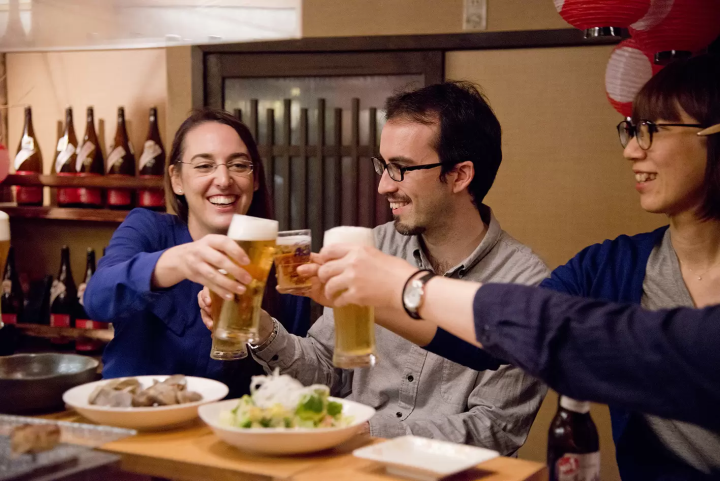 There are also six hotels and inns with day-trip hot springs, as well as free footbaths, so you can enjoy a variety of hot springs. At ``Kitsune no Ashi'', you can soothe your tired feet from walking in the footbath while enjoying a cafe menu made with local ingredients and a set of sake-tasting drinks including Dassai.
③ Yamaguchi City Naikotei
One of the representative facilities of the Meiji Restoration, Yamaguchi City Naikotei, has handwritten calligraphy by 29 famous people, including 9 successive prime ministers, such as the first Prime Minister Hirobumi Ito and former Prime Minister Shinzo Abe.
The 100 tatami large hall is also impressive. At Yamaguchi City Saikotei, you can also experience Japanese culture such as wearing a kimono and drinking matcha tea.
④ Joeiji Temple Sesshu Garden
The garden is said to have been built approximately 500 years ago, and is currently designated as a national historic site and scenic spot. Why not spend a relaxing time in a Japanese-style room while looking out at the garden?
You can also enjoy matcha on Sundays.
⑤ SL Yamaguchi
Along the Yamaguchi Line, where the SL Yamaguchi runs, from Shin-Yamaguchi Station to Tsuwano Station, you can enjoy the white fox hot spring Yuda Onsen, apple picking at Tokusa, famous for apples, and the spectacular view of the valley. There are many sights to see, including Nagato Gorge. Would you like to travel around Yamaguchi while being swayed by the retro SL Yamaguchi?
Also, at JR Yuda Onsen Station, there is a free footbath where you can watch the steam locomotives and trains while soaking in the footbath, which is very popular with both Japanese and foreign visitors.
⑥ Hagi return
``Hagi Okan'' is a historical road with a total length of approximately 53 km that connects Hagi City, Yamaguchi City, and Hofu City. This is a path that even samurai were able to follow in the past.
There is also a one-coin tour where a guide walks with you while setting up the shop!
Above, we have introduced recommended day trip spots in Yamaguchi City.
There are many places nearby where you can experience something different from your everyday life without having to take the time to travel far.
Please use the information introduced this time as a reference and enjoy a fulfilling day in Yamaguchi City.
Written by
Yamaguchi City, where history, culture, nature, hot springs and many attractions and encounters await. ー Stroll while feeling the vestiges of Ouchi culture ーLet's walk Hagi Okan, the historic road ーGoing to see SL Yamaguchi ーLeisurely enjoy Yuda Onsen Enjoy the great nature of the Chugoku Mountains to the north and the Seto Inland Sea to the south. When you visit a place to which you are drawn, See it, feel it, and experience it. Let's go on a trip to Yamaguchi where you can spend your time as you please.

The information presented in this article is based on the time it was written. Note that there may be changes in the merchandise, services, and prices that have occurred after this article was published. Please contact the facility or facilities in this article directly before visiting. Some of our articles contain affiliate links. We kindly ask our readers to exercise careful judgement when making a purchase or booking a service online.

The contents on this page may partially contain automatic translation.