Ushimado - The Charms Of A Seaside Town In Setouchi City
Ushimado and Maejima Island are two areas of Setouchi city that offer wonderful views of the Seto Inland Sea, as well as great local seafood specialties. It is an area worth exploring when you visit Setouchi in Okayama Prefecture.
The seaside town of Ushimado is located in Setouchi City, Okayama Prefecture. It faces out upon the Seto Inland Sea and its many small islands, including Maejima Island. With a mild climate and an abundance of sunny days, it's a great seaside resort town for local and international visitors.
History of Ushimado Town
During the Edo Period (1603-1868), Ushimado prospered as a ship building town. Visitors today can walk the main street and its wooden latticed storefronts and white-walled merchant houses, which evoke the atmosphere of the bygone eras.
Ushimado was also a port-of-call for Korean envoys en route to Edo (modern day Tokyo) when visiting the Tokugawa shogunate. Honrenji Temple set upon a hill above the main street was used for their sojourn when passing through.
Ushimado Olive Garden
Ushimado Olive Garden is a botanical garden set upon 10 hectares with some 2,000 olive trees. It's one of the only two existing olive gardens in all of Japan, and was established by the wealthy Hattori family during the 1940's. Although olive trees bloom in late May, there are also many other types of trees in the garden. A visit during olive harvest season starting in late September, however, will provide visitors a hands-on olive picking experience.
Set upon the hillside overlooking the sea, the views from the garden are inspiring. Satake Toku, a renowned landscape artist, had established an atelier in the garden where he composed works.
Photo courtesy of Okayama Tourism Association
The garden is also popular with couples for strolling and chatting amidst the sweeping vistas. There is even a "Lovers' Bell" as it's called, which is rung for good fortune.
Olive Garden - Gift Shop and Cafe
There is a gift shop and cafe with an observatory on top in the olive garden. The shop offers a variety of items made from olives, including oils, salad dressings, cosmetics and other health products.
Visitors to the cafe can relax by the window while savoring the café's most popular treat - olive soft ice cream.
If you would like to take in the peaceful atmosphere of the Olive Garden at a leisurely pace, you can consider staying overnight at the Ushimado International Villa which is located within the garden. Accommodation in a single room in this facility costs 4320 yen (1 person), while the price for a twin room is 7776 yen (2 persons) per night. To make a reservation you can use this website.
Ushimado Olive Garden
Address: Okayama, Setouchi, Ushimadocho, Ushimado 412-1
Business Hours: 9:00 - 17:00 Daily
Website (Japanese): http://nippon-olive.info/
Ushimado Shrine
Located aside the seashore stands the impressive torii gate of Ushimado Shrine. The steps leading up and away into the woods beckon visitors to the shrine.
Ascending the steps, the effect is transporting, as the sound of the wind and the tides fall away into the hushed stillness of the lush forest.
Ushimado Shrine is thought to have been established around a thousand years ago, towards the end of Japan's Heian Period (794-1185), and the place itself is steeped in local legends.
We were fortunate on the day to meet the head priest of the shrine. He graciously offered a prayer for our endeavors, and with a hearty smile and heartier smacks on the back, exhorted us in our future ambitions.
The interior of the shrine, adorned with paper lanterns, photos and paintings, exudes a wonderfully light and festive atmosphere.
Ushimado Shrine
Address: Okayama, Setouchi, Ushimado, Ushimadocho 2147
Website: http://www.jinja-net.jp/ushimado/
Ushimado, The Aegean Sea of Japan
The placid waters and islands of Ushimado harbor form an incredible seascape which is especially lovely at sunset. Places such as Hotel Limani offer many opportunities for taking in the beautiful surrounding views. Add to this the mild and sunny climate which is characteristic of this region, and it's no wonder that Ushimado is often referred to as "The Aegean Sea of Japan".
Hotel Limani
Address: Okayama, Setouchi, Ushimado, Ushimadocho 3900
Website: http://www.limani.jp/
Cafe Gemmai Shokudo
Ushimado itself extends up from the coast and into the rolling green hills. It offers visitors a leisurely day of rambling and discoveries of the many shops and cafes spread out upon the hillsides.
There's a very handy English map of a town bus route with highlighted attractions on the Setouchi City website. Be sure to grab a copy for better exploring.
Friends and I stopped by Gemmai Shokudo, a cafe where one can enjoy a leisurely lunch with a lovely view of the hillsides. The cafe offers a fixed menu including genmai, unpolished rice, which we savored along with squash soup and other small dishes made with local ingredients.
Gemmai Shokudo Rakudokan
Address: Okayama, Setouchi, Ushimado, Ushimadocho 2246-2
Business Hours: 11:00 - 18:00
Website: Gemmai Shokudo
Nakamitsu Fishcake Shop
The Nakamitsu Fishcake shop is located on the seaside in Ushimado. Inside the building is also a factory where fishcake, kamaboko, is made fresh daily every morning.
Kamaboko is made from pureed fish, to which different seasonings are added and then is baked, grilled, or fried into a variety of shapes. The kamaboko sells out soon after the doors open so be sure to get there early. (Watch those elbows!)
Nakamitsu Kamaboko
Business Hours: 8:30 - 17:00 Daily (closed Wednesdays)
Address: Okayama, Setouchi, Ushimado, Ushimadocho 3178
Website: http://nakamitsu-kamaboko.co.jp/
Ushimado Ferry Service
A ferry service at Ushimado harbor runs on a schedule, transporting visitors to and from nearby Maejima Island. The fare details and schedule can be found on the Ushimado Ferry Service Website.
It's a five minute ride across the harbor to Maejima Island. Wonderful views can be enjoyed from aboard the ship.
The calm waters of the Seto Inland Sea are ideal for a variety of water sports during the warmer seasons, such as windsurfing and sea kayaking. There is also Kuroshima Venus Road, a sandbar connecting the smaller islands, which visitors can walk upon during low tide.
Maejima Island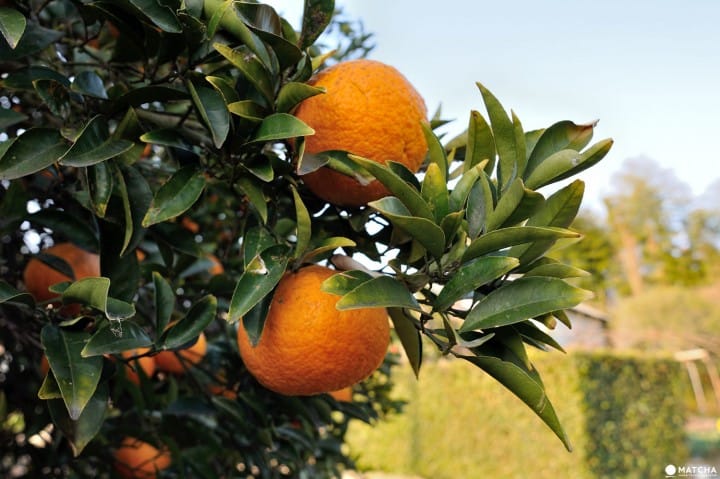 Alighting on the island town of Maejima, I expected to see fishing boats, nets, and piers. Rather, it was the sight of bright mandarin oranges upon tree after tree, and I was reminded again of the sunny climate that graces this region. Peaches and grapes are also popular among visitors to this area of Setouchi.
Exploring Maejima Island
A drive or bicycle ride on Maejima Island offers endless opportunities for amazing views of Seto Inland Sea and beyond. The vistas were inspiring, and the sun on our faces and the ocean winds were rejuvenating.
At the top of one these hills lies a bit of history, as there the remains of a stone quarry used in making Osaka castle centuries earlier were recently discovered. Huffing and puffing as we were with only the weight of our cameras around our necks, it was difficult not to marvel at the engineering feat required to transport the massive stones down from the hill to the seaside.
The lovely idiosyncrasies of the folks living on Maejima poke their head through in the most unexpected of places. All around the island along roadsides and fields we discovered ocean buoys painted with comical faces and expressions.
The view of the sun setting on Seto Inland Sea was just lovely.
Staying at an Inn with a View to the Sea - Karakotoso
Maejima Island is home to a number of quaint bed-and-breakfast style inns, which are owned and operated by families living on the island.
Karakotoso has nine traditional Japanese tatami rooms, which are spread upon two floors. There are separate bathing areas for men and women, as well as showers within the bath area.
After a long day of exploring, the warm and airy touch of the tatami matted floor was a welcome relief, as was the wonderful view of Ushimado harbor.
Karakotoso
Address: Okayama, Setouchi, Ushimado, Ushimadocho 5782-2
Website: http://s-morikawa.wixsite.com/karakoto
Seafood Dinner at Karakotoso
The dinner at Karakotoso was a scrumptious assortment of fresh seafood and vegetables from the local waters and fields. Both dinner and breakfast can be requested at the inn, and are prepared by the innkeepers.
Oysters are a specialty of the region, and oyster farms are abundant in the waters surrounding Maejima.
We enjoyed dish after delightful dish, including a sumptuous nabe, a Japanese broth, as we chatted and reflected on our day's adventures over a bottle of warm sake.
Final stop, as I recounted the day's adventures. The innkeeper had shared with us her hope that visitors to Maejima would find here the bucolic charms and beauty of rural Japan. The sentiment resonated within, as I slowly drifted off into the sunset, wrapped in the warmth of the futon.
In Closing
Discover for yourself the breathtaking beauty and charms of Ushimado and Maejima Island on the Seto Inland Sea. The other towns of Setouchi City also offer wonderful sights to explore and should not be missed on your visit to Japan.

You can use this Setouchi City English Guidebook for orientation.

For a detailed map with details on how to reach Ushimado from Oku Station, please refer to this page.

An extensive guide to Setouchi highlighting the best sightseeing places in the area can be found at Beautiful Setouchi.

The information presented in this article is based on the time it was written. Note that there may be changes in the merchandise, services, and prices that have occurred after this article was published. Please contact the facility or facilities in this article directly before visiting.