STEP INTO GREATER TOKYO: Find The Perfect Travel Plan For Your Own Needs
Visiting popular, well-known sightseeing spots is fine, but there are also many other hidden gems in Tokyo. STEP INTO GREATER TOKYO introduces all these places to you with their model courses. Try one of these out and have a fully satisfying trip!
For starters, please have a look at this video. Now, don't you have an irresistible urge to go and visit Japan?
If you were to visit Japan, which places would you like to go and see? Asakusa? Shinjuku? Or perhaps Shibuya?
All of these towns are famous and popular, but in the greater Tokyo area and in the main part of Tokyo as well, there are many other interesting places worth visiting.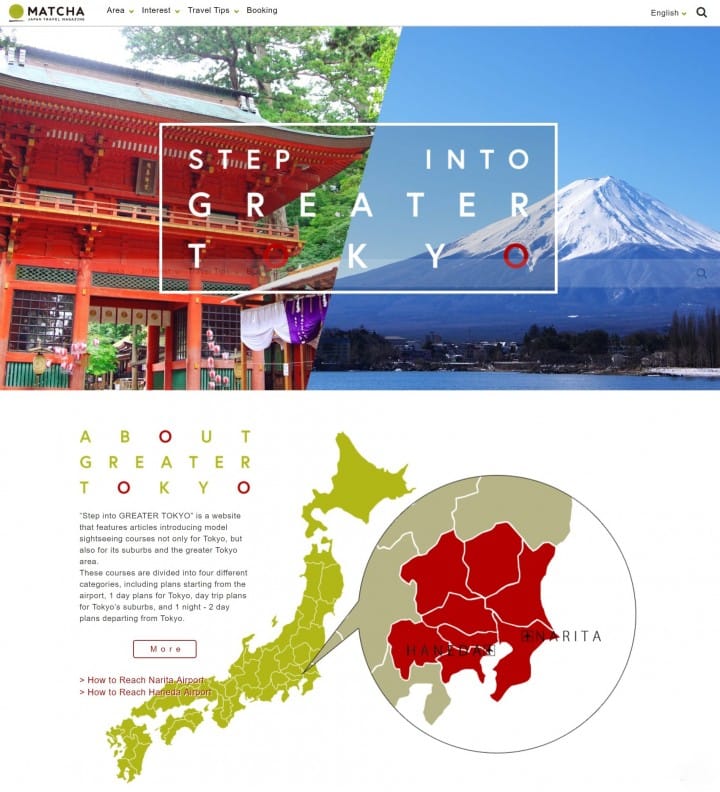 STEP INTO GREATER TOKYO is a website that will introduce you to all of these recommended, but still relatively unknown spots, by compiling them into easy to use model courses!
Next, we'll tell you about the four attractive features of this hands-on website.
STEP INTO GREATER TOKYO Attractive Feature 1:
We Provide Full Support for Solo Travelers Too!
During your trip here in Japan you will want to visit all kinds of places, but you might not be sure how to buy a train ticket inside the station, and may feel uneasy about not knowing how to ride the train. So before you even get started, you could have a long list of worries!
No problem at all. STEP INTO GREATER TOKYO's model courses introduce more than just the spots you'll be visiting.
We'll also explain how to get to your destination, the different types of tickets and how to purchase them, and which discount passes and tickets are available and good to use.
STEP INTO GREATER TOKYO will be with you every step of the way. So even if it's your first-time, you'll be able to get to where you want to go smoothly and without any problems.
STEP INTO GREATER TOKYO Attractive Feature 2:
We Can Suggest Lots of Short Trips from Tokyo as Well!
STEP INTO GREATER TOKYO doesn't just offer model courses for the city of Tokyo, but also has suggestions for short trips, with Tokyo as a starting point.
If you venture out from the metropolis of Tokyo, and board an express train or highway bus for the suburban areas, you'll encounter different kinds of scenery, historic streetscapes, and also cuisine.
Here in the outskirts of Tokyo, old houses and streets with a distinct Japanese flavor, and shrines and temples that have been passed down through the generations, still remain today.
If you'd like to have a more remarkable and memorable experience, we highly recommend taking a short trip to the surrounding areas as well.
STEP INTO GREATER TOKYO Attractive Feature 3:
We Provide Info on Airport Access and Areas Nearby!
Of course we also have articles with information on access from Haneda and Narita airports, the gateway to your Tokyo trip.
It's reassuring to know that if you read these articles before going to Tokyo, you'll be able to start your sightseeing plans right after arriving, with no hesitation whatsoever.
There's also information on sightseeing near the airport, for those who plan on being in Tokyo for just a short while.
STEP INTO GREATER TOKYO Attractive Feature 4:
Here It's Easy to Find Travel Itineraries That Fit Your Plan!
The model courses are organized into four categories: 1) Tours Starting from the Airport, 2) One Day Tokyo Tours, 3) Day Trips to Tokyo's Suburbs, and 4) 2-Day Trips from Tokyo. So it'll be easy for you to find the perfect course for your individual travel plans!
If a particular course grabs your attention you can share it with friends on SNS, and we even recommend inviting them to join you on your trip!
To first get the ball rolling, check out the details on our website.
We have plans to continually update and add new articles to the website.
Also, if you become a fan of MATCHA's Facebook page which manages the STEP INTO GREATER TOKYO website, you can be one of the first to get access to all the latest information and news!
To access MATCHA's Facebook page please click here.
Supported by STEP INTO GREATER TOKYO Project Team