A Unique Event In Akihabara! See Cutting Edge Technology And Tradition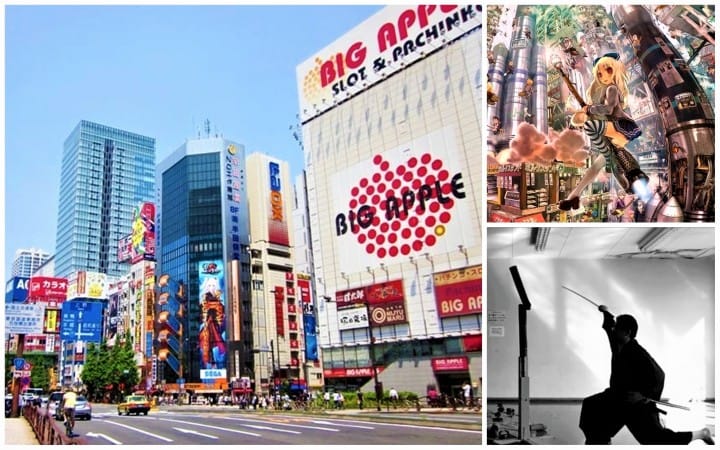 Akihabara, the town of otaku culture and cutting-edge technology, will host a unique event featuring the two sides of Japanese culture: tradition and advanced technology. If you're visiting Japan in late January, don't miss it out!
What do you imagine when you hear the word Akihabara?
A holy place for the otaku? A collection of cutting-edge technology such as robots and VR (virtual reality)? Or a place to enjoy the traditional Japanese culture, since the Kanda Myojin Shrine is located nearby?
All the answers above are correct. On January 27th, 2018, a one-day only event will take place in Akihabara, where visitors can appreciate the various appeals of Akihabara (and Tokyo).
Swordsmanship Demonstration, Live Drawing and Cutting Edge Technology Gather at Akihabara
Picture courtesy of Sougetsukai
Sougetsukai is a martial arts dojo that practices Genko Nito-ryu, a style of ancient Japanese swordsmanship whose core principle is related to cutting down the opponent as quick as possible with the least amount of effort. This dojo also practices kusarigama (chain and sickle), a weapon that sometimes appears in anime.
Picture courtesy of Gamba Masaru
Gamba Masaru is a performer using the Nunchaku, a weapon which appeared in the movie "Enter the Dragon" starring Bruce Lee.
Sougetsukai and Gamba will both be on stage at the event. There will be performances reminiscent of Japanese anime featuring ninjas and samurai, and also demonstrations using Chinese arms, so it will be a treat to those who are interested in martial arts, along with anime fans.
Picture courtesy of John Hathway
Another featured event is a live drawing performance by John Hathway, a Japanese illustrator who is also renowned abroad.
His works depict a cute girl character flying around against the backdrop of a futuristic cityscape, so this will be a valuable opportunity to see the process of its creation.
Picture courtesy of Noratelier
Noratelier, a freelance robotics engineer developing a wide variety of products, from toys to industrial-use gadgets, will also appear in a stage program introducing robots and VR.
Photo Rogaining: An Event to Tour Akihabara
Picture courtesy of Japan Photo Rogaining Association. Please note that the photograph does not depict the actual event.
Another highlight of this event is photo rogaining, in which the participants embark on a tour of Akihabara.
Photo rogaining is a Japanese version of rogaining, an outdoor activity which originated in Australia. The participants tour various spots designated by the sponsor and achieve points by taking photographs.
They will tour anime shops, electric appliance stores and shrines, and experience the various aspects of Japanese culture. Prizes will be awarded according to the achieved points, so give it a try.
There is no need to make reservations for this event, so go to Akihabara, and witness the meeting of tradition and modern technology.
Event Details
Date: Saturday, January 27th, 2018/ 10:00 - 17:00
Place: Akiba Hiroba (inside Akihabara UDX Building)
Access: A two minute walk from JR Akihabara Station, and a three minute walk from Tsukuba Express Akihabara Station. Please check the UDX official site (Japanese) and Google Map.
Admission Fee: This is a free event.
Sponsored by: The Yomiuri Shimbun,Tokyo Metropolitan Government and Tokyo Convention & Visitors Bureau
Website :http://www.yomiuri.co.jp/adv/photorogaining/eventinfo/en.html

Stage Program
Event No.1 10:10 - 10:45/ Introduction of Technology-related Items
Event No.2 11:00 - 11:30/ The History of Akihabara
Event No.3 11:45 - 12:15/ Kenbu (sword action) and Nunchaku Performance
Event No.4 12:30 - 13:00/ Introduction of Unique Akihabara-related Items
Event No.5 13:30 - 14:00/ Drawing Performance

Photo rogaining will be held from 10:00 to 17:00.

Sponsored by THE YOMIURI SHIMBUN

The information presented in this article is based on the time it was written. Note that there may be changes in the merchandise, services, and prices that have occurred after this article was published. Please contact the facility or facilities in this article directly before visiting.