Sightseeing Near Narita Airport - Strawberry Picking, Shopping And More!
Did you know that between Narita Airport and Tokyo there is a strawberry picking farm, an outlet mall, a wonderful shrine, and many more great places to visit? We'll introduce the best places to visit near the airport and how to access them!
Sightsee When You Arrive or Depart! What Kind of Place Is Chiba?
There are many people who use Narita Airport as both the entrance and departure point of their Japan travels. Narita Airport is located in Chiba, a prefecture situated next to Tokyo.
Chiba has several charms, from magnificent seaside views, gourmet seafood, a train that allows you to enjoy the rural scenery of Japan, to fruit picking spots and popular shopping malls. You can also enjoy a three hour transit tour and visit historical temples and museums near Narita Airport.
In this article, we'll introduce our recommended sightseeing spots near the city of Chiba that are easy to stop by on the way to and from Narita Airport!
We'll introduce ways to access these places from both Narita Airport and Tokyo Station in the information below, so definitely please use them as references.
Table of Contents:
1. Have Time In The Morning? Visit Dragon Farm To Pick Strawberries!
2. AEON MALL And Outlet Mall In Makuhari: Perfect For Last Minute Souvenirs!
3. Visit A Shrine And Castle Near Chiba To Experience Japanese Culture
4. Have Large Baggage? Try A Carry Service or the Station Coin Lockers
Have Time In The Morning? Visit Dragon Farm To Pick Strawberries!
It will take approximately one hour and 20 minutes by train and walking from both Narita Airport or JR Tokyo Station to arrive at this spot. Dragon Farm, a strawberry picking farm, is a popular sightseeing farm that is in the perfect location to visit on the way to Narita Airport.
Seventeen Varieties! Enjoy Sweet, Delicious Strawberries
One reason why this farm is popular is the fact that you can try a maximum of seventeen varieties of sweet and delicious strawberries unique to Japan. It costs 2000 yen per adult for 30 minutes of all-you-can-eat strawberries.
Information in Thai and English!
Information is available in Thai and English at Dragon Farm, so even if you don't understand Japanese, you can enjoy the farm without any worries.
There are times when there are no strawberries in the afternoon as there is a limit to the amount of strawberries that can be harvested in a day. Additionally, the farm is crowded from early morning, so there are even times when the scheduled acceptance time is closed even earlier.
If you definitely want to be able to enjoy strawberry picking, then be sure to use the reservation plan for Saturday afternoon where you can enjoy picking by an additional 1000 yen on top of the regular fee. Please e-mail the farm to discuss or ask any questions on the reservation plan. It is also okay to send the e-mail in English.
After 30 minutes of all-you-can-eat strawberries, you can also receive a small piece of boiled sweet potatoes per person for free. Sweet potatoes are a staple Japanese snack that are delicious and great as dessert.
Strawberry picking can be enjoyed from January to May while blueberry picking is available from June to August. The farm's blueberries are also famed to be sweet and delicious.
AEON MALL And Outlet Mall In Makuhari: Perfect For Last Minute Souvenirs!
These malls are approximately 30 minutes by express bus from Narita Airport and one hour by train. It is approximately 30 minutes by train from JR Tokyo Station. There are several shopping spots that we recommend to everyone who wishes to look for souvenirs at great values near JR Kaihin-Makuhari Station.
You can also travel to JR Kaihin-Makuhari Station in one hour by walking and taking the train from Dragon Farm, so we also recommend visiting both locations together.
1. The Largest Structure In Japan! AEON MALL Makuhari New City
AEON MALL Makuhari New City is Japan's largest shopping mall. The mall houses over 300 stores including fashion, cosmetics, restaurants, and general variety stores. There are also many duty-free shops, making it possible to do shopping at great prices.
The mall can be accessed in eight minutes by transit bus from Bus Terminal 3 at the north exit of JR Kaihin-Makuhari Station. A bus departs every ten minutes, making it very convenient.
There are over ten stores that sell cosmetics and general beauty products. There is also a complete assortment of products from popular Japanese brands such as THREE and shu uemura at Cosmême. Here, you can freely test and choose products from over 30 domestic and foreign cosmetic brands.
At FANCL, you can also check the condition of your skin in addition to buying supplements and cosmetics like shown in the photo above. This service will teach you how to care for the skin type that you were matched to.
Seafood bowl photo courtesy of Kanazawa Maimon
The number of restaurants in the mall, which includes the food court, restaurant street, and cafés, adds up to a total of 60 restaurants. You can try a variety of gourmet Japanese foods from restaurants such as Kanazawa Maimon which serves an excellent seafood rice bowl.
There are also many types of confectioneries in the food section of AEON STYLE, a general supermarket, and is perfect for finding souvenirs right before you return home! The supermarket also carries an abundant assortment of products from apparel to everyday products and also includes a duty-free corner.
2. Buy Branded Products At A Discount! Mitsui Outlet Park Makuhari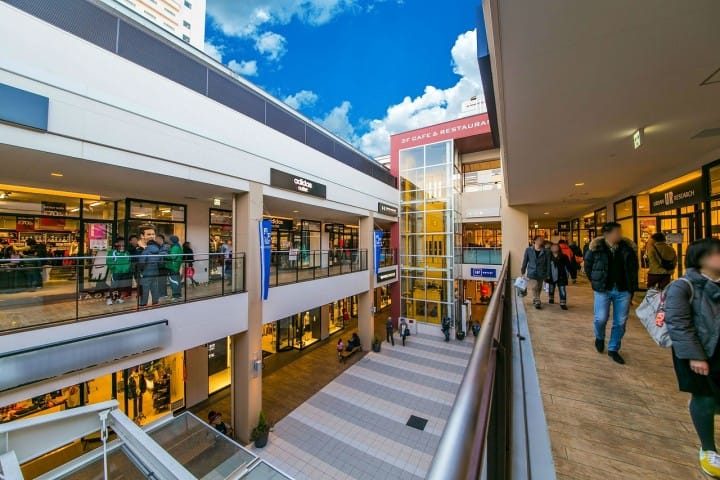 Photo courtesy of Mitsui Outlet Park Makuhari
Mitsui Outlet Park Makuhari, located right in front of JR Kaihin-Makuhari Station, is one the most accessible outlet malls in the suburbs of Tokyo. On top of the products being at outlet prices, there are also many shops that provide tax exemption (you are required to show your passport) for international tourists, making it possible to enjoy shopping at great values.
There are 137 stores, including popular fashion brands such as COACH (*1), that have opened shops inside the mall.
There are also many shops, such as the popular watch manufacturer SEIKO OUTLET (*2), that sells products that are popular regardless of gender.
For details on Mitsui Outlet Park Makuhari, please also check out the article "Mitsui Outlet Park Makuhari! Only 40 Minutes From Narita Airport".
*1, 2: COACH is located on the A-SITE 1 floor of Mitsui Outlet Park Makuhari and SEIKO OUTLET is located on the B-SITE 1 floor.
Visit A Shrine and Castle Near Chiba to Experience Japanese Culture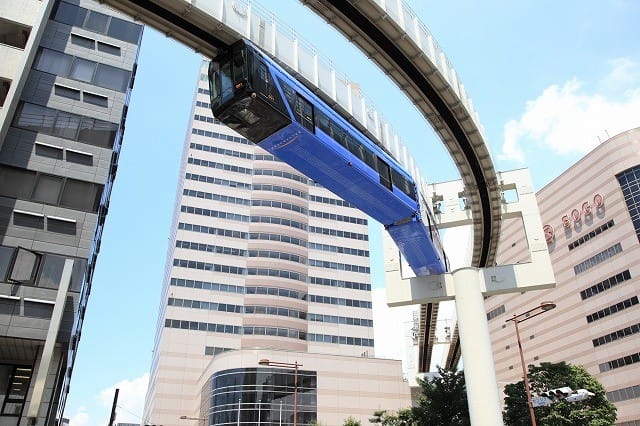 Photo courtesy of Chiba Urban Monorail Co., Ltd.
The city of Chiba, the capital of the prefecture by the same name, is situated southwest of Narita Airport. You can access the city in 40 minutes from both Narita Airport and JR Tokyo Station.
The Chiba Urban Monorail, boasting the world's longest suspended monorail, continuously runs throughout the city. Through the monorail, you'll find spots where you can experience Japanese history and culture.
1. Chiba Shrine - The Home To Several Spiritual Spots!
This spot is a ten minute walk from Chiba Station. Chiba Shrine, boasting over 1000 years of history, is a shrine that worships the god of the North Star, a god that governs over the destinies of humans, and has several unique characteristics.
Being the first multi-storied main shrine in Japan's history is one of those characteristics. Prayer halls have been established on both the first and second floor to accommodate as much visitors as possible at once.
After making your shrine visit, let's visit the shrine's spiritual spots next. The Longevity Well, where spring water that is said to lengthen your life span when consumed flows, is located right next to the main shrine.
Kameiwa, a turtle-shaped boulder next to the Longevity Well, is said to bring happiness when you rub it.
There are also other spiritual spots such as the Lifting Stones, said to be effective for marriage when touched, and the Chiba Tenjin Shrine dedicated to the god of scholarship.
2. Chiba City Folk Museum (Chiba Castle) - A Popular Phot Spot!
This spot is a thirteen minute walk from Kencho-mae Station on the Chiba Monorail. The castle-shaped Chiba City Folk Museum is a popular commemorative photo spot and is bustling with people during the cherry blossom season.
Armors, helmets, and more are exhibited inside the museum. It is free to visit.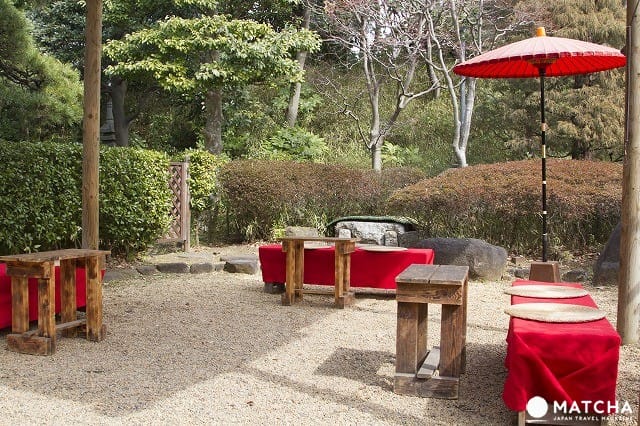 Inohanatei, a Japanese café located next to a tearoom (reservations necessary), is located nearby the Chiba City Folk Museum.
Photo courtesy of: Tsukahara Green Space Research Institute
The Inohana Dango (Sweet Dumpling) sold at Inohanatei is a specialty food of Chiba. The dango, which have a soft texture and sweet flavor, go very well together with the salted boiled peanuts.
Have Large Baggage? Try A Carry Service Or Station Coin Lockers
If you'll be stopping to sightsee or shop while you're on the move, it's hard to carry your suitcases around with you, isn't it? When that happens, we recommend using the coin lockers at stations or utilizing the baggage delivery services from Narita Airport to your hotel or other lodgings.
Why not use these baggage services and enjoy sightseeing on your way from the airport?
You May Also Like
4 Recommended Narita Airport Transit & Stay Tours: Narita, Shibayama, Tako And Sakae
Enjoy Chiba's Rural Scenery Aboard A Vintage Train!
The Hidden Delights Of Chiba Prefecture's Delicious Food Revealed!
Mitsui Outlet Park Makuhari! Only 40 Minutes From Narita Airport

Photo by Miho Yamaki
Sponsored by Narita International Airport Promotion Association

The information presented in this article is based on the time it was written. Note that there may be changes in the merchandise, services, and prices that have occurred after this article was published. Please contact the facility or facilities in this article directly before visiting.