Tanimura Art Museum - Admire 10 Famous Buddhist Sculptures
Tanimura Art Museum in Itoigawa, Niigata Prefecture, is a one-of-a-kind facility, designed architecturally to enhance the displays of ten Buddhist sculptures by renowned sculptor Seiko Sawada. Learn what to see and why you should go to this museum.
Tanimura Art Museum - Exhibiting Just Ten Sculptures
Itoigawa City in Niigata Prefecture is only two hours away by Shinkansen from Tokyo. The sky and sea here are deep blue and breathtaking, home to the one and only Tanimura Art Museum, a museum known for its stunning, truly moving displays.
Its sole exhibition consists of 10 Buddhist statues. With no temporary exhibits or changing displays, this museum exists simply to display 10 particular Buddhist statues.
Each exhibit room is designed to enhance the displayed pieces and to emphasize the beauty and message of the statues. The sculptor is Seiko Sawada (1894-1988). He was a renowned Buddhist sculptor, also talented in woodblock printing, painting, and writing.
The curious-looking museum, too, is a true piece of art, created by brilliant Japanese architect, Togo Murano (1891-1984).
The museum was started by Shigeo Tanimura, the owner of a local construction company, who was a loyal fan of Sawada's sculptures. He requested the help of Murano, who, at the time, was already 91 years old.
Murano inspected each and every sculpture made by Sawada in order to understand what kind of environment would best enhance the sculptor's art. He created a one-and-only space that fills up with natural light. The next two years until his death, he poured his heart and soul into this project. Tanimura Art Museum finally opened in 1983.
Ancient Ruins-Themed Exterior
Neatly structured and sitting top of the sand, the front garden was created to resemble the Silk Road, making the building stand out as if an ancient site was soaring high in the middle of a desert.
When raining, the exterior melts in with the rain, turning dark gray. The snow in winter turns the scene into a monotone photograph, with the white snow and dark structure. The building has aged since it was constructed, resulting in a sophisticated appearance. The exterior continues to change with the passing of time and the weather. The contrast of the blue sky and the concrete as shown in the picture above is breathtaking and a must-see.
If you take a walk down the straight hallway, you'll arrive at the entrance to the museum where Buddhist statues await.
The interior itself also resembles an ancient site or a cave. The light ambiance gives it an unpretentious look, and the thick, round pillars, together with curved, wave-like walls, make it appear gentle and friendly to exploring. The beams of sunlight gently pass through the space making the atmosphere warm and cozy.
This article will introduce seven exhibits displayed in the museum. The first stop is the room to the left of the entrance.
*The pictures in this article were taken after receiving special permission to photograph the exhibition for the purpose of making this article. Please note that it is prohibited to take pictures of the interior as well as the exhibition.
1. Sunlight Pouring over Kongo O Bosatsu
The Buddhist sculpture here is enveloped in sunlight pouring over it from the ceiling. It is called Kongo O Bosatsu (*1).
It is believed that Kongo O Bosatsu has the ability to draw enormous amounts of power. It is as if he is displaying his might and the power has accumulated in one spot, as all of the sunlight is drawn to this one statue.
The meaning of the word "kongo" is just as the characters say – "diamond". It portrays the enlightened state of Buddha (*2), firm, unyielding to any outer force or temptation.
*1 Bosatsu, Bodhisattva: one who pursues the enlightenment through practice and study.
*2 Hotoke, Buddha: enlightened one.
In Tanimura Art Museum, there are no marks to lead the way through it. As you exit one room, another piece of art will appear in your sight. It is as if the statues themselves guide you.
2. Amahiko, Worthy of Undivided Attention
This is the only Buddhist statue that portrays a human in this art museum. Its title is "Amahiko, angel embracing a child" (image, center).
The statue is of a mother embracing her child who died from a bomb during war. It is a heart-wrenching depiction of her sadness, as if she wants to follow her child to the afterlife.
With this statue, in particular, you should pay attention to the shadows, too. Take a look at the right and left shadows –- it is as if mother and child are holding hands, isn't it? It is said that by holding hands, they are trying to climb to the afterlife together.
The architect that constructed this museum, Togo Murano, thought of the room design taking the statues into consideration, too. He gave specific instructions to artistically develop the light and shadows in the rooms, as well.
3. The Golden Manjushage
Have you heard of a flower called red spider lilly? Another name of this red flower with open arms is manjushage, and in Buddhist stories, it is said to bloom in heaven.
Titled "Manjushage", this sculpture portrays the thousand-armed Kannon (*3), a deity whose many open arms resemble the red spider lilly. The shadows show the statue's arms overlapping artistically.
*3 Senju Kannon, thousand-armed Kannon: Kannon is one of the numerous Bodhisattva beings much revered in Japan and is known by the name Kannon-sama. The thousand-armed Kannon represents Kannon that developed thousand arms and eyes in order to save all people and animals.
After you've admired the statue, take a look at the floor. You should be able to see the reflection of the golden thousand-armed Kannon.
However, if you try to move--either forward or back--you will not step on its reflection.
Now, look up to the ceiling. There is a thick beam just underneath the window, tearing the sunlight into two equal beams on the right and left.
The two rays of sunlight are actually slightly different in color. The hue as well as the shape and intensity depend on the weather, creating a unique atmosphere in the room.
4. The Meticulously Shaped Komyo Busshin
In the farthest room, there is a lit up piece of art emitting a spiritual aura.
The model for this piece, "Komyo Busshin", was the wife of Shomu Emperor, Empress Komyo (701-760).
Empress Komyo was a dedicated Buddhist practitioner, who built welfare facilities for the sick, the needy, and orphans.
Although made entirely out of wood, the skin is so smooth and detailed that the statue appears to be made of porcelain. The reassuring, peaceful expression on its face shows a warm heart wanting to save weak souls.
5. Miroku Bosatsu, Made out of Rugged Wood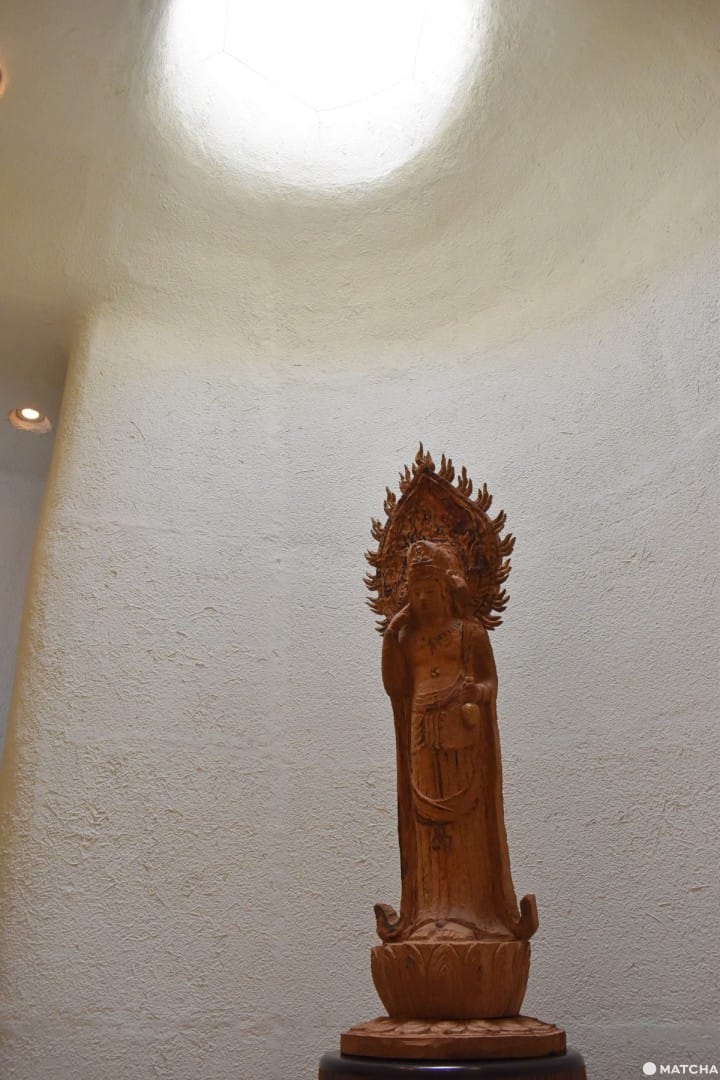 Contrary to Komyo Busshin, this sculpture reveals rugged wood in all its robust nature. The title of this art piece is "Miroku Bosatsu" and it depicts a Buddha-to-be bodhisattva. According to legend, it is said he will save all living things by presenting himself in distant future.
What sets it apart from other artwork is its material. Just like the other sculptures, this work is too is made from wood. However, it is made from Taro cedar from Nikko, a type of hardwood, said to be challenging for carving sculptures. This very trait, on the other hand, gives the sculpture a simple and strong feel, capturing zest for life in solid form.
The appearance changes depending on the angle, so it might seem a bit plump when looked upon from the left side, but could also have sharp features when looked upon from the right side. The many faces of this statue may represent how he is always pondering how to help the world.
6. A Petite Buddhist Statue to Look Up At
Finally, we've arrived at the last room of this exhibition. In front of this room, there are two small statues each on both sides. Neither statue is titled.
If you observe the two from above, it might seem as if the heads are larger than usual, making it look like slightly off-balanced.
However, if you look at them from below, you will be surprised at how well-balanced they appear. It is said that the reason behind this lies in the sculptor's intention to convey that Buddhist statues should not be admired from above, but from below.
7. The Merciful Shokannon
Behind the two small statues awaits "Shokannon". It is the last statue we will introduce in this article. Shokannon, or Kannon-sama in Japanese, is the most beloved and worshipped Bodhisattva in Japan. It is said to possess the spirit of Karuna (*4).
The sculpture is more than three meters tall, standing proud as if sheltering all caring worshippers. The right hand is to embrace all things, and the left hand is to save them.
This concludes the Buddhist art tour of this museum. After you exit the last room, take a look back at the hallway that got you there.
*4 Jihi, Karuna: the compassionate mind of Buddha and Bodhisattva toward all living things.
You will not be able to see any of the statues you admired a few moments ago.
Even if you turn around to look at the path behind you, there is nothing to look back to. You just have to look ahead and continue living. This is the thought behind this peculiar sight. This is a wise life lesson for all of us.
See the Japanese Garden after Admiring the Buddhist Statues
Right next to Tanimura Art Museum is a Japanese traditional garden, Gyokusuien.
An idyllic synergy between refreshing greenery and the river slowly flowing through creates a soothing and peaceful environment. Even the mountains in the background fit perfectly with the scenery, as if unified with the garden.
Imagine a great frame encompassing this scenery, and it will engrave in your heart like a mesmerizing painting.
Visit the café to admire the garden while sipping delicious matcha. Enjoy the tea and dessert set for 500 yen (after tax).
Access to Tanimura Art Museum
Itoigawa Station
The nearest station to Tanimura Art Museum is JR Itoigawa Station. It takes about 2 hours and 5-15 minutes by shinkansen to reach Itoigawa Station from Tokyo (a reserved seat ticket is 11,000 yen). When departing from Kanazawa, it takes no more than 50 minutes (a reserved seat ticket is 5,380 yen).
How to Reach Tanimura Art Museum from Itoigawa Station
There are a few routes you can take from Itoigawa Station to Tanimura Art Museum. If you want to walk, it will take about 25 minutes to reach it.
If you intend to come by taxi, it will cost about 1,000 yen and take about 7 minutes from the Alps Exit of Itoigawa Station. In case of riding a bus to the museum, get on the bus from Itoigawa Station Alps Exit bus platform, and get off at Rendaiji-Iriguchi bus stop. It ought to take no more than 4 minutes, and about 100-170 yen. However, please note that there aren't many buses running per day.
Another option is to rent a bicycle at Itoigawa Station. The fee is 500 yen for 3 hours, and 1,000 yen all-you-can-ride per day. You'll find three companies renting bicycles at the Alps Exit Tourist Information Center offering bicycles for the same price.
Nearby Itoigawa Station, there are plenty of things to do. You can go hunting for natural jade at the Jade Coast, or visit sushi restaurants serving freshly-caught fish from the nearby coast. Renting a bicycle allows you to explore the sightseeing spots in the vicinity and enjoy the day.
Tanimura Art Museum: One-of-a-Kind Art Experience
Exploring the Tanimura Art Museum won't take up more than an hour of your time. Even so, it is carefully designed and overflowing with hidden messages and deep thought, which makes it a piece of art in its own. The time and effort spent going from Itoigawa Station are very rewarding, so don't hesitate to visit. You surely will be amazed at how unique this facility is.
View Information
Tanimura Art Museum
| | | |
| --- | --- | --- |
| | Address | Niigata, Itoigawa, Kyogamine 2-1-13 |
| | Business Time | 9:00-16:30 (last admission 16:00) |
| | Fixed holidays | December to mid-March: every Tuesday (in case of a holiday, the museum is closed on the following day); December 29-January 3 |
| | Required Time | 1-2 hours |
| | WiFi | Not Available |
| | Accepted Credit Cards | Not Available |
| | Nearest station | JR Itoigawa Station |
| | Access | About 25 minutes by foot from Itoigawa Station Alps Exit. About 10 minutes by bicycle (rental). About 7 minutes by taxi (around 1,000 yen). If going by bus, ride the bus from Itoigawa Station Alps Exit platform and get off at Rendaiji-Iriguchi bus stop (about 4 minutes, 100-170 yen). |
| | Price | Tanimura Art Museum and Gyokusuien Garden: 500 yen |
| | Religion | Buddhism |
| | Telephone number | 025-552-9277 |
| | Website | http://gyokusuien.jp/english%EF%BC%8F%E7%B9%81%E9%AB%94%E4%B8%AD%E6%96%87/ |
In cooperation with Tanimura Art Museum, Niigata Prefecture

The information presented in this article is based on the time it was written. Note that there may be changes in the merchandise, services, and prices that have occurred after this article was published. Please contact the facility or facilities in this article directly before visiting.