Iwate Food Guide - Delicious Seafood, Noodles, Wagyu Beef, And Sweets
Iwate, one of the venues of the Rugby World Cup Japan 2019™️, has no shortage of tasty cuisine. We've compiled a list of classic favorites such as local noodle dishes, seafood, and wagyu beef, all the way to craft beers and delicious sweets.
Excellent Food to Try in Iwate
Iwate, a prefecture in the Tohoku Region, is brimming with a variety of delicious dishes!
Though Iwate is famous for unique fare such as The Three Great Noodle Dishes of Morioka, visitors can enjoy the bounty of both the sea and the mountains as the prefecture's east side faces the Pacific Ocean and is also home to Mt. Iwate and Mt. Hachimantai. Of course, you can't overlook the delicious craft beers and sweets here, too.
Iwate is also one of the venues hosting the Rugby World Cup Japan 2019™️ (from here on referred to as the World Cup).
For those planning a visit here, please refer to this article for tips on Iwate's unique products and attractions.
Now, let's introduce Iwate Prefecture's must-eat dishes!
Morioka's Three Great Noodle Dishes!
When talking about specialty products from Iwate's capital city of Morioka, The Three Great Noodle Dishes of Morioka often come to mind. This generic term refers to Morioka reimen (from here on referred to as reimen), jajamen, and wanko soba.
Before heading to Iwate Prefecture, let's first understand the characteristics of these noodle specialties!
1. Reimen (Chilled Noodles)
Photo by Pixta
Reimen is essentially cold noodles that were first served at yakiniku restaurants in Morioka City. While the dish originated from South and North Korean noodles, it was later arranged to suit the taste buds of Japanese customers.
The noodles are silky, smooth, and made from a dough of starch and potatoes. The soup is crafted from an aromatic beef and chicken stock.
Topped with sour and spicy kimchi and served with a side of seasonal fruit to cleanse your palate after eating, it offers a refreshing taste combination. Interestingly, it seems that reimen is often served as a concluding dish after a hefty yakiniku meal.
Reimen is available at various yakiniku restaurants such as pyon-pyon-sya and Seiroukaku, both in front of JR Morioka Station. It's also available at Shokudoen, situated along Morioka Odori Shopping Street.
2. Morioka Jajamen (Flat Noodles with Miso-Meat Sauce)
©️ Iwate Prefecture Tourist Association
Morioka Jajamen is a noodle dish that originated at a Chinese restaurant. Rumors have it that the restaurant owner first served it after having adapted a Chinese dish called Zhajiangmian.
The saltiness of the miso meat sauce, the spiciness of the garlic, and the refreshing taste of sliced cucumbers combine to create a deep, satisfying flavor.
According to some locals, one taste of this dish will have you hooked!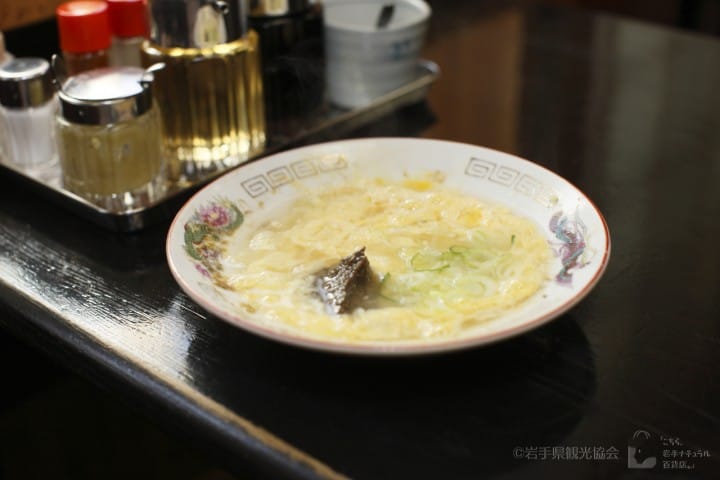 ©️ Iwate Prefecture Tourist Association
After eating the noodles, you can crack a raw egg and add boiling water in the bowl to create a soup called "chitantan"—which is how the locals finish off the meal.
There are numerous shops that serve jajamen, including Hakuryu inside the JR Morioka Station building, Jajamen-ya Kojan, and HOT JaJa in Morioka City.
3. Wanko Soba (Buckwheat Noodles Served in Small Bowls)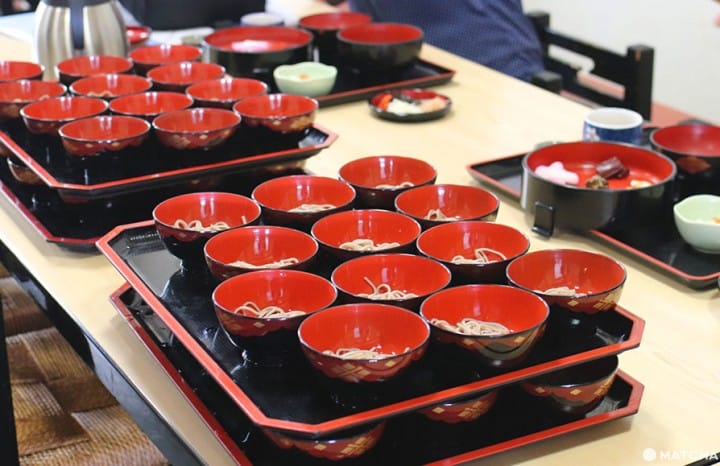 Kinkontei
Wanko soba is a noodle dish with a unique eating style. As soon as customers finish their noodles, they are served another bowl of fresh soba. This process is often repeated multiple times (see the numerous bowls on standby in the picture above). When diners have had plenty to eat, they are then asked to put a lid over their bowl to indicate that they've finished their meal.
In Morioka, wanko soba can be enjoyed at AZUMAYA Honten and Hatsukoma honten. Head to Kinkontei if you're in Hanamaki. If you're searching in the vicinity of JR Morioka Station, we also recommend AZUMAYA (Ekimae).
Maesawa Beef
Japanese-Style Restaurant Ushi no Sato
Maesawa Beef is a wagyu (Japanese cattle) brand from cows raised in Iwate. Apparently, among the wagyu cattle raised in the nature-rich Maesawa Area of Oshu, only those that have met the strict certification standards can be officially called Maesawa Beef.
Eat the finely marbled red meat and savor its melt-in-your-mouth texture.
Maesawa Beef is available at Wakana and other restaurants in the Morioka area. However, we recommend Ushi no Sato in Oshu City for its wide variety of dishes using Maesawa Beef, including sukiyaki and "niku sushi" (meat sushi).
Fresh Seafood
Photo by Pixta
With most of its eastern side facing the Pacific Ocean, Iwate is blessed with bounty from the sea, including sanma (Pacific saury fish), saba (mackerel), as well as squid, scallops, oysters, sea urchin, wakame seaweed, and hoya (sea squirt).
If you visit this area, you'll definitely want to try the sashimi and kaisen-don (a rice bowl topped with seafood), using locally caught fresh seafood.
Nanbuhan Nagaya Sakaba is highly recommended in Morioka. In addition to fresh seafood, they serve jajamen, reimen, and famous local sake, so almost all of Iwate's specialties are available here.
Sansa-odori, a local dance performed by staff every evening at 19:00, is also a must-see.
An Uni (Sea Urchin) Lunch Box
©️ Iwate Prefecture Tourist Association
There are also dishes that take full advantage of the abundant local seafood. For example the specialty of Miyako City on Iwate's coastline is an Uni Lunch Box (1,470 yen including tax) which consists of a thick layer of uni covering a bed of white rice.
At Sanriku Arisu Tei, a food counter inside the Kuji Station building (Kuji Sanriku Railway), the Uni Lunch Box goes on sale at 7:00. Only 20 of these boxed lunches go on sale each day, so those who are interested should get there when the shop first opens.
Craft Beer
Rugby fans will be delighted to hear that Iwate is famous for craft beer.
Unique craft beer brands are produced in this region, including Baeren-Classic, which received first place in a Japanese craft beer contest. Another notable beverage is the Japanese Ale Sansho, a refreshing brew that uses a Japanese pepper called sansho.
Tono Brewing Company TAPROOM
Tono Brewing Company TAPROOM
Our recommendation is Tono Brewing Company TAPROOM in Tono—an hour from the World Cup venue Kamaishi Recovery Memorial Stadium.
Using hops grown in the Tono area, the beer is carefully brewed on the premises and offers up a delicate taste. There's a full line-up of snacks and casual foods, including fish and chips and also chili.
Iwate Sweets and Souvenirs
Fukuda Pan in Morioka is recommended for those with a sweet tooth. Filled with cream or jam, their soft bread has a gentle flavor that's loved by adults and children alike.
In addition to the bakery's main location in Morioka, their products are also sold at iwate tetoteto in the JR Morioka Station building.
Nanbu Senbei (Rice Crackers)
Two of Iwate's popular souvenirs are the crunchy-textured Nanbu senbei (rice crackers), and Kamome no Oji—cute, egg-shaped manju ((bean-jam buns).
You can buy these at souvenir shops in JR Morioka Station and throughout the city.
Let's Eat up Iwate's Gourmet Food!
From delicious foods gathered from the sea and mountains all the way to bliss-inducing sweets, there are a multitude of cuisine to taste in Iwate Prefecture.

So when visiting here, be sure to fully savor the local food and drink scene at the various izakayas and restaurants, in addition to touring all the scenic spots!

For details on places to see in Iwate, access from Tokyo, and information on Kamaishi City's rugby stadium, please have a look at the articles below.

Main image by Pixta

The information presented in this article is based on the time it was written. Note that there may be changes in the merchandise, services, and prices that have occurred after this article was published. Please contact the facility or facilities in this article directly before visiting.