7 Unforgettably Scenic Spots In Iwate, Northern Japan
Iwate Prefecture in northern Japan is a treasure trove of scenic outdoor destinations. This article suggests seven nature-filled places, including its picturesque coastlines and turquoise-blue underground lakes. The article also features Kamaishi, a host city for the Rugby World Cup 2019.
Iwate Prefecture - Adventure to Gorgeous Outdoor Spots
Iwate Prefecture in Tohoku Region's is Japan's second largest prefecture in terms of land area and offers visitors gorgeous views of the ocean and mountains. In other words, it's truly a treasure trove of scenic spots.
This article introduces seven scenic destinations in Iwate Prefecture by the coastline and inland areas. We also feature sightseeing locations near Kamaishi City, one of the host cities for Rugby World Cup Japan 2019™️ (from here on referred to as the World Cup).
Stunning Destinations on the Iwate Coastline
We start off by first introducing scenic spots located along Iwate Prefecture's coastline, which includes the city of Kamaishi, one of the venues for the World Cup in 2019.
Iwate's coastline, called the Rikuchu Coast, faces the Pacific Ocean and has numerous places that will take your breath away, including Jodogahama Beach and the Kitayamazaki Cliffs.
One great way to leisurely enjoy the stunning scenery is to rent a car and drive along the coastline as your skin feels the gentle sea breeze.
1. Jodogahama Beach
Jodogahama Beach is one must-see spot along the Rikuchu Coast. You'll be dazzled by the striking contrast of the steep, gray-colored cliffs, the blue-green ocean, and white seafoam!
In Buddhism, Jodo means "Pure Land." It's been said that when a high ranking Buddhist monk first saw the beach, he likened its beauty to that of the Pure Land or Paradise. From that moment on, this memorable landscape came to be called Jodogahama.
At Jodogahama Beach, there's a popular forty-minute cruise that will allow you to get a close-up view of the bay area aboard a pleasure boat.
If you purchase some black-tailed gull bread (100 yen) while onboard, you can feed the gulls as they hover around. As the birds will quickly come to the boat, it's easy to get carried away with them. Feed the gulls in moderation so you can also catch the gorgeous coastal scenery.
Jodogahama is about one hour away from Kamaishi City by car.
Official Homepage: Miyako Jodogahama Boat Cruise (Japanese)
Price (40-minute cruise): Adults 1,400 yen (Junior high school and up), Children 700 yen (six years old to six-grade elementary school student), five years old and under are free.
2. Ryusendo Cave
Photo by Pixta
Ryusendo Cave is a limestone cavern that offers stunning views deep underground. It is located one hour and forty minutes from Kamaishi and just an hour away from Jodogahama by car.
Photo by Pixta
The entire cave is some 5,000 meters in length and is said to house a total of eight underground lakes. Among those is an impressive 700-meter length limestone cave. Three lakes are open to public access.
This subterranean lake is filled with transparent turquoise-blue water and is coined Dragon Blue. When the cave is lit up, the color casts a glow over the rock walls, creating a mystical mood.
Photo by Pixta
When you exit the limestone cave, you can spot a transparent stream and moss-covered rocks while strolling along a nature trail. There's also a popular cafe called Ponte where you can try tasty Iwaizumi yogurt (350 yen excluding tax), so please stop in for a visit.
3. Kitayamazaki Cliffs
Photo by Pixta
Kitayamazaki is an area on the Iwate coastline featuring breathtaking views of steep cliffs, reminiscent of Australia's scenic Great Ocean Road. Towering 200-meters in height, the precipices extend along the coast for some eight kilometers.
You can experience the impressive view above at Kitayamazaki Observation Deck, which appears as if it's protruding out into the ocean. There is also a cruise you can take in the area. During the ride, you can look up and see the sheer cliffs stretching upwards from the ocean.
However, the main feature here is catching the changing sceneries of each season. This includes the green foliage of summer, stunning foliage in autumn, and a snow-covered landscape in winter.
By car, the Kitayamazaki Cliffs are just an hour from Jodogahama Beach.
Official Homepage: Kitayamazaki Cliffs Sightseeing Cruise (Japanese)
Price (50-minute cruise): Adults 1,460 yen, Children 730 yen
4. Goishi Coast
Photo by Pixta
The Goishi Coastline offers eye-catching sights such as Anatoshiiso, a rock formation in the sea with three openings caused by saltwater erosion. Located about one hour south of Kamaishi by car, this coastal area extends for about three-kilometers offering views of unusual rock formations.
If you hop aboard one of the pleasure boats, you can pass through three different openings in Anatoshiiso. It's been said that those who pass through the openings will be blessed with happiness.
photo by Pixta
On the beach, you can see smooth stones and pebbles that resemble "goishi," the stone pieces used in the Japanese board game called Go. This has resulted in the name Goishi Coast.
Photo by Pixta
The area's rugged shoreline, Kaminari Iwa (Thunder Rock) and Ranbo Iwa (Violent Rock) are all must-see spots. In addition to a nearby walking trail, there's also a campground and the Ofunato City Museum, which exhibits locally excavated fossils and earthenware.
Official Homepage: Anatoshisen Boat Cruise (Japanese)
Price (40-minute cruise): Adults 2,000 yen (Junior high school and up), Elementary school students and under are 1,000 yen.
Scenic Spots in Iwate's Inland Area

Hanamaki, Morioka, and Ichinoseki City are located in Iwate Prefecture's inland area. In Hachimantai, visitors can take in scenic views of some local valleys, including Gembikei and Geibikei Gorge.
5. Hachimantai
Photo by Pixta
Hachimantai is a mountain located about 80 minutes away from Morioka City. It has a trekking course suitable for beginners. As you walk along the trail, you can enjoy observing the varied alpine vegetation and wild birds.
photo by Pixta
Hachimantai is also a famous spot for viewing golden and crimson leaves, so we highly recommend visiting here in the fall.
Photo by Pixta
Near the summit of Mt. Hachimantai is Kagami-numa Pond. It earned the nickname Dragon Eye because when the snow starts melting in spring, the pond is said to resemble a gigantic dragon's eye.
Viewing times for this natural phenomenon can change depending on the year's weather conditions. The Hachimantai Tourist Association homepage posts updates on the conditions near the summit, so please feel free to have a look.
Official Homepage: Hachimantai Tourist Association
6. Geibikei Gorge
Picture courtesy of Geibikei Tourism
Geibikei Gorge is one of Iwate Prefecture's most iconic scenic areas, situated only thirty minutes by car from Ichinoseki City.
Here, boat rides are popular because you can see the sheer cliffs towering over both sides of the gorge from the boat. The bright greenery in spring and summer and foliage in autumn attract many travelers here.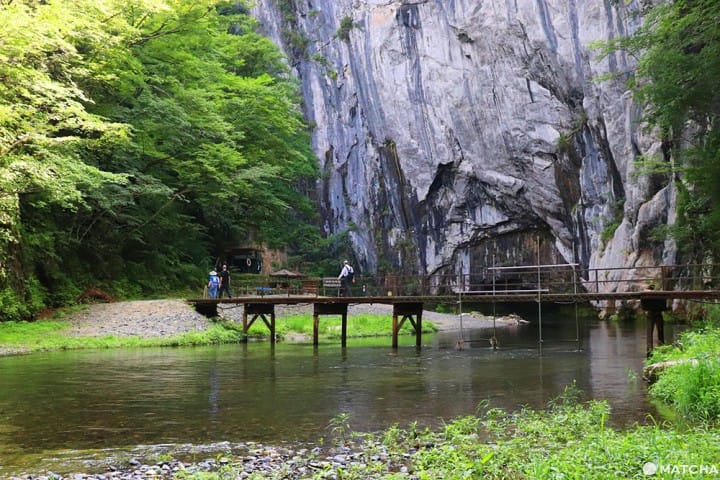 When the boat reaches Miyoshigaoka—the turnaround point for the trip—we'll disembark and go for a walk until we reach a giant cliff called Daigeibi-gan.
Daigeibi-gan is a cliff 124 meters high with a rocky surface dotted with small holes. It is thought that is you can successfully throw an undama or lucky stone (five for 100 yen including tax) into one of the holes, your wish will be granted. Be sure to give it a try when you visit.
Official Homepage: Geibikei Boat Ride (Japanese)
Time required (round-trip): 90 minutes
Price: Adults 1,600 yen (Junior high school and up), Elementary school students 860 yen (six years old to grade six elementary school), Children 200 yen (3 years old and up)
7. Gembikei Gorge
If you're planning to visit Geibikei Gorge, then it's also worth visiting Gembikei Gorge. The rugged rock surfaces rising up on both sides of the Iwai River make for a remarkably eye-catching tourist spot.
You can get to Gembikei Gorge from both Geibikei Gorge (40 minutes) and Ichinoseki City (20 minutes) by car.
While the actual valley at Gembikei is smaller in scale than that of Geibikei, it does offer some fun activities as well.
Ordering kakko dango, known as flying dumplings (400 yen including tax), is a popular choice.
To place your order, fill out your order slip and put your money into the basket. The basket will be pulled along a rope until it reaches the other side of the gorge, where the teashop is located. When your order is ready, it'll be sent back to you in the basket along the same rope.
When overseas visitors order dango, their country of origin is announced over a loudspeaker as the dumplings make their way along the rope. In addition to the dumplings, there will also be a miniature version of their country's flag inside the basket.*
*Due to sudden, unforeseen circumstances, the teahouse staff may be unable to provide this additional service.
Located beside the Gembikei Gorge is Sahara Glass Park, where glass craftsmanship from around the world can be seen. Outside, there are glass statues and artworks made from glass on display, so you can take pictures worth sharing with friends.
Visit Iwate and Immerse Yourself in Nature
We highly recommend Iwate Prefecture as a travel destination for outdoor lovers, looking for something that can't be found in Tokyo, Osaka, and Kyoto. You can take in these outstanding, larger-than-life natural sites firsthand.

For additional details on other sightseeing spots in Iwate Prefecture, access from Tokyo, and information on Kamaishi City's rugby stadium, please have a look at the articles below.

In cooperation with Iwate Prefecture
Main image by Pixta

The information presented in this article is based on the time it was written. Note that there may be changes in the merchandise, services, and prices that have occurred after this article was published. Please contact the facility or facilities in this article directly before visiting.