Find Amazing, Fresh Food at Osaka Kizu Wholesale Market!
Osaka Kizu Wholesale Market is a traditional marketplace open from 5:00 each morning. Just a ten minute walk from Namba Station, let's go hunting for souvenirs, see fish auctions, and enjoy delicious seafood bowls in Osaka!
Osaka Kizu Wholesale Market – a Downtown Fish Market
When it comes to famous Osaka markets, most people think of Kuromon Market in Nipponbashi. However, the market we'll be introducing this time is Osaka Kizu Wholesale Market. This market is chock full of amazing, fresh food!
Osaka Kizu Wholesale Market is just a fifteen minute walk from Nankai Electric Railway Namba Station. The market opens for business every morning at 5:00 as its main role is as a market for businesses to procure fresh produce and ingredients.
The market sells fresh seafood, fruit, and vegetables, as well as traditional Japanese dried goods like kombu kelp and katsuobushi (dried bonito flakes). The stores are quite hectic during their wholesale hours, so if you're hoping to sightsee, we suggest visiting the market after 9:00. That way, you can walk through the market without disturbing those who are there for business.
Several fishmongers will trim and cut your fish for you on the spot as free service. On top of that, they'll even provide customers with chopsticks and soy sauce to make it easier for them to eat.
However, these types of stores normally don't have seats inside. Most stores also don't take credit cards, so be sure to prepare some cash before your visit.
* Menu and prices in this article are from 2020, when the original article was published. Please refer to the market's official website for the latest information.
Kizu Uoichi Shokudo – Brimming with Fresh Ingredients
Market street vendors won't have any seats. If you're looking to to sit and eat, then Kizu Uoichi Shokudo is the best option.
Uni Kaisendon (2,500 yen after tax)
Pictured above is the Uni Kaisendon (sea urchin seafood bowl). The bowl includes a generous serving of fresh ingredients, making it a dish that's a great value for the price.
Kobore Ikuradon (3,400 yen after tax)
If you want to eat a hearty meal, then we recommend a koboredon ("overflowing rice bowl"). The Kobore Ikuradon is served with a shocking 400 grams of salmon roe, and is sure to fill you up! You can start your day with a delicious rice bowl, as the restaurant opens at 6:00.
Kizu Morning Market – Budget-Friendly and Fun
An event called the Kizu Morning Market (Japanese) is held on the second and last Saturday of every month. On this day, the general public can sample foods and see fish auctions firsthand. Stores with the Kizu Morning Market sign will give customers an event lottery ticket when they purchase a product over 1,000 yen. Buy some souvenirs and win fresh foods as prizes!
KAINO COFFEE – a Café in the Midst of Fresh Seafood
Not a fan of raw fish? Then try a Western-style breakfast at KAINO COFFEE.
Egg Toast Sandwich (650 yen after tax)
Pictured above is the Egg Sandwich set. Cucumber garnish gives the sandwich a refreshing bite. This set comes with a choice of black tea, coffee, or milk. The café's coffee was particularly mild, with no acidity and little to no bitterness, making it smooth and easy to drink.
Namba Kizu Machi Yokocho – Lively Inside and Out!
Exit Kizu Market and you'll find several restaurants gathered outside in Namba Kizu Machi Yokocho (Kizu Yokocho), located right under the expressway.
Atchichi Honpo – Piping Hot Takoyaki
The word "achichi" is used in exclamation when eating something hot and is short for "atsui atsui" (hot, hot!). Atchichi Honpo is a small takoyaki shop open from 6:00 in the morning to 22:00. Let's enjoy piping hot takoyaki that's fresh made!
Takoyaki Single Serving (500 yen after tax)
The takoyaki a soft, chewy texture. This treat can be eaten in various ways, from serving it with lots of ponzu sauce to dipping it in dashi stock..
Daidoko Yamanaka – an Izakaya Featuring Japanese Sake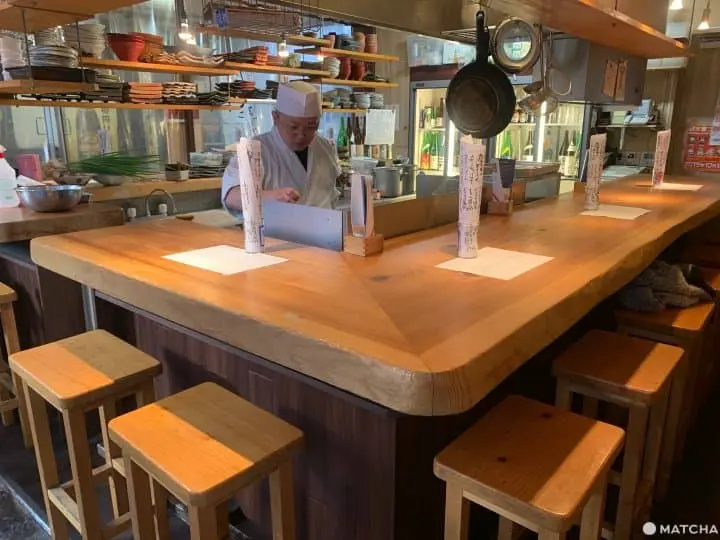 Many stores in Namba Kizu Machi Yokocho open in the afternoons or evenings. Daidoko Yamanaka is one such shop, open for business from 17:00.
Assorted Tempura (780 yen after tax), Japanese sake (450 yen after tax)
This izakaya (Japanese pub) mainly features Japanese sake, with a selection of 40 different kinds! Customers can enjoy a drink with various dishes including tempura, sashimi, and hot pot. If you're unsure on what drink to choose, then the chef will recommend a beverage that pairs well with the dishes you've ordered.
ODA – a Local Wholesale Supermarket
ODA in the Osaka Kizu Market is a wholesale supermarket that offers products in large quantities.
The store carries numerous products including instant ramen and snacks, making it an ideal place to look for souvenirs in bulk.
Salmon Sushi (485 yen after tax/5 pieces)
They also sell sushi. Their sushi is high quality, so try buying your sushi here if you weren't able to eat your fill in Kizu Market, or couldn't make it to the market during business hours.
Eat Well for a Great Value at Osaka Kizu Wholesale Market
Much of Osaka Kizu Wholesale Market still feels like a traditional marketplace. You're sure to find great deals at this market, whether it be by wandering around the stalls, or venturing to Kizu Machi Yokocho at night to appreciate the unique ambience of an izakaya.

To find the latest information on MATCHA, check us out on our Facebook, Twitter, or Instagram!

The information presented in this article is based on the time it was written. Note that there may be changes in the merchandise, services, and prices that have occurred after this article was published. Please contact the facility or facilities in this article directly before visiting.