Cafe & bar HRR - Socialize And Enjoy Music At A Friendly Osaka Bar!
International visitors coming to Japan may find it hard to enter izakaya and local bars. Today, we feature an izakaya with an atmosphere that welcomes all guests. Come to enjoy nightlife for a memorable evening of talking with Osaka locals!
Cafe & bar HRR - A Unique and Inviting Bar In Namba, Osaka
Have you ever wanted to go to an izakaya (Japanese pub), but were hesitant to enter because you didn't know what it would be like? There are probably many travelers who have felt this way.
In this article we introduce Cafe & bar HRR, a bar that is friendly and welcoming to international visitors.
This bar's owner wanted to recreate the atmosphere found at outdoor food stalls, where customers interact with each other in a Showa period atmosphere.
The result is a bar that combines both the mood of a Japanese izakaya and a Japanese dagashi candy shop.
The Michikusa Apartments, a building left over from the Showa period, was renovated using scrap lumber and art. Cafe & bar HRR is located on the first floor.
The shop's surrounding area is residential, making this street corner building, decorated with paint and miscellaneous goods, stand out.
Many people passing by head into the shop, drawn in by its lively, art gallery-like appearance.
The shop's door is made completely of glass, allowing you to see what's going on inside. You don't have to worry before stepping inside if the shop is not what you're expecting.
Outside the shop's entrance, you'll be greeted by a figure wearing a hat. He is named Masashi, and is in charge of attracting customers to the shop.
When you are at the front of the bar, remember to take a picture with Masashi.
Let the Bar Master Choose Your First Drink!
Cafe & bar HRR has an extensive menu, including coffee and juice, beer, Japanese sake, and cocktails.
For your first order, try the master's recommendation. You'll be asked what kind of alcohol you like, and whether you prefer a sweet and mild flavor or something dry. They will then serve you a drink that suits your taste.
We were told that the owner, upon meeting international visitors, always asks what they drink in their country. He apparently regularly updates the drink menu after learning.
For example, he learned how to make authentic Irish coffee when a visitor from Ireland who visited the shop. Irish coffee is now part of the drink menu.
If a popular drink from your country isn't available at the bar, you can look forward to it being on the menu during your next visit.
Enjoy Socializing and Making New Friends
When we opened the door and stepped inside the bar, hip hop music was reverberating throughout the space.
The music played is the selection of the shop owner. Some travelers make multiple trips here during their visit to Osaka, simply because they enjoyed the bar's music so much.
Picture courtesy of Cafe & bar HRR
Inside the shop, there's a table, a small round table, and a counter.
Customers at the round table will often be sitting together with other strangers, but thanks to the fun and festive mood, fun conversation and socialization comes naturally.
The owner often approaches and talks to first-time customers, creating a comfortable atmosphere allowing everyone to have an enjoyable experience.
Cafe & bar HRR also holds events several times a month.
They have even had events where international customers, who were staying in Japan for a long period of time, cooked or brought food from their country's cuisine. You are free to join these festivities on the day that they're held.
In addition, they also have DJ events and other lively affairs that are attended by many people!
The bar can accommodate about ten customers at a time. It is not a large venue, but because the bar is compact, the owner can easily mingle with and talk to everyone, and customers will surely have a memorable experience.
This bar is a special place where everyone will feel like a friend.
There are also many repeat customers who return to have more entertaining nights.
Enjoy Osaka Nightlife for One-of-a-Kind Evening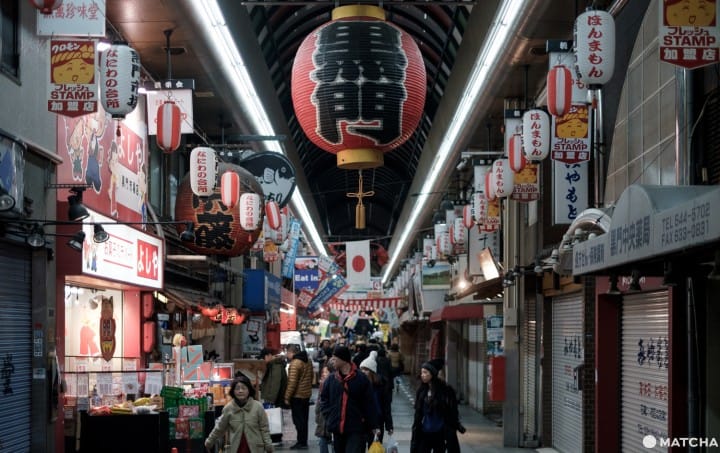 From Namba Station, you can get to Cafe & bar HRR in just ten minutes by walking through a local shotengai. After passing through Kuromon Market, follow the quiet street to its end and to find Cafe & bar HRR.
Cafe & bar HRR is the ideal place for people looking to experience Osaka's nightlife, for those wanting to try a local Japanese izakaya, and for visitors who like shops with eclectic, antique style.
Drop in for a visit and an unforgettable experience!
View Information
Cafe & bar HRR
| | | |
| --- | --- | --- |
| | Address | Osaka, Chuo, Kozu 3-8-31, Michikusa Apartment HRR |
| | Business Time | 18:00-25:00 |
| | Fixed holidays | Mondays |
| | WiFi | Not Available |
| | Accepted Credit Cards | Not Available |
| | Languages | Japanese, English |
| | Menu/Pamphlets in Other Languages | English information available |
| | Nearest station | Nankai Namba Station |
| | Access | 10 minutes on foot from Nankai Namba Station |
| | Price | 500 yen - 3,000 yen |
| | Telephone number | 06-6648-8676 |
| | Website | Cafe and bar HRR - Instagram Page |
In cooperation with Cafe & bar HRR

The information presented in this article is based on the time it was written. Note that there may be changes in the merchandise, services, and prices that have occurred after this article was published. Please contact the facility or facilities in this article directly before visiting.