Tamura, Fukushima: Adventure Outdoors In Rural Japan
Japan's countryside offers natural beauty and many things not found in crowded cities. Tamura City in Fukushima Prefecture is one such place. Explore highlight attractions like Abukuma Cave, the nature park, Mushi Mushi Land, and stunning seasonal sceneries.
Take in the Nature of Rural Japan
A typical trip to Japan involves visiting convenient, busy urban areas.
However, these crowded cities with neon lights are a stark contrast to the peaceful, natural beauty Japan has to offer. The Japanese countryside is where you can experience life in harmony with nature.
This article features a different side of Japan found in Tamura City, Fukushima Prefecture.
How to Get to Tamura City
Use JR train lines to conveniently reach Tamura from Tokyo. The nearest station to Tamura is Koriyama Station, which is along the Tohoku Shinkansen that departs from Tokyo or Ueno.
The one-way Shinkansen fare costs 7,810 yen from Tokyo Station. From Ueno Station, the fare is 7,600 yen. The ride is a little over an hour. By using discount tickets such as JAPAN RAIL PASS and JR EAST PASS, travelers can take a reasonably-priced trip around the area.
Flying to Sendai Airport is another option. From the airport, take a train to JR Sendai Station, switch to the Shinkansen, and head for Koriyama Station. The train fare to Sendai Station is about 5,700 yen and takes about an hour.
Other stations in Tamura are accessible via the JR Banetsu East Line. However, most sightseeing spots are located away from these stations, and there are a limited number of buses running.
A rental car from Koriyama Station is recommended for those sightseeing. Try car rental servics, such as Orix (Japanese) and Nippon Rent-A-Car, or the other agencies near the station.
A Sightseeing Destination With Year-Round Attractions
There are spots with both seasonal attractions and those that can be enjoyed all year long. The following three spots are great to visit at any time of the year.
Abukuma Cave
Formed naturally over 80 million years ago, the gigantic limestone Abukuma Cave is one of the most popular places to visit in Tamura.
The largest section measures 29 meters in height and has a gorgeous 360-degree view. The walkway is well-maintained so visitors can explore easily on foot.
For details, please check the following article.
Hoshinomura Observatory
Photo on lower right-hand side courtesy of Tamura City
The Hoshinomura Observatory is home to an astronomical telescope with an aperture of 65 centimeters (around 25 inches). The observatory serves as a planetarium by day, and visitors can participate in a telescope tour. A stargazing event is held on the weekends.
At the observatory, visitors can do an excavation by purchasing a block shown in the photograph above.
The workshop costs 500 yen. You can also keep all of the excavated stones and fossils.

Isozaki Shrine
You'll be taken aback by the mysterious atmosphere at Isozaki Shrine. Visitors must climb up to reach this sacred site surrounded by trees as it's located on a hillside.
Isozaki Shrine is built on top of boulders. After passing through the building and stones, there will be steps on the right side leading up to the shrine.
Designated a tangible cultural asset by Tamura City, the shrine's origin remains unknown.
Sightseeing Spots by Season
The following are different recommended locations to visit depending on the time of year. There are also locations worth visiting in multiple seasons––don't miss out!
Spring
Photograph courtesy of Tamura City
With the cherry blossoms in full bloom, most travelers consider spring to be the best season to visit Japan. There are various spots to enjoy the scenery in Tamura.
The sakura in this area bloom one to two weeks after Tokyo. Those who missed these fleeting blossonms in the city should come to Tamura.
Ozawa no Sakura
Photograph courtesy of Tamura City
Beneath a clear blue sky, a cherry tree surrounded by yellow colza flowers can be seen looming over a small shrine. This is the Ozawa no Sakura, a picturesque tree featured in the Japanese movie "First Love" released in 2000.
The tree is said to be over 100 years old. According to the legend, a former resident, who was fond of a woman named Sakura (cherry blossom), planted the tree in her memory.
Row of Cherry Trees at Ohtakine River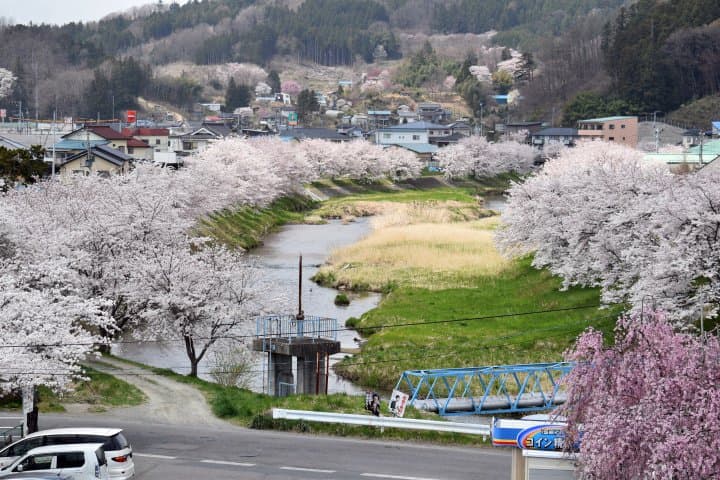 Photograph courtesy of Tamura City
A row of about 160 cherry trees, around 80 years old, extends for 1.5 kilometers along the Ohtakine River. A five-minute walk from Funehiki Station, there are many stores and lodging facilities nearby.
The cherry blossoms form a tunnel when in full bloom. A festival is also held during this season.

Summer
The following spots in Tamura City are where nature comes alive in the summertime.
Mushi Mushi Land
Photograph courtesy of Tamura City
In the summer, it's customary for Japanese children to catch and raise beetles as pets.
With many people residing in urban areas nowadays, this pastime remains active in the countryside.
Photographs courtesy of Tamura City
Mushi Mushi Land is only open during the summer between July and August. There are exhibitions on beetles and butterflies from around the world. The Kabutomushi Dome also displays the Japanese rhinoceros beetle (kabutomushi) in their natural habitat.
Visitors can touch and play with the beetles inside the dome and see matches between these horned insects hoisting and flipping over each other.

Irimizu Shonyudo
Irimizu Shonyudo, a designated natural monument of Japan, is where you can feel the mystical powers of nature. The well-preserved limestone cave will bring out the adventurous side of visitors.
There are three courses to choose from.
Course A runs through narrow sections that visitors must duck down in. You may also get wet, so wear clothing that allows you to move around freely.
In Course B, visitors will be in water up to their knees, so be sure to bring a change of clothes, flashlights, and candles. Raincoats, candles, and other helpful items are available for purchase or rental from the office at the entrance.
Cave-goers will also wade through water in Course C. A guide accompanies this route that ventures deeper into the cave than Course B. The cost includes a guide and various rental items.
Although the cave is open all year, summer is the best season to visit. The cold waters along Course B should feel refreshing. Please note that Course C is closed in the winter.
Hiyama Kogen Wind Power Plant
Wind turbines are lined up at Hiyama Kogen Wind Power Plant, located away from the city center. There's a plaza where visitors can enjoy a stroll and take photographs of the turbines.
Strong winds blowing in the highland are chilly in winter, so the best season to visit is the summertime.

Autumn
Photograph courtesy of Tamura City
Fall is another great season to visit Japan when the leaves change colors. There are various locations in Tamura to enjoy this vibrant view.
Kikunosato Tokiwa
Photograph courtesy of Tamura City
Chrysanthemums come into full bloom in fall. About 2,500 plants blooming in yellow, red, pink, and white can be seen at Kikunosato Tokiwa.
Visitors can also appreciate the Belgian mums, a rare variety of chrysanthemums with approximately 4,000 small flowers growing from a single root.

Gyojiga Falls
Photograph courtesy of Tamura City
Measuring 25 meters in height, Gyojiga Falls can be found in a forest where visitors can enjoy the autumnal foliage. A nearby promenade, about 850 meters in length, has been selected as one of the best walkways in Fukushima Prefecture.

Recommended Spots to Eat and Stay
Eateries to Enjoy Local Hospitality
Compared to major cities, there are few restaurants in Tamura. However, travelers can taste regional dishes that show the hospitality of locals.
Yoriaidokoro Hana
This homey restaurant is just like dining at your grandmother's house.
The intimate space inside the owner's residence has two tables. The low table comes with zabuton (floor cushion) while the other has chairs.
There is also a kotatsu. Guests can watch television and enjoy a meal like a scene straight from a Japanese drama or manga.
The recommended item is the Omakase Lunch (880 yen including tax) made with local ingredients. The writer enjoyed a set meal of fried fish with side dishes.

Miyakoji Sweets Yui
Miyakoji Sweets Yui is famous for its fragrant custard pudding. Made with local eggs, the dessert comes in two types: standard (180 yen including tax) and extra rich (350 yen).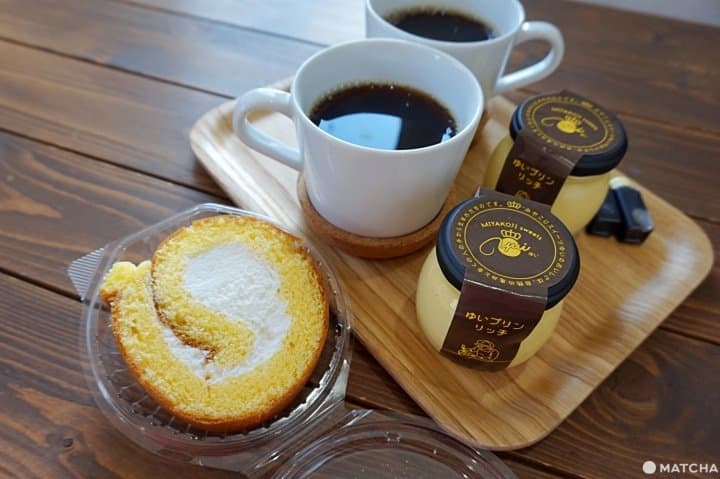 The confectionery also offers jelly rolls, cheesecakes, chiffon cakes, and cookies using local ingredients. Customers can either enjoy the cakes in-store or to go.

Abukuma Cave: A One-Stop Spot for Fun, Food, and Souvenirs
Abukuma Cave is a well-known sightseeing spot with eateries and souvenir shops located nearby. Those planning to visit the cave can leisurely dine and purchase gifts.
Located next to the cave, the tourist facility's first floor handles confections exclusively sold in the area and fruit produced in Fukushima. The restaurant on the second floor serves dishes cooked with egoma (perilla), a specialty product of Tamura.
For further information, please read the following article.
Two Recommended Lodgings
Those who want to appreciate Tamura to the fullest should spend a night or two here. The following are two suggested places to stay.
Shiki no Yado Tenzui
Stay at Tenzui, located near JR Funehiki Station if you're looking for comfort. Since opening in 2019, the hotel offers a wide variety of guestrooms and amenities.
Every room has a restroom with a bath, and there is also an in-house restaurant.
You'll also find Ohtakine River, a cherry blossom viewing spot, nearby.

Sky Palace Tokiwa
Lower right-hand picture courtesy of Tamura City
Those looking for a special place to stay should check out Sky Palace Tokiwa. Located on a mountaintop, this Japanesque facility has both Japanese and Western-style guestrooms.
Upper picture courtesy of Tamura City
Along with fresh mountaintop air, the view from the guestrooms, restaurant, main bath, and garden are breathtaking. Some rooms have skylights to enjoy the stars at night.
Picture courtesy of Tamura City
Although the temperature drops in the morning, you can occasionally see a sea of clouds.
Getting to the lodging might be difficult because Sky Palace Tokiwa is on a mountaintop. Also, please note that guests staying in Japanese-style rooms use communal restrooms and baths.
A stay here will be a one-of-a-kind experience for those looking for a rustic stay in the great outdoors.

Travel Tips for Tamura City
Traveling to rural areas may be inconvenient when comparing the accessibility of a large city like Tokyo. Nevertheless, visitors will be able to enjoy a unique trip seeped in idyllic scenery.
The following are some points to keep in mind on your visit to Tamura.
Use a Rental Car
Most sightseeing spots are far from train stations, and there are few buses. Driving a rental car is the most convenient way to travel here.
Rent a Car at Koriyama Station
You may not find any rental car agencies at small train stations. Be sure to reserve your rental vehicle at a major station, such as Koriyama.
Check for Eateries in Advance
Some restaurants may be difficult to get to, and most do not have English menus. Be sure to confirm locations and details on places to eat before trying to visit.

Sponsored by Tamura City
Written by Kogetsu

The information presented in this article is based on the time it was written. Note that there may be changes in the merchandise, services, and prices that have occurred after this article was published. Please contact the facility or facilities in this article directly before visiting.