Sushi in Asakusa? Check Out These 13 Stops!
Looking for sushi in Asakusa? We've put together a list of 13 places to meet any budget and appetite right here!
Sushi is hands-down the quintessential Japanese dish around the world. And, given the strong association of sushi with Japan, sushi eateries in hot tourist spots like Asakusa are now packed with international visitors in search of this popular dish.
Here, we've divided some of the best sushi eateries in Asakusa into three categories: fine sushi at renowned establishments, easy-to-enjoy sushi at casual establishments, and unique selections.
4 Renowned Sushi Eateries You Can't Miss
You've made your way to the land of authentic sushi, Japan. You can't miss out on splurging at least once and visiting the more prominent establishments. Let us take a look at some of Asakusa's most well-known sushi eateries to experience quality that merits the price.
Shushi Isshin
Sushi Isshin doesn't only boast some of the most high-quality ingredients; they've also put a great amount of finesse into rendering exceptional sushi rice. With a highly well-kept and clean interior, the restaurant has gained the approval of even the finest of ladies.
Information
Shushi Isshin
Address: 4-11-3 Asakusa, Taito-ku, Tokyo
Pricing: Nigiri starting at ¥6,000/person (prices vary depending on the season)
Business Hours: 18:00–22:00
Sakaezushi
Though it's a bit of a way's walk from the station, this hasn't stopped people from falling in love with and treading all the way out to enjoy the cuisine at Sakaezushi. Sushi is not the only dish that has won the hearts of its fans, but also other a-la-carte menu items like boiled clams (hamaguri) and steamed abalone (mushi-awabi) enjoy great acclaim.
Information
Sakaezushi
Address: 3-21-6 Asakusa, Taito-ku, Tokyo
Pricing: ¥10,000–15,000
Business Hours: 18:00–23:00
Kibunzushi
Kibunzushi dates back to 1903 and is one of the oldest sushi eateries in Asakusa. Patrons are mesmerized by the sheer aesthetic of an establishment where you can really be made aware of its long history. Even the highest quality sushi is reasonably priced at \3,600, making it friendly on the pocket. Though Kibunzushi has held back on raising their prices, they have made sure that customers can enjoy highly refined sushi.
Information
Kibunzushi
Address: 1-17-10 Asakusa, Taito-ku, Tokyo
Pricing: ¥5,000–7,999
Business Hours: Mon/Tues/Thu–Sat 12:00.–14:00; 17:00p.m–21:00
Sun 12:00–19:30
Hisaichi
With a highly refined selection of ingredients, Hisaichi has managed to stand out among the many renowned sushi eateries in Asakusa to boast a booming popularity. Trained at the most famous sushi eatery in Japan (Kyubey), the head chef will personally make the sushi for you. We recommend the Chef's Nigiri Set (¥10,500).
Information
Hisaichi/strong
Address: 3-18-8 Asakusa, Taito-ku, Tokyo
Pricing: Evening ¥15,000–19,999 Lunch ¥6,000–7,999
Business Hours: 11:30–14:00; 17:30–23:00
6 Casual Sushi Eateries for Delicious Sushi at an Affordable Price!
Sushi originally was made as form of Japanese fast food. As such, there are tons of reasonably priced sushi eateries that offer delicious dishes. The following establishments are for those budget travelers or young travelers that just want to get their hands on some authentic sushi while they're in Japan.
Maguro-bito
Maguro-bito is a popular conveyor-belt sushi joint in Asakusa. If they're lucky, patrons can enjoy a live tuna cutting performance depending on the day they visit. Enjoy some fresh and affordable sushi at Maguro-bito!
Information
Maguro-bito
Address: Shallow Grass building
1-21-8 Asakusa, Taito-ku, Tokyo
Pricing: Evening ¥3,000–3,999 Lunch ¥1,000–1,999
Business Hours: 11:00–22:00
Sushizanmai
Sushizanmai is a very famous chain of sushi eateries, popular among adults in Japan. The establishment is bright, welcoming and in an easily-accessible location. And to top it off, Sushizanmai is open 24 hours!
Information
Sushizanmai
Address: 1-3-6 Asakusa, Taito-ku, Tokyo
Pricing: ¥2,000–4,000
Business Hours: Open 24 hours
Torigoezushi
Torigoezushi is a one-man-owed sushi eatery with a fine touch. At lunch, patrons can get their hands on authentic sushi for prices in the 1,000-yen range. However, quality is not the only special characteristic of the sushi here; the ingredients themselves are cut into huge portions, making for flavor and size that will leave you undoubtedly satisfied!
Information
Torigoezushi
Address: 1-16-12 Kaminari-mon, Taito-ku, Tokyo
Pricing: Lunch ¥1,000–1,999
Business Hours: Mon–Fri 11:30–22:00
Sat/Sun/Holidays 11:30–21:30
Sushiken
Sushiken proudly boasts good quality ingredients for prices starting at ¥100/piece. With such affordable prices, patrons can feel free to drop in whenever they get a craving for something to eat. Nigiri assortments start at ¥2,200.
Information
Sushiken
Address: 2-11-4 Asakusa, Taito-ku, Tokyo
Pricing: Evening ¥5,000–5,999 Lunch ¥1,000–1,999
Business Hours: Mon–Sat 12:00–14:00; 17:00–00:00
Sun/Holidays 11:30–15:00; 17:00–22:00
Gansozushi
Gansozushi is a bit of an odd ball conveyer belt sushi eatery in Asakusa. They have all their fish delivered directly from Tsukiji market every day, allowing patrons to enjoy affordable and high quality dishes. Gansozushi is perfect for those looking for a casual place to enjoy some good sushi in Asakusa.
Information
Gansozushi
Address: 1-2-3 Hanakawado, Taito-ku, Tokyo
Pricing: ¥1,000–2,000
Business Hours: 11:00–21:30(Last Order 21:15)
Kamesushi
Locals love Kamesushi, and those who know the place know it! Kamesushi has gained a trusted following for prices that are friendly on the average Joe's pockets and flavor that leaves people happy.
Information
Kamesushi
Address: 1-1-12 Asakusa, Taito-ku, Tokyo
(Located in the underground alley)
Pricing: Lunch starting at ¥1,000
Business Hours: 11:00–18:30
3 out-of-the-Ordinary Sushi Eateries with a Unique Selection
There is tons of sushi that you can only get in Japan. If you ever get bored of the same old, same old, then try out these rather eccentric sushi joints.
Mimatsuzushi
The must-eats at Minamatsuzushi are their famous boxed mackerel (¥1,900), conger eel (¥2,400), and spotted sardine sushi.
The reason they call it "boxed mackerel", or battera in Japanese, is because instead of holding the sushi with their hands to make it, sushi chefs pack the rice and ingredients into a rectangular container to form the nigiri. Though boxed mackerel sushi is quite common in Western Japan, it is quite a rarity to find places that are known for their boxed mackerel in Tokyo.
Patrons at Mimatsuzushi can also take some boxed mackerel and conger eel sushi home with them as souvenirs. Note however, that you have to call in at least three days in advance to place an order for conger eel sushi.
Information
Mimatsuzushi
Address: 1-6-5 Asakusa, Taito-ku, Tokyo
Pricing: Evening ¥6,000–7,999 Lunch ¥3,000–3,999
Business Hours: Mon–Fri 17:00–22:00 (Last order 21:30)
Sat/Sun/Holidays 12:00–15:00 (Last order 14:30); 17:00–21:00 (Last order 20:30)
Sushisay
Shushisay has been around for well over 120 years, enjoying a long history. We definitely recommend the sushi, but we also suggest you try the popular Negima Nabe, which is a small hot pot soup filled with leaks and tuna. Among the many alluring aspects of this authentic sushi eatery is the fact that you can indulge in not only sushi, but also many other exquisite dishes.
Information
Sushisay
Address: 1-9-8 Asakusa, Taito-ku, Tokyo
Pricing: Evening ¥8,000–9,999 Lunch ¥4,000–4,999
Business Hours: Tue–Fri 11:00–15:00 (Last order 14:30); 17:00–22:00 (Last order 21:30)
Sat/Sun/Holidays 11:00–21:00 (Last order 20:30)
468 (Yohroppa)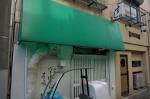 The name of the establishment is a bit of a play on words, with yoh-ro-ppa being an acronym for the Japanese pronunciation of the numbers 4-6-8 and also the Japanese word for Europe. Yohroppa is a small sushi joint located in a back alley. It is a hole-in the-wall eatery that is popular for its bo-zushi (pressed-layered toppings on sushi rice). In particular, we recommend trying their mackerel and conger eel sushi at least once (each \3,850, half-orders also available).
Information
468 (Yohroppa)
Address: 3-23-14 Nishiasakusa, Taito-ku, Tokyo
Pricing: Evening ¥6,000–7,999 Lunch ¥2,000-2,999
Business Hours: 13:00–21:00(LO)
The Famous Asakusa Sushiya-dori, What's it All About?
Asakusa Sushiya-dori (literally, sushi bar street) is the string of business establishments that runs between Kaminarimon-dori street and Rokkukougyou-gai avenue in Asakusa. Nearly 70% are food establishments, of which a great number are sushi eateries, consequently lending to the name Asakusa Sushiya-dori. In contrast to Nakamise-dori, which is the shopping district for souvenirs and novelties, Asakusa Sushiya-dori offers a different vibe and atmosphere for visitors to enjoy.
Though the name Sushiya-dori has the word "sushi" in it, you can definitely find all kinds of restaurants and shops, not just sushi eateries.

The information presented in this article is based on the time it was written. Note that there may be changes in the merchandise, services, and prices that have occurred after this article was published. Please contact the facility or facilities in this article directly before visiting.