Ready For Japan! Vol. 6 – Weirdly-Named Japanese Foods
Japan has many dishes that are hard to visualize by name alone. This article introduces foods with strange names and their origins, like "Turkish rice" or "kitsune soba." Keep these unique eats in mind when ordering Japanese food the next time!
Japanese Foods with Perplexing Names
Here's a question. What countries do you think Napolitan spaghetti, Turkish rice, and Sicilian rice come from?
The answer is Japan. There are countless dishes in this country that are hard to visualize from just their names alone. In this article, we will introduce a number of these weirdly named foods and their origins. By knowing these meals before embarking on your Japan travels, you won't feel clueless while reviewing a restaurant menu!
Read More
Local Dishes in Japan Named After Foreign Countries
The first category we introduce are dishes named after foreign countries.
Napolitan Spaghetti
Photo by Pixta
The Napolitan spaghetti is a popular pasta dish made by sauteing ketchup, bell peppers, and ham together. Although its name sounds like an Italian dish, it's an unmistakable Japanese creation. You'll find this beloved menu item at Western-style restaurants and cafes.
This dish first came about at the Hotel New Grand in Yokohama after the end of World War II. During this time, the city was occupied by American forces. According to the origin story, the hotel's head chef created this unique pasta after seeing the troops eating a similar noodle dish. Napolitan spaghetti was made with sauteed onions, tomatoes, and garlic. The name comes from "Napolitaine," a French word to describe this tomato flavor (*).
Before long, Western-style restaurants in Yokohama started making this dish, too, but with ketchup in place of expensive fresh tomatoes. This ketchup-flavored dish quickly became popular across Japan. Compared to typical pasta dishes, it has a springier, lighter texture. All ages enjoy the sweet richness of the ketchup. Today, The Cafe in Hotel New Grand continues to serve its signature Napolitan spaghetti.
*Source: "Hotel New Grand: The Birthplace of Napolitan Spaghetti" from Hotel New Grand's Official Website: https://www.hotel-newgrand.co.jp/origin/#about-origin-neapolitan (Japanese)
Turkish Rice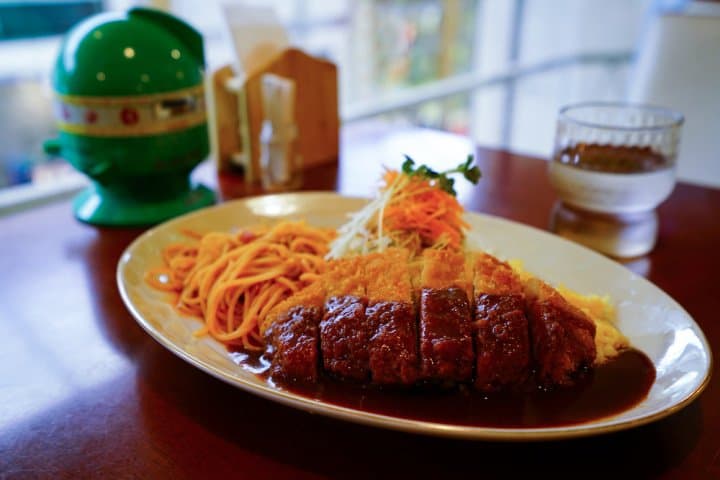 Photo by Pixta
Turkish (Toruko) rice is a specialty dish that originated in Nagasaki. This hearty soul food is a plate topped with Napolitan spaghetti, rice pilaf, and tonkatsu (deep-fried pork cutlet). The tonkatsu sometimes has demi-glace sauce or curry on it.
There are various theories about this dish. One states that the first version of the meal was served at an eatery called Restaurant Turkey, which formerly operated in Nagasaki. Another guess is that the Turkish name was added because the three flavors—the Western-style Napolitan, Chinese-style pilaf rice, and Japanese tonkatsu—could be experienced all at once, similar to the country of Turkey, which is located between Europe and Asia.
This dish can be enjoyed at Tsuruchan, cafes, and Western-style restaurants in Nagasaki. 66DINING Roppongi Rokuchome Shokudo in the EKIMISE Asakusa building, close to Sensoji Temple, also serves this unique dish.
Sicilian Rice
Picture courtesy of Saga Prefectural Tourism Federation
This is a regional dish hailing from Saga Prefecture. It consists of a bed of white rice topped with stir-fried beef, lettuce, tomatoes, and other fresh vegetables, with a drizzling of mayonnaise. The Sicilian rice is known for its eye-catching, colorful appearance. First created around 1975 as a meal prepared for restaurant staff, this tasty regional cuisine soon popped up as a menu item at various cafes.
Several origin stories surround this Saga dish. One theory says that the red, green, and white colors are reminiscent of the Italian flag, and was named after Sicily––the setting for "The Godfather," a film that was popular in Japan at the time. Another speculates that it was named after a region in Italy due to a rivalry with the Turkish rice from Nagasaki.
Although the beef is strongly seasoned, it isn't too pronounced, due to the accompanying vegetables. It can be enjoyed at Western-style restaurants such as Ariyume and Restaurant & Cafe Romanza in Saga.
Dishes With Unusual Kanji Character Names
Next, we will introduce Japanese dishes with difficult to imagine kanji names. Even those from greater China, who can read kanji characters, are sometimes confused by these odd kanji combos.
Oyakodon and Tanindon
Photo by Pixta
The oyakodon rice bowl is made by arranging simmered chicken, eggs, and onions on a mound of white rice. This simple-sounding dish is very popular and tasty, served at Japanese fast food restaurant chains such as Nakau. You can even find it at convenience stores.
When translated directly, its name means a bowl (don) topped with chunks of chicken—the "oya" (parents)—and an omelet—the "ko" (child). It sounds a little sad, doesn't it? But once you try it, you'll find that the salty-sweet ingredients and fluffy eggs pair beautifully with the bed of white rice. You'll gobble up this scrumptious donburi in no time!
Photo by Pixta
Similar to the oyakodon, the tanindon is also a rice bowl dish. Instead of chicken, it is made by simmering meat with eggs, then arranging the topping over white rice. Because it uses meat other than chicken (the "oya" or "parent" in oyakodon), it was dubbed "tanin" (or "others"). Even our Japanese writer believes that Japanese people have an unusual style of naming things.
Udon and Soba (Kitsune, Tanuki, Tsukimi, Chikara)
Restaurants that serve udon and soba are located everywhere throughout the city. Some eateries serve both dishes because they use the same toppings.
These following menu items often puzzle international diners. These unusual words include kitsune (fox), tanuki (raccoon dog), tsukimi (moon-viewing), and chikara (power). In Japan, these phrasings indicate what toppings are on the buckwheat (soba) or wheat (udon) noodles.
Kitsune
Photo by Pixta
Kitsune refers to the fox-colored aburaage (deep-fried tofu) that is seasoned in a sweet soy sauce flavor. The name originates from the belief that fried tofu is a favorite food of the foxes enshrined at Inari shrines throughout Japan.
Tanuki
Photo by Pixta
Although tanuki refers to the agedama (fried tempura batter crumbs) topping, it's unknown why it acquired this name. One theory suggests that it was a mispronunciation of the term "tanenuki," which means to have no ingredients for tempura. Another theory states that the color of the soup is darker than kitsune udon and soba, thus resembling a raccoon dog's fur.
Tsukimi
Photo by Pixta
Tsukimi (or "moon-viewing") refers to udon or soba topped with a raw egg. It became known as such because the yolk represents the moon while the egg whites appear like clouds. Some restaurants use an onsen tamago (soft boiled egg) in place of the raw egg.
Chikara
Chikara (or "power") refers to the toasted mochi (rice cake) toppings. The most probable theory behind the name is that "mochi" is a pun with the word "chikaramochi" ("powerful" in Japanese). This dish is great for filling up your stomach and is favored by hefty eaters.
There's Still Many More! Find These Strange Foods in Japan
Photo by Pixta
There are still many more foods across Japan that are difficult to visualize from their names alone. Some include the Okinawan seasoned rice stew jushi ("juicy") and ichigoni ("strawberry stew"), which is a soup made of abalone and sea urchin from Aomori Prefecture.
Have fun encountering these unusually named dishes on your next trip to Japan!
Main image by Pixta

The information presented in this article is based on the time it was written. Note that there may be changes in the merchandise, services, and prices that have occurred after this article was published. Please contact the facility or facilities in this article directly before visiting.