Fukushima Fresh Fish: Discover Tasty Fukushima Seafood at AEON in Tokyo!
Fukushima seafood is finally available again for sale in Tokyo after the Great East Japan Earthquake in 2011. MATCHA's staff visited AEON's Shinonome store to learn about the Fukushima Fresh Fish Corner. This article introduces their extensive seafood selection.
Aeon's Fukushima Fresh Fish Corner
Aeon's Shinonome Store is located in Tokyo's bay area of Toyosu. It's a ten-minute walk from Toyosu Station (Yurikamome Line, Yurakucho Line) and not far from Toyosu Fish Market, the famous wholesale fish market.
At this store, you'll find a large assortment of fresh seafood and other marine products.
In the store's seafood section, you'll see a sign that reads Fukushima Fresh Fish Corner.
This brand was created in 2018 as a joint partnership between three parties: Fukushima Prefecture, the Fukushima Prefectural Federation of Fisheries Cooperative Associations (JF Fukushima Gyoren), and AEON's parent company AEON RETAIL Company. Their primary objective is the promotion of Fukushima marine products.
Currently, AEON stores in Tokyo, Saitama, Gunma (Kanto Region), and Miyagi (Tohoku Region) handle fresh fish and seafood from Fukushima.
The Fukushima Fresh Fish Corner hopes more consumers taste Fukushima's seafood bounty, which is fresh, delicious, and most importantly, safe and reliable.
Tokyo is more than 200 kilometers away from Fukushima. There's an abundance of fresh local seafood, so I wonder why stores carry Fukushima marine products?
We asked Ms. Onuma from AEON's seafood section why she decided to work for the Fukushima Fresh Fish Corner.
Ms. Onuma replied, "Even though it's from the same ocean, customers react differently whether the fish was caught in Chiba Prefecture or Fukushima's Iwaki Onahama Port. Some people become concerned simply because a product is labeled with the word Fukushima. Unfortunately, that's really a waste."
She added, "In response to these concerns, I'd like to do my part in helping to restore the reputation of Fukushima marine products. With that in mind, I became a staff member of the Fukushima Fresh Fish Corner."
She also mentioned that when they first began selling Fukushima products, few people visited their seafood corner. After some events and promotional point campaigns, customers have steadily increased.
At first glance, the freshness of Fukushima fish is immediately apparent. You probably won't be able to take your eyes off the beautiful color of these seafood products.
Fukushima's Most Popular Seafood and Recommended Products
The whitemeat fish called John Dory (Matodai)
A feature of the Fukushima Fresh Fish Corner is the displays featuring whole fish. Customers can choose their favorite item from an extensive selection of seafood.
The kind of fish in stock depends on the day. So it's best to check the Fukushima Fresh Fish Corner's Twitter page (Japanese) to see the latest products that have arrived and are available.
On the interview day, our Taiwanese writer was captivated by the sight of a gigantic John Dory Fish. She mentioned that high-class restaurants in Taiwan often serve entrees using this fish. However, it's rare for customers to see it in its entirety.
Elliptical in shape with black flecks along its body, this fish is easily identifiable.
Shop staff will be happy to clean the fish for you so that it's easy to prepare at home.
Round Greeneyes (Mehikari)
Mention fish from Fukushima, and Mehikari, or Round Greeneyes, often comes to mind. You can easily identify these fish by their large eyes.
The fleshy fish is tender and juicy. It can be deep-fried, stir-fried, or grilled. It's tasty regardless how it's cooked.
Sakhalin surf clams
The Sakhalin surf clam is a popular shellfish from Soma in Fukushima Prefecture. It's often served with only the pink meat at sushi shops and restaurants. But you can see the whole clam in its shell at the Fukushima Fresh Fish Corner.
Sea Bream (Tai)
On this day, the shop was lined with cooking kits for an Italian fish entree called Acqua Pazza. This dish uses sea bream. This seafood corner stocks all the required ingredients for making this dish, including tomatoes and spices.
The nearby video monitor shows the recipe and steps for cooking this poached fish dish. You can also ask staff to teach you how to make it.
Conger Eel (Anago)
In the Kanto Region, conger eels are commonly seen in supermarkets and are prepared mainly by braising. Though whole fresh eels are not a common sight, extra-large eels can be seen on display here.
During the winter months, eels have a high fat content and the meat is very plump.

Enjoy Fukushima's Marine Products at a Toyosu Barbecue Facility
Picture courtesy of THE BBQ BEACH in TOYOSU
From the Shinonome AEON store, it's a ten-minute drive to get to THE BBQ BEACH in TOYOSU. This barbecue facility is unique because customers can bring their own ingredients. In fact, it's one of a few barbecue facilities in the Tokyo area.
The great atmosphere is furnished with comfortable sofas and light fixtures reminiscent of a bay resort. While enjoying your barbecue, you can get a stunning view of the Rainbow Bridge spanning Tokyo Bay. This is the ideal place to fully enjoy Fukushima's bounty from the sea!
Now, let's start cooking the Acqua Pazza using the ingredient kit available at the Fukushima Fresh Fish Corner.
First, we'll make a crisscross incision with a knife in the sea bream. This allows heat to fully penetrate the fish.
Next, we'll place the fish and the tomatoes inside aluminum foil and cover it with a special sauce and spices. Bake the dish for 15 minutes.
When steam starts rising from the foil, it's time to eat.
The fully cooked tomatoes lose most of their acidity, becoming smooth and mellow. The juice from the clams and sea bream are a perfect match. It was so simple to prepare, yet extremely delicious!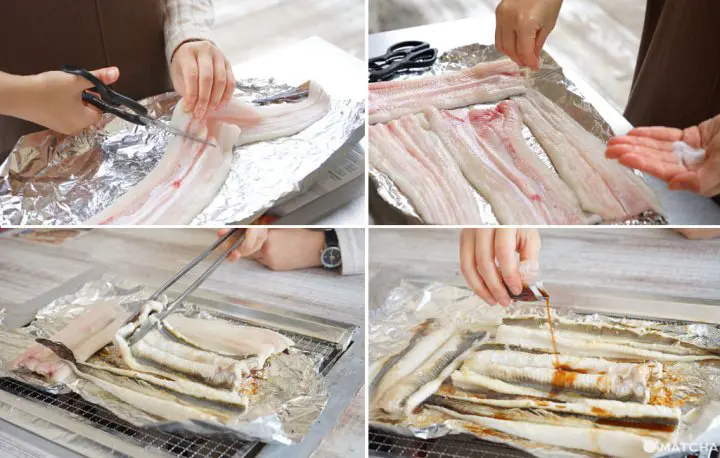 Let's now prepare the grilled conger eel with salt.
First, we'll lightly coat the bottom of aluminum foil with cooking oil. Next, sprinkle some salt on top of the eel. While it's grilled, the meat will start to shrink, signifying when it should be turned over.
Each side will be grilled for about ten minutes (a total of 20 minutes). The eel will be basted with sauce, then grilled for a final five minutes.
The Sakhalin surf clams will be lightly washed in salt water then placed on a grill with a pat of butter on top. Pour some soy sauce when enjoying this tasty dish.
For the John Dory Fish, make knife incisions then lightly rub the entire fish with cooking oil. After sprinkling salt on top, cover the fish with aluminum foil and bake for 30 minutes.
When opening the aluminum foil, make sure none of the savory juices escape. The fish has a light yet sophisticated flavor.
Finally, we'll prepare the Round Greeneyes Fish.
Before grilling the fish, rub the entire body with cooking oil and sprinkle some salt on top. Make sure to use generous amounts of oil and salt on the fin area.
For those who aren't fond of innards, insert your knife in the gill area to remove the head and insides.
When grilled over high heat, it becomes juicy and tender. Each fish is small but extremely satisfying!

Supporting Marine Products from Fukushima
Even though some people are concerned when they see Fukushima fish products, there are also increasing Fukushima supporters. Delicious marine products from Fukushima are the pride of locals.

Cooperative partnerships between regional governments and private enterprises, including the Fukushima Fresh Fish Corner, have also begun. As more consumers become aware of the delicious taste of Fukushima seafood, this support will surely continue to expand further!

Written by Lin
Sponsored by Fukushima Prefecture

The information presented in this article is based on the time it was written. Note that there may be changes in the merchandise, services, and prices that have occurred after this article was published. Please contact the facility or facilities in this article directly before visiting. Some of our articles contain affiliate links. We kindly ask our readers to exercise careful judgement when making a purchase or booking a service online.