Shopping and Fun! THE OUTLETS HIROSHIMA and AEON MALL Hiroshima Fuchu
At THE OUTLETS HIROSHIMA and AEON MALL Hiroshima Fuchu, brand-name items and daily goods are affordably priced. These facilities also offer various types of hands-on entertainment. We introduce these two popular Hiroshima shopping spots that are ideal for visitors and locals alike!
Two Shopping Facilities Ideal for Visitors and Locals!
Hiroshima is known for its World Heritage sites, including Itsukushima Shrine and the Atomic Bomb Dome.
Two popular shopping complexes in this famous sightseeing city are THE OUTLETS HIROSHIMA and AEON MALL Hiroshima Fuchu.
Both facilities are located near JR Hiroshima Station. In addition to reasonably priced goods, there is various entertainment to be found inside.
This article will introduce the features that make these two large shopping spots truly unique! We hope visitors and residents of Hiroshima use this article as a reference to fully enjoy shopping in this city.
THE OUTLETS HIROSHIMA: Enjoy Brand-Name Shopping and Entertainment
For starters, we recommend THE OUTLETS HIROSHIMA to those interested in purchasing brand-name goods and enjoying some hands-on entertainment.
THE OUTLETS HIROSHIMA is Hiroshima Prefecture's largest outlet mall. Within this two-story structure are some 230 shops.
The second floor features an outdoor area lined with numerous brand-name outlet shops. Visitors can enjoy shopping in the airy, wide-open space reminiscent of an ocean resort.
The first floor's indoor area has a number of amusement facilities, including a food court and movie theater. There are also complimentary rest areas and fully equipped play areas for children. Shoppers will have a great time even on rainy days.
Let's take a closer look at the attractive features of both places from three different perspectives.
1. A Full Lineup of Popular Brands Unique to Japan
Firstly, THE OUTLETS HIROSHIMA features popular brand items at inexpensive outlet prices.
The second floor is lined with 130 shops selling domestic and international brand-name goods. Many shops sell Japanese products that are popular worldwide.
Take for example, BEAMS. This is a Japanese select shop that opened in 1976.
It handles a variety of clothing from casual to formal wear and miscellaneous goods. In particular, the BEAMS shop at THE OUTLETS HIROSHIMA has a full selection of baby and children's clothes.
CITIZEN, Japan's famous watchmaker, also has an outlet store offering a wide selection of products.
CITIZEN's popular radio-controlled and automatic wrist watches are sold at affordable prices, starting from 30,000 yen. Known for their high performance and sleek design, these watches make great gifts that will please any recipient.
The eyewear brand Zoff is also at THE OUTLETS HIROSHIMA. The shop is lined with fashionable and sophisticated glasses and sunglasses.
It only takes 30 minutes to make prescription eyewear. So, you can enjoy more shopping while waiting for your order. Sunglasses are ideal travel souvenirs, allowing customers to choose their favorite frame and lens color.
In addition, the second floor has several popular brand-name stores that are well-known to shoppers.
Next, we recommend SAKKA ZAKKA on the first floor for those interested in Hiroshima specialty products or souvenirs.
Although it's not an outlet retailer, it offers a variety of interesting goods.
These include handicrafts and accessories made by leading craftspeople in Hiroshima Prefecture, including the Setouchi and San'in Regions. The shop is also lined with many food items using local ingredients.
2. An Array of Hands-On Entertainment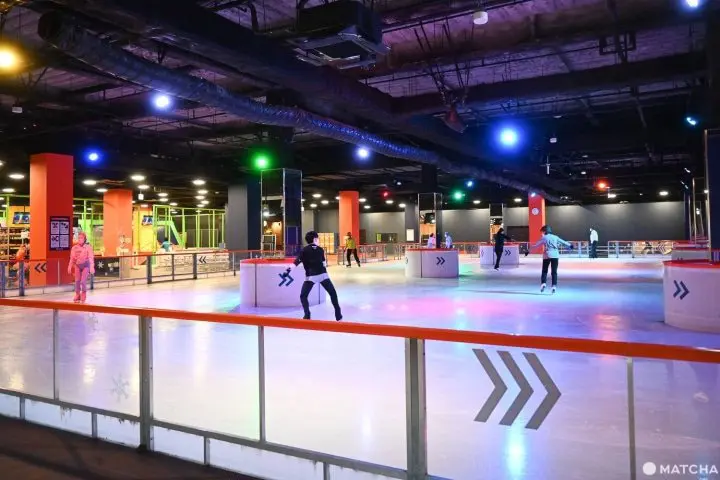 The second attractive feature of THE OUTLETS HIROSHIMA is their extensive selection of hands-on entertainment.
Hoshikage City is the entertainment zone on the first floor. You'll find many irresistible places, including a movie theater, ice skating rink, bowling alley, karaoke box, and a VR (virtual reality) amusement corner.
The indoor skating rink (Wonder Rink) is the only place in Hiroshima offering year-round ice skating. Visitors can enjoy this cool leisure activity even during hot summer months.
On the first floor is where the Station Court is located. On display is the Hiroshima Railway's street car, an iconic train loved by locals. During certain times of the year, visitors can enjoy events featuring projection mapping.
3. Gourmet Headquarters: From Hiroshima Specialties to World Cuisines!
The third attractive feature at THE OUTLETS HIROSHIMA is their food.
The first-floor food area has 25 shops offering an assortment of cuisine including Japanese, Chinese, Korean, and Italian entrees. Visitors can pick and choose a menu from every corner of the globe.
For example, the Authentic Local Japanese Cuisine is a popular restaurant found nationwide where you can sample donburi (beef bowl). There's also the roast beef donburi at Niku no Hozan, a famous Tokyo establishment. Likewise, you can order a pork donburi at the popular Hokkaido shop called Tokachi Butaniku Kobo Yutaku.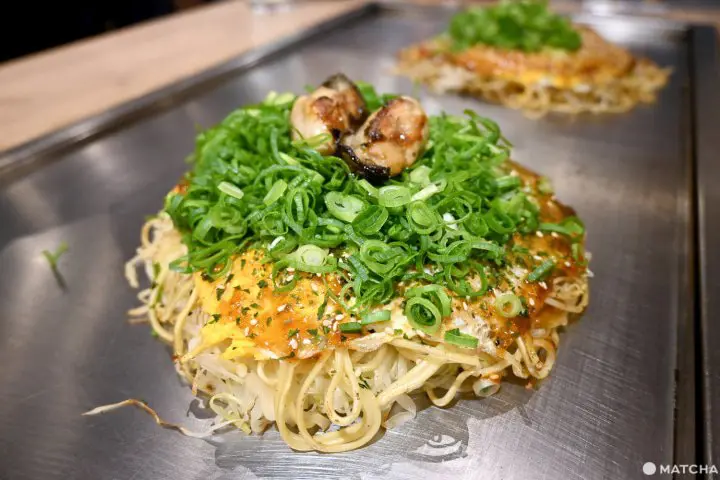 There are even several shops serving up Hiroshima specialties, including Hiroshima-style okonomiyaki and Hiroshima ramen.
Access
It takes 30 minutes by car to reach THE OUTLETS HIROSHIMA from Hiroshima Station.
There are several options if you plan to visit by bus. In addition to buses departing daily from the Hiroshima Bus Center, buses depart from JR Hiroshima Station on Mondays, Wednesdays, Fridays, weekends, and national holidays (as of July 2022).
For additional details on accessing the facility, please refer to THE OUTLETS HIROSHIMA official homepage.
Everything You Need at Reasonable Prices!
AEON MALL Hiroshima Fuchu
Alternatively, we recommend AEON MALL Hiroshima Fuchu for shoppers interested in daily goods at affordable prices alongside souvenir sweets and cosmetics in larger quantities.
AEON MALL Hiroshima Fuchu is Hiroshima's largest shopping complex. It has a total of 270 stores specializing in a wide array of products, from daily goods to fashion and interior items.
It's only ten minutes by bus from JR Hiroshima Station. You'll find it bustling with shoppers on weekdays.
Let's take a closer look at AEON MALL Hiroshima Fuchu's characteristics from three separate views.
1. Daily Goods, Sweets, and Hiroshima Souvenirs!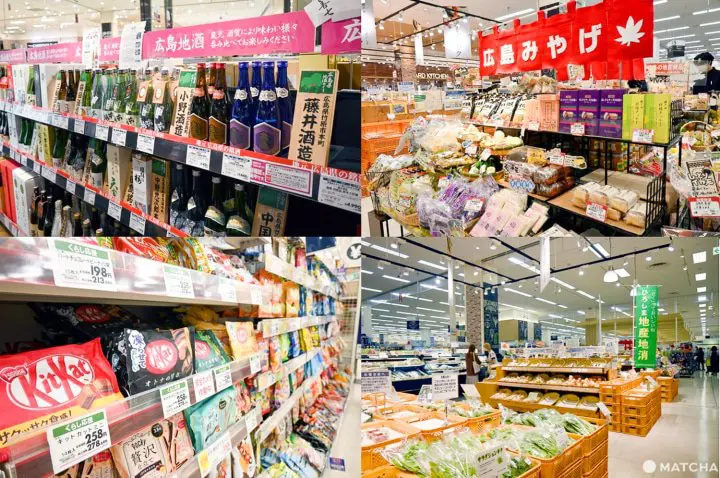 The first feature of AEON MALL Hiroshima Fuchu is that customers can buy daily goods and food items at a reasonable price.
Inside AEON MALL Hiroshima Fuchu, you'll find Aeon Style. This gigantic supermarket sells food and beverages on the first floor. On the second floor, they handle miscellaneous goods.
There are various vegetables and fruit grown in Hiroshima Prefecture alongside sweets and locally-brewed sake. This is a convenient spot to pick up daily items and souvenirs from your trip.
Drugstore Cocokara Fine is perfect for buying popular Japanese cosmetics at low prices.
This shop has a huge selection of affordably priced makeup for about 1,000 yen. Particularly popular are basic skin care products with skin-brightening effects and facial masks.
2. Shops That Make Daily Life More Enjoyable!
The second feature of AEON MALL Hiroshima Fuchu is the many shops that help make daily life more convenient and enjoyable.
For example, there's QB House offering great haircuts for just 1,200 yen. There's even a nail salon, cell phone shop, and door-to-door delivery service counter. You'll find medical facilities, including an eye doctor and a dental office.
The Fuchu Information Plaza Tsubakikan, a local government agency, will kindly provide you with sightseeing information (*).
*Please note that some shops can only offer services in Japanese.
3. Entertainment Facilities That Surpass Expectations!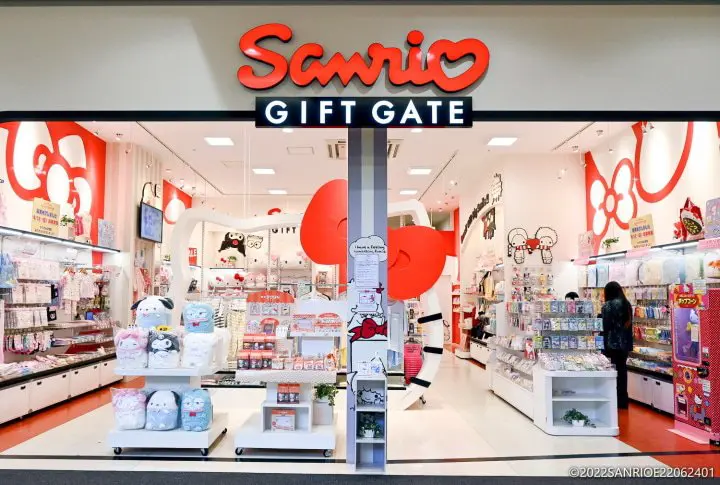 AEON MALL Hiroshima Fuchu also has many entertainment-related shops.
For example, there's the Sanrio Gift Gate. This shop is jam-packed with the latest Sanrio characters, including Kuromi and Cinnamoroll, alongside long-time favorites such as Hello Kitty. There are an astounding 3,000 such items in this store alone!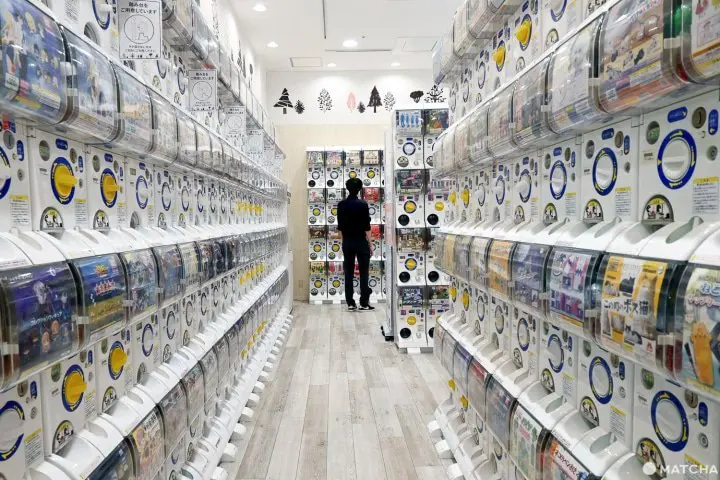 Gacha Gacha no Mori is a specialty capsule toy store with two separate locations inside AEON MALL Hiroshima Fuchu. They offer a combined total of 870 capsule toy machines.
Walking through these shops filled with capsule toy machines will easily make you forget about time.
In addition to miscellaneous goods, Aeon Style has a variety of Japanese-style seasonal items, including summer yukatas (cotton kimonos) and uchiwa paper fans.
Aeon sells many products made by TOPVALU, the mall's personal brand. Many of the products are great bargains due to their high quality yet affordable prices.
Access
AEON MALL Hiroshima Fuchu is just five minutes on foot from JR Tenjingawa Station, the nearest station. From JR Hiroshima Station, a shuttle bus departs at 15 and 20-minute intervals with a one-way travel time of about ten minutes.
For access details, please refer to the AEON MALL official homepage.
Special Coupon: Discount Shopping at AEON STYLE
When shopping at the AEON STYLE supermarket, click on the digital voucher below and show it at the register to get a 5% discount on your purchases!

Enjoy Hiroshima Shopping at These Two Facilities!
THE OUTLETS HIROSHIMA offers an entire day of fun and excitement. Likewise, AEON MALL Hiroshima Fuchu provides customers with a relaxing, enjoyable experience near the train station.
Taking advantage of the unique features offered at both facilities will make your Hiroshima shopping adventures even more convenient and fun!
For additional information on AEON MALL, please read the following articles below.
Sponsored by AEON MALL
Written by Kumiko Ishigaki

The information presented in this article is based on the time it was written. Note that there may be changes in the merchandise, services, and prices that have occurred after this article was published. Please contact the facility or facilities in this article directly before visiting.