Okinawa: 28 Popular Destinations, Islands, and Travel Tips for 2023
Okinawa is one of the most popular travel destinations in Japan. This article introduces 28 sightseeing spots and things to do on this island resort. We also have travel and transportation tips for first-time visitors to Okinawa!
Japan's Leading Resort Destination! What Kind of Place is Okinawa?
Okinawa Prefecture has a total of 160 islands–47 inhabited and 113 uninhabited islands–with a population of 1.47 million people. The prefecture's main airline hub is Naha Airport, located in the center of Naha City on Okinawa's main island. However, an additional 12 local airports, excluding U.S. military air bases, are scattered throughout the islands.
We introduce the top 28 places to visit in Okinawa, a region brimming with charm. We'll also give you the latest information on ocean views, an activity you can't leave out on an Okinawa trip, popular remote islands, souvenir shops, and more!
Table of Contents
1. The Southern Area (Naha, Nanjo)
2. The Central Area (Chatan, Okinawa)
3. The Northern Area (Motobu, Nago, Nakijin, Onna)
4. Okinawa's Remote Islands (Ishigaki, Iriomote, Taketomi, Hateruma, Yonagumi)
5. Okinawa Shopping
6. Okinawa Souvenirs and Local Specialties
7. Hotels in Okinawa
8. Transportation in Okinawa (Airplane, Monorail, Bus, Rental Car)
1. Okinawa's Southern Area (Naha, Nanjo)
Okinawa is one of Japan's leading resort destinations, surrounded by beautiful oceans. But Okinawa is much more than that! Historically, it was where the Ryukyu Kingdom existed for 450 years. The prefecture also has a thriving culture unique to other places in Japan. This also includes influences from American culture and the many U.S. military bases.
Okinawa Island is often divided into three areas: the Southern, Central, and Northern areas. Naha Airport, the entrance to Okinawa, is located in the Southern area. This area is also home to Naha, Tomigusuku, Itoman, Nanjo, Haebaru, Yonabaru, and Yaese.
Book an accommodation in Okinawa on Booking.com!
Book an accommodation in Okinawa hotel on Agoda!
1. Shuri Castle
Shuri Castle, a palace of the Ryukyu Kingdom, is a historical structure representative of Okinawa. It was registered as a World Heritage site in 2000. However, a majority of the Shuri Castle was destroyed in a fire on October 31, 2019. It is currently being repaired, with the main building scheduled to complete in autumn 2026.
Tamaudun is a mausoleum where generations of kings from the Ryukyu Kingdom are buried. It is located a minute on foot from Shuri Castle, so please feel free to visit these two spots together.


2. Kokusaidori Shopping Street
One of the most famous streets in Okinawa is Kokusaidori Shopping Street, located in central Naha. Lining this street are rows of shops where you can buy general merchandise, souvenirs, and more! There are also several food stalls and famous Japanese food chains where you can delight in Okinawan food. Visitors can enjoy the street in several ways through shopping and food!

Picture courtesy of Okinawa Convention & Visitors Bureau
3. First Makishi Public Market
A look at the market before demolition.
First Makishi Public Market is a famous marketplace nicknamed the "Kitchen of Naha." It is where much of Okinawa's food culture has congregated. The market initially opened as a black market in 1945, following the end of World War II. It later formally opened as a public market under the management of the local government.
The market has since relocated and is currently operated as a temporary market due to renovations in the original location. The new three-storied market is scheduled to open in spring 2023. The remodeled setting will house the market on the first floor, a food hall on the second floor, and cooking classrooms and multipurpose spaces on the third floor.

Picture courtesy of Pixta
4. Naminoue Shrine
Naminoue Shrine in Naha is the most prestigious shrine in Okinawa. It is also known as one of the Ryukyu Hassha, eight shrines that received special status from the administration of the Ryukyu Kingdom. The sight of the main red shrine, peeking above the tall cliff with the deep blue ocean is absolutely wonderful.

Picture courtesy of Indy / Pixta
5. Shikinaen Garden
Shikinaen Garden, a World Heritage site, is a circular garden where visitors can walk the circumference of the grounds. In addition to tropical plants, it is home to buildings incorporating Chinese and Ryukyuan architectural styles. This expansive space will allow you to soak up Okinawa's unique culture.

Picture courtesy of denkei / Pixta

6. Minatogawa Stateside Town
Minatogawa Stateside Town in Urasoe City, Okinawa, is an area where American soldiers once lived. Nowadays, the streets are lined with several trendy cafes and general stores, turning the area into a hot spot for food and shopping.

Picture courtesy of ai / Pixta

7. Tsuboya Yachimun Street
Tsuboya Yachimun Street, located about a five-minute walk from Kokusaidori Shopping Street and Makishi Public Market, is famous with rows of pottery shops.
The street's name "Yachimun" translates to "pottery" in Okinawan. On this street, visitors can find various ceramics, from traditional Okinawan pottery to contemporary ceramics. Ceramic cups, plates, flower vases, and spoons are among the items with amazing designs. Of course, they all make great souvenirs.


8. Senagajima Umikaji Terrace
The famous Senagajima Umikaji Terrace on Senaga Island is a shopping complex famed for its white Greek-style buildings. The complex has 47 stores, primarily focusing on restaurants for enjoying various Okinawan cuisines. It's also famous as an Instagrammable spot that extends into a spectacular ocean view and blue sky.

9. Gyokusendo Cave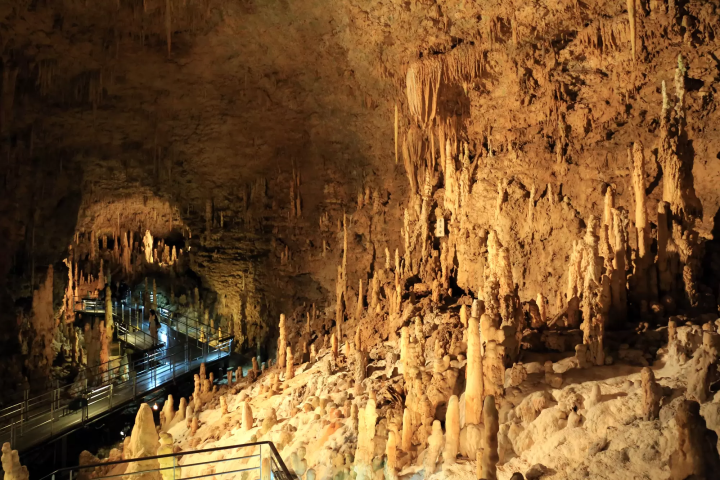 Gyokusendo Cave is a limestone cave inside Okinawa World Culture Kingdom, a theme park where you can experience Okinawa's charms first-hand. The limestone cave is illuminated by milky white stalactite and stretches 800 meters. Enjoy an experience that feels like you're in another world!

Picture courtesy of Yama / PIXTA
10. Sefa Utaki
Sefa Utaki is a sacred land with the highest prestige in the Ryukyu Kingdom. It was forbidden for men to enter during this era. Even the king had to dress as a woman to be permitted entrance during his visits.
Sefa Utaki, registered as a World Heritage site in 2000, can now be visited by anyone regardless of religion, nationality, and gender.



2. Okinawa's Central Area (Chatan, Okinawa)
The Central area of Okinawa is where several U.S. military bases are located. Visitors can get a taste of an exotic atmosphere that is different from other regions. Specifically Urasoe, Ginowan, Okinawa, Uruma, Chatan, Kadena, Nakagusuku, Kitanakagusuku, Nishihara, and Yomitan make up the Central area.
11. Mihama American Village
Mihama American Village, about a 40-minute drive from Naha Airport, was once a U.S. military airfield that was returned to Okinawa Prefecture and then reborn into a new place. This popular spot is great for eating, shopping, or enjoying a break at the beach. There is an abundance of accommodations in the area as well.

Picture courtesy of Indy / PIXTA

12. Koza Gate Street
Koza Gate Street, situated at the entrance of a U.S. military base, is a shopping street with rows of restaurants and general stores.
It was once the most vibrant place in Okinawa, introducing present-day American culture to the prefecture. Several posters and signs are printed in English, so you may feel like you're in the United States just by walking down the streets.

Picture courtesy of SUKEN / Pixta
Okinawa's Northern Area (Motobu, Nago, Nakijin, Onna)
The Northern area is where you'll find Okinawan heritages and many natural landscapes that have remained untouched. It is home to Nago, Kunigami, Ogimi, Higashi, Motobu, Nakijin, Onna, Ginoza, Kin, and Ie.
13. Cape Manzamo
Cape Manzamo is a cliff with an elephant trunk-like shape. This famous sightseeing spot is in northern Okinawa.
King Sho Kei of the Ryukyu Kingdom described this land as "an open field so wide it could seat 10,000 people." Because of this comment, the cape came to be called Manzamo (literally "a field for 10,000 people to sit").

14. Okinawa Churaumi Aquarium
Okinawa Churaumi Aquarium is another famous sightseeing spot that represents Okinawa. The aquarium has one of the largest water tanks in the world. Visitors can marvel at marine life from various waters, including coral reefs, the Kuroshio Sea, and the deep sea. All of the exhibitions revolve around the concept of the "seas of Okinawa."

15. Kouri Bridge
Kouri Bridge measures 1,960 meters and connects Kouri Island with Yagaji Island. Beautiful, emerald-green waters stretch out on either side of the bridge, making it a standard spot in Okinawa for a scenic drive.


16. Nakijin Castle
Nakijin Castle, a registered World Heritage site, is where you can find an architecture style that varies vastly from castles on Honshu (one of Japan's main islands). This spot is where cherry blossoms bloom the earliest in Japan because the kanhizakura, a variety of cherry blossoms, flower annually around late January to mid-February.

17. Ryukyu Mura (Ryukyu Village)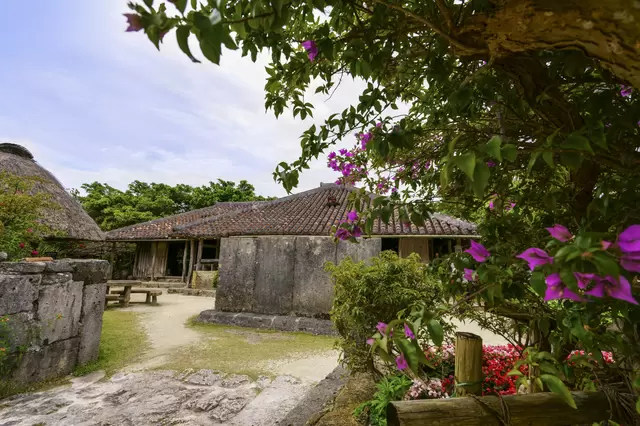 Ryukyu Mura is a theme park based on Okinawan culture and nature.
There are various experiences and workshops to enjoy here. Tour traditional Okinawan homes, try on traditional Okinawan clothing called Ryusou, or join a painting workshop to color ceramic Shisa figures. Shisa are lion-like creatures considered to be guardian deities in Okinawa. You can also try playing the shamisen, a musical instrument familiar to Okinawans.

Picture courtesy of suzukaze / Pixta
Okinawa's Remote Islands: Ishigaki, Iriomote, Taketomi, Hateruma, Yonagumi
The Yaeyama Islands, southwest of Okinawa Island, is composed of various remote islands preserving pristine nature. Ishigaki Island, Iriomote Island, and Taketomi Island are some of the more popular islands that are perfect for those looking for relaxation in lush nature compared to the mainland.
18. Ishigaki Island
Ishigaki Island—the center of politics, economy, education, and traffic with the largest population among the Yaeyama Islands—is a famed mecca for snorkeling in Japan. Hundreds of domestic and international visitors come to this island to snorkel in these clear, transparent waters.
It also has convenient access. You can visit the island via a direct flight on domestic airlines from any major airport in Japan (Narita, Haneda, Chubu, Kansai, etc.)

Picture courtesy of the Okinawa Media Library

19. Hateruma Island
Hateruma Island, an inhabited island at the southernmost tip of Japan, is famous for being home to Nishihama Beach. The beach was selected as the best seaside in Japan by TripAdvisor in 2017. The only way to visit Hateruma Island is by taking the ferry from Ishigaki Island.

Picture courtesy of the Taketomi Tourism Association
20. Taketomi Island
Taketomi Island has a population of 350 people. It is so small that you can walk an entire lap around the island in one hour. Taketomi Island has activities like sightseeing by carriages pulled by water buffalos, touring traditional Okinawan homes, and beaches with star-shaped sand. This remote island is famous across Japan for its many charms despite its small size.


21. Iriomote Island
Iriomote Island, the second biggest island in Okinawa Prefecture after Okinawa Island, is a jungle covered in mangroves, wetlands, and forests that make up over 90% of the island's land area.
Iriomote Island is home to countless subtropical flora and fauna—almost like Japan's very own Amazon! Interacting with nature on a canoe tour in rivers overgrown with mangroves or trekking in the jungle is Iriomote Island's appeal.


22. Yonaguni Island
Yonaguni Island, located in the westernmost extremity of Japan, is actually closer to Taiwan than the main island of Honshu. You can even see the Central Mountain Range in Taiwan from the remote island on clear days.
Yonaguni Island is also famous as the filming location for the popular Japanese drama "Dr. Koto's Clinic." It is accessible by airplane from Naha Airport or New Ishigaki Airport.

Picture courtesy of Photo Studio Sorisso Churashima Story / Pixta

Okinawa Shopping
Okinawa is a shopping paradise with many supermarkets, department stores, shopping centers, and duty-free shops. Finding your favorite local items is easy with everything at your fingertips!
23. SAN-A
A supermarket is where you can discover the local atmosphere and food culture.
SAN-A is a famous supermarket chain in Okinawa Prefecture. They have several street-level locations alongside branches inside shopping malls like Naha Main Place, Urasoe West Coast Parco City, and Ginowan Convention City. Why not stop by and shop like a local?
24. Okinawa Outlet Mall Ashibinaa
Okinawa Outlet Mall Ashibinaa is Okinawa's first outlet mall. You can purchase products for outlet prices at 110 stores, including luxury, famous sports, and popular Japanese brands.
The accessibility is also convenient thanks to direct buses that depart from Naha Airport, Kokusaidori Shopping Street, and Akamine Station. Please refer to the official website for additional details on access.

Picture courtesy of the PR TIMES
25. AEON MALL Okinawa Rycom
AEON MALL Okinawa Rycom feels like a resort. However, it is Okinawa's biggest shopping center, with a large aquarium in the center. Not only is this shopping spot loved by the locals, but visitors can also enjoy it.
You can access the shopping center by direct buses from central Naha or the airport. Please refer to the official website for details.

Picture courtesy of AEON MALL
26. RYUBO Department Store
RYUBO Department Store is Okinawa's only department store, located next to Kokusaidori Shopping Street and Kenchomae Station. The department store is great for purchasing general merchandise and souvenirs from shops like MUJI, a popular Japanese household goods brand.
RYUBO Department Store
Address: 900-0015 Okinawa, Naha, Kumoji 1-1-1
Business Hours: 10:00-20:00 *Business hours for some stores may differ.
Website: https://ryubo.jp/us/
27. T Galleria Okinawa by DFS
T Galleria Okinawa by DFS, located next to Omoromachi Station is a duty-free shop recommended for shopping enthusiasts.
Of course, overseas visitors are exempt from tax, but residents of Japan can purchase duty-free items as well! This is possible if you have a plane ticket for a domestic airline departing from Naha Airport outside of Okinawa Prefecture. The store offers an abundant selection of Western and Japanese brands, so be sure to check it out if you're hoping to get some duty-free products!

Picture courtesy of the PR TIMES
28. PARCO CITY
PARCO CITY in Urasoe is a large commercial complex that opened in the summer of 2019. It is the second largest shopping spot in Okinawa Prefecture, with roughly 250 stores in the complex.
As many as 35 buses operate between Naha and PARCO CITY daily, so the complex's easy accessibility is a plus.
PARCO CITY
Address: 901-2123 Okinawa, Urasoe, Irijima 3-1-1
Business Hours: 10:00-22:00 *Business hours for some stores may differ.
Website: https://www.parcocity.jp/
Okinawa Souvenirs and Local Specialties
Next, we'll introduce our three recommendations for signature Okinawan souvenirs.
1. Chinsuko
Chinsuko is a traditional cookie representative of Okinawa. There has been a recent increase in flavor variations over the past few years. Chinsuko is now sold in flavors such as chocolate and matcha green tea in addition to standard flavors such as brown sugar or salt.
2. Beniimo Tart
Beniimo tart is made with purple sweet potatoes, an Okinawan specialty. The unique, subtle sweetness of purple sweet potatoes and their dense texture are loved by many. In addition to chinsuko cookies, it has become one of the most famous sweets in Okinawa.
Okashi Goten, famous for their delicious beniimo tarts, is a shop we recommend given the numerous options available! You can get your hands on their products at souvenir shops and airports in Okinawa.
3. Awamori
Awamori is a traditional distilled alcohol made with rice as the base ingredient. It has a rich, mellow fragrance and strong sweetness. You can delight in this alcoholic beverage at restaurants in Okinawa or purchase it at souvenir shops in the airport.
Stay at a Hotel in Okinawa!
Picture from 12 Okinawa Hotels for Travelers with Friends and Families
An Okinawa trip will be filled with activities from heading to the beach, shopping, and nature activities. Our recommendation is to book a stay for two to three nights.
If you are on Okinawa Island, then let's find a hotel that matches the purpose of your Okinawa trip. For instance, stay at a hotel in the Southern area if you want to enjoy shopping, in the Central area for the beach, or the Northern area for nature activities.
There are also several wonderful accommodations where you can experience Okinawa's lush nature on islands outside the mainland, including Ishigaki or Taketomi Island. Use Booking.com or Agoda to find the best hotel for you!
Book an accommodation in Okinawa on Booking.com!
Book an accommodation in Okinawa on Agoda!

Transportation in Okinawa (Airplane, Monorail, Bus, Rental Car)
Located in central Okinawa, Naha City has a robust public transportation system. With the monorail and buses available, you can enjoy sightseeing in Okinawa without driving.
On the other hand, we recommend renting a car if you're traveling with children or prefer more spontaneous trips. Please choose the transportation method that best fits your traveling style.
Airplane
The entrance to Okinawa Prefecture is none other than Naha Airport.
If this will be an international flight, then direct flights to Naha Airport will mainly be via flights from other Asian countries. Traveling from Western countries to Naha Airport is typically done via other major international airports (Narita Airport, Haneda Airport, Kansai International Airport, Chubu Centrair International Airport, etc.)
You can travel to remote islands south of Okinawa Island via Naha Airport or by direct flight.
Monorail
The transportation system most sightseers use first when traveling to Naha is the Okinawa Urban Monorail (nicknamed Yui Rail).
It is Okinawa Prefecture's only railway, traveling from Naha Airport Station in the south to Tedako-Uranishi Station in the north. It's convenient and speedy transportation for those who plan to only travel within Naha.
If you are going to ride the monorail several times a day, it would be a great deal to purchase either the One Day Pass (800 yen) or the Two Day Pass (1,400 yen) for unlimited rides.
Transportation IC cards such as Suica, ICOCA, and PASMO can be used on the monorail. To reload currency onto your IC card, you can conveniently do it at station ticket offices and convenience stores.

Bus
Various buses operate mainly in Naha, Okinawa, such as the Okinawa Bus and Naha Bus (Japanese).
The Naha Bus sells a one-day bus pass (660 yen) that can be used for unlimited rides within the flat fare section of Naha. If you want to travel to other remote areas from Naha, then take the intercity bus or express bus from Naha Bus Terminal next to Asahibashi Station.
Rental Car
We recommend renting a car to enjoy your Okinawa sightseeing more flexibly if you can drive.
MATCHA has an exclusive 10% discount coupon for international visitors when renting a vehicle from Nippon Rent-A-Car, one of Japan's leading rental car companies (support available in English, Chinese, and Thai). Please be sure to check it out!
Do note that you may not be able to reserve a car since it has become popular in recent years to travel around Okinawa by rental car. Those who want to travel by rental car should make their reservations early.
Book a rental car reservation in Japanese at Tabirai Car Rental
Places offering free Wi-Fi in Japan are limited. Therefore, international visitors will find it handy to rent a pocket Wi-Fi device during their travels.
MATCHA has a coupon for NINJA WiFi (English) that gets you a great discount of 20% off! Please take advantage of this offer.
Book a pocket Wi-Fi reservation at NINJA WiFi
Enjoy Your Trip to Okinawa!
Okinawa is one of the most popular resorts in Japan. No wonder it's jam-packed with things to do and see! There are gorgeous ocean views, shopping, nature-rich activities, and historical spots for you to experience the Ryukyu Kingdom!

Okinawa offers more than your typical sightseeing spots. Make your way to remote islands and other destinations you've never been to before!

Pictures courtesy of Pixta

The information presented in this article is based on the time it was written. Note that there may be changes in the merchandise, services, and prices that have occurred after this article was published. Please contact the facility or facilities in this article directly before visiting.