Great for First-Time Skiers, too! Top 3 Snow Resorts and Tours in Niigata
Niigata Prefecture boasts excellent ski resorts and is accessible from Tokyo on a 70-minute bullet train ride. There are a wide variety of attractions for first-time skiers and groups traveling with family. We introduce three recommended ski resorts and related tours.
Niigata, a Must-Visit Destination for Skiing and Snowboarding Enthusiasts
Niigata Prefecture boasts first-class snow resorts with roughly 50 ski slopes, including Naeba Ski Resort, where the Alpine Ski World Cup 2020 was held. First-time visitors and children, along with expert skiers, can enjoy the snow from December to March every year.
It takes about 70 minutes on the Shinkansen (bullet train) to the snow paradise of Niigata from Tokyo. Most slopes are accessible on foot or by shuttle buses. There is even a slope in front of the train station, making it ideal even for a day trip.
This article features areas for first-time skiers and family groups. There are also places to experience Japanese culture, so check them out!
1. Yuzawa: Only 70 Minutes Away from Tokyo!
Picture courtesy of Naeba Ski Resort (*1)
It takes about 70 minutes on the Shinkansen from Tokyo to Yuzawa, a famous snow resort. You'll also find hot springs facilities here, making it a popular destination for amateur skiers and groups traveling with family.
First-time skiers and snowboarders should take private skiing or snowboarding lessons taught by experienced instructors.
*1: The photograph is for illustration purposes. The tour will be held at Yuzawa Nakazato Snow Resort.
Picture courtesy of Ishiuchi Maruyama Ski Resort
In addition to skiing and snowboarding, there are many other attractions in Yuzawa, including the The Dome Tent at Ishiuchi Maruyama Ski Resort. This is a transparent tent located halfway up the ski slope. The private observatory allows visitors to take in a panoramic view of the snowy mountain, along with delicious meals and hot beverages.
The Night Buggy is an attraction at NASPA Ski Garden. Visitors can ride a six-seat snow buggy, a first of its kind in Japan, to the mountaintop. Although the journey is filled with thrills, a guide will be driving the buggy. This ensures a safe ride, enabling children from three years of age to participate.
Picture courtesy of NASPA Ski Garden
After enjoying the snow, a recommended activity for day trippers is soaking in the onsen near Echigo-Yuzawa Station. At CoCoLo Yuzawa, located inside the station, visitors can enjoy shopping for sake and souvenirs until the Shinkansen departs.
Private Skiing Lesson for Beginners
Private Snowboarding Lesson for Beginners
2. Tokamachi: Build a Snowman and Visit a Snow Hut!
Snow Fireworks Photograph courtesy of Tsutomu Yamada
Tokamachi is one of the host towns for the Echigo-Tsumari Art Field (*2), an art festival held across various areas in Niigata. Visitors can enjoy art and a day trip to an onsen with a tour of the region.
Every December, Tokamachi is completely covered in snow, making it difficult to view artworks. Alternatively, the town hosts the Snow Fireworks, a dazzling show that lights up the snowfield with fireworks and music. Simultaneously held is the Tokamachi Snow Festival (Japanese), which displays artworks such as snow sculptures by locals.
*2: For additional information on Echigo-Tsumari Art Field, please check the official website.
Picture courtesy of Atema Highland Resort BELNATIO (*3)
There are events for families traveling in groups, including a kamakura tour where participants can visit a kamakura (snow hut). There's also a snow country tour, where tour-goers can experience life in a snowy region and build a snowman.
Picture courtesy of Atema Highland Resort BELNATIO (*3)
After spending time outdoors, why not warm up your body by bathing in a hot spring surrounded by snow at Matsunoyama Onsen Village?
*3: The photographs are for illustration purposes. The tour will be managed by GGG (Seidayama Campground), an incorporated nonprofit organization.
Picture courtesy of Hina no Yado Chitose
3. Myoko: Enjoy the Snow until May!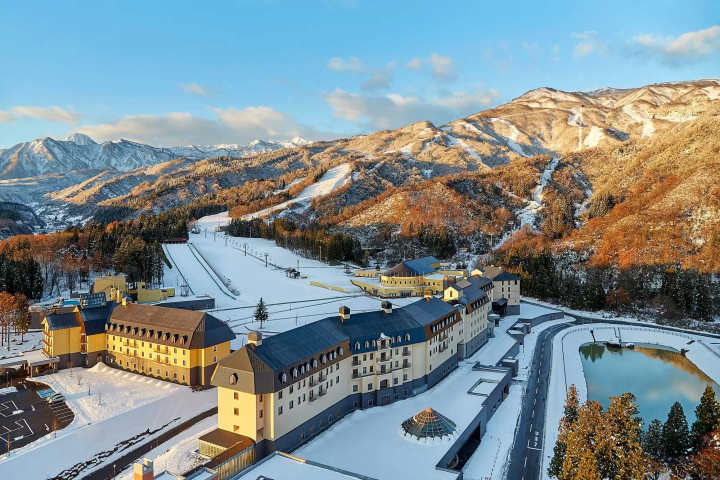 Picture courtesy of Lotte Arai Resort
The Myoko area is a highland resort in the summer, with visitors enjoying trekking and golf. During winter, the area becomes a snow resort packed with skiers and people bathing in the onsen.
While there are nine ski slopes in Myoko, visitors can enjoy snow until mid-May at Lotte Arai Resort.
There are various attractions, such as a zip line spanning 1.5 kilometers over the snow and snow rafting through the fields on a boat. The three attractions ticket allows guests to enjoy many activities at an affordable price.
Picture courtesy of Activity Japan
Visitors can also try snow trekking wearing a snowshoe, allowing participants to walk on snow without sinking. Children with no skiing experience and adults can enjoy this attraction.
With some luck, participants may find footprints of animals in the woods or even encounter wild rabbits. Lunch will be an outdoor event over a table of snow.
Lotte Arai Resort: Three Attractions Ticket
Book a Tour to Enjoy Snow and Winter Activities in Niigata
Niigata, a snow resort easily accessible from Tokyo, offers various attractions for families traveling in groups.

In addition to the three areas and attractions above, Niigata offers various tours to enjoy snow activities, experience traditional culture, and taste the local cuisine.

For more information about attractions in Niigata, please check the Activity Japan website.

Main image courtesy of Naeba Ski Resort
Sponsored by Niigata Prefecture

The information presented in this article is based on the time it was written. Note that there may be changes in the merchandise, services, and prices that have occurred after this article was published. Please contact the facility or facilities in this article directly before visiting.