~Local cuisine of Yamagata~Special feature on delicious dishes rooted in the local area (1)
Yamagata has many local dishes that have been rooted in the region for many years. This time, we will introduce some of the local dishes that are popular in Yamagata.
1.Yamagata imoni
Yamagata's local dish "Imoni" is famous as an autumn tradition. It is mainly simmered with taro, beef, konjac, and green onions, but the ingredients and seasonings used in the soup stock differ depending on the region.
Yamagata has the highest consumption of taro and konnyaku in Japan (as of 2020), which may be related to the frequent production of imoni. Imoni began to take root in Yamagata in the Edo period, and is still eaten at home today.
In autumn, a large-scale event called "Japan's No. 1 Imoni Festival" is held where you can enjoy imoni cooked in a 6.5-meter large pot on the riverbed, and it is crowded with many people.
2. Dashi(a mixture of vegetables and herbs)
"Dashi" is made by chopping summer vegetables such as perilla, cucumber, eggplant, myoga and perilla and seasoning them with soy sauce. There are many ways to eat it, such as putting it on top of white rice or cold tofu, or enjoying it as a condiment for noodles such as somen.
In recent years, you can see it being sold at convenience stores as well.
Easy to make and delicious, dashi is the perfect local dish to beat the hot summer.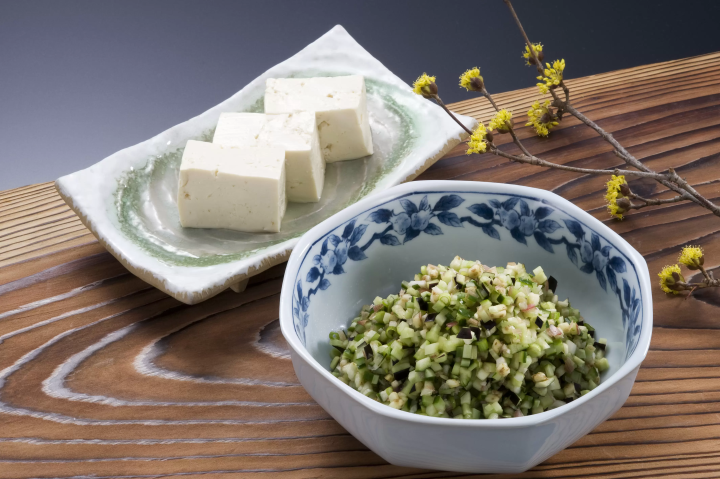 3. Natto soup
In Yamagata, it is often eaten during winter. "Natto soup" is a miso soup made by mashing natto until there are no grains and adding ingredients such as dried taro stems, konnyaku, and tofu. In some regions, it is eaten as nanakusa porridge on New Year's Day.
4. Tamakonnyaku(Ball-shaped konjac arrowroot jelly)
"Tama Konjac" is often sold at Yamagata festivals, events such as cherry blossom viewing, product centers and tourist spots. Of course, it is sold in supermarkets, and it is a dish that can be easily made at home. Hot ball konjac soaked in soy sauce is a popular local dish.
5. locust tsukudani
Locusts are rich in protein and calcium, and were a valuable preserved food in the past. Locusts are 3-4 cm long insects belonging to the locust family. They are caught in rice fields and other places and eaten as tsukudani.
6. Summary
In this article, we have introduced the local cuisine of Yamagata.

In addition to the ones we have introduced so far, Yamagata has a lot of delicious local cuisine.

When you come to Yamagata, how about enjoying the local cuisine unique to the region?

Images in this article provided by: Yamagata City Tourism Association

The information presented in this article is based on the time it was written. Note that there may be changes in the merchandise, services, and prices that have occurred after this article was published. Please contact the facility or facilities in this article directly before visiting.