[Himeji City] Himeji Castle seal has a 2023 design! Introducing them along with limited goods available at the castle shop!
This service includes sponsored advertisements.
2023 marks the 30th anniversary of Himeji Castle being registered as a World Cultural Heritage Site. From February 1st, various events and campaigns are planned, including a new design for the Himeji Castle Seal. Let us introduce you to the thoughts that have been put into this castle and the limite...
Congratulations! 30th anniversary of Himeji Castle being registered as a World Cultural Heritage Site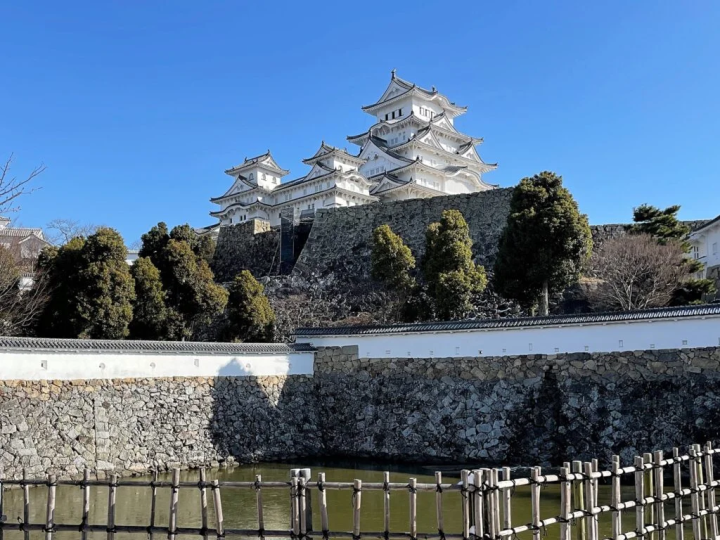 Himeji Castle was registered as a World Cultural Heritage Site on December 11, 1993. It was the first to be registered in Japan, along with Buddhist buildings in the Horyuji area of ​​Nara. The grand opening was held in 2015 (Heisei 27) after completing the "Great Tenshu Preservation and Repair Work (Heisei Repairs)" that began in 2009 (Heisei 5). The reborn, shining white castle tower still shows its unchanging beauty.
As part of the 30th anniversary week, there will be a flurry of commemorative events through March 2024, including special public exhibitions, a circus, and a music festival. For more information, please refer to the Himeji Castle 30th Anniversary Site as a World Heritage Site. (Link https://www.city.himeji.lg.jp/worldheritage30th/ )
The new design of the castle seal is the Ikeda family crest, Ageha butterfly.
The design adopted for the new castle seal is based on the Ikeda family, which is appropriate for the 30th anniversary of the registration as a World Heritage Site. This is probably the most familiar design to Himeji citizens and those who love Himeji Castle.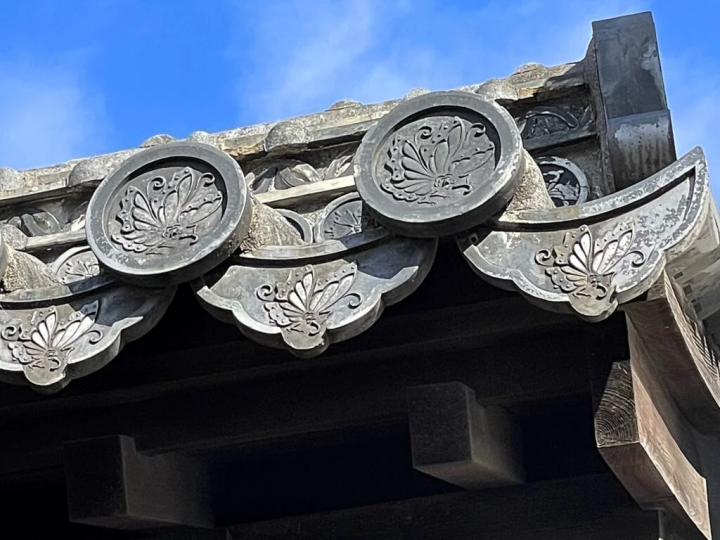 Tiles with the Ageha butterfly crest can be found throughout Himeji Castle. The photo shows the drip tiles and eaves tiles at Ronomon.
The red family crest in the center of the castle seal is the Ageha butterfly crest of the Ikeda family, which built the foundation of today's Himeji Castle. The pattern was extracted from the Shihan Kawara tiles excavated from Bizenmaru, where the Ikeda family's palace was located.
In the center are the words "Kokuhou Himeji Castle" written in large letters. It is extracted from the letters on the wooden signboard hanging on the mirror pillar of the Hishi-no-mon gate. It's hard to see in the photo of the Himeji Castle Seal, but depending on the lighting, the design stands out on the top left and bottom right.
In the lower right corner is the design of the high stone wall on the west side of Nunomon, which was built by Terumasa Ikeda when he built Himeji Castle. It is called a ``Ougi no Koubai'' because it curves from bottom to top.
This newly designed Himeji Castle Seal is sold only at the Himeji Castle shop. 300 yen each. (A different type of castle seal is sold at Nishinomaru Chaten in Sannomaru Square) The Himeji Castle shop is located next to the Himeji Castle exit ticket gate. The castle stamp is a commemoration of your visit to the castle, so we recommend purchasing one as a souvenir of your time enjoying sightseeing at Himeji Castle.
Castle stamp books are also on sale. Although it can be purchased at places other than the castle shop, the special ``Princess Leather Crafted Version (Regular Version + Princess Leather Cover)'' is a rare gem. At 16,000 yen, it is the most expensive item in the store, but it is a popular item with some people coming to see the precious princess leather version.
Now, let's introduce the limited goods available at the castle shop!
10 limited edition goods that can only be purchased at the castle shop
The products introduced here are some of the products sold exclusively at the castle store. Please understand if the item is out of stock or sold out. First, let's introduce Himeji Castle related goods.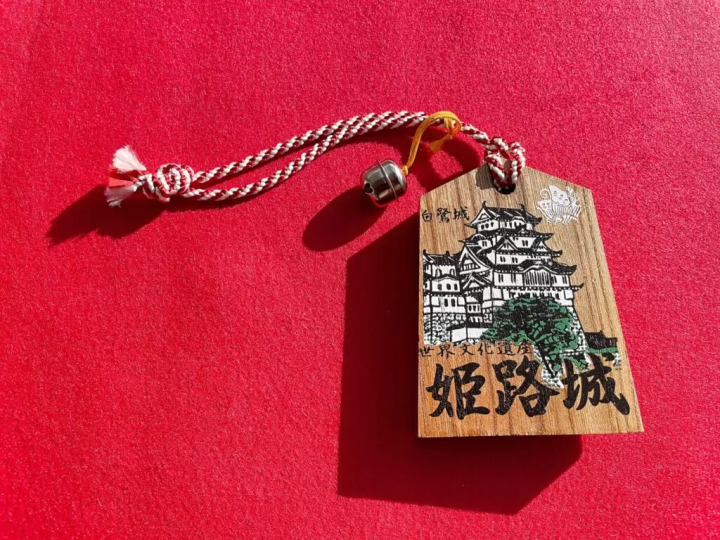 ">
It would not be an exaggeration to say that until the start of Gojo-in, the commemoration of visiting a castle is a ``passing pass''. It is still popular today. The handmade feel is very heartwarming. The price is 380 yen. cheap!
T-shirts are a classic souvenir. This design is original only for the castle shop. Sizes are S, M, L, and LL. 2,500 yen.
">
Popular magnet products. It's right in front of the cash register, so I can't help but buy it. Lanterns come in several color variations, so you'll want to line them up in rows. The golden Himeji Castle is a clip. The Himeji Castle magnet has a design with a strong presence. It is the most popular among magnets. Each one costs 440 yen.
Although it is small, it is a heavier figure than it looks. It has a good size and is perfect for carrying a little weight. 1,100 yen.
I actually tried using it and it has a gentle and refreshing scent. It uses plenty of natural cherry leaf oil extracted from Himeji Castle's cherry blossoms. The company that manufactures it is Seijudo, a long-established store founded in 1849 (Kaei 2) located in Kamikawa-cho, Kanzaki-gun, north of Himeji City. It is a popular item not only during the cherry blossom season, and some tourists come from overseas to buy it. 950 yen for 30 pieces.
">
There is also one at Himeji Castle. ``Commemorative medal engraving machine'' that can be used to engrave names and dates. I feel like I see them at most of the sightseeing spots that are part of the school trip course. It's exciting because now you can make your own memories. One medal costs 500-600 yen. ``Exclusive keychain (200 yen)''. ``Stamp (30 yen)''.
Princess-related goods are also popular. There are two (?) popular princesses at Himeji Castle. The first one is Senhime-sama, a princess from the Sengoku period.
Senhime-sama goods are full of accessories. "Senhime's Konpeito (490 yen)", "Earpick (390 yen)", "Omikuji key chain (385 yen)", "Eraser (330 yen)", etc. The other princess is Shiromaruhime, the official character of Himeji City.
I would like to introduce Shiromaruhime to those who don't know her. This is "Shiromaru Hime". Since its debut in 2009, it is Himeji's most famous character and has been enlivening Himeji with events and related goods. The stuffed animals (extra large) are sold only at the castle shop. 2,450 yen.
Shiromaruhime is very popular with children. The design of the kids T-shirt looks more like "Shiromaru Hime" than Himeji Castle. It's definitely a cute design. 2,200 yen.
There were some nice sweets as small souvenirs. ``Shiromaru Hime Ramune (430 yen)'' and ``Sakusaku Candy (430 yen)''. Cute and affordable souvenirs are a great help.
The limited edition goods introduced here are just some of them. I was surprised when I interviewed him. I never knew there were such limited edition goods! I have been to Himeji Castle many times and am still disappointed. Of course, we have standard Himeji souvenirs other than limited edition items. Be sure to stop by the shop before you leave and get excited. They accept various cards, transportation ICs, and QR payments.
*All product prices include tax. This article is information as of January 2023. Product contents and prices may change.
Basic information
Himeji Castle Shop (next to Himeji Castle exit ticket gate)

Address: 68 Honmachi, Himeji City, next to Himeji Castle exit ticket gate https://goo.gl/maps/B6Vo9nogUDvBwQVn9

Phone number: 079-284-0697 (Shop), (Inquiries regarding the castle seal) 079-287-3655 (Himeji Tourism and Convention Bureau)

Business hours: 9:00~17:00

Regular holidays: December 29th and 30th (according to Himeji Castle's closed days)

Access: Approximately 20 minutes walk from JR Himeji Station or Sanyo Himeji Station Take the Shinki Bus from the north exit of Himeji Station and get off at Otemon-mae, then walk approximately 5 minutes.

Parking lot: Use nearby parking lot URL

Click here for Himeji Tourism Navi Himemichi official website

Written by

What are good things and good experiences? There are many characteristics such as having a story to tell, overflowing with the thoughts of the creator, having a history, and being loved by the locals. Have you ever come across a special thing or experience that made you want to tell someone about it? And as a result of telling, someone new leads to something. We think that's what "good" is all about. In order to deliver such encounters to our customers, we discover Hyogo's good things based on the concept of "talk, communicate, and connect", and provide information that will shorten the emotional distance between customers and the region of Hyogo Prefecture.

The information presented in this article is based on the time it was written. Note that there may be changes in the merchandise, services, and prices that have occurred after this article was published. Please contact the facility or facilities in this article directly before visiting. Some of our articles contain affiliate links. We kindly ask our readers to exercise careful judgement when making a purchase or booking a service online.

The contents on this page may partially contain automatic translation.