Three Activities You'll Want To Try At Narita Airport!
Narita Airport is a fascinating facility both as a point of access and as a place to enjoy shopping and food. Don't miss out on these three popular activities when you visit Narita Airport.
The gateway to sightseeing in Japan, Narita Airport. It is a fascinating facility not only as a point of access, but also as a place where you can enjoy shopping and food.
In this article, we will introduce three popular fun spots and convenient services from among the facilities located inside Narita Airport.
1. Turn Your Leftover Change into Japanese Capsule Toys!
This is the JAPANESE CAPSULE TOY GACHA zone that was introduced in July 2016. It is a zone with rows of over 100 capsule toy machines on the basement floor of the Terminal 2 building.
Many of the capsule toys lining the zone are filled with only items associated with Japan. Why not buy cute Japanese souvenirs with the Japanese yen you were unable to use up! However, only 100 yen coins can be used. Please be careful as 50 or ten yen coins cannot be used in these machines. For more details, please read "Basics of Money in Japan: Currency Exchange, Duty-Free, and More!"
Once you insert the required amount of money and turn the lever to the right, a cute figure will come out. Your capsule toy will not come out unless you turn the lever until it stops. The amount required for each machine ranges from 100 – 400 yen.
For those who do not have change or 100 yen coins, please use the exchange machines situated nearby.
The capsule toy zone is located next to the escalator connecting the basement to the first floor, so don't miss it!
2. Change Your Leftover Japanese Yen into E-Money!
Travelers Box, installed in July 2016, is also a facility where you can efficiently use the Japanese yen you were unable to spend all of during your trip.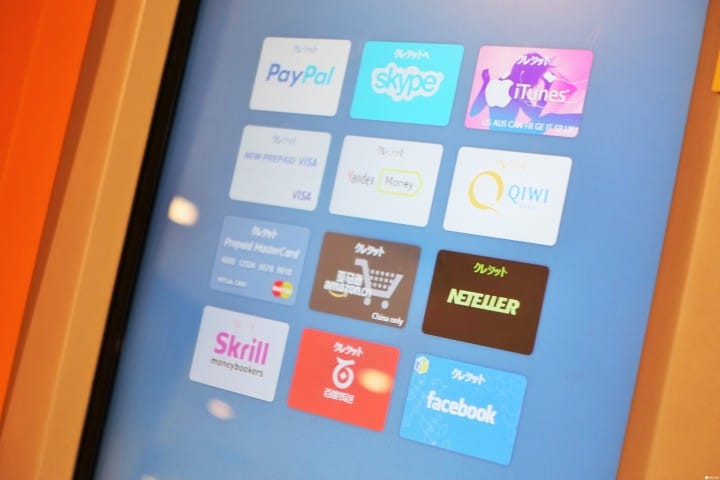 First, choose the e-money or points you would like to convert your change into. There are twelve types of credits available, including Facebook and Skype. Please be aware that there may be e-money with restricted usage in certain countries.
Next, please input your e-mail address. An e-mail will be sent to the inputted address after you have deposited your money, which will provide a link for you to click to carry out the transfer procedure.
Languages supported include Japanese, Chinese, English, and German.
It is also possible to change languages while using the facility. You won't need to completely redo what you have already inputted, making it very convenient to use.
Lastly, just to insert the amount of money you would like to convert into e-money.
Both paper bills and coins can be inserted into the machine, however, please be aware that one yen and five yen coins are not supported. Additionally, dollar or euro bills can also be used so we recommend this facility to Japanese travelers returning from overseas as well.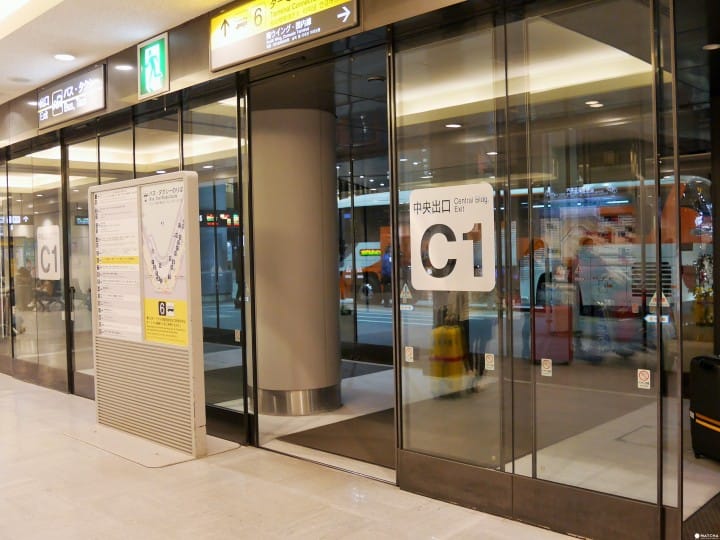 Travelers Box is situated on the first floor of the central building in Terminal 1. Please look for the C1 Exit facing towards the bus terminal as a guide.
3. Take Part in a Limited Time Event!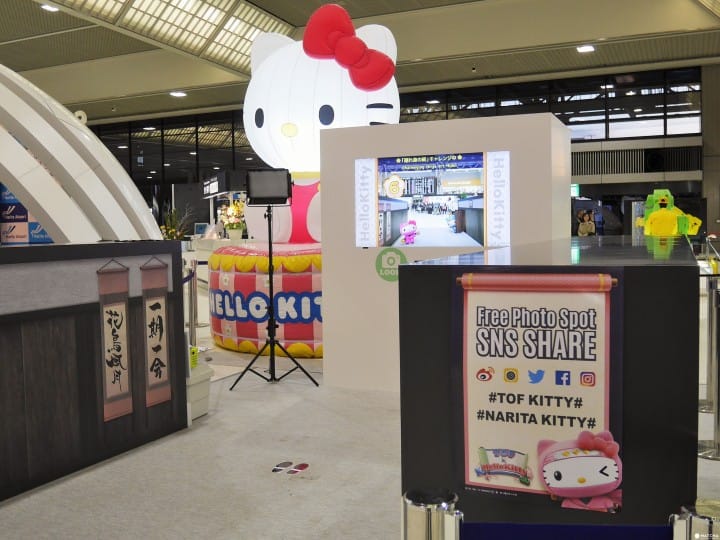 This was a photo spot recommended for visitors to create memories with when leaving Japan. It was a facility where travelers could experience taking a unique commemorative photo while playing together with Hello Kitty. It had been a special booth set up for a limited time until February 14th, 2017 on the third floor departure lobby of Terminal 2. A large Hello Kitty balloon was the landmark.
* A similar booth was situated in the fourth floor south wing departure lobby of Terminal 1 as well.
Based on the idea that "Hello Kitty, her younger sister Mimmy, and her boyfriend Daniel are pretending to be ninjas," participants were entrusted with a mission to protect the golden apple that invokes happiness from Daniel.
It was easy to participate. Participants only needed to stand in the designated area and move as directed on screen. The camera would recognize your movements so that you could control the game without touching the screen.
By holding your hands out, a language selection screen would appear. The languages supported were Chinese and Japanese.
English, Chinese, and Japanese-speaking staff were always available so that participants were reassured even when they didn't know how to operate the game.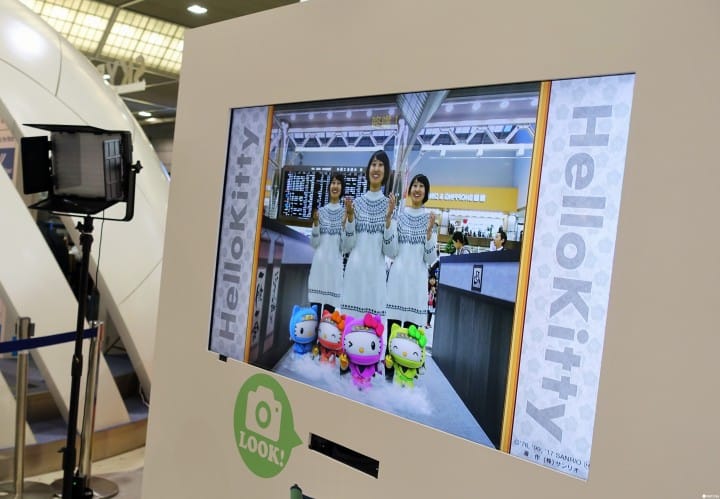 Challenge the ninja arts! If you were able to move well, you were also able to make clones of yourself like shown in the photo!! Hello Kitty, Daniel, and the others freely moved around inside a projection of the actual area you were on screen. There was a three-dimensional look to the game which really brought it to life.
This is the invisibility technique. It seemed like Daniel had no idea where the participant had disappeared off to.
Finally, participants could take a commemorative photo. There were three possible background images prepared depending on the results of the participant's ninja arts.
Participants were then able to download the photo they took to their smartphone using the QR code displayed on the screen.
Those who participated were presented with a free sticker. Those that performed their ninja arts well were given two stickers.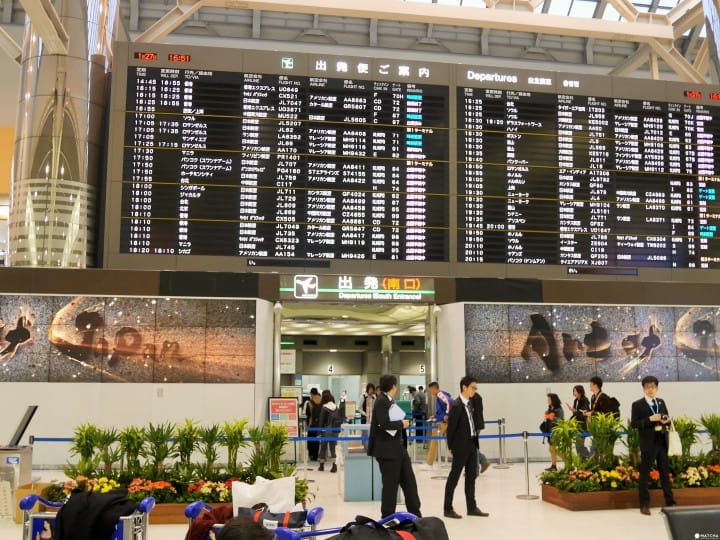 While this photo event may be over, you can still find Hello Kitty and all her friends at Narita Airport through their official shops, and other amazing events that take place seasonally in Narita Airport.
Efficiently Use Your Time Before Your Departure
The wait time before your departure is the perfect opportunity to create final memories of your trip with shopping, food, and fun. If you will be spending some time in Narita Airport, why not enjoy the unique services and entertainment that can only found here?

Sponsored by Sony Corporation / Digital Entertainment / Services

The information presented in this article is based on the time it was written. Note that there may be changes in the merchandise, services, and prices that have occurred after this article was published. Please contact the facility or facilities in this article directly before visiting.