Yoro Valley In Chiba - Incredible Natural Wonders All Year Long
Chiba prefecture is next to Tokyo and has many scenic spots that can be enjoyed through the four seasons. We'll introduce to you the famous Yoro Keikoku Okukiyosumi Prefectural Natural Park, one of Chiba's most lovely natural areas.
Chiba prefecture is home to Narita Airport and is a prefecture that is full of natural sightseeing spots.
We'll be introducing to you one of them - Yoro Valley, a scenic spot with murmuring streams and trees that are connected to the river side, with stunning, seasonally changing landscapes to enjoy. Today we'll take a look at four must-see spots here.
1. Chiba's Major Waterfall: Awamata no Taki
The highlight of Yoro Valley is Awamata Falls. With parking lots and a bus stop nearby, it's a popular tourist spot that you can visit with ease.
Once you get off the bus and go down the stairs, the riverside will appear right before your eyes, and if you continue along the stone path, the waterfall will start to appear.
A majestic view 100 meters wide with the waters streaming down onto the bare rocks. From the end of November to the start of December you can enjoy great views of the vivid red leaves surrounding the falls.
View Information
2. You'll Become Great if You Pray Here? Shusse Kannon Temple
The vermillion colored taiko-style bridge (the center of the bridge is a semicircular shape like the torso of a taiko drum) that crosses Yoro River is called Kannon Bridge.
After crossing the bridge you will find a set of stairs to climb. Partway through the stairs is a wall with coins embedded into it by the people who have wished here for prosperity.
After climbing up a small steep hill you will come to the grounds of Rikkokuji Temple. An ancient Japanese military commander by the name of Minamoto no Yoritomo is said to have offered prayers here. After this was known, people began calling it Shusse Kannon. If you pray here, you might be blessed with a promotion or other advancement.
Plum trees are grown within the grounds. In February, you can see the plum trees dye this area in thick pink blossoms.
View Information
3. A Cliff Made from a Collapsed Tunnel: Kobundo Ruins
Yorogawa flows near Shusse Kannon, and near this river you will find the Kobundo ruins, a spot where an old tunnel collapsed.
To get to the Kobundo ruins, you must continue along the river and cross several bridges that were set up over the river's surface. Crossing over the evenly spaced concrete blocks really heightens your sense of adventure.
Here are the Kobundo ruins. This tunnel was dug 140 years ago to help develop the cultivated land in the area. It was originally enclosed on top by thick layers of stone and soil, but in 1979 it collapsed without warning, separating the two sides. The large rocks you can still see just below the surface of the water vividly show just how big a collapse it was.
View Information
4. Famous for Autumn Leaves: Umegase Valley
At Umegase Valley you can enjoy an authentic trekking experience through a route set up near the river.
Since it has the word 'ume' (plum) in it, once February rolls around you can enjoy amazing views of plum blossoms all throughout this area. However, this spot is actually best known for its fall leaves. As soon as fall begins, this entire area is covered in vivid yellow and red leaves.
The three kilometer road from the Keikoku entrance is almost all by the river. You cross the river surface multiple times by jumping over rock slabs placed over the river.
Around here is an unique formation called the Umegase layer. At the cross section of the cliff and at the river bottom, you can see a formation from long ago when this area was a part of the ocean floor.
On a cold winter day, icicles hang down in tight rows from this cliff that was in the shade. The underground water has come through to the surface and became the icicles that give us this majestic wintery scenery.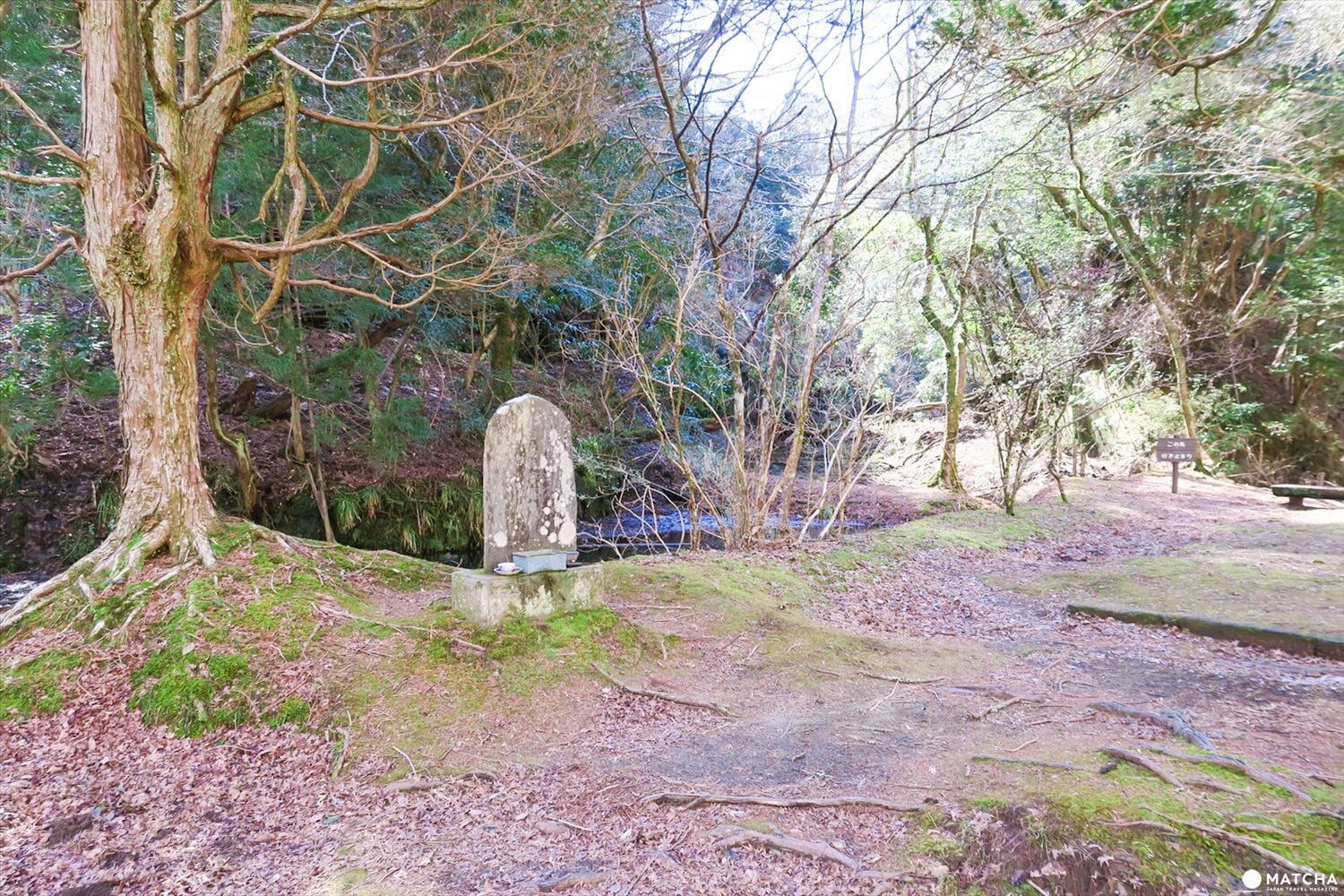 In around three kilometers you'll arrive at the ruins of the Hidaka Residence. This is where educator Hidaka Nobutane resided during the Meiji period.. Only the monument dedicated to him remains now, but when it becomes fall, the entire area is covered in fall leaves. It's a splendid sight to see.
View Information
It's Easy to get to Yoro Valley by Train
It'll be most convenient to visit this area if you use Yoro Keikoku Station on the Kominato Railways as your starting point.
It's a retro countryside train with large windows from which you can stare out at the relaxing scenery as it passes by.
There's a tourist information center in front of Yoro Keikoku Station where you can pick up sightseeing route maps and learn important information about the area. This is a good place to stop before heading out on your journey.
What to Watch Out For When Trekking in Yoro Valley
The Kobundo ruins and Umegase Valley have routes set up along the river. Some spots require to cross the river surface, so we recommend wearing clothes and shoes that are easy to move around in. There are places without lights too, which is why it's best to plan it out so that you'll be done your visit before the sun goes down.
A beautiful waterfall, interesting ruins, a temple, and incredible natural scenery all year long - please do make the trip out to Chiba and see this amazing natural spot!