Farm Stay In Shizuoka - Enjoy Local Hospitality And Beautiful Sights
If you would like to spend more than one day in Shizuoka, how about lodging at a local minshuku (guesthouse)? Enjoying home cooked meals and taking part in hands-on farming activities will become treasured memories of your stay in Shizuoka.
Less than an hour from Tokyo, Shizuoka Prefecture has always been a popular tourist retreat with its emerald green tea fields, the iconic Mount Fuji and the famous hot springs of the Izu Peninsula. However, Shizuoka has considerable more hidden gems to offer those seeking an adventurous journey and I highly recommend the Oigawa River valley in northern Shizuoka.
Travel along the sprawling Oigawa River riding a vintage steam locomotive (SL) taking in vistas of rolling tea fields with a backdrop of the Japanese southern Alps. If you would like to spend more than one day enjoying the sights in this area of Shizuoka, you can stay overnight at noka minshuku, which are guesthouses operated by local farmer's families.
Wonderful Sights to Enjoy in Shizuoka
Ride A 1930's Era Steam Locomotive to the Upper Reaches of the Oigawa River
Your journey starts at Shin-Kanaya Station of Oigawa Railway Company in Shizuoka Prefecture. To fully appreciate and absorb the natural beauty of the Oigawa valley and be transported back to a different era, ride a vintage steam locomotive (SL) of the Oigawa RR between Shin-Kanaya and Senzu stations.
The 40 kilometer, 1 hour 19-minute ride is an unforgettable excursion as you pass along tea fields on one side and the tranquil Oigawa River with amazing views of the Japanese Southern Alps in the distance.
Every time the SL rounds curves or exits several of the long tunnels, you are captivated by the striking panoramic views with the rocky banks of the wide Oigawa River and with the snowy Japanese Southern Alps in the background. Between Shigo and Shimo-izumi stations, get your camera ready for photographing the longest suspension bridge (220 meters) across the Oigawa. The train actually passes underneath the bridge.
Enjoying your ekiben (box lunch) and the special Oigawa Railway beer listening to the nostalgic sound of the unique double SL whistle will be a memory you'll cherish forever. This is the most popular ekiben and is based on the original one sold back in the 1930's.
Cross the Guinness Book of Records Longest Wooden Bridge!
The Horai Bridge located within walking distance from JR Shimada Station in Shizuoka is listed in the Guinness Book of Records as the longest wooden pedestrian bridge in the world.
The 897.4-meter long bridge spans the expansive lower reaches of the Oigawa River and was originally built in 1879. For a 100 yen toll, you can stroll across the bridge which takes about 20 minutes and enjoy a fabulous view of Mount Fuji and the surrounding valley.
At the far end of the bridge, you might have the chance to meet up with Mr. Tsuchiya, a local stone mason, carving Jizo statues out of Oigawa River stones.
Hike the Old Tokaido (East Sea Road)
About 300 meters from the JR Kanaya Station you have an opportunity to actual hike part of the old Tokaido Road that used to be the main transportation artery between Kyoto and Edo (Tokyo).
In 1991, a 430-meter section of the old Tokaido Road was restored and opened to the public. Both Shimada and Kanaya were key post towns along the old Tokaido Road. Stop by "Meguri Tea House" at the entrance to the old Tokaido Road and enjoy traditional Japanese tea and lunch.
Lodging at a Minshuku in Shizuoka
If you are seeking a unique experience of staying at Japanese rural home, trying to save on travel expenses, or wishing to dine on locally produced specialties and try your hand at farming activities, then try out staying at a minshuku, a Japanese version of a family-run bed and breakfast.
Minshuku facilities offer Japanese-style accommodations by letting out one or more tatami rooms of their privately owned home.
By staying at a minshuku you become like a family member and as such you are expected to prepare and put away your bedding (futon), share the bathroom facilities, and eat together. In most cases there are very few amenities, such as toothbrushes, toothpaste or towels, so make sure you pack accordingly.
Costs range from as low as 3,000 yen (without meals) to between 6,000-10,000 yen with breakfast and supper included. Prior to staying at a minshuku, I recommend one gets familiar with the basic customs and etiquette of Japan (See the Shizuoka Guide on Etiquette and Customs). Also, pack your English-Japanese/Japanese-English dictionary.
Minshuku Reservations
Prior to departing to your destination, you can do a simple Google search by prefecture and nearest town where you would like to stay. If you are in Tokyo, stop by the Japan Minshuku Association(Sumida ward, Etobashi 4-21-6-1117, Phone: 03-6659-6292). You can also check the tourist websites of the prefecture you'll be visiting. In the case of Shizuoka Prefecture, "Shizuoka Guide" in English is an excellent starting point for preparing your trip to Shizuoka.
The Green Tourism and Organization for Urban-Rural Revitalization's English website does list several minshuku facilities throughout Japan. But probably the best way of finding and booking a minshuku is to stop in at the nearest Tourist Information Center in the area you wish to stay. Prior to transferring to a less traveled rural train, visit the tourist office which may be right inside the station. The tourist office will phone the minshuku and assist you in acquiring lodging.
Ashitaba Farm Minshuku - Surrounded by Tea Fields
On the upper reaches of the Oigawa River in northern Shizuoka near the rustic, Taisho era Suruga-Tokuyama Station, you'll find the charming Ashitaba Farm Minshuku (Noka Minshuku Ashitaba) operated by the Yokozawa's, a very friendly couple who are in their late seventies and lived their whole life in Tokuyama village farming their "ochabatake" (tea fields) surrounding their home.
The tea fields of the Yokozawas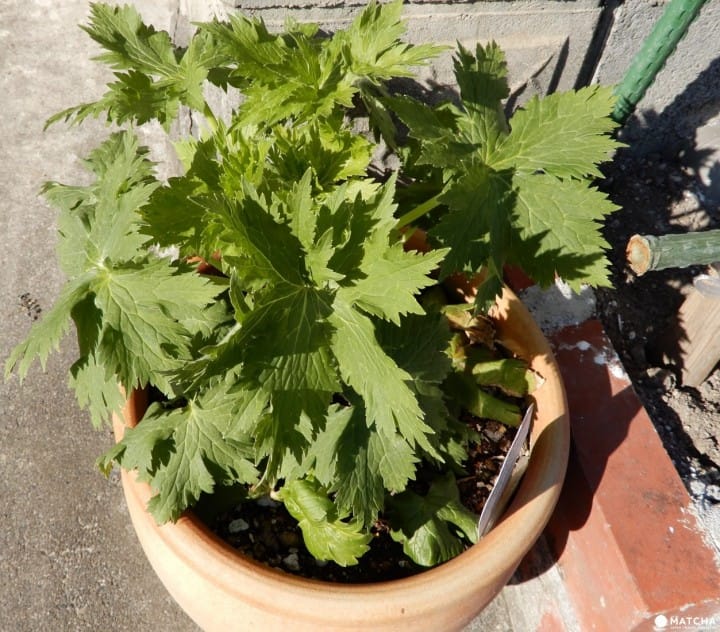 "Ashitaba", a herb of the parsley family, literally means "tomorrow leaf" and has been used since early Edo period (1603-1868) for its surprising ability to slow the aging process.
According to a saying, "if the ashitaba leaves were picked today, it would blossom again tomorrow." Naming the guesthouse "Ashitaba" is probably appropriate since the Yokozawa's don't seem to be in their 70's and get up at the crack of dawn everyday, keeping a demanding schedule.
The Yokozawa family have been tea farmers for over a hundred years; however, in 2014 they decided to try their hand at opening a noka minshuku (farm minshuku) as a way to supplement their income and at the same time to enjoy interesting and educational encounters with Japanese and foreign tourists.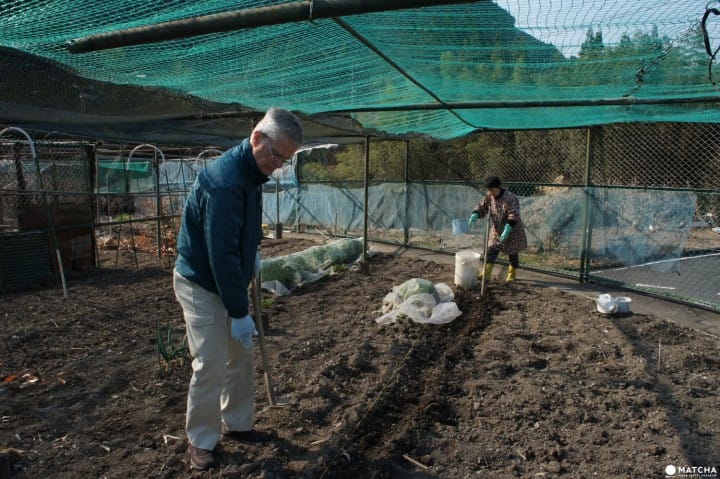 In addition to providing basic Japanese-style accommodations and meals, Ashitaba offers one the chance to do a farming activity or preparing traditional, homemade Japanese dishes.
For my farming activity, I planted yamaimo (a type of potatoes) which will be ready to harvest in October. Kumiko Yokozawa also holds a cloth dyeing workshop using herbal plants.
Kumiko is extremely pleasant and outgoing and loves to share stories of the local history and culture of Tokuyama village.
Kumiko and husband are superb cooks and the meals were real feasts made of local products. The "botanmochi" (azuki bean mochi cakes) were especially scrumptious.
Kumiko takes pride in her cooking and together with her husband have another side business selling Kumiko's special homemade "yomogi kintsuba" sweets at Senzu Station during weekends when the SL train runs. Yomogi is mugwort which grows just about everywhere in Japan. Kumiko refers to her husband as her pinch hitter as he does all the selling at Senzu Station.
Our hosts at Ashitaba were very welcoming and eager to share with us the best that this area in Shizuoka has to offer.
Information on Ashitaba Farm Stay
Address: Shizuoka, Haibara district, Kawanehoncho, Tokuyama 1839 Map
Check-in: 15:00
Check-out: 10:00
Nearest station: Suruga-Tokuyama Station on the Oigawa Railroad (The hosts at Ashitaba will wait for you at the station.)
Accommodation fee: Adults 6,000 yen, Children 3,000 yen
Telephone number: 0547-57-2557
Website: https://www.kouryu.or.jp/farm-stay-inn/detail/22429/12172/
After arriving at Senzu Station, they drove us to two nearby tourist spots: Chameikan and the Shiogo Suspension Bridge. Chameikan gives one the chance to taste locally produced tea and tour a museum on local history and culture.
The 220-meter Shiogo Suspension Bridge spanning the Oigawa River is a thrill to walk and if you time it right you'll see the old SL train pass underneath.
Yamaboushi Farm Minshuku – At the Foothills of Mount Fuji
In the picturesque foothills of Mount Fuji, only 30 minutes from Shin-Fuji Station or JR Fuji Station, is the Yamaboushi Farm Minshuku, operated by Akira and Masako Yamamoto.
The minshuku is a lovely, traditional Japanese farm house situated on the eight acres of mostly wooden land, in a very serene, natural environment where one can enjoy the seasonal changes of a great variety of flowers and trees.
Mr. Yamamoto named the minshuku after his favorite plant - the "yamaboushi", a Japanese dogwood tree.
The Yamamotos cultivate two acres raising a variety of vegetables and shiitake mushrooms. The lodgers can enjoy their hand-made soba tempura dishes served for lunch daily costing 1,500 Yen.
The fresh vegetables and handmade soba noodles make the Japanese traditional luncheons at Yamaboushi an incredibly wonderful dining experience.
Yamaboushi offers four different hands-on farming activities taking about one hour: making soba, making konnyaku from potatoes, digging up bamboo shoots and blueberry gathering.
Besides the Noka Minshuku and wonderful daily lunches, next to the Yamaboushi Minshuku is the Le Patissier Yamamoto, a bakery that specializes in pastries and sweets managed by their son.
Mr. Mitsutoshi Yamada, an English teacher (Mr. Yamamoto's son-in-law) and his wife Mrs. Keiko Yamada (also a teacher) and their three children share in the chores and activities of the Yamaboushi Noka Minshuku.
The cheerful Yamamoto family will be happy to welcome you at Yamaboushi.
Information on Yamaboushi Farm Stay
Address: Shizuoka, Fuji city, Ōbuchi 4513 Map
Check-in: 15:00-17:00
Check-out: 10:00
Nearest station: Shinkansen Shin-Fuji Station or JR Fuji Station (Yamaboushi Noka Minshuku will pick you up at either station.)
Accommodation fee: Adults 8,000 yen, Elementary school age children 5,000 yen, under age three 3,000 yen
Telephone number: 0545-35-2663 (Note the best time to call for reservations is in the evening.)
Website: http://www.yamaboushi.me/
In Conclusion
Staying at a minshuku is a very rewarding experience and gives one a whole new perspective on rural Japan and how elderly farmers are coping with both demographic and economic changes in Japan. Not only from the standpoint of being culturally and educationally rewarding, but the personal interaction you have with the Japanese families creates new relationships that you and the families will cherish.

It is an experience one cannot realize by staying at other lodgings and simply visiting tourist sites.

The information presented in this article is based on the time it was written. Note that there may be changes in the merchandise, services, and prices that have occurred after this article was published. Please contact the facility or facilities in this article directly before visiting.