What If I'm Sick? Guide To Japanese Hospitals
If you live, study, or work in Japan, you will likely go to a hospital or clinic. What should you be aware of when visiting one in Japan? What if you don't speak Japanese? This article answers these questions and more, from how your first visit will go, to the cost of getting a prescription filled.
Hospitals in Japan
There will likely come a time when you need to visit a hospital, clinic, or another medical facility in Japan if you are staying in the country long-term. What does one need to be aware of when seeing getting medical attention in Japan? How about if you don't understand Japanese? What happens if you don't have Japanese health insurance? How much does it cost to see a doctor in Japan?
This article will answer these questions about health care in Japan and how to have a smooth visit.
Tips When Visiting a Japanese Hospital
During your first visit to a hospital or clinic in Japan, you will often have to fill out a patient intake questionnaire about your symptoms or the reason why you came. The length and content of the survey depend on the facility you are at.
You will also be asked questions about your health habits:
Are there any medications you are taking? Do you have any medications that could cause an allergic reaction? Are you pregnant? Do you have a drinking and smoking habit?
In addition to writing this essential information on your intake sheet, be sure to speak to your doctor directly when you meet them to make sure they understand the other medicines you are taking or if you have allergies.
If you are not comfortable with Japanese enough to use it to describe your health, be sure to fill out this English and Japanese form and bring it to the hospital: Click here to download the PDF.
Can I Use a Credit Card to Pay My Hospital Bill?
Usually, in small hospitals and clinics in rural areas and small towns, payment is cash only. Only a few large hospitals accept credit card payment in Japan.
If you are staying in Japan for a short period, your medical insurance may reimburse you for some of your medical expenses after you return home. Be sure to confirm with your insurance company before you travel.
What Do I Do When I See the Doctor?
The doctors and nurses are often very friendly in Japan. When they see that you are a foreigner, they will very likely try to talk to you slowly and in a clear manner. If they speak English or a foreign language, they may use this to communicate with you.
If you feel confused about what has been said or don't understand something, be sure to ask your doctor for help. You can ask them to write down your symptoms and keywords and check them at home.
How Do I Choose Which Hospital to Go to?
If you are concerned about language issues, you should first check online for hospitals that are multilingual. If you are concerned about how hospitals are ranked, you can also see the following website before your visit.
Reviews of Hospitals in Japan: https://caloo.jp/ (Japanese only)
Search for Medical Facilities with English and Foreign Language Support
The following website run by the Japan National Tourism Organization will allow you to search for medical facilities throughout Japan that offer services in English and other foreign languages.
https://www.jnto.go.jp/emergency/eng/mi_guide.html
You can also search for hospitals and clinics that offer services in languages other than English at the following site (Japanese only).
https://byoinnavi.jp/foreign_language_speakers
In addition, links to multilingual medical facilities in major cities in Japan are listed below (some website functions require Japanese reading ability).
Region
Note
Tokyo
Search for hospitals with foreign language services
Osaka
The search will show you foreign languages that can be supported.
Kyoto
Some hospitals have medical interpreters in English, Chinese, and Korean. Interpreters are free of charge, but some hospitals require an appointment at least five days in advance. In case of emergencies on holidays, visit:
Kyoto City Emergency Medical Clinic: Kyoto, Nakagyo, Nishinokyo, Higashi Togano 6, east of JR Nijo Station, next to the rotary south of the station (Kyoto Medical Association 1F, Tel: 075-354-6021)
Kobe (Hyogo)
In the form, check "Search by Medical Function" and then "Supported Language Types" to proceed with the search.
Nagoya
The foreign language level is displayed on a scale of 1 to 3 (1: conversational without difficulty, 2: daily conversation level, 3: only with diagrams and words).
Kyushu
This is a list of hospitals that are available in multiple languages.
Can I Visit the Hospital Without Japanese Health Insurance?
When you change your job (*), if you haven't been issued your health insurance card, or are not staying in Japan long enough to have health insurance, but have to go to the hospital because you feel sick, what happens?
Those without a Japanese health insurance card will have to pay the full amount of your hospital charges. If you have to, you can apply to get refunded to the health insurance association or your ward office post-visit (please note that the full amount may not be refunded.) Be sure to receive a receipt and an official statement of charges before leaving the hospital.
*In Japan, you are required to change your health insurance card depending on the company, so it is necessary to change the health insurance card that you made at your previous company after you changed jobs. Your insurance card will be collected. You can apply for a new health insurance card when you join the company, or you can purchase national health insurance while you are employed.
What to Expect during a Vist to a Japanese Hospital
1. Present your health insurance card at the reception desk.
2. If it is your first visit to this facility, you are a new patient and will have to fill in a medical questionnaire in the waiting room. Return it to the front desk when you have filled it out.
3. If you have a fever, someone will measure your temperature.
4. Wait for the doctor to call you for a consultation.
5. After being called in, consult with the doctor and receive treatment for your symptoms.
6. Return to the lobby and pay the bill.
7. Go to the nearest pharmacy with the prescription given at the reception desk. The receptionist can give you directions to the nearest pharmacy.
8. Get your medicine from the pharmacy and pay.
Wait times vary depending on how busy the hospital is. The author of this article once lived in a small town with few hospitals, and sometimes the wait was four hours. However, in large cities like Tokyo, it will often less time, as there are so many hospitals. To avoid long waits, try to visit right when the facility opens on a weekday, so you can finish your visit within an hour or two.
How Much Does it Cost to See a Doctor in Japan?
The total cost of a visit to a medical facility in Japan is around 5,000 yen in total, for those with insurance. The first consultation to a clinic or hospital will likely cost around 3,000 to 4,000 yen. If you are visiting for a follow-up appointment, the cost of your visit may be less than 1,000 yen. The cost of receiving prescribed medication in Japan ranges from 1 to 2,000 yen.
Please keep in mind that if you don't have a health insurance card, you will have to pay for the entire bill yourself. Therefore, the fees will be more expensive.
In Japan, the consultation fee for seeing a doctor is determined by a point system, based on the nature of the consultation. You will usually be given a receipt and a medical care statement at the front desk after your visit ends (please keep in mind that it is usually only in Japanese) containing these details and a breakdown of expenses.
Japan's Standard for Doctor Consultation Fees
The calculation method for medical consultation fees in Japan is:
Points x 10 yen x percentage you have to pay = total fee
The percentage of the cost varies by age (see below), but it is generally 30%. For example, if a 20-year-old person is examined for the first time, they will receive 288 points for their first visit. They will be charged 288 points x 10 x 0.3 = 860 yen (rounded off to the nearest 10 yen).
What Percentage Cost do Health Insurance Holders Pay?
If you have a health insurance card, the percentage of the cost of the consultation varies depending on your age group.
For those under age 6, the burden is 20%. Elementary school-age through age 69 is 30%, between 70 and 74 is 20%, and those aged 75 and older pay 10%. Patients of a certain income bracket may have to pay 30% regardless of their age.
Medical Bill Details
First Visit Fee (初診料, shoshin ryo): the first visit fee is a flat fee of 288 points nationwide. If you have a long term rehab visit and then come back in a month later, you still get your first visit fee!
Repeat Visit Fee (再診料, saishin ryo): 73 points for small hospitals and clinics with less than 200 beds. The points are added for visits at special times.
Outpatient fee (外来診療料 gairai shinryo ryo): For large hospitals with more than 200 beds, a 74-point outpatient fee will be added in place of the repeat visit fee.
Medication Fee (投薬料 toyaku ryo): Includes a prescription fee for the doctor to specify the type and amount of medication.
The above fees are the same for all patients. However, there is a surcharge for children under six years old, children on Sundays, public holidays, between Dec. 29 and Jan. 3, and after business hours.
How to Use a Prescription Medicine Handbook (Okusuri Techo) in Japan
When you go to pick up your medication at the pharmacy with your prescription, most of the time, you will be asked, "Do you have a prescription medication handbook? Known as "okusuri techo" in Japanese, this pocketbook is essential for people living in Japan, as it shows a record of the medicines that have been prescribed to you and what medications you have taken in the past.
When you receive prescription medicine for the first time in Japan, you will get one of these handbooks with a picture on the cover. This little pocketbook is not only cute and cute, but it is also very versatile, so make sure you take it with you to the hospital and pharmacy with you!
Advantages of a Medication Handbook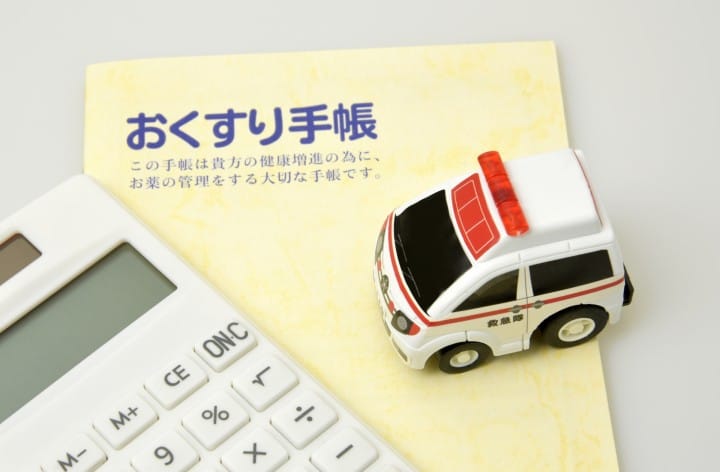 1. Prevent Double Prescriptions
When you visit more than one hospital, you may be prescribed the same medication. Even if the medicine has a different name, the ingredients and effects may be the same. Having a medication handbook can help prevent this.
2. Easy for Medical Professionals to Understand Your Allergies
Some people may be allergic to certain medications. A medication handbook will help you keep track of which drugs you are allergic to, and You can also predict from your medication booklet which medicines may cause an allergic reaction.
3. See Your Medical History and Past Prescriptions
This book makes it easy to remember and recall your past medicines and health conditions. Your future health will be simpler to determine with a handbook.
4. Reduce the Risk of Drug Contamination
Taking more than one medication may cause side effects when taken with other medicines. This handbook, however, helps avoid this.
Visiting and Getting Care at Japanese Hospitals
The answers in this article about visiting hospitals and receiving medical care in Japan are practical and useful for anyone in Japan. Use this article as a reference when you need to see a doctor or get medical attention. We hope you feel better soon!

The information presented in this article is based on the time it was written. Note that there may be changes in the merchandise, services, and prices that have occurred after this article was published. Please contact the facility or facilities in this article directly before visiting.