Travel Items That Ease Muscle Tension - Pip Elekiban And Pip Magneloop
During your trip to Japan, traveling for long hours with the airplane or trains, or standing for a longer time might result in muscle tension and shoulder pains. Try the Pip Elekiban and Magneloop - two items designed to ease muscle tension.
A Great Travel Item You Can Pick Up in Japan
During your trip in Japan, while moving around in planes and trains, or while carrying heavy luggage, you might start to feel tension in your shoulders and lower back. You might be wondering what you can do to ease this stiffness.
Pip Company, with a history dating back 110 years, has the answer. This article is about Pip Elekiban Magneloop, a very efficient item for treating muscle stiffness, and about various situations in which it can be applied. Be sure to read the product information that is also introduced below.
Situation No.1 - Getting Off the Plane
Travelers need to ride buses, trains and airplanes to reach their destinations. After getting off the plane, fatigue can start to set in. Long hours of being stuffed in your seat will restrict blood circulation, resulting in muscle stiffness, which can the start of the trip an unpleasant one.
If you feel tension in your lower back, apply four Pip Elekibans on your back, two on each side, with the backbone in the middle.
This is Pip Elekiban 130, a staple product used to ease stiffness.
Situation No.2 - Standing in Lines
You may have to wait in line to try a special Japanese dish, which can result in pain in your shins and instep.
To ease the pain, apply three Pip Elekibans on the soles of your feet.
Avoid placing them on spots that may hurt while walking. Try applying them on the plantar arch instead.
Situation No.3 - Carrying Heavy Items
Now that you're in Japan, you might want to shop for popular items such as electric appliances and cosmetics duty-free. But carrying heavy shopping bags all day can be a serious burden on your shoulders.
To lessen the burden, apply three Pip Elekibans on both shoulders. They will gradually start working on your muscles.
Situation No.4 - Effective Even When Wet
You might wonder what will happen when the Pip Elekiban gets wet.
There is no need to worry. The Pip Elekiban patches are made from nonwoven fabric which has both elasticity and moisture permeability. The patch will not lose adhesiveness even when it gets wet, and is also gentle on the skin. This kind of unique material is used only on the Pip Elekiban. You can use them throughout your trip, so it is cost-effective as well.
Situation No.5 - Stiff Neck
You may have to rely on digital devices for navigation during your trip. But looking down and overusing your devices may cause neck stiffness too.
Wear a Pip Magneloop around your neck, and it will help your blood circulation. The photograph above shows the Pip Magneloop EX, which has a magnetic force of 150 millitesla.
These connectors make it easy to put it on and take it off.
Situation No.6 - A Souvenir for Your Friends and Family
Picture courtesy of Pip Co., Ltd.
Most muscle stiffness which can occur during your trip can be treated with Pip Elekiban and Magneloop. So, head for the nearest drugstore and purchase these products, which can also make great souvenirs (seen here at Tsuruha Drug Store in Ebisubashi, Osaka).
If your parents are bothered by stiffness in their lower back, or your friends have muscle tension due to using digital devices for long hours, show them the Pip products. Pip Elekiban can ease the muscle tension caused by everyday life.
Pip Products - The King of Drugstores
The Pip Elekiban is a famous Japanese product which boasts more than 40 years of history. But how does it actually work? The following is a guide to features of the Pip products made by MATCHA.
Magnetic Powers
Modern lifestyle tends to cause tension in your neck, shoulders and lower back. The tension pressures the blood vessels, resulting in muscle stiffness. Pip Elekiban uses magnetic force to ease the tension, which results in better blood circulation. The products are chemical-free, which means they are safe to wear for long periods of time.
Pip Elekiban
Picture courtesy of Pip Co., Ltd.
Picture courtesy of Pip Co., Ltd.
There are four product types: Pip Elekiban 80, Pip Elekiban 130, Pip Elekiban M and Pip Elekiban MAX 200. The number after each product indicates the magnetic flux density. Larger numbers means that the magnetic force is stronger.
Pip Elekiban 80
The magnetic flux density is relatively low, so this product is recommended for first-time users.
Pip Elekiban 130
This is the most popular Elekiban, with a moderate magnetic flux density. This type is recommended for those who have to stay seated for long hours.
Special Notice: From May 14th, 2018, free samples of Pip Elekiban 130 will be distributed at the Fukuoka Airport JTB counter, located on the first floor of the Domestic Terminal, so don't miss it.
** This campaign is only available while supplies last.
Pip Elekiban MAX 200
This type has the strongest magnetic flux density, and uses a large, cone-shaped magnet. It can affect a large area, so it is fit for people with severe stiffness.
Pip Elekiban M
The magnetic flux density is the same as Elekiban 130, with a menthol-infused patch. This type is fit for people who prefer a softer touch.
All the products mentioned above are gentle on the skin, so they can be applied as long as five days, making them cost-effective as well. The Elekiban should be applied for more than two days.
Picture courtesy of Pip Co., Ltd.
Special Notice: From the end of May 2018, a limited number of Pip Elekiban original smart phone bunker rings will be sold. If you are interested in picking one up, hurry to your nearest drugstore because they will soon be gone!

Pip Magneloop EX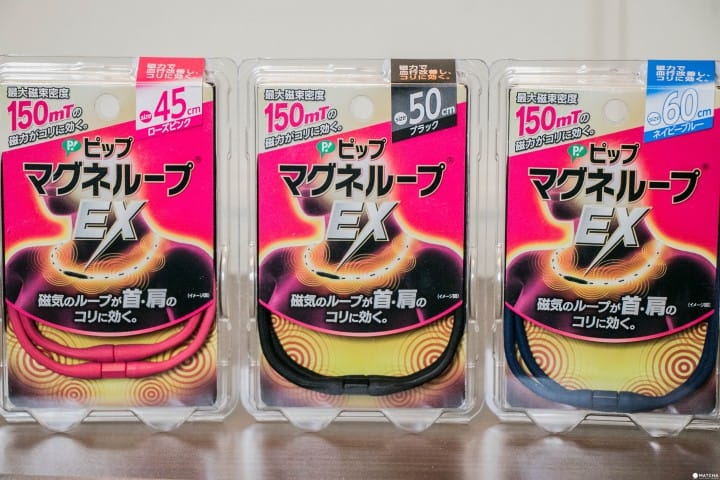 Picture courtesy of Pip Co., Ltd.
Pip Magneloop EX offers a strong magnetic force to ease muscle stiffness. They come in three sizes (45 centimeters/50 centimeters/60 centimeters) and colors (navy blue/rose pink/black).
** The 60 centimeter size type are not available in rose pink.
The 50 centimeter size is popular with both men and women. Those with a slender neckline should use the 45 centimeter size, while the 60 centimeter size is best for those who prefer to wear it loosely. They all have the same magnetic flux density. Magneloop is washable, gentle on the skin, and easy to wear thanks to the simple connectors on the ends. The magnetic force will keep working as long as Magneloop is worn.
Pip Magne Neck
Picture courtesy of Pip Co., Ltd.
Pip Magne Neck is a new product which came out on March 12th, 2018. Currently, it can be purchased only in Japan. As of March 30th, 2018, Magne Neck will also be available in pink and black.
Picture courtesy of Pip Co., Ltd.
This product was specially designed to ease severe tension in the nape of the neck via a strong magnetic force. Magne Neck is easy to use, as the user just has to wear it on the nape.
The Pip Products - Great as Souvenirs! The Traveler's Companion
Do you have friends or family members who suffer from muscle stiffness? The Pip products will make a perfect souvenir for them, and also work as a great companion during your trip. Buy the Pip products duty-free, and take them home.
Official Site: Pip Co., Ltd.
Sponsored by Pip Co., Ltd.