Budget-Friendly Japanese Sheet Masks Available At Drugstores
Japanese sheet masks are appreciated worldwide for their quality and variety. With so many options to choose from, it might be difficult to decide upon a sheet mask type. This article introduces the common types and brands of sheet masks available in Japan.
Face Masks - From Special Treatments to Daily Use Cosmetics
Face masks exist for all skin types and budgets. The products commonly known as face masks come in cream or gel form and are meant to be used once or twice a week as a special treatment for your skin.
However, sheet masks have slowly taken over the worldwide market in the last couple of years.
Sheet masks are sturdy cotton sheets with holes for the eyes and mouth cut out. They are usually soaked in skincare essence and many of them can be used daily. In comparison to the more traditional types, sheet masks are easy to use and mess-free.
Usually, the sheet is used by simply applying it to the clean, dry skin. After leaving it on for about five to twenty minutes, you remove the sheet, then pat in the excess liquid with your fingers into your skin. Depending on your skin type, you can either follow up by adding your usual face cream or just use this mask treatment as the last step of your skincare ritual before putting on make-up or going to bed.
Due to the high popularity of sheet masks in Japan, it is easy to find good-quality budget-friendly sheet masks at Japanese drugstores. However, with so many options, it might be difficult to figure out which ones to try.
3 Common Ingredients in Japanese Sheet Masks
While the content of the skincare serum differs between brands, there are three main ingredients that are used repeatedly by most brands. Some masks even offer a combination of them.
1. Hyaluronic Acid - Hydrates and Balances Skin
Hyaluronic acid helps the skin to retain water. Adding it to skincare and supplements is believed to help in treating dry skin, reduce the appearance of fine lines and wrinkles, as well as speeding up wound healing. On Japanese skincare items, you will find it written as "ヒアルロン酸".
2. Collagen - For Youthful Skin
Collagen is a protein that helps maintain the elasticity of the skin. As we age, we gradually produce less collagen, which results in the appearance of fine lines and wrinkles. Adding it back into the skin can help to revitalize the skin and reduce the signs of aging. In Japanese, it is spelled as "コラーゲン".
3. Vitamin C - Evens out the Skintone and Skin Texture
Vitamin C in skincare helps to even out skin tone and texture, fine lines, and mild scars. It is also meant to brighten the skin.
Individuals with sensitive skin should be wary of Vitamin C in their skincare as it can be slightly irritating. It's recommended that you test the lotion first on a spot that is less visible. Vitamin C is easy to distinguish as it is written as "ビタミンC".
1. Multi-Pack Sheet Masks for Daily Use
Japanese sheet masks that come in multi-packs are the best value for money. The boxed ones can be used just like you would use a box of wet tissues; you pull one out and reseal the box.
A downside to this type of masks is that they are often on the thin side and prone to ripping. They retail for about 800 yen for a pack of thirty.
The Clear Turn sheet masks that can be found in big bags are great value for the money. The sheets have a regular thickness and an even amount of moisture. The ones with "EX" written on them feature extra-thick sheets giving you a more luxurious feel. Depending on the type, they retail for about 1,200 yen for thirty to fifty masks.
The red pack is the basic one for wrinkle care, recommended to all skin types. The Clear Turn masks do not contain fragrance, coloring, alcohol or mineral oil.
The Japanese sheet mask brand Lululun is one of the best known around the world. Their bestseller is the "7 days" sheet mask (about 500 yen for seven sheets) which exists in several versions. The pink version is for intense moisture care, the blue one for normal skin, and the white one for clear and translucent skin.
The masks in the 7 days set are meant to be used as a daily treatment over the course of a week. Lululun also offers box-shaped multi-packs that retail for about 1,700 yen for thirty-two masks. For extra care, Lululun released the "Lululun Moist Gel Cream," which keeps the moisturizing effect for longer after applying the mask.
All of these masks can be used daily as part of your skincare ritual.
2. Sheet Masks with Special Japanese Ingredients
Some Asian skincare products use local ingredients that are said to be beneficial to the skin. Certain skincare brands in Japan often advertise this fact with skincare masks made exclusively with local ingredients.
Rice and Sake Masks - Help to Shrink Pores and Soften the Skin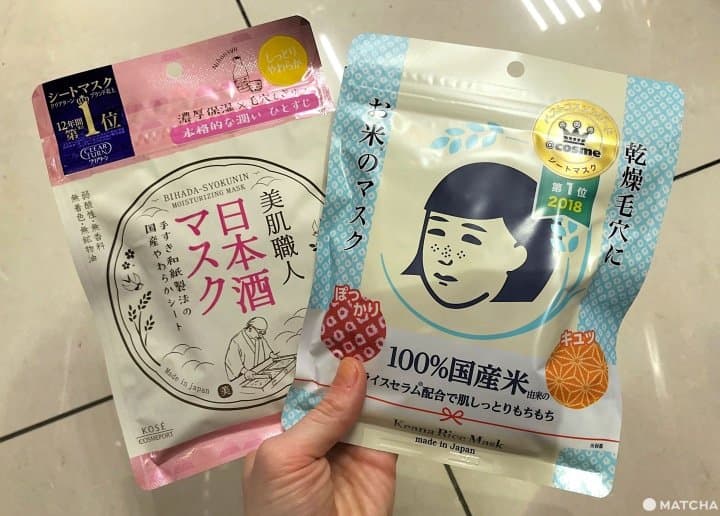 Rice (right) and sake (left) masks both promote similar benefits as they are made with the same base ingredients. They apparently help to shrink the pores, leaving you with a soft, "mochi-like" skin, mochi being the Japanese term for "glutinous rice."
The Keana Rice Mask is one of the most popular sheet masks in Japan. It is made with Japanese rice essence. It is advertised for dry skin but many people with oily skin like to use it as well as rice is said to have a balancing effect on the skin. A multi-pack with ten sheets retails for around 700 yen.
Nameraka Honpo Masks - Rich Skincare with Soymilk
Nameraka Honpo is a popular skincare line run by the cosmetic company Sana. They include soy ingredients in every item as soy is believed to plump, calm, and smooth the skin.
Some of their skincare products including the Nameraka Honpo Gel Mask shown above are made with fermented soy essence. It is believed that microorganisms break down the molecules into smaller sizes through fermentation, which results in the skin absorbing the skin-benefiting ingredients more easily. A pack of five sheets costs about 800 yen.
Lululun Region Limited Sheet Masks
Picture from 5 Hokkaido Gifts To Pick Up At New Chitose Airport
Lululun is known for its line of seasonal and region limited sheet masks. These are made using local and seasonal ingredients such as lavender (Hokkaido), green tea (Kyoto), cherry blossoms in spring, and pomegranate in the fall.
If you have sensitive skin, don't worry, as these masks are not artificially scented or colored. They only use extracts from special ingredients for skin benefits.
These special masks are usually sold in a pack of five sachets with seven sheets each for about 1,800 yen. This makes them a great souvenir as region-limited masks can only be found in the cities and prefectures they represent.
While Lululun is most famous for this kind of face masks, Clear Turn also offers multipacks of sakura (cherry blossom) face masks, which retail for about 1,200 yen for fifty masks.
Just like Lululun, they do contain cherry blossom extract but no artificial scent. The sakura line also offers boxes of individually packed face masks (five sheets for about 700 yen), which can make a very nice souvenir, too.
3. Printed Sheet Masks - Fun and Care
Printed sheet maks are mainly meant as gifts or as something to enjoy together with a friend. They are usually on the pricier side retailing from 300 yen and up per mask but they are very unique and still provide great skincare benefits.
Picture courtesy of Lovisia
Depending on what you are searching for, you can find printed masks in drugstores or special goods stores. You can turn into anything from a geisha or dog to Pokemon and Hello Kitty. They are really fun gifts.
4. 3D Masks - The Perfect Fit
The most common concern about sheet masks is that it is hard for a 2D mask to adhere to the face without wrinkles and air pockets. Some Japanese companies have tried to solve this problem in recent years creating 3D masks.
These have a seam down the middle where the two sides of the mask have been fused to create a 3D surface. They are also larger than regular masks so they can be stretched all the way to the neck in order to cover a broader skin area.
As you might imagine, these masks can still not match every face shape and size perfectly, but it is an upgrade from the flat sheet masks. Four to five individually packed 3D masks retail starting from 500 yen depending on the brand.
5. Specialty Sheet Masks - For Eyes, Lips, and Other Uses
Besides the huge variety of face masks for general use, there are also specialty sheet masks.
1. Saborino - The Sixty-Second Sheet Mask
The first one we would like to introduce might not look special but many of our readers might be happy to know it exists. The Saborino sheet masks were designed for people who can't spend ten to twenty minutes with a sheet mask on their face. The Saborino masks only need to be applied to the face for sixty seconds.
This type of mask can be easily used in the morning when making coffee or after a night out when you want to go to bed quickly but still take care of your skin. The blue version is their night version while all the others are meant for morning or daytime use. One pack of five sheets is about 500 yen.
2. Eye and Lip Sheet Masks - Great for Traveling
The eye zone masks can be used underneath the eye as well as on smile lines for extra hydration.
The Clear Turn Eye Zone masks are light skin-colored and nearly invisible once applied to the skin. They are perfect to use during eye make-up application or on the airplane to combat cabin dryness without scaring your neighbor. A pack of thirty-two pairs retails for about 1,000 yen.
Biore offers gel eye sheets particularly designed to be used at night for six to eight hours. These are great to reduce morning puffiness and dryness underneath the eyes.
The Choosy lip masks made in South Korea can be found everywhere in Japan. These are gel lip masks that can be left on for five to thirty minutes and are perfect for deep moisture before lipstick application. One lip mask is usually sold for about 100 yen.
Hold the Sheet in Place with a Silicone Mask
A problem with face masks in general is that they can slide off your face if you move around. There is a simple solution to this problem that can be purchased at most 100-yen stores in Japan. The silicone mask is specifically designed to keep the sheet mask in place.
The mask is made of a soft rubber material with ear hooks and the same eye, mouth, and nose slits like the sheet masks. Simply apply it over the sheet mask and you can move around as usual without it sliding off. It also helps to keep the mask moist while you are wearing it and makes sure you will get the full benefits.
The mask is easy to clean with warm water and can be reused many times. Use it with caution if you are allergic to silicone.
Treat Yourself and Your Friends to Quality Japanese Sheet Masks
Japanese sheet masks are a fun way to try out different types of skincare. They are unisex and easy to use, which means they are great for both beginners and face mask experts alike of any age and gender.

Why not treat yourself and your friends to some quality Japanese sheet masks?

The information presented in this article is based on the time it was written. Note that there may be changes in the merchandise, services, and prices that have occurred after this article was published. Please contact the facility or facilities in this article directly before visiting.