5 Types Of Japanese Eye Drops - Comparison And What To Look Out For
5 Types Of Japanese Eye Drops - Comparison And What To Look Out For
Japanese eye drops come in endless varieties. Because picking one from the many choices offered at every drugstore can be overwhelming, we introduce five main types and popular choices of eye drops.
Japanese Eye Drops - The Widest Selection in the World
Japanese eye drops, sunscreens, and sheet masks are amongst the most purchased items of travelers to Japan. The quality and variety of Japanese cosmetic products is well known all over the world.
Japanese eye drops might offer the most overwhelming variety of popular Japanese cosmetics. Long work hours on the computer, heavy smartphone usage and the high popularity of contact lenses, especially colored ones, created a broad spectrum for the need of specific eye drops.
Most drugstores dedicate a whole shelf just to eye drops. Besides the medical eye drops that you find in most countries, there are also variations such as cooling eye drops, eye drops for fatigue from blue light usage and even one targeted towards eye recovery at night.
In this article, we introduce you to the five most common types of Japanese eye drops as well as some of the most popular choices.
ROHTO and Santen - The biggest Eye Drop Producer in Japan
ROHTO, sometimes also written as ロート, and Santen, sometimes called Sante, are the most popular eye drop brands. Both are loved for their variety, quality as well as cool or cute presentation.
Sante offers a wide variety of eye drops from a mid to high price range. One of their most popular products is Beauteye (1,500 yen for a 12 ml bottle). These are eye drops to combat fatigue, inflammation and red eyes. It stands out with its beautiful presentation in a perfume flacon-like packaging and its rose scented pink liquid.
ROHTO has been around for about 100 years and they offer just about just as many different eye drops. As of June 2019, they offer nighty-eight different variations. Their eye drops are usually very affordable and range from 200 to 1,000 yen.
1. Medical Eye Drops - Combat Dryness and Allergies
If you are traveling in Japan and just want to relieve dryness or minor itching due to allergies, you're probably searching for simple medical eye drops. The medical kind is often distinguished by its rather simple packaging.
Soft Santear by the company Santen are some of the bestselling medical eye drops on the Japanese market. They are even recommended by Japanese ophthalmologists.
Soft Santear serves as artificial tears to relieve dryness and discomfort. It also relieves allergy symptoms but it is not meant as an allergy treatment. Soft Santear is suitable for all types of contact lenses and will not irritate sensitive eyes.
It comes in a pack of four 5ml bottles. Each pack is about 600 yen.
2. Cooling Eye Drops - Not Recommended for People with Sensitive Eyes
Cooling eye drops are among the most popular eye drops inside and outside Japan but they do need some adjustment time.
If you're looking for this particular type, search for the katakana "クール" (cool). The cooling sensation comes from a small amount of menthol in the eye drops.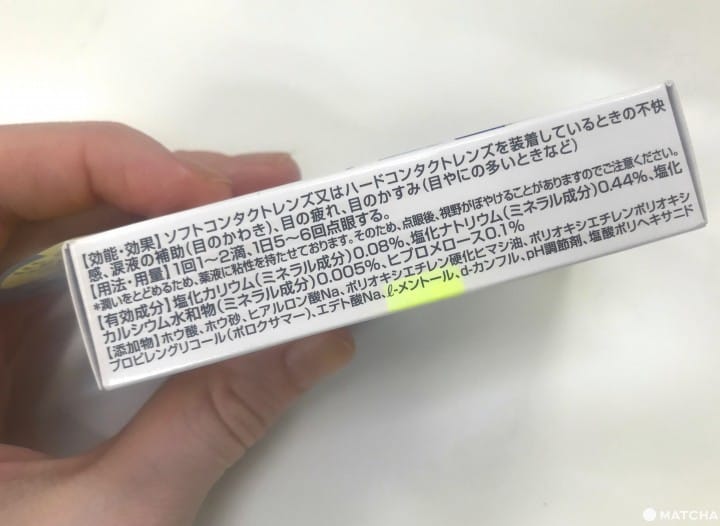 Many Japanese really love this cooling sensation so menthol might often also be hidden in eye drops that do not specifically state that they are cooling. Look for "l-メントール" (l-menthol) in the small print on the package if you want to avoid it.
At first, you might question why anyone would put menthol into eye drops, especially after you tried them for the first time. However, once you get used to the first burning sensation, you might start preferring them to regular eye drops.
The menthol makes your eyes tear up, leaving a refreshing sensation. The tears help cleaning the eye in a natural way. Some people even believe that their eyes appear whiter and brighter after using cooling eye drops.
Two of the most affordable cooling eye drops are ROHTO C3 C Cube Cool (クール) and Ice Cool (アイスクール). Ice Cool is one of the most cooling types of eye drops on the market. You can often distinguish the ones offering the best cooling effect due to the imagery of ice cubes. Most cooling eye drops also have a coolness-level number rating printed on the package.
The pink ROHTO C3 C Cube eye drops do not contain any menthol; they are just meant to moisturize your eye. All three different versions are contact lens friendly and you can purchase a 13 ml bottle for under 200 yen each.
3. Eye Drops Preventing Damage from Digital Devices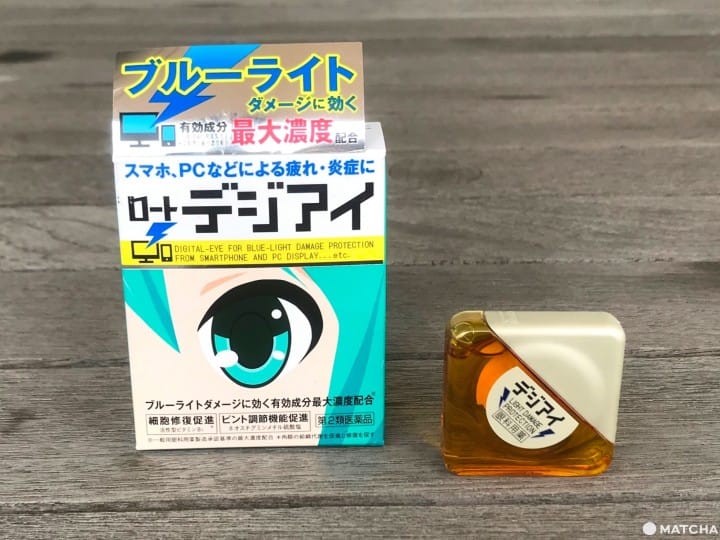 Japanese people are known for their heavy use of digital equipment at work and in private. This prompted the invention of eye drops that are targeted toward healing and preventing damage from blue light. Filled with special active ingredients such as Vitamin B2, they are supposed to protect and heal the eye.
Two of the best known blue light damage eye drops on the market are ROHTO Digital-Eye (880 yen for 12 ml) and Sante PC (about 800 yen for 12 ml).
Digital-Eye is especially popular because it features the popualr vocaloid character Hatsune Miku on the package.
Blue light damage eye drops always come tinted. ROHTO Digital-Eye is yellow while Sante PC eye drops are pink. They both contain menthol and are not recommended to be used with soft contact lenses as they may tint the contact lenses.
4. Eye Drops for Contact Lens Wearer
Most of the Japanese eye drops can be used with contact lenses. But you might not only want to moisturize your eye but also your contact lenses. Contact lens eye drops are supposed to take care of your contact lenses and your eye at the same time.
ROHTO Lycee CONTACT is best known to color contact lens wearer worldwide. Color contact lenses can be very tiring on the eye and have the tendency to dry up while worn. Because they are rather thick, regular eye drops can't always penetrate them.
Lycee CONTACT can be used with or without contact lenses. You can even take out the contact lens and use the eye drops to clean and moisturize the lens before putting it back inside the eye. It can also be used to moisturize your eye and contact lens before taking the contact lens out to make removal easier.
ROHTO Lycee CONTACT comes in a sparkly pink 8 ml bottle for 700 yen. It does contain a small dose of menthol. Be careful that you purchase the version that says "CONTACT" on them as there is a normal version with the same package as well.
5. Eye Drops for Recovery at Night
Overnight eye drops are a new invention on the market. In fact, ROHTO YOUJYUNSUI α (13 ml 880 yen) used to be the only one on the market before Santen released Beauteye Moon Care (12 ml 1,500 yen).
Night treatment eye drops are meant to promote the metabolism and repair of the eye during the night. They help to increase the eye's natural ability to hold moisture so it does not dry out as easily during the day.
The advised dosage is one drop per eye every night before going to bed. These eye drops are not meant to be used during the daytime and should not be used with contact lenses.
If you are interested in ROHTO's night recovery eye drops, make sure to purchase the blue bottle! The green version contains anti-inflammatory eye drops meant for daytime use.
Japanese Eye Drops - Unique, Useful, and Stylish
We hope this article can be helpful no matter if you just need some eye drops during your travel or want to pick up some of the famous Japanese eye drops you heard so much about.

It might be very difficult to find your perfect match in the wide variety every drugstore offers. Feel free to use this article when you search for eye drops in Japan to know what to look for.

How about picking up some Japanese eye drops for your friends and family as well? With their cute packing and unique formulas, they make for a great gift!

The information presented in this article is based on the time it was written. Note that there may be changes in the merchandise, services, and prices that have occurred after this article was published. Please contact the facility or facilities in this article directly before visiting.