Portable News - A Free App To Watch World News During Your Stay in Japan
Portable News is an application allowing you to watch news that's broadcast from stations around the world, all for free. It's useful for catching up on the latest news, and getting vital disaster information and flash news. Read on for details.
Portable News - Will Help Ease Your Worries in Japan
When traveling overseas, experiencing some kind of trouble is a common occurrence. Even in Japan, which is known as one of the safest countries in the world, first time visitors might have some worries or concerns.
At times like this, being able to see your country's news broadcast in your own language, will help ease your concerns.
Portable News is a free application (app) that allows you to watch news that's being broadcast from various stations around the world, while here in Japan.
In today's article we'll introduce this convenient app in the hope that first time visitors to Japan and also those staying here long term, will give Portable News a try.
Watch the News From Different Countries All For Free

Portable News can be seen in a total of thirteen different languages (*1), via live streaming from leading broadcasting stations in Asia and the west, including Germany's Deutsche Welle and France's FRANCE 24 Live.
While visiting Japan, you want to focus on having a good time. There might even be some of you who don't really have an interest in watching the news from another country. But if you use Portable News, you can enjoy a fun-filled and worry-free trip.
*1: At the present time (end of March, 2018), Portable News can be seen via live streaming on seven different stations in the following countries: Australia Plus in Australia, Beritasatu.tv in Indonesia, FRANCE 24 Live and euronews in France, Deutsche Welle in Germany, Al Jazeera in Qatar, and africanews. in the Democratic Republic of Congo. There are plans to add stations from Asia and North America as well.
Click Here To Download Portable News!
Portable News - Solves 5 Potential Problems in Japan
In what situations can Portable News be of assistance during your visit to Japan? Let's look at five different cases.
1. Want To Check the Latest in Politics, the Economy, and Sports?
For many of you, during the course of a year there might only be a small window of opportunity in which you can get away and go to Japan. However, what will you do if your trip overlaps with your favorite soccer team's game? Or what if there's an important international conference being held that has political and economic implications for your job?
At times like this Portable News comes to the rescue! Stations from each country broadcast news about politics, the economy and sports. Even during your stay in Japan, you'll be able to completely catch up on the latest news and information that you're curious about.
2. There's Been a Delay and You Now Have Lots of Free Time
While visiting Japan, what will you do if your airplane flight or ship is delayed by bad weather conditions? It's going to be a problem if you suddenly have lots of free time on your hands, isn't it?
But even in situations like this when you suddenly have unoccupied time, you can watch Portable News and before you know it, it'll soon be time to head to the airport for the next incoming flight.
3. There's a Sudden Natural Disaster or Other Serious Matter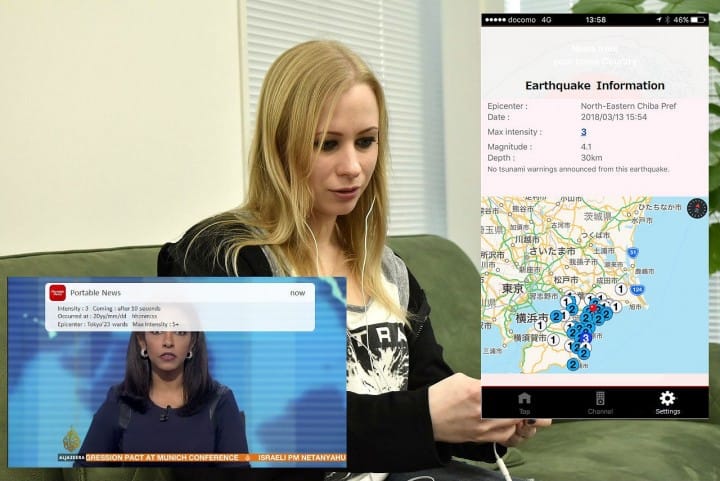 Image of disaster information courtesy of SKY Perfect JSAT Corporation
Among travelers to Japan, there are probably some who are concerned about natural disasters such as earthquakes, tsunamis (tidal waves), typhoons, and so on. At times of disaster in Japan, the country properly deals with and addresses the problem, so if you take the necessary precautions and follow instructions carefully, it won't be necessary to feel anxious and uneasy.
Even so, if one does suddenly encounter a natural disaster, it can't be helped that most everyone tends to worry and perhaps fall into a panic. But if you download Portable News, rest assured that you'll have all the latest information at your fingertips.
Portable News comes equipped with a function (*2) that allows users to access disaster information and news flashes in such languages as English, Chinese (traditional, simplified), and Korean.
It's not uncommon to be stunned and shocked when a disaster strikes. But if you can watch a broadcast in your mother tongue or in a language you're familiar with, and you can understand all the detailed information, this can help put you at ease.
*2: Access to this disaster information is planned to start at the end of April, 2018.
4. Want To Check Your Country's Weather Before Going Home?
One's sense of the seasons here and the Japanese climate itself, is different from other countries. For those staying in Japan anywhere from several weeks up to a few months, you'll probably get accustomed to the Japanese weather. But when the time to return to your own country starts drawing near, you might hesitate and wonder to yourself, "What kind of clothes should I wear on my return trip home?"
No need to worry. Just watch Portable News for your country's latest weather forecast. When you see images of your city's streets and surrounding area, and you check for the latest temperature, it'll be much easier to imagine what clothes would be suitable for your return trip back.
5. Perfect For Long Stays in Japan - Want To Check the World News?
For visitors staying in Japan for an extended period, such as those studying at a Japanese university, or those here on business, it's natural to be curious about what's happening in your own country. For those people, it's easy to use Portable News so please give it a try and find out what's been going on back home recently.
Even for those on business in Japan for just a short time, it's so easy to catch up on the latest news, so we encourage everyone to give the Portable News application a try.
So Easy! Just 3 Taps Away From Watching Portable News
Portable News can also be downloaded in countries outside of Japan. So we recommend downloading the application (*3) onto your smartphone or tablet before coming to Japan.
*3: It's possible to download Portable News when outside of Japan, however, you can only watch live streaming within Japan.
Please have a look at the above video. After downloading the application, the top screen will be displayed. Then a few seconds later, it will change to the menu screen, so here you can make your choice of language. You can choose from Japanese and English, and also Chinese (traditional) and Korean.
Next, if you tap on the "channel" button on the bottom right-hand corner of the screen, the logos for all of the broadcasting stations will be displayed.
When you tap on the logo of the station you'd like to watch, you can choose the preferred language for any of the stations. Once you make your language selection, you'll be able to start watching the news in a matter of seconds.
By all means, please enjoy watching the wonderful broadcasts from stations all around the world!
Click Here To Download Portable News!
Sponsored by SKY Perfect JSAT Corporation

The information presented in this article is based on the time it was written. Note that there may be changes in the merchandise, services, and prices that have occurred after this article was published. Please contact the facility or facilities in this article directly before visiting.