Tokyo's Best Handmade Crafts, Antiques, And Farmers' Markets
Secondhand items, handmade crafts, antiques, and farmers' produce are sold at markets throughout Tokyo nearly every week. MATCHA introduces the best markets in the city, and when and where you can find them.
Discover Your Favorite Things at Local Markets in Tokyo
In Japan, you may sometimes come across markets and find yourself wanting to take a stroll through them. Luckily, these types of markets are held regularly throughout Tokyo.
At these events, you'll find unique products as well as converse and interact closely with shopkeepers. In this article, we'll introduce information on nine different local markets occurring in Tokyo.
Flea Markets and Antiques
Well-cared for products have appeared at flea and antique markets for many years. You will feel like you are being transformed back in time as you browse through the aisles of wares.
The goods here that may find their way into your hands are full of history and their own stories.
1. Tokyo Flea Market (Chofu)
The Tokyo Flea Market is the largest flea market held in Tokyo. The market occurs twice a year in May and November. The products that are sold are not only from Japan, but also from around the world. You also will come across small and rare items here.
Aside from the market itself, various events such as concerts and workshops are also held at this venue. In 2019 the 14th Tokyo Flea Market happened on May 11 (Saturday) and 12 (Sunday).
The entrance fee to this flea market is 500 yen (please check current information on the market's website to confirm).
2. Setagaya Boroichi (Setagaya)
Setagaya Boroichi has over 400 years of history and is certified as an Intangible Folk Cultural Property. It is the largest flea market in all of Japan.
Here you will find a large number of products bursting with history and nostalgia, like secondhand clothing, antiques, general goods, and European trinkets. The market also has stalls where children can enjoy playing games and those selling toy model cars. We think this is a market that offers exciting experiences for visitors of all ages.
The market is held every year on December 15 and 16, and January 15 and 16.

Original Handmade Goods and Trinkets
This section introduces markets with truly unique and one-of-a-kind goods and accessories. There is no doubt that you'll become a fan of the artists here, as customers can make personal and close connections to the shopkeepers and craftspeople.
3. HandMade in Japan Fes (Odaiba)
Handmade in Japan Fes is Japan's largest handmade crafts and goods exhibition. The event is hosted by the company operating the online handicraft marketplace creema (Japanese). More than 5000 organizations from around the world participate in this exhibition.
At this event, you can browse through and view goods normally only sold online. There's also a corner in the venue where you can sample different food and beer from around the world. On the final day of the event, some products are also marked down in price.
In 2019, the exhibition will be on July 20 and 21. Tickets are sold on the same day from 11:00. One-day tickets are 1,500 yen and two-day tickets are 2,500 yen (please check current information on the market's website to confirm).
HandMade In Japan Fes
Address: Tokyo, Koto, Ariake 3-11-1 Tokyo Big Sight East Halls 7 and 8 Google Map
Access: 7-minute walk from Kokusai-Tenjijo Station on the Rinkai Line. Or a 3-minute walk from Kokusai-Tenjijo-Seimon Station on the Yurikamome (monorail).
Official Website: https://hmj-fes.jp/ (Japanese)
4. Marunouchi Street Market by creema (Tokyo Station)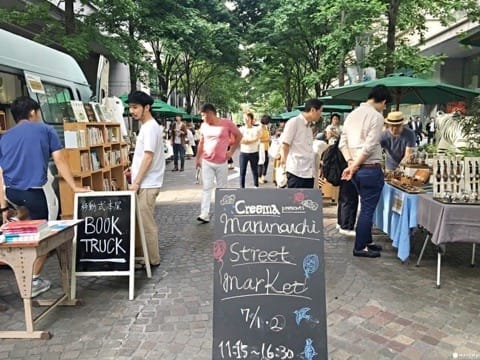 Every month, over 70 stores selling handmade accessories are gather at Marunouchi Street Market, which is held on a street near Tokyo Station. Desks and chairs are also placed along the avenue, so you can enjoy the atmosphere with a coffee in hand.
In 2019, the market will be on June 16 and September 14 and 15.
5. Zoshigaya Handmade Market (Higashi-Ikebukuro)
Zoshigaya Handmade Market is held on the grounds of Kishimojindo Temple and Otori Shrine near Zoshigaya Station on the Tokyo Metro Fukutoshin Line. There are nearly 200 stores with stalls here.
There are strict requirements in order to open a stall at this market, with sellers only able to sell goods made by them personally, and essentially excluding secondhand goods. As such, this event is popular with creators and craftspeople well versed in the arts.
The market is held at different times each month. The next date of the market is published on the righthand side of their official website (Japanese). The event will be cancelled in the event of rain.

6. &SCENE Handmade Market (Sendagi)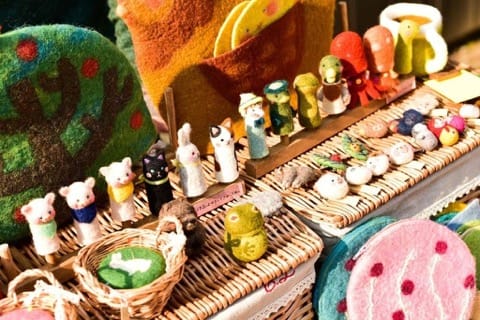 This small handmade goods market is opened every even-numbered month inside Yokenji Temple in Sendagi, Bunkyo. The market originated from an idea of the chief priest's wife, who wanted people to think of the temple as an enjoyable space.
The market is filled exclusively with well-made products like handmade pottery, dinnerware, and handwoven bags. Here, you'll come across unique goods you can't find anywhere else.
The market is held each month at different times. The next opening date of the market is published on the righthand side of their official website (Japanese). The event will be cancelled in the event of rain.
7. Inokashira Park Art Markets (Kichijoji)
This event is usually held on Saturdays, Sundays, and holidays at Inokashira Park in Kichijoji. You can experience the beauty in each season by walking through the park while selecting your products. Although the market is not opened during the cherry blossom season, you can still enjoy the fresh green foliage in early summer and the autumn leaves at the market.
Here, you can discover unique products at reasonable prices as well as enjoy performances from artists. This is a park suitable for those with children as well.
Produce from Farmers and Organic Groceries
At this type of market, you will find fresh vegetables and fruits harvested that very morning, shining brilliantly in the sunlight. Visitors can select produce while taste-testing and consulting with the shopkeepers at the stall about how to enjoy them.
8. Farmer's Market (Minami-Aoyama)
This farmers' market is every Saturday and Sunday in front of United Nations University in Minami-Aoyama. Vegetable and fruit farmers from throughout Japan gather here to sell fresh ingredients harvested that very day.
Stores based on the monthly theme, from coffee and rice, to tea and alcohol, open stalls at the market. Here visitors can directly ask the farmers questions and for cooking tips. By coming here you can learn about various food and drinks, while enjoying the atmosphere of the market.
Farmers' Market
Address: Tokyo, Shibuya, Jingumae 5-53-70 Google Map
Access: 10 minute walk from JR Shibuya Station. 5 minute walk from Exit B2 at Omotesando Station on the Tokyo Metro Ginza, Chiyoda, or Hanzomon Lines.
Official Website: http://farmersmarkets.jp/ (Japanese)
9. Taiyo no Marche (Kachidoki)
Taiyo no Marche (Market of the Sun) is held every month outdoors. If you want to eat delicious seasonal vegetables and fruits, be sure to visit this market. Here, you can purchase agriculturally certified, high quality vegetables and fruits, loose leaf tea, jams, and other goods. Even visitors who don't cook on a normal basis will have a good time at this market.
The market also offers piping hot and tasty foods, like hamburgers, yakiimo (roasted sweet potatoes), and sausages.
Taiyo no Marche is held every second Saturday and Sunday of the month. The market will be cancelled in the event of rain.
Taiyo no Marche
Address: Tokyo, Chuo, Kachidoki 1-9-8 Tsukishima Daini Children's Park Google Map
Access: Immediately outside Exit A4a and A4b at Kachidoki Station on the Toei Oedo Line.
Official Website: http://timealive.jp/#Marche (Japanese)
Explore Tokyo's Many Markets
Markets are great for browsing through adorable handmade crafts and antique treasures. We hope you take the chance to enjoy these markets in Tokyo and interact with the shopkeepers at these stalls.
* This article was translated and revised from an article originally in Chinese.
The information presented in this article is based on the time it was written. Note that there may be changes in the merchandise, services, and prices that have occurred after this article was published. Please contact the facility or facilities in this article directly before visiting.