Outdoor Activities In Hita - Enjoy Japan's Nature To The Fullest!
Hita, a city well-known for its beautiful nature, is the ideal place to enjoy outdoor activities in Kyushu. In addition to hiking, visitors can also enjoy camping. What's best is that you don't need to bring any equipment! Read on for details.
Hita - The Ideal Place to Enjoy the Outdoors
If you wish to enjoy the outdoors in Japan, try hiking or camping, instead of just viewing the beautiful scenery.
While bringing camping equipment to Japan may be difficult, there is no need to worry. Hita City, located in Oita Prefecture in northern Kyushu, offers a chance to enjoy nature to the fullest through outdoor activities.
Visitors can enjoy camping by just showing up. There's no need to bring anything! This article introduces the outdoor activities available in Hita, place ideal for a trip with a group of friends or with one's family.
Local Food Products for a Barbecue
Before heading to the campfield, let's get some food. Here are some local specialties of Hita that are great to eat in the open.
Hita Kikori-meshi Bento - A Meal for the Outdoors
The food item that we warmly recommend is Hita Kikori-meshi (lumberjack's meal), a lunchbox fit for both camping and hiking. It contains tasty chicken, boiled mushroom and eggs, which are all local products.
A saw-shaped knife is driven into the gobo (burdock), which is supposed to resemble timber, as Hita is famous for forestry.
Even the lunchbox is made from Hita cedar.
If you unfold the chopstick cover, it becomes the Yabukuguri Newspaper, which published articles on Hita's forestry.
Kikori-meshi is produced by Yabukuguri, a private association promoting the forestry tradition of Hita.
The lunchbox is made from wood, so it can be thrown into the campfire after eating. This is an environment-friendly product, born from the long coexistence of man and nature in Hita.
The Kikori-meshi bento can be purchased at Takaraya, a restaurant located near Hita Station. Make a reservation on the day before camping, and you will be able to receive the lunchbox in the morning, on your way to the fieldcamp.
For more information about Takaraya, please check the following article.
Other Barbecue Supplies - Excellent Local Meat
A camping experience would not be complete without a barbecue. Here are some places where you can obtain ingredients for dinner or a cookout.
The Kyushu Region, including Hita, is known for its quality meat, boasting local brands such as Bungo Beef, Miyazaki Poultry and Kagoshima Kurobuta (Berkshire pork).
Our first stop is Nishimura Poultry Shop. They offer torisashi - thin slices of raw chicken meat. The voluminous plate in the picture above costs only 1,100 yen!
Torisashi is a type of Japanese cuisine made with very fresh meat, which is eaten, just like sashimi, with soy sauce. The torisashi slices have a smooth texture, but they are also firm to the bite and very delicious. If you are worried about raw meat, grilled torisashi is also very tasty.
Nishimura Poultry Shop Wakamiya Store
Address: Oita, Hita, Wakamiya-machi 3‐80 MAP
Telephone: +81-973‐23‐5425
For barbecue meat, we recommend going to Oniku Kunio, an izakaya (tavern) near Hita Station. Kunio serves various meat dishes such as oxtongue steak, motsunabe (offal stew) and meat-wrapped onigiri (rice balls). Make a reservation three days prior to the camp, and Kunio will prepare for you a plate of barbecue meat considering the budget and the number of campers.
Oniku Kunio
Address: Oita, Hita, Moto-machi 16-7, Yanagibashi Building, 2nd Floor MAP
Telephone: +81-50-5595-5442
Let's Go to the Snow Peak Okuhita Campfield!
Snow Peak Okuhita Campfield, located in Okuhita, HIta's mounatinous area, is the main destination of this tour.
The site, which opened in 2015, is operated by Snow Peak, a Japanese specialized in outdoor equipment.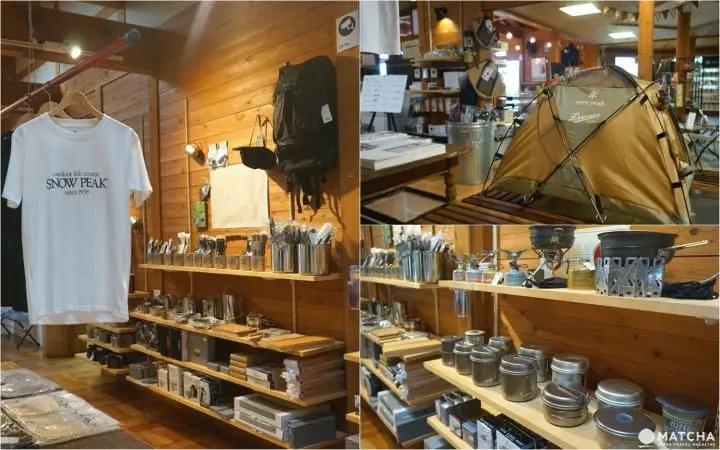 If you need any hiking or camping equipment, stop by the Snow Peak shop. They have all kinds of equipment - from tents and cooking utensils to apparel. The campfield also offers a plan called Empty-Handed Camping, which will be discussed in detail below.
After making all the preparations, let's go to the mountains!
1. Light Hiking on Mt. Gozendake
Hita City is surrounded by mountains and the forest is only a short car-ride away from the urban area.
Snow Peak Okuhita Campfield is located in the southern part of Hita, offering beautiful scenery. There are mountains such as Gozendake (1,209 m), Shakadake (1,231 m) and Tokamidake (1,150 m) in this area. We decided to go on a hike on Mt. Gozendake.
With a reservation in advance, Hita City Tourism Association can send a hiking guides, who can also speak simple English. the hikers will be able to learn about Hita and its surroundings while enjoying a safe climb.
The Gozendake trail offers a wide variety of views. First, you will walk through a cedar forest, with trees that are cultivated by forestry companies.
Next, you will enter a primeval forest of ash trees. These trees rise into the sky, along the uniquely shaped cedar trees that are said to be hundreds of years old.
At the end of the trail, there is a grotto with an old Shinto shrine. This mountain used to be the object of religious worship in the past, being considered sacred.
According to Japan's oldest historical records, Emperor Keiko (*1) visited this grotto. The ancient monument, and also the legendary rock where the emperor sat down, will take you back thousands of years to those times.
*1 Emperor Keiko: The twelfth emperor of Japan, who ruled from the first to second century.
Along the way you will pass by water springs. Hita is well-known for being a riverside city, blessed with water resources provided by the surrounding mountains such as Gozendake.
Hikers will be thrilled when they taste the spring water! This incredibly clear, tasty water is the main ingredient in the beer, sake and soy sauce produced in Hita.
Taking a lunchtime break by the creek during the hike, with the sound of the flowing water in the background, is a truly rewarding experience.
The outdoor atmosphere will make everyone excited.
The coffee made with clear spring water is absolutely delicious!
This is a great chance to enjoy dining with friends in the outdoors.
2. Empty-Handed Camping
Snow Peak Okuhita Campfield is a camping site located at 950 meters above sea level, offering a great view of the famed Mt. Aso in Kumamoto Prefecture (1,592 m).
The spacious camping site.
This campfield offers an Empty-Handed Camping plan, which allows campers to show up with only food and change of clothes. For reservations, please check this website.
All the necessary items will be handed out at the site.
Camping equipment such as a tent, sleeping bags, campfire set with a barbecue grill, tables, chairs and cooking utensils can be rented at the site.
With this set, a maximum of five people can enjoy camping, at the cost of 45,000 yen (before tax).
The campfield offers sites with waterworks and electricity, a kitchen place with hot water, restrooms and coin-operated showers. A communal bath will also be open during the camping season.
The Snow Peak staff will be assisting first-time campers.
With a little help, the tent can be set up in one hour. The campers can enjoy the surroundings until dinnertime, when the barbecue preparations begin.
First, wash the ingredients and prepare the food in the kitchen. Afterward, you can start the grilling. Taking the time to enjoy the outdoor barbecue, and spending the night outdoors is the real pleasure of camping.
Grilling the top quality meat.
Dining with friends by the fire is a truly unforgettable experience.
The sky will be filled with stars! Seen from 950 meters above sea level, they will feel close enough to make you believe you can touch them.
After enjoying the barbecue together, it will be time to rest in your tents, taking in the natural surroundings of Hita.
The campfire has a truly relaxing glow.
3. Viewing the Sunrise from the Summit of Mt. Shakadake
If you feel up to it, get up early in the morning, and climb Mt. Shakadake. It will still be dark, so be sure to consult the staff at Hita City Tourism Association or Snow Peak Okuhita.
Start the climb before dawn, and you should be able to reach the mountaintop in one hour, just in time to view the beautiful sunrise. The view from above will surely become a lasting memory of the trip.
Enjoy Japan's Nature through Outdoor Activities in Hita
Although hiking and camping can be enjoyed all aroundJapan, Hita City offers a chance to experience the local culture as well.

If you have the chance to visit Kyushu with friends or family, enjoy the outdoor activities in Okuhita. It will most surely become a memory of a lifetime!

Sponsored by Hita City Tourism Department

The information presented in this article is based on the time it was written. Note that there may be changes in the merchandise, services, and prices that have occurred after this article was published. Please contact the facility or facilities in this article directly before visiting.