Oita Travel - 15 Must-Visit Destinations, Local Food, And Access Tips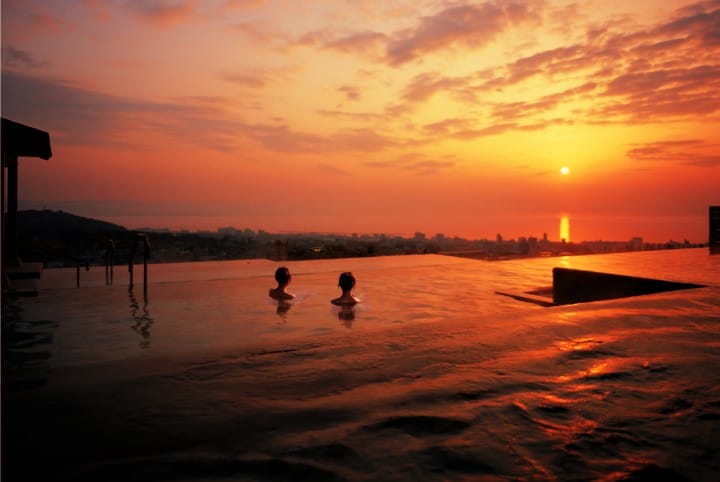 Oita Prefecture in Kyushu, Japan, is filled with wonderful spots great for travel, including Beppu and Yufuin. Read to find recommendations for renowned natural hot springs, local food like Japanese beef, nature-filled spots, stunning temples, and other things to do on a trip.
Oita - Enjoy Hot Springs, Stunning Views, And Delicious Food
Picture from Kuju Flower Park in Taketa City, Oita: A World of Fragrant Flowers!
Located in Japan's southern island of Kyushu, Oita boasts many splendid travel destinations with hot springs, delicious cuisine, beautiful mountains, surrounding ocean, and temples.
Beppu and Yufuin (*1), known for their natural hot springs, are just two of Oita's major attractions. This article introduces fifteen top destinations and local dishes in Oita.
*1 Yufuin: Yufuin is written in two different ways in Japanese, but they refer to the same location (由布院 and 湯布院).
Getting to Oita
Oita is located on the eastern side of Kyushu. It neighbors the prefectures of Fukuoka, Kumamoto, and Miyazaki.
Oita Airport is a hub for several domestic airlines connecting Oita with Japan's major cities. It also has airline connections to several cities in South Korea.
Travel by Train: JR Kyushu Rail Pass
Yufuin no Mori Express Train. Picture courtesy of Kyushu Railway Company.
Ride the Yufuin no Mori Express Train when visiting Beppu, Yufuin, and other spots if you come from nearby Fukuoka. Also, if you plan to travel around Kumamoto, Nagasaki, Kagoshima, the JR Kyushu Rail Pass is a budget-friendly option.
The rail pass comes in three varieties: all of Kyushu, its northern area, or the southern area. Get the all-area Kyushu pass or the northern area pass for an Oita trip.
Oita prefecture is large. Therefore, it is recommended to rent a car if you plan on touring around.
Yufuin no Mori: http://www.jrkyushu.co.jp/english/train/yufuin_no_mori.html
JR Kyushu Rail Pass: http://www.jrkyushu.co.jp/english/railpass/railpass.html
Travel by Bus: SUNQ Pass
Picture from Close To Fukuoka And Oita! Getting To Hita City, Kyushu's Travel Hub
The highway bus and bus network in Kyushu is highly developed and you may find it easier to get from a place to another by bus than by train.
SUNQ Pass is a convenient multiple day unlimited ride bus ticket usable on both highway and local buses within Kyushu.
The SUNQ Pass is available in four variants: Northern Kyushu (3 days; 9,000 yen), Southern Kyushu (3 days; 8,000 yen), All of Kyushu (3 days; 11,000 yen), All of Kyushu (4 days; 14,000 yen).
It can be purchased at all the major airports and bus terminals in Kyushu.
SUNQ Pass Details: http://www.sunqpass.jp/english/konyu/
15 Recommened Places to Visit and Delicious Oita Food
Listed below are fifteen recommended places in Oita, based by area. These suggested places are in popular areas, like Beppu, and Yufuin, but also in lesser-known areas such as Kuju, Bungo Ono, Hita, Usa, and Kunisaki. Read until the end to learn tips on delicious Oita cuisine.
1. Hells of Beppu: Beppu Area
The first recommended spot is Beppu, a well-known destination in Oita for its superb onsen (natural hot springs). One of the most popular activities here is touring around the Hells of Beppu.
Around the Kannawa and Kamegawa area in Beppu, piping hot gas and mud reaching to 100 degrees have been erupting for over 1,000 years. Since they were previously unreachable spots, they were referred to as "hells" by the locals.
Chinoike Jigoku (Blood Pond Hell)
There are seven such hell springs in Beppu. Kannawa has five hells: Umi Jigoku, Oniishi Bozu Jigoku, Kamado Jigoku, Oniyama Jigoku, and Shiraike Jigoku. Five minutes away by car is Kamegawa, which has Chinoike Jigoku (pictured above) and Tatsumaki Jigoku. There are plenty of stunning, otherworldly views with red and blue hot springs.
Please note that you cannot enter the Hells of Beppu, but there are foot baths you can enjoy for free depending on the location.
To view all the hells, there is a convenient tour bus that stops by all of them. It leaves Beppu Station daily at 9:20 and 14:00. A tour takes around three hours and costs 3,650 yen (includes 2,000 yen admission fee to the seven hells). Advance reservations are needed on the official reservation site (Japanese).
Hells of Beppu (Kannawa)
Address: Oita, Beppu, Kannawa Google Map
Official Website: Hells of Beppu (Japanese)
Cook with Hot Springs Steam - Jigoku Mushi
Jigoku mushi is a special cooking method in Beppu, where ingredients are steamed using the moisture and heat from hot springs. You can steam local fish, meat, and vegetables.
By steaming the ingredients, the flavor and nutrients are better preserved. This healthy meal becomes even more tasty with a tinge of salt or tangy ponzu (citrus) sauce.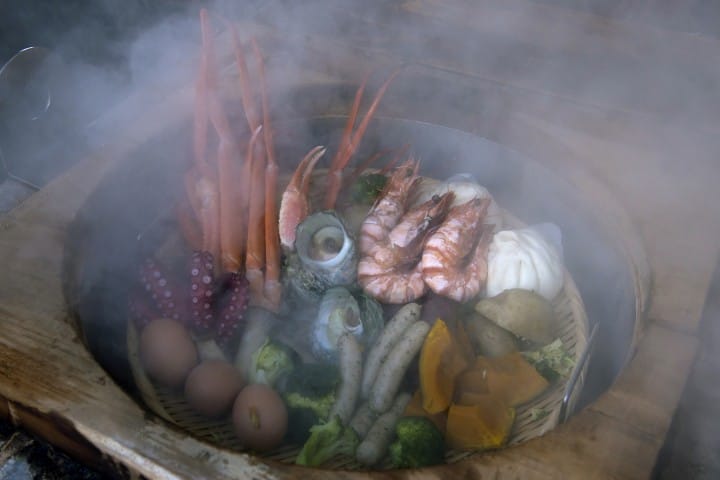 Visitors can try jigoku mushi at Jigoku Mushi Kobo Kannawa, Sato no Eki Kannawa, or Yurari inside Hyotan Onsen.
If you stay at a hotel or ryokan inn at Beppu, you may be able to savor a magnificent multi-course kaiseki meal that includes the jigoku mushi.
Jigoku Mushi Pudding
A popular sweet treat at Beppu Onsen is the Jigoku Mushi Pudding. This pudding is made using the steam from the hot springs. The Jigoku Mushi Pudding at Okamoto-ya in the Myoban Onsen area and the Collagen Onsen Pudding Puru-Puru Pururin-chan at Hotel Sansenkaku near JR Beppu Station are recommended.
2. Beppu Hot Springs: Beppu Area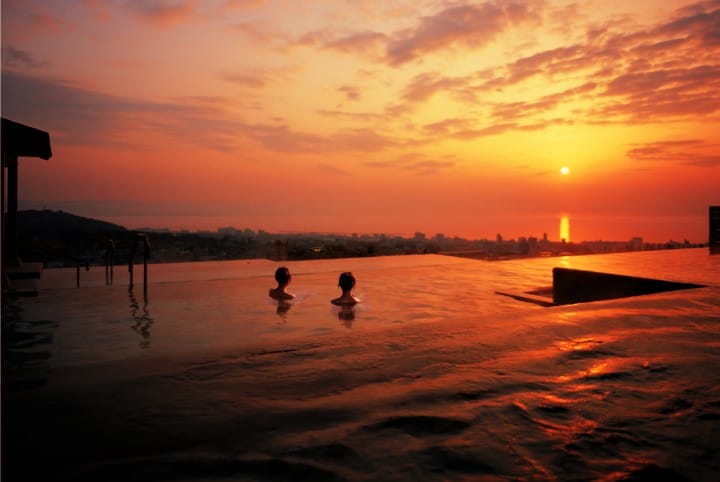 Suginoi Hotel
When you visit Beppu, you will definitely want to bathe in the natural hot springs, famous throughout Japan. At Suginoi Hotel near JR Beppu Station, you can bathe in an open-air bath that overlooks Beppu Bay and the city from above.
You can also get a great view of Beppu Bay from Kankaiji Onsen Ichinoide Kaikan. The cobalt blue-colored hot spring is magnificent.
Sand Baths
The hot springs at Kamegawa are close to the ocean. One spot particularly well-known is the sand bath at the Shoningahama Seaside Sand Bath area. The staff will dig a hole and cover you entirely, except your face with warm sand. The sand will heat your body, and you will begin to sweat slightly after around fifteen minutes.
The time will pass quickly during your time in the sand, as you lay back and gaze at the vast sea in front of you. Be sure to try a sandy bath for a unique and truly relaxing experience.
3. Yufuin Floral Village: Yufuin Area
Picture courtesy of Yufuin Floral Village
Yufuin is another well-known hot spring resort in Oita. Aside from the hot springs, there are plenty of places to visit where all ages of visitors, including children, can have fun.
Yufuin Floral Village is an amusement park that replicates Cotswolds, England. Cotswolds is famous for being the city where "Harry Potter" is based on.
At the Forest of Owls, you can play with adorable owls. Alice's Shop is a tiny shop that replicates the world of "Alice in Wonderland" with its small doors and windows.
There's also X'mas Store, which has Christmas decor throughout the year. Kiki's bakery sells baked goods themed after a children's story that features a young witch. Plenty of unique stores can be found in the area, making it fun to explore.
Yufuin Floral Village
Address: Oita, Yufuin, Yufuin, Kawakami 1503-3 Google Map
Official Website: Yufuin Floral Village (Japanese)
4. Lake Kinrin: Yufuin Area
Lake Kinrin is a particularly famous spot in Yufuin. The name of the lake comes from a fish named "Rin" that glistened in gold (kin in Japanese) from the rays of the sunset.
During early mornings of autumn and winter, steam rises from the surface of the lake, creating a dreamy scenery. Hot springs and clean water bubble from the bottom of the lake and forms a mist from the cold air. In the early morning, few people visit here, and you can enjoy the serene environment even more.
Lake Kinrin
Address: Oita, Yufuin, Yufuin, Kawakami Google Map
Official Website: Lake Kinrin (Japanese)
5. Yunotsubo Kaido Street: Yufuin Area
Picture courtesy of Yufuin Tourism Office
Yunotsubo Kaido is a street where you will find around forty restaurants and souvenir shops. You can walk around, snack, and browse for souvenirs for your friends and family.
Out of the many shops, the SNOOPY Chaya Cafe is a shop that is a must-go for Peanuts lovers. You can find Japanese-style Snoopy character goods and even dishes themed after the characters.
There's also the Donguri no Mori Yufuin Branch for Studio Ghibli lovers. You can find plenty of character goods from movies like "My Neighbor Totoro," "Kiki's Delivery Service," "Spirited Away," and other titles.
Yunotsubo Kaido Street
Address: Oita, Yufuin, Yufuin, Yunotsubo Google Map
6. Shopping Around Oita Station: Oita Area
There are plenty of shopping facilities around Oita Station. Inside Oita Station is Amu-Plaza Oita, which contains fashion boutiques and shops, a movie theater, and a food court, providing fun for all ages of visitors. There is a rooftop garden on the eighth floor where you can enjoy a break.
Park Place Oita is a mall not far from Oita Station that also contains many shops, restaurants, and movie theater. It is easily accessed by car or bus.
7. Oita Prefectural Art Museum (OPAM): Oita Area
Picture courtesy of OPAM
Oita Prefectural Art Museum (OPAM) is built to be a "museum of encounters and senses." The museum was designed by the internationally renowned architect Shigeru Ban, and is covered in glass, giving the facility a very open atmosphere. Upon entering the lobby, you will be greeted by a large artwork in the shape of an egg.
Picture courtesy of OPAM
With approximately 5,000 works of art from leading Japanese artists from Oita, you can find many unique pieces of all genres, ranging from Japanese art to modern art.
At the museum, visitors can admire French modern art and Oita's arts and crafts such as bamboo crafts or traditional swords. You can see exhibits themed after "encounters" and see how Oita can meet the world or how tradition can meet modernism. This is a museum that will give you a new perspective on art.
Oita Prefectural Art Museum (OPAM)
Address: Oita, Oita, Kotobuki 2-1 Google Map
Official Website: Oita Prefectural Art Museum
8. Umitamago (Oita Marine Palace Aquarium): Oita Area
Umitamago (Oita Marine Palace Aquarium) is an aquarium where you can not only observe marine life, but also interact with the creatures, too. For example, you can touch starfish and sea slugs. At the art space, see the tanks lit up and appreciate the beauty of the marine life. It is a museum great for families and all types of travelers.
Umitamago (Oita Marine Palace Aquarium)
Address: Oita, Tsukumi, Youra 2218-10 Google Map
Official Website: Umitamago
9. Takasakiyama Natural Zoological Garden: Oita Area
Takasakiyama is located between Oita and Beppu cities, and many wild Japanese monkeys live in this area. At Takasakiyama Natural Zoological Garden, you can see the wild Japanese monkeys up close. During feeding time, a pack of monkeys appears and you can take your time to watch them.
The zoo is fun to explore and you can enjoy seasonal scenery in the area.
Takasakiyama Natural Zoological Garden
Address: Oita, Oita, Kanzaki 3098-1 Google Map
Official Website: Takasakiyama Natural Zoological Garden
10. Kokonoe Yume Suspension Bridge: Kuju Area
Kokonoe Yume Suspension Bridge is a massive bridge that extends 390 meters built 173 meters above a ravine. There are many suspension bridges in Japan, and this ranks as the tallest bridge that people can cross. From the bridge, you can get a great view of Shindo Falls, one the top one hundred waterfalls of Japan.
There are plenty of spots great for photography, like the middle of the bridge, where you can see the river flowing 173 meters below you.
If you get hungry, you can snack on the Kokonoe Yume Burger, or a rose-shaped madeleine cake. For the Kokonoe Yume Burger, you can select from six different patties such as beef, deer, and boar.
Kokonoe Yume Suspension Bridge
Address: Oita, Kusu, Kokonoe, Tano 1208 Google Map
Official Website: Kokonoe Yume Suspension Bridge
11. Tadewara Wetlands: Kuju Area
Tadewara Wetlands is a Ramsar Convention designated wetland. It is located on the northern part of the Kuju mountains and it is one of the largest wetlands surrounded by mountains in Japan.
Rare plants, such as reeds and silver grass, grow in the area. This is an ideal environment for trekking around.
Visitors can try three courses, which vary in time and length. The wheelchair-friendly Tadewara scenic course is around 20 minutes, the Tadewara round-trip course is approximately 40 minutes. The grassland and forest course is about 60 minutes.
Tadewara Wetlands
Address: Oita, Kusu, Kokonoe, Tano 255-33 Google Map
Official Website: Tadewara Wetlands (Japanese)
12. Harajiri Falls: Bungo Ono Area
Designated as one of the top one hundred waterfalls of Japan, Harajiri Falls is 120 wide and 20 meters high. It was formed during the eruption of Mt. Aso over 90,000 years ago. There is a suspension bridge extending in front of the falls where you can experience the power of nature.
Harajiri Falls
Address: Oita, Bungo Ono, Ogatamachi Harajiri 936-1 Google Map
Official Website: Harajiri Falls (Japanese)
13. Mamedamachi: Hita Area
Mamedamachi flourished as a castle town during the Edo period (1603-1868), supporting the area economically. Parts of the town still keep the traditional, Edo-period atmosphere.
Along the stone-paved streets, you can find historical buildings with white clay walls, and many renovated shops and cafes. Be sure to look for Iwao Yakuho Nihonmarukan, a drug store that has been operating since 1855. You can see displays inside that show the lifestyle from that time. There are unique goods that would make great souvenirs.
Mamedamachi
Address: Iwao Yakuho Nihonmarukan: Oita, Hita, Mamedamachi 4-15 Google Map
Official Website: Mamedamachi
14. Usa Jingu Shrine: Usa Kunisaki Area
Out of the approximately 80,000 shrines in Japan, nearly half worship the god of competitions, Hachiman. The main shrine that enshrines the Hachiman is Usa Jingu Shrine. Constructed in 725, it is designated as a national treasure. The bright crimson structure of the main hall is a must-see.
*1 Hachiman: Considered to be the same person as Emperor Oujin and is worshipped as the God of good luck.
Usa Jingu Shrine
Address: Oita, Usa, Minamiusa 2859 Google Map
Official Website: Usa Jingu Shrine (Japanese)
15. Kunisaki Peninsula: Usa Kunisaki Area
Kunisaki Peninsula is an area where Buddhist culture flourished for centuries. Futagoji Temple, located in the center of the peninsula, is a very spiritual spot with a mystical atmosphere. There are two Nio statues standing at the entrance, greeting its visitors.
Matama Beach on the northwestern side of the Kunisaki Peninsula has been designated as one of the top one hundred sunset spots of Japan. The breathtaking sight of the orange skies reflecting against the sea is unforgettable.
Futagoji Temple
Address: Oita, Kunisaki, Akimachi Futago 1548 Google Map
Official Website: Futagoji (Japanese)
Matama Beach
Address: Oita, Bungo Takada, Usuno Google Map
Must-Try Oita Cuisine
Fresh Seafood
Seki mackerel, seki horse mackerel
As Oita is surrounded by the ocean, visitors can enjoy plenty of fresh seafood during their trip. From flavorful seki mackerel to fatty seki horse mackerel, thick and juicy shiroshita flounder, suppon turtle, and plump kuruma shrimp, there are so many tasty specialties to try!
Toriten
Toriten is a dish loved by Oita residents. It is similar to typical Japanese fried chicken, but it is flavored differently and fried as a tempura. The toriten is eaten with a sauce containing kabosu, a regional citrus. It is also eaten with soy sauce or ponzu sauce.
The base flavor of the chicken and sauce varies depending on the restaurant. Be sure to try this savory dish with some fresh cabbage to make it even more satisfying.
Karaage
Oita is also famous for its karaage, or Japanese fried chicken. Nakatsu City is thought to be one of best place to eat karaage. The crispy chicken is flavored with a special sauce containing ginger, garlic, scallions, and ten other aromatic seasonings. The outside is crispy and the center is very juicy.
Bungo Beef
The cows living in Oita browse through the vast natural environment, meaning the beef here becomes very tender and soft. Meat from cows that can recognized as Oita Bungo Beef has to pass strict quality inspections. This beef has been nominated with awards from the Emperor and Prime Minister of Japan.
Visitors can enjoy this top-class meat in steak, hamburgers, and yakiniku barbecue to enjoy the wonderful flavors this exquisite beef.
Enjoy Oita to the Fullest!
Oita offers an abundance of experiences to travelers, including high-quality hot springs, scenic spots, and delicious dishes. Use this article as a guide to Oita when planning a vacation.

The information presented in this article is based on the time it was written. Note that there may be changes in the merchandise, services, and prices that have occurred after this article was published. Please contact the facility or facilities in this article directly before visiting.