Fabulous Scenery, Stone Buddhas, And Seafood! Southern Oita Travel Tips
This service includes sponsored advertisements.
Oita might be best-known for its first-class hot spring resorts such as Beppu Onsen and Yufuin, but southern Oita surprises visitors with fantastic scenery, a geopark, historic sites, and excellent cuisine. We introduce ten must-visit destinations in Usuki, Saiki, Tsukumi, and Bungo-Ono.
Surprising Discoveries! Exploring Southern Oita
Oita, with its famous hot spring resorts such as Beppu Onsen and Yufuin, is often called "the hot-spring prefecture." Howeber, Oita's southern region is worth visiting for its stunning views of the ocean and the mountains, World Heritage sites, and exquisite local food.
In this article, we introduce ten excellent places to visit in cities such as Usuki, Saiki, Tsukumi, and Bungo-Ono, all located in southern Oita.
Usuki: Traveling Back in Time
In the sixteenth century, Usuki was an international port visited by Portuguese and Chinese merchants. The streets are lined with buildings from various eras and visitors can enjoy a different side of the city's history at every corner.
Some of the best places to visit in Usuki are the Stone Buddha comples and Usuki Castle Park.
1. Usuki Stone Buddhas: An Encounter with Medieval Buddhism
The Usuki Stone Buddhas are figures of Buddha carved in rock created from the late Heian Period to the Kamakura Period (1185 - 1333). The Jodo sect of Buddhism, whose teachings are centered around the doctrine of the Pure Land Paradise, was prevalent at the time. Those who dreamed of reaching the Buddhist paradise found various ways of expressing their belief.
In the Edo Period (1603 - 1868), there used to be a small lake in front of the Buddha figures.
About 900 years ago, this area was owned by aristocrats who lived in Kyoto. Apparently, the stone Buddhas, which are located in the western part of this area, were meant to be a recreation of the Buddhist paradise. This statuary complex was a literal representation of the Jodo sect principles, helping believers understand the teaching by making it visible to their eyes.
There are 61 figures in total and all of them have been designated as national treasures or historic sites.
Fukada Valley, which is located between the Stone Buddhas and Mangetsu Temple, is filled with splendid seasonal flowers such as lotus and cosmos. This area truly embodies the ancient dream of reaching the Buddhist paradise.
2. Usuki Castle Park: Enjoying the View of the City
Usuki Castle was built by Otomo Sorin (1530 - 1587), a feudal lord who converted to Christianity. The castle was initially located on an island. After the beginning of the seventeenth century, the sea was filled and a bustling town developed around the castle.
The remains of the castle are located in Usuki Castle Park, where the castle tower, the moat, the gate, and the stone walls can still be observed. There is also a shrine within the park. Come spring, around 800 cherry trees grace the park with the beauty of their blooms. Usuki Castle Park is a great place to enjoy views of the city.
3. Nioza Historical Road
Visitors can enjoy the scenery of the old castle town by taking a walk along the Nioza Historical Road in Usuki, where most of the temples built in the early seventeeth century still remain.
There are also former samurai residences along the road. The white walls, stone fences, and the gates with intricate carvings make visitors feel as if they've wandered into the Edo Period.
A great place to stop by during your walk is Kani Shoyu, a shop located near the Nioza Historical Road. This shop has been manufacturing miso paste and soy sauce since the 1600s.
Kani Shoyu offers absolutely delicious miso soft-serve ice cream, an Usuki specialty. The sweet and salty miso sauce and the sweet, milk-flavored ice cream are a combination made in heaven.

If you wish to learn more about Usuki and great places to visit in the city, visit Usuki City Tourist Exchange Plaza. The facility offers pamphlets in various languages. Visitotrs can also watch a video about the history of Usuki and annual events that can be enjoyed here.

Walk Through the City Wearing a Kimono!
In Usuki, the feeling you're traveling through time will be even stronger if you wear a kimono during your visit. Akoya, located near the entrance to the Chuo-dori shopping street, is an excellent location to rent a kimono.
You can choose from a wide selection of seasonal kimonos, and the staff will help you get dressed. They will also give you practical tips on how to walk or sit down gracefully in a kimono.
Akoya also has a tea ceremony room, where visitors can enjoy a bowl of matcha tea for 300 yen, or enjoy taking part in a tea ceremony for 1,000 yen. If you plan to rent a kimono, please make a reservation on this page of Akoya's official website.
Usuki Food Specialties
Usuki is famous for fermented products such as soy sauce, miso, and Japanese sake. Fugu (pufferfish) dishes are also popular. If you're looking for souvenirs, Usuki sembei crackers or snacks and beverages made from kabosu, a Japanese citrus fruit, are excellent choices.
Enjoy Pufferfish at Kirakuan
Kirakuan is a well-establisghed restaurant in Usuki offering Japanese-style dishes. Its building was built in the Taisho Period (1912 - 1926) and preserves the elegant atmosphere of that era. Guests can enjoy here refined meals while viewing the beautiful garden.
Kirakuan serves dishes made with local products, as well as kaiseki course meals.
The Fugu Course includes fine pufferfish sashimi. The thin slices of pufferfish have a firm texture and a delicate taste. The juice of kabosu citrus, a special product of Usuki, enhances the subtle flavor of pufferfish.
Fugu hot pot, rice porridge, and dessert are also included in this course meal. Every dish at Kirakuan is an excellent example of the rich food culture of Usuki.

Make and Taste Usuki Sembei Crackers at Goto Seika
Goto Seika, is a sembei cracker store located by the entrance to the Usuki Stone Buddha Park.
Usuki sembei coated with fragrant ginger-flavored sugar are the specialty of this store that was established a hundred years ago. Ginger, with a rich aroma and refreshing taste, is another special product of Usuki. The sembei crackers have a long shelf life so they are ideal as souvenirs.
Visitors can also take part in a sembei-coating workshop (*prior reservation required). Trying your hand at glazing sembei crackers will make you appreciate the skills of the local makers even more.
Award-Winning Beverages! Fujii Sake Brewery
Fujii Sake Brewery, is a leading liquor company based in Usuki that is well-known for its high-quality sake, shochu distilled liquor, liqueuers, and soft drinks.
Ryubai Daiginjo is a premium sake with delicate taste that pairs well with Japanese dishes. Oita Barley Shochu Fushigiya is a brand of distilled liquor that received the Superior Taste Award for three consecutive years from the International Taste Institute. Toki no Tabibito is another excellent type of shochu, characterized by a mellow taste obtained through long-term aging.
All these products and many other beverages that Fujii Brewery takes pride in can be purchased at the liquor store Manrikiya.
At Fujii Sake Brewery, visitors can participate in a factory tour and learn about the latest technology used for making premium quality sake while seeing the brewing machinery up close. One of the buildings has exhibits of old sake brewing equipment used by former generations of the Fujii family.
Also, don't miss the impressive cave storage. More than 200 barrels of shouchu are stored inside a cave near the city. This cave serves as a warehouse because the temperature inside tends to be constant all throughout the year. Some of the barrels here have been stored for more than twenty years. Fujii Sake Brewery offers tours of this storage cave upon request.

Saiki: Fabulous Ocean Views
Saiki City is located to the south of Usuki. Because tides from the Seto Inland Sea and the Pacific Ocean meet right off the shore of this city, Saiki is blessed with an astounding variety of seafood. The beautiful ria coast is another highlight of Saiki.
4. Tsurumisaki Lighthouse: The Easternmost Tip of Kyushu
Photo from PIXTA
Tsurumisaki Lighthouse is located at the easternmost tip of Kyushu. The lighthouse stands on a cliff about 200 meters above sea level, on top of the remains of a watchtower constructed by the Japanese Imperial Navy. There is a dome-shaped observatory inside the lighthouse.
Tsurumisaki is highly recommended by the locals for the fabulous ocean views. On clear days, you can even see the coast of Shikoku beyond the bay.
5. Sora no Koen Park: Panoramic Views of the Sea and Ria Coast
The Sky Observatory, located in Sora no Koen Park 160 meters above sea level, offers great views of the Bungo Channel and, if the weather permits, Shikoku Island.
Picture courtesy of Saiki Tourism Association
Visitors can fully enjoy the beauty of nature at this park, as it surrounded by mountains on one side and the sea on the other. In April, the ground gets covered in moss phlox blooms, creating a pink carpet on both sides of the promenade.
6. Bungo Futamigaura: A Famous Location for Watching the First Sunrise
Meotoiwa, "the wedded cliffs," is the name of two cliffs tied together by a shimenawa (sacred straw rope). They can be seen at Bungo Futamigaura, a bay in Saiki. The shimenawa is approximately 65 meters long and weighs about two tons. It is made every year in December by local volunteers out of straw.
Bungo Futamigaura is famous as a location to view the hatsuhinode, the first sunrise of the New Year. The area is lit up from December 24 to January 4, and the sun can be seen rising from between the two rocks in early March and early October, offering the chance for truly unique photos.
Saiki Food Specialties
Saiki is synonimous with absolutely delicious fresh seafood. Locally produced sake and amazake have been gaining popularity in recent years, too.
Kamehachi Sushi: Delicious Sushi and Parfaits!
Saiki boasts a large number of sushi restaurants but Kamehachi Sushi stands out through its excellent service, creativity, and hospitality. The restaurant serves sushi and other dishes made with seasonal fish. The generous size and rich flavor of each dish are second to none. The menu is available in several languages, making it easy for visitors from abroad to order.
Kamehachi Sushi is also famous for serving genuine parfaits created by a professional patissier. If you are in Saiki, drop by this restaurant for a truly memorable meal.
Koji no Mori: Discover Truly Delicious Amazake
Amazake has been acclaimed worldwide as a healthy, organic drink. If you visit Saiki, look for amazake made by Koji no Mori.
Koji no Mori is an amazake factory run by Bungo Meijo, a brewing company. Visitors can take part in a factory tour and see how the product is made. Please note that prior reservations are required for tours with an English-speaking guide.
Children can have fun looking for Koji-chan, the company mascot, in the factory. At the end of the tour, participants can sample various types of amazake.
Amazake is a naturally sweet, non-alcoholic drink that has become popular worldwide due to its wholesome nature. At the shop of Koji no Mori, you can find a wide variety of amazake drinks, all made with exclusively natural ingredients.
Tsukumi, the City Where You Can Meet Dolphins!
Tsukumi City is best-known as s leading producer of delicious mikan oranges. However, Tsukumi Dolphin Island has drawn wide attention in recent years.
7. Swim with the Dolphins at Tsukumi Dolphin Island
At Tsukumi Dolphin Island, the dolphins are raised in an inlet with ocean waters that is similar to their natural habitat. In addition to three dolphin performances every day, visitors can also enjoy swimming with the dolphins.
Visitors can also see up close and feed other animals such as seals, penguins, and otters. Fishing activities are also available.
At the souvenirs shop of Tsukumi Dolphin Island, special products of Tsukumi are sold along with dolphin-related items. The orange-flavored jam and sweets, the local pickles, or the canned side dishes are ideal as souvenirs.
Tsukumi is also famous for limestone, which is used to make cement. The cement-colored ice cream, made with sunflower seed, is a local specialty offered at the souvenir shop. Its rich flavor and smooth texture will surprise anyone!
Tsukumi Food Specialties
If you visit Tsukumi, don't miss out the seafood. A beach town, this area boasts an amazing variety of fish.
Delicious Tuna Steak at Hamajaya
Hamajaya, located at a ten-minute drive from JR Tsukumi Station, is a well-established seafood restaurant. Come at lunchtime and you'll find customers lining up at the entrance.
Their specialty is the tuna steak. The secret behind the fragrant tuna fried on a griddle lies, apparently, in the salt; the owner is very particular about the seasonings used in this dish. The restaurant also serves excellent sushi, sashimi, and kaisen-don (a bowl of rice with a seafood topping).
Bungo-Ono: Explore a Geopark City
Bungo-Ono City is located in an area whose geology was greatly influenced by a large-scale eruption of Mt. Aso that occurred approximately 90,000 years ago. This entire region is currently a geopark.
In Bungo-Ono, you can marvel at stunning natural scenery such as waterfalls streaming down columnar joints (*1), landscapes shaped by rivers, and stone bridges that naturally blend into their surroundings.
*1: Columnar joints are a natural phenomenon that occurs when lava flow cools down transforming into stone that gets fractured vertically into column-like structures.
8. Harajiri Falls: Witness Awe-Inspiring Nature
The Harajiri Falls appears suddenly in the middle of Ogata River along the road. The waterfall is 120 meters wide and 20 meters high. It can be viewed from both sides, from above, and also from the Takimi Bridge spanning the river.
Ogata Sanja is a general term for the three shrines (Ichinomiya-sha, Ninomiya-sha, and Sannomiya-sha) located along the Ogata River. A local festival is held every year in November, in which a mikoshi (portable shrine) is carried by members of the community across the river from Sannomiya-sha to the Ninomiya-sha located upstream. This festival is an expression of gratitude toward the deities who protect the region.
9. The Largest Arch in Japan! Todoroki Bridge and Deai Bridge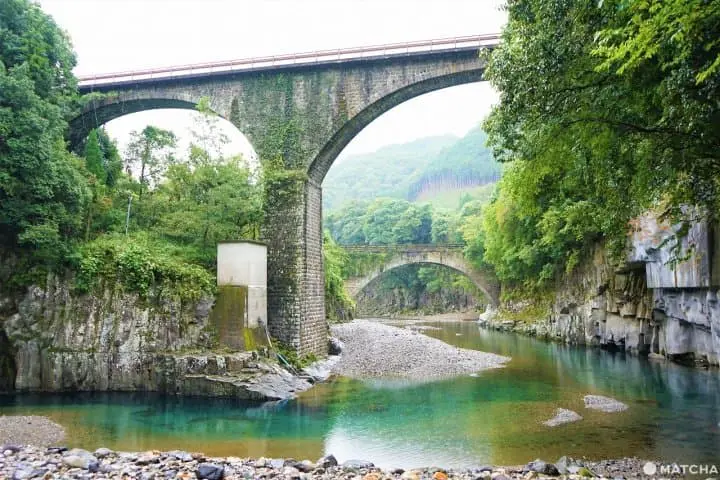 While there are more than a hundred stone bridges in Bungo-Ono, Todoroki Bridge and Deai Bridge are a rare pair of bridges standing side by side.
Todoroki Bridge was completed in 1934 as a railroad bridge. The two consecutive arches have a span of 32.1 meters and 26.2 meters, respectively, making this bridge the largest of its kind in Japan. Deai Bridge, which is located upstream, is a pedestrian bridge built in 1924.
Welded tuff, which is abundant in the riverbanks, was used to build the two bridges. That may be the reason why the bridges blend into their surroundings so naturally.
10. Fukoji Temple: View Giant Stone Buddhas Up Close
The giant stone Buddhas located on the grounds of Fukoji Temple are carved into welded tuff, measuring over 8 meters in height. The magnanimous Fudo (Acala) standing in the middle of the complex is believed to have been created in the Kamakura Period (1185-1333).
Visitors can walk to the bottom of the cliff the Buddhas are carved into. In the summer, beautiful hydrangeas grace the temple grounds.
Bungo-Ono Food Specialties
Bungo-Ono is renowned for its excellent vegetables, so much so that it is hailed as "Oita's vegetable farm."
Those who wish to taste local products should visit Vege Cafe Ms.. This restaurant is run by vegetable sommeliers and has a large following, as it serves flavorful organic dishes that are well-balanced and nutritious.
We highly recommend the store's curry rice and hamburgers, which have a delicate taste and are served in elegant lunchboxes along with generous portions of vegetables.
Excellent Shochu Distilled Liquor Made by Murezuru Brewery
Murezuru Brewery was established in 1905. They produce fragrant, smooth-tasting shochu distilled liquor made from wheat and rice.
The brewery hosts factory tour for those who wish to learn about the process of making shochu. Participants can see the actual tools and equipment, and also learn the secret behind this liquor's full-bodied flavor. Please note that a prior reservation is required in order to take part in the tour.
Recommended Accommodation in Southern Oita
Matsuura: A Hotel by the Sea
Visitors who wish to relax in a quiet place by the sea should consider staying at Matsuura, an elegant hotel in Saiki.
The Japanese-style guestrooms are sized comfortably and offer wonderful views of the bay. Sora no Koen Park and Tsurumisaki Lighthouse, two of the best places to visit in Saiki, can be easily reached from this hotel.
The exquisite seafood meals offered at the hotel restaurant should not be missed. The chef selects the ingredients personally every morning at the fish market located nearby and uses them to prepare an amazing variety of flavorful dishes.
Guests can enjoy seasonal delicacies such as lobster in autumn or pufferfish in winter to their heart's content. The restaurant at Matsuura is open at lunchtime also for customers who don't stay at the hotel.
Lodge Kiyokawa: Stay and Play inside the Geopark
Lodge Kiyokawa, located a three-minute drive away from Bungo-Kiyokawa Station, is the ideal accommodation for visitors who want to spend some time in the heart of nature.
Guests can choose to stay in one of the eight tree houses that look like mysterious hideouts or one of the three log houses. During your stay, you can enjoy the soothing sound of Okudake River, which flows right by the facility.
At Lodge Kiyokawa, guests can enjoy various outdoor activities such as rafting and bonfires, or even watch a movie in the woods. Relaxing at the scented sauna in a tent and then going for a swim in the clear stream is one of the highlights of staying at Lodge Kiyokawa.
The facility has English-speaking staff who will be happy to assist visitors from abroad so that they enjoy their stay to the fullest.
A Trip to Southern Oita Will Be Full of New Encounters and Discoveries
Those who thought that hot springs were the only charm of Oita will be surprised when they visit the southern region of the prefecture.
The cities of Usuki, Saiki, Tsukumi, and Bungo-Ono boasts places with a history of nearly a thousand years, various cultures nurtured by the natural environment, and breathtaking scenery. A trip to southern Oita will be a truly eye-opening experience for anyone visiting this area for the first time. In fact, you'll most probably find yourself wanting to visit again and delve even deeper into the charms of this region.
Main image by Pixta
In cooperation with Chuwa International Corporation
Written by

Editor at MATCHA since 2016. My fascination with Noh theater and Japan's performing arts is what brought me to this country. And everything I learn about Japanese culture on a daily basis is what keeps me here.I've been practicing ikebana flower arrangement (Ikenobo School) and tea ceremony (Omote Senke) since 2012. My travels and everyday life inspire my short stories, which can be read on the literary website Bungaku Kingyo.

The information presented in this article is based on the time it was written. Note that there may be changes in the merchandise, services, and prices that have occurred after this article was published. Please contact the facility or facilities in this article directly before visiting. Some of our articles contain affiliate links. We kindly ask our readers to exercise careful judgement when making a purchase or booking a service online.