Miyazaki - 10 Great Places To Visit And 8 Must-Eat Dishes
Miyazaki Prefecture in south Kyushu has a warm climate, gorgeous waters, and abundant nature. Enjoy a trip filled with spectacular sights and local food, like Miyzaki wagyu beef and fresh fruit! Continue reading for a complete travel guide to Miyazaki.
Travel in Miyazaki Prefecture

Miyazaki Prefecture is located in southeast Kyushu bordered by Oita, Kumamoto, and Kagoshima prefectures.
Miyazaki Airport
Airplane is a convenient way to get to Miyazaki Prefecture, as there are direct flights between Haneda Airport in Tokyo and various parts of Japan. The airport also has international connections to Taiwan and South Korea.
Miyazaki Airport is near central Miyazaki City. Buses and rail transport also run throughout all prefectures on Kyushu; an express bus from Hakata (Fukuoka) would take approximately four and a half hours (4,630 yen).
There are also trains and buses within Miyazaki, but driving is convenient if you plan on moving around frequently, as the prefecture is large. We recommend renting a car at the airport to travel in the prefecture.
Continue reading to learn 10 must-visit destinations in Miyazaki and delicious food to eat.
1. Takachiho Gorge – Be Moved by the Beauty of Nature
Takachiho Gorge is an impressive gorge with tall cliffs closing in on both sides of the river, formed by natural forces.
Long ago, pyroclastic flow erupted from Mt. Aso, a volcano in neighboring Kumamoto Prefecture. The flows pooled and then suddenly cooled into the river. This activity is believed to have formed the present shape of the cliffs.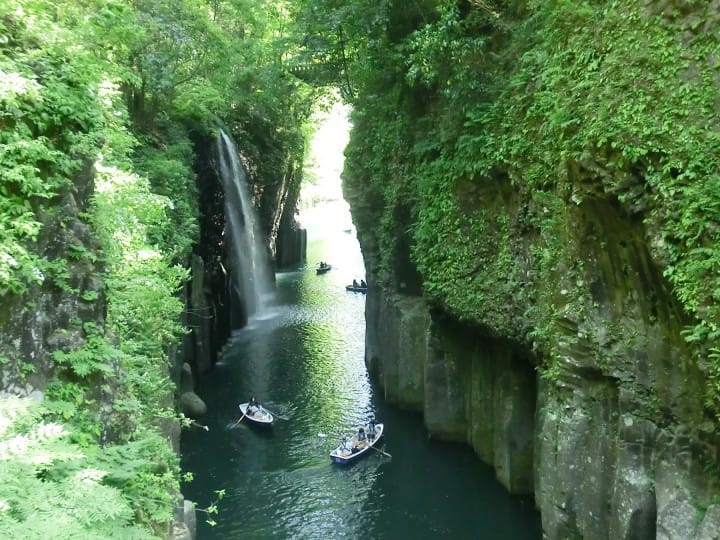 You can take a stroll while admiring the scenery from the promenade. Take a rental boat to admire the cliffs from the river or take a look at Manai Falls, listed as one of Japan's Top 100 Waterfalls. Operating hours for rental boats are 8:30 to 17:00. It costs 2,000 yen for 30 minutes on a boat.
Takachiho Gorge
Address: Miyazaki, Nishiusuki, Takachiho, Oaza Mitai Oshioi Google Map
Access: 5 minutes by car from the Takachiho Bus Terminal
Official Website: http://takachiho-kanko.info/en/sightseeing/
2. Amano Iwato Shrine – Encounter Ancient Japanese Mythology
Amano Iwato Shrine is a historic shrine in Takachiho. This is a spot thought to be the setting of the earliest Japanese mythology.
Amano Iwato is a cave with a sacred atmosphere and significance and is a go-shintai (*1), or an object of worship and respect. Amaterasu, the sun goddess, is thought to have hidden in this cave, as described in the mythological, historical texts "Kojiki" and "Nihon Shoki."
Amano Iwato can be seen from a spot located a distance from the cave called yohaijo (*2). However, photography is prohibited due to the spiritual importance of this location. A Shinto priest will guide you to the yohaijo; wait at a rest spot until it's your turn.
See this website for details: http://amanoiwato-jinja.jp/publics/index/7/ (Japanese)
*1 Go-shintai: an object of worship believed to house the spirit of a god.
*2 Yohaijo: a place to pay your respects to the gods and Buddha from a far distance.
Amanoya Sugawara, a must-see spot, is about a ten-minute walk from the shrine. This is said to be where the deities gathered to discuss how to open Amano Iwato to see the sun goddess. Travelers interested in Japanese mythology and history should be sure to visit.
Amano Iwato Shrine
Address: Miyazaki, Nishiusuki, Takachiho, Iwato 1073-1 Google Map
Access: 15 minutes by car from the Takachiho Bus Center
Official Website: http://amanoiwato-jinja.jp/ (Japanese)
3. Aoshima Shrine and Devil's Washboard – The Entire Island is a Shinto Shrine!
Aoshima Shrine encompasses the island of Aoshima that sits in the waters of Miyazaki.
The island is surrounded by a wave-like rock formation referred to as the Devil's Washboard.
The Ancient Road of Ema Tablets. Picture courtesy of Miyazaki City Tourism Association
The Ancient Road of Ema Tablets is lined with ema tablets, forming a tunnel near the former shrine. The area is thickly overgrown with tropical plants and is extremely photogenic.
It's said that if you're able to tie together the musubi koyori, a type of string made of colorful Japanese paper, without it tearing, your wish will come true. Try it for yourself!
Aoshima Shrine
Address: Miyazaki, Miyazaki, Aoshima Google Map
Access: 10-minute walk from Aoshima Station (JR Nichinan Line)
Official Website: https://aoshima-jinja.jp/ (Japanese)
4. Udo Shrine – A Vivid Contrast with the Sea
Picture courtesy of Miyazaki Prefecture Tourism Association
Udo Shrine, situated on the Nichinan seaside, is known for its brilliantly-colored inner shrine inside a cavern. It is said that Hikohohodemi no Mikoto, a Japanese god and the daughter of a sea god married, and then entered this cavern to have their children.
Rough, rocky walls and waves close in right by the path leading into the inner shrine. It is an amazing experience with the shrine structures so close to the ocean. Be sure to take a photo to share with friends.
Picture courtesy of Miyazaki Prefecture Tourism Association
Be sure to throw a stone for good luck. It's thought that if you manage to throw a small stone into the open hole on the boulder below the cliff, then your wish will come true.
Udo Shrine is open from 6:00 to 19:00 between April and September, and 7:00 to 18:00 from October to March.
Udo Shrine
Address: Miyazaki, Nichinan, Oaza Miyaura 3232 Google Map
Access: 10-minute walk from the Udo Shrine bus stop
Official Website: https://www.udojingu.com/ (Japanese)
5. Obi – Stroll Through a Castle Town
Obi once flourished as a castle town during the Edo period. The historical streetscape in the area remains preserved, making it an ideal place for strolls.
The massive Otemon, an impressive gate, sits at the entrance of Obi Castle. Be sure to snap a picture while appreciating the architecture and history of the gate. The elegant scenery consisting of traditional stone and plaster walls with carps swimming in the canals, you'll also find shochu breweries and souvenir shops that have maintained their old appearances throughout the town.
Obi Otemon
Address: Miyazaki, Nichinan, Obi 10-1-2 Google Map
Access: 15 minute walk from JR Obi Station
Official Website: http://obijyo.com/ (Japanese)
6. Cape Toi – See Wild Horses
Cape Toi is located in a picturesque spot at the southernmost point of Miyazaki. Climb up Cape Toi Lighthouse, to gaze out at the amazing view below from the rooftop garden. The gradation of ocean and sky as far as the eye can see is unforgettable.
Wild horses also live on the cape. They are a protected species called Misaki horses, and can be seen grazing freely on the grasslands.
Cape Toi Lighthouse
Address: Miyazaki, Kushima, Oaza Ono 80-2 Google Map
Access: 45 minutes by community bus on the Cape Toi route from JR Kushima Station *Only runs four to five times per day
Official Website: https://kushima-city.jp/toi/ (Japanese)
7. Sun Messe Nichinan – Mysterious Moai Statues
Sun Messe Nichinan is a sightseeing facility on the Nichinan Coast and is known for its moai statues that Easter Island is famous for.
The statues are here because of a Miyazaki local's effort. Traveling from Miyazaki went to Easter Island to help repair the figures; they thought the moai statues would make a beautiful addition to the Nichinan Coast.
Be sure to take a photo of the seven moai statues, with the blue sky and sea in the background! The facility is open from 9:30 to 17:00 (closed on Thursdays). Admission is 700 yen for adults, 500 yen for junior high school students, and 350 yen for children older than four years.
Sun Messe Nichinan
Address: Miyazaki, Nichinan, Oaza Miyaura 2650 Google Map
Official Website: http://www.sun-messe.co.jp/ (Japanese)
8. Kirishima Factory Garden – Sip on Local Shochu
Picture courtesy of Kirishima Holdings Co., Ltd.
Visit Kirishima Factory Garden to enjoy local Miyazaki alcoholic beverages. The facility is operated by Kirishima Shuzo, one of the leading shochu (a distilled Japanese spirit) manufacturers in the country. Here you can can enjoy a tour of the factory, shochu tasting, a meal, and a walk through the spacious gardens.
Picture courtesy of Kirishima Holdings Co., Ltd.
Kirishima Factory Garden also has an abundance of souvenirs and gifts. Look for Kuro Kirishima, one of the brewery's most well-known shochu varieties. You can also try unique foods here like their shochu soft serve ice cream or bread made with malted rice that comes from shochu. Kirishima Factory Garden is open from 9:00 – 21:00 (hours vary by facility).
Kirishima Factory Garden
Address: Miyazaki, Miyakonojo, Shibita 5480 Google Map
Access: 10 minutes by taxi from JR Miyakonojo Station
Official Website: https://www.kirishima-fg.jp/ (Japanese)
9. Michi-no-eki Phoenix – Eat Local Soft Serve Ice Cream
Michi-no-eki Phoenix is a spot where you can take in breathtaking scenery and enjoy shopping and food by the Nichinan Coast.
Head to the observation deck to take in the scenic views. Visitors will be able to enjoy the expansive blue sea and the unusual rock formations of the Devil's Washboard on sunny days.
During your visit, be sure to indulge in soft serve ice cream you can find at the storefront. The Miyazaki Mango Soft Serve Ice Cream (400 yen with tax), made with Miyazaki's specialty mangoes, is delicious and a must for travelers with a sweet tooth. This rest stop is open from 8:30 to 18:00.
Michi-no-eki Phoenix
Address: Miyazaki, Miyazaki, Uchiumi 381-1 Google Map
Access: 5 minutes by car from JR Uchiumi Station
Official Website: http://michinoekiphoenix.jp/ (Japanese)
10. AEON MALL Miyazaki – Kyushu's Largest Shopping Mall
Picture courtesy of AEON MALL Miyazaki
For souvenirs and shopping, visit AEON MALL Miyazaki. The mall reopened in 2018 after expansion and renovation, making it Kyushu's largest shopping mall with 250 shops.
Fashion brands, general goods stores, and a food court fill the massive grounds of the mall. You can spend the whole day at the mall, as it is open from 9:00 to 22:00 (hours vary on the store)
AEON MALL Miyazaki
Address: Miyazaki, Miyazaki, Shin-Beppu, Eguchi 862-1 Google Map
Access: 10 minutes by car from JR Miyazaki Station
Official Website: https://en.aeonmall.global/mall/miyazaki-aeonmall/
8 Delicious Foods to Try in Miyazaki!
1. Miyazaki Beef
Miyazaki is a prominent producer of wagyu beef in Japan. Only cattle raised in the prefecture that meet strict standards are certified as Miyazaki beef. This beef is highly assessed for its exquisite taste and texture.
Visitors can enjoy the beef at restaurants throughout the prefecture as steak, sukiyaki, grilled skewers, and in other dishes.
2. Charcoal Grilled Chicken
Miyazaki is also known for its flavorful chicken. Charcoal grilled chicken is a popular, must-try regional dish, made with Miyazaki chicken, a brand of locally raised chickens. The meat is cut into bite-sized pieces, then grilled over a charcoal fire.
The dish has a savory aroma, tender and chewy texture, and delicious juiciness.
3. Chicken Nanban
Chicken nanban is another chicken dish enjoyed in Miyazaki. It consists of battered chicken thighs that are fried, seasoned with a sweet vinegar glaze, then topped with tartar sauce.
It is believed that its name comes from fish nanbanzuke (*3). It's a filling dish eaten typically with rice. It also pairs well with alcohol.
*3 Nanbanzuke: deep-fried fish marinated in a sweet vinegar sauce.
4. Japanese Spiny Lobster
Japanese spiny lobsters are a large lobster species caught off the Pacific coast, in areas like Mie Prefecture. It is considered a delicacy in Japan.
These lobsters are also fished in Miyazaki. There are many restaurants along the Nichinan coast that serve several types of Japanese spiny lobster dishes. The sweet, chewy meat can be eaten raw as sashimi or grilled.
5. Soft Serve Ice Cream
Miyazaki is known as being a treasure trove of fruits. Sightseeing spots in various areas in the prefecture sell soft serve ice cream made with delicious fruit found only in Miyazaki, like hyuganatsu (a type of citrus fruit), and mango.
At Michi-no-eki Phoenix in Nichinan, previously mentioned above, you can enjoy a variety of ice cream in milk, ashitaba (type of leafy green), hyuganatsu, and mango flavors.
6. Mango
Mangoes, a tropical fruit, grow very well in Miyazaki's warm climate. You can enjoy various types of mango in the prefecture, including a mango brand called "Egg of the Sun" that sometimes sells for over 100,000 yen.
Make sure to try mango-flavored sweets like ice cream, parfaits, and shaved ice in Miyazaki.
7. Fruit Parfaits
Picture courtesy of Fruit Ohno
Fruit Ohno is a store where customers can experience the delicious fruit of Miyazaki. There is a fruit parlor with a menu with parfaits, topped with plenty of fruit, and ice cream.
The most popular menu item is their fruit parfait (1,000 yen with tax), gorgeously-arranged with pineapples, strawberries, and other fruit. Make sure to capture this picture-perfect dessert before you take a bite. Fruit Ohno is open 11:00 – 23:00.
Fruit Ohno
Address: Miyazaki, Miyazaki, Chuo Street 1-22 Google Map
Official Website: https://www.miyazaki-fruit-ohno.com/user_data/shop_info.php (Japanese)
8. Nanjakora Daifuku
Picture courtesy of Okashi no Hidaka
Nanjakora daifuku is a local snack that will surprise those who see it for the first time. A typical daifuku consists of just anko (red bean paste) wrapped in a springy rice dough. However, nanjakora daifuku contains a filling of anko, strawberries, chest kanroni (*4), and cream cheese.
This unique daifuku allows you to enjoy several flavors in one bite. This voluminous daifuku is an original product of Okashi no Hidaka, which has seven locations in Miyazaki City. It is a famous local sweet. The main store location's business hours are 9:00 – 21:00. They also have a shop inside JR Miyazaki Station.
Okashi no Hidaka Main Shop
Address: Miyazaki, Miyazaki, Tachibanadorinishi 2-7-25 Google Map
Official Website: http://hidaka.p1.bindsite.jp/index.html (Japanese)
*4 Kanroni: fruit simmered in a sugar, honey, and mizuame (starch syrup) mixture.
Enjoy the Sights and Food of Miyazaki!
Miyazaki is where you'll find sightseeing spots with sparkling waters and spots connected to myth. You'll also find much delicious food, made with local beef, chicken, and fruit. Be sure to use this article as a guide to enjoying a trip in Miyazaki.

The information presented in this article is based on the time it was written. Note that there may be changes in the merchandise, services, and prices that have occurred after this article was published. Please contact the facility or facilities in this article directly before visiting.