Get Kyushu Travel Tips From The Locals! Hita City - Dining Places And Accommodation
Hita city, located mid-way between Fukuoka, Oita and Kumamoto, is a well-known travelers' hub in Kyushu. Meet some of the local owners that run restaurants and shops in Hita, shaping the city's culture.
Hita City in Oita - A Popular Travelers' Spot in Kyushu
Mamedamachi in Hita has one of the most beautiful traditional Japanese streets in Kyushu.
Hita City in Oita prefecture is renowned for Mamedamachi, a part of the city with carefully-preserved traditional Japanese streetscapes.
Hita is a popular sightseeing spot and also acts as a friendly, valuable resource for travelers in Kyushu.
This isn't surprising as Hita is in a convenient location in the central part of northern Kyushu. Hita City is just one hour away by bus from Fukuoka, Oita, and Kumamoto.
Hita Travel - Get the Best Tips from the Locals
Since Hita City receives so many guests, local residents are open-minded and friendly towards travelers.
Local residents here are proud of their hometown and have a strong sense of community for one another and with Hita. If you'd like to feel a similar social and environmental connection, there's no better place to visit than Hita.
In this article, we'll introduce dining establishments, lodging facilities, and social gathering spots in Hita that are all run by local owners.
Liberté - A Center of Culture and Conversation
Liberté, managed by Shigeki Hara, goes beyond the conventional notion of a movie theater and acts as a gathering spot where Hita residents can exchange ideas and conversation.
The lobby of this movie theater includes both a retail shop and a cafe.
First of all, enjoy a cup of Liberté's movie theater blend coffee, brewed from coffee beans from world champion roaster, Tokado coffee. You should also browse through the displays in the shop.
The shop sells a wide variety of products. The selection includes local crafts, originally-designed T-shirts, handmade stationery items, CDs, pictures, and movie and music-related booklets and brochures.
Much of the merchandise is made by artists and craftspeople, whom Hara-san has a personal connection with. These artists and craftspeople themselves are fans of Liberté and have visited the shop.
Because of this connection, Hara-san is able to confidently recommend their products to customers.
When Hara-san will approach visitors and start a conversation when he sees them taking an interest in one of the shop items. He speaks passionately about the story behind the item, the person who made it, and also about its connection to Hita's culture.
If you have any questions or concerns about your travel plans in Hita, you can ask Hara-san for an opinion. He'll definitely offer some good advice for you.
Hazebo Coffee - A Corner Shop Where Locals Stop In
After working as a designer in Tokyo, Ken Nagata opened up Hazebo coffee in Hita in 2017.
For Nagata-san, owning a coffee shop was a long-cherished dream for about twenty-five years. After leaving Tokyo, he opened up his present shop in Hita, an area known for its clean water and pristine nature.
The coffee shop is in the center of Hita at the intersection in front of the city hall. It's a location where everyone can easily drop in for a delicious beverage.
Hazebo coffee's extensive menu includes specialty coffee, attracting all types of customers, from office workers to senior citizens.
Junior high school students in search of shaved ice (kakigori) also visit the shop during the summer months.
Special events like jazz music performances are held in the evening. The cafe is very popular with local residents and is an active site in Hita City.
Ganmo-chan, Nagata-san's pet dog, sits in front of the shop, has become a mascot of Hazebo coffee. Friendly in nature, Ganmo-chan will surely help to make your cafe time even more pleasant and relaxing.
When I asked Nagata-san what kind of place Hita is, he replied that it's a city with a beautiful sunrise and sunset. Hita's abundant nature even appeals to someone born in Tokyo.
Our Top 4 Recommended Restaurants in Hita City
Takaraya - Try Their Famous Local Specialty
Located right near Hita Station is Takaraya, a casual Japanese restaurant (shokudo) that's highly recommended by the local residents.
The shop is run by the friendly and sociable Mr. and Mrs. Sasaki. They are more than happy to chat and discuss about anything related to Hita, even with first-time guests.
Takaraya is famous for their champon, a noodle dish made with lots of fresh vegetables.
Using iriko (a small fish) as a base for its soup, this noodle dish has a gentle, yet rich taste. It's piled high with bean sprouts and cabbage, squid, and meat. The portion is generous and satisfying.
The menu also contains all kinds of local regional Japanese delicacies, including Oita prefecture's specialty toriten (chicken tempura).
In 2018, Takaraya celebrates its 89th year of business. The restaurant's dedication to offering meals to satisfy its customers makes it a long-time favorite of local residents in Hita.
We hope you fully enjoy the traditional atmosphere that has been preserved for many years.
DIAL Restaurant - A Retro Atmosphere and Tasty Napolitan Spaghetti
Located just six minutes on foot from Hita Station is DIAL, a restaurant that stands out with its retro atmosphere.
DIAL was originally a shop specializing in frozen desserts when it first opened for business in 1948. Afterward, with the intention of offering menu items not yet available in Hita, the shop started serving spaghetti.
DIAL is considered Hita's first yoshokuya (a shop serving European-style entrees).
DIAL's napolitan spaghetti (upper right corner in photo), uses homemade demiglace sauce and is a Hita specialty.
All the entrees on the menu are completely homemade, including all sauces. The fruit parfait features local fruit.
When we asked the owner about the shop's name, she explained while laughing, "I wanted for this shop to be always busy with customers, just like when you turn the dial on a rotary telephone to put in a phone number!"
We were also told that three separate generations of the same family (parents, children, and grandchildren) are customers of DIAL.
When visiting Hita, come to DIAL and experience the city's history and delicious food, a restaurant that continues to be a prominent fixture of Hita.
Restaurant Matsubara - Helping Local Residents Lead a Fulfilling Life
A casual-style eatery full of hospitality, and managing director Natsuko Kawazu.
Osusowake Yasai-Restaurant Matsubara in Hita's southern area of Oyamamachi, is a restaurant making meals prepared with homegrown vegetables.
The restaurant has a unique concept. The vegetables that are sold here or used on the shop's menu are homegrown by the local senior community.
The local residents are not professional farmers but grow vegetables for their personal use. They sell small quantities of their vegetables to the shop, including vegetables that are irregular and distorted in shape. These imperfections make the food here all the more charming.
A vegetable purchase slip with a message that says "Thank you" and "Happy New Year."
Through this system, the retired older community growing the vegetables feel a stronger sense of worth and purpose in their life, and consumers benefit by being able to enjoy fresh, locally grown food.
It's an arrangement that benefits all parties.
This concept comes from managing director Natsuko Kawazu. After working for several years in Tokyo, she returned to Hita with her family and opened up this restaurant.
Our recommended dish is the Osusowake yasai set (780 yen including tax). The set includes small side dishes and tsukemono (pickles) made with various colorful vegetables, allowing you to enjoy a wide range of flavors.
Also please be sure to check out the serving dishes courtesy, which are all Onta-yaki pottery, one of Hita's specialty crafts.
Thanks to Hita's tasty vegetables and Kawazu-san's enthusiasm, visitors will have a delicious meal and an uplifting experience when they dine here.
WAKURA - Perfect for Dinners and Special Occasions
WAKURA, located on the banks of the Mikuma River, is a teppanyaki steak restaurant where you can enjoy a special dinner while gazing out at the river, as the sky transforms with stunning sunset.
Hita was originally a flourishing lumber town. Making full use of the Mikuma River's current, timber was transported along this water route, and the riverbanks were dotted with sawmills and the homes of the people who worked there.
At WAKURA visitors can encounter and learn about this local history.
This former storehouse which was built in 1917, was transformed into a modern and stylish teppanyaki steakhouse in 1989.
Restaurant owner Kazumi Furuta wanted to provide a space for people celebrating important occasions. The shop opened with this concept and is now a place where customers savor delicious cuisine and make special memories.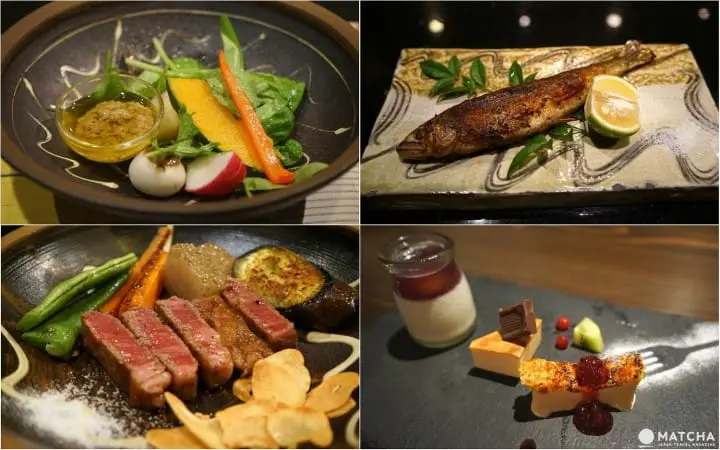 The dinner course is prepared dish by dish by the chef, directly in front of customers. Each and every entree has an exquisite presentation, prepared with the utmost care and attention.
The menu utilizes locally-grown vegetables and Oita prefecture's specialty Bungo beef. The scenic view of the symbolic Mikuma River from this restaurant adds to this unique dining experience.
WAKURA is a restaurant where you can immerse yourself in Hita's culture, nature, and history with all five of your senses!
Bajio - The Perfect Place for New Friendships in Hita
bajio is a cafe and bar that sits at the corner of Mamedamachi on the banks of Kagetsu River.
It opened in 2014 in a former Mamedamachi home. Bajio, the shop's name, is a Spanish word that means "current" or "sandbar" in English, making it an appropriate name for a cafe on a riverbank.
Another interesting point is that the first sound in owner Mr. Setoguchi's name is Se, written with a Japanese character that has the same meaning as bajio.
Take a look inside the shop and you'll see Onta-yaki containers and antique-style furniture, allowing you to encounter more of local Hita culture.
At bajio, travelers and locals can enjoy chatting freely as they enjoy various types of Japanese sake, or beverages like ginger ale made with locally grown ginger.
Communication in English is warmly welcomed here, so bajio is an ideal place for making new friends in Japan.
There are messages and greetings written by travelers who visited the cafe on the blackboard located above the counter.
If you have a chance to visit bajio, make sure to leave a message in your native language for other travelers in Hita!
Suikomareso - A Guesthouse in a Japanese-Style Home
Right behind bajio is Suikomareso, a guesthouse that opened in March 2018.
Inside this two-story house are three separate rooms, both western-style and Japanese-style, offering accommodation for up to six people.
Visitors can feel the traditional Japanese interior of this home from the room layouts and the window designs.
By staying here for a few consecutive nights, you'll get to experience Hita's daily lifestyle. Take your time and enjoy the town's culture, as well as the exchange with the locals and other visitors.
Ryuichi Sakamoto, the guesthouse caretaker, takes special care to decorate the Japanese-style rooms with the latest seasonal flowers.
Suikomareso strives to make sure all guests have a comfortable and relaxing stay.
Sakamoto-san is also very knowledgeable about and connected to Hita. If you'd like to hear about the city from a local person's perspective, feel free to chat and ask him some questions.
Make New Friends and Memories in Hita
The beautiful Mamedamachi and the covered pleasure boats on the Mikuma River are what first draw visitors' attentions in Hita.

However, there is a deeper story behind this city, which can be encountered at the clusters of shops managed by passionate local residents.

If you're visiting Kyushu, how about coming to Hita? By meeting locals who love this city and engaging with its vibrant community, you'll be able to make lasting memories and experience something more than just sightseeing!

Supported by Hita City Tourism Department

The information presented in this article is based on the time it was written. Note that there may be changes in the merchandise, services, and prices that have occurred after this article was published. Please contact the facility or facilities in this article directly before visiting.