From Narita Airport: Rent A Car And Enjoy The Great Views Of Chiba!
After arriving at Narita Airport, rent a car and go for a drive in the Minami Boso area of Chiba. Visit places with wonderful scenery, relax in a hot spring bath, taste exquisite local food and shop while avoiding the crowds!
Drive to Minami Boso! Renting a Car from Narita Airport
There are various rental car agencies at both Terminal 1 and 2 of the Narita Airport. Make a reservation in advance, and head for the agency booth after arriving at the airport.
Arranging a Car Rental
Present the necessary papers (passport, driver's license, etc.) at the booth. It would be wise to check the traffic conditions and car rental procedures beforehand.
Notes
1. Customers can also rent an ETC card, which is a prepaid card that can be used at expressway toll booths. If the rental car does not have an ETC card reader, use a booth which handles cash.
2. Most agencies offer multi-lingual navigational systems in Chinese and Korean. Be sure to check when you make your reservation.
3. There is also a drop-off policy. If you plan to return the car at another branch office, confirm the location at the time of reservation, and there will be no additional charge. The details vary depending on the agency, so don't forget to take a look at the agency's official site.
Day 1: From Narita Airport to Minami Boso in Chiba
On the first day, you can stop by Michi no Eki Kisarazu Umakuta no Sato, to take a break and also to do some shopping. Kisarazu Umakuta no Sato is a facility where you can purchase local products of Chiba Prefecture. The next stop is Kameyama Lake. After enjoying the wonderful lake scenery, the last stop is the hot spring hotel, where you can rest after the long ride.
Route: Narita Airport → (1 hour) → Umakuta no Sato → (30 minutes) → Kameyama Lake → (40 minutes) → Gyosai Nagomi SANSUI HOTEL
Umakuta no Sato - So Many Exclusive Souvenirs!
Umakuta no Sato, which opened in 2017, is a rest stop located in Kisarazu, in the midwest region of Chiba Prefecture. Its souvenir shop is bustling with visitors in the weekends.
Visitors can choose from sixteen types of peanut candy and pack them into a cup labeled "Crazy Peanuts". Special products such as Boso Lobster Shoyu (soy sauce), "the SOUP" (a clear soup made from clams) and Boshu Hijikinori (edible seaweed) can be purchased only at this facility.
Umakuta no Sato also handles vegetables and fruit brought straight from the local farms. Those of you who find it difficult to take them back home should try the restaurant and cafe, "Tree". They offer a lunch plate with three potpies, made with fresh, local vegetables.
For an additional 300 yen, you get an original drink along with the plate. It is a unique drink, as the customers can choose from milk, soda water and yogurt, creating a one of a kind beverage by adding various types of syrup.

Kameyama Lake - Splendid in the Season of the Autumn Leaves
Picture courtesy of Kimitsu City, Chiba Prefecture
Kameyama Lake is the largest artificial lake in Chiba Prefecture. It is frequented by the local residents as a place to view the autumn foliage. The leaves in this area change their colors from late November to early December, which is the latest in the Kanto Region. A large number of visitors cruise the lake in boats, enjoying the panoramic lakeside view.
Picture courtesy of Kimitsu City, Chiba Prefecture
The lake is also popular in summer, when it's surrounded by lush greenery. There is also the fireworks display which lights up the usually quiet lakeside.
Gyosai Nagomi SANSUI HOTEL - 100% Relaxation
Picture courtesy of Gyosai Nagomi SANSUI HOTEL
The first day of the trip is quite time-consuming. So make an early check-in at Gyosai Nagomi SANSUI HOTEL, to enjoy the onsen (hot springs) and fine cuisine. The hotel is located at approximately the middle point of this recommended route.
Picture courtesy of Gyosai Nagomi SANSUI HOTEL
As the hotel faces the ocean, guests can enjoy the view from their rooms. The local hot springs can be enjoyed both in the room bath and in the communal bathroom, which is gender segregated. The spring water contains hydrogen-carbonate, which is said to be good for your skin.
The hot springs will take care of your weariness while moisturizing and revitalizing your skin.
Day 2: Exploring the Charms of Minami Boso
On the second day, enjoy the charms of the Minami Boso area by visiting an aquarium and a beach to view the ocean and its creatures. There will also be an occasion to do some shopping at an outlet mall, and visit an elementary school that has been renovated into a michi no eki (rest stop).
Route: Gyosai Nagomi SANSUI HOTEL → (12 minutes) → Kamogawa Sea World → (43 minutes) → Hota Shogakko → (20 minutes) → Haraoka Beach → (58 minutes) → Mitsui Outlet Park Kisarazu
Kamogawa Sea World - Watching Marine Creatures
Picture courtesy of Kamogawa Sea World
After checking out, head to the Kamogawa Sea World. This aquarium displays marine creatures from rivers and oceans, and also hosts a wide variety of attractions, performed by orcas, dolphins, belugas and sea lions.
Picture courtesy of Kamogawa Sea World
Visit the Restaurant Ocean at lunchtime, and taste the delicious meals while watching the orcas swimming in the tank.
Hota Shogakko - A Former School Turned into a Rest Stop
Hota Shogakko, an elementary school that was closed, has been turned into a rest stop. It became quite a topic, contributing to the local economy and also reviving the area where the population is slowly decreasing.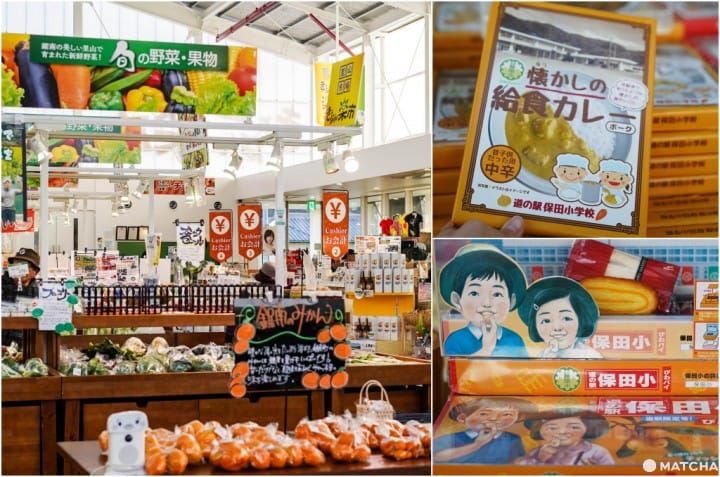 Restaurants and shops are built inside the school building. Popular products such as vegetables and fruit are sold as souvenirs at the former gymnasium.
Visitors can also stay for the night at this school, re-living their school days and making long-lasting memories.
Haraoka Beach - View a Beautiful Sunset
After Hota Shogakko, it might be fun to visit Haraoka Beach, a great place to view the sunset. The beach fronts the Tokyo Bay, and Mt. Fuji can be seen from here on a clear day.
There is a wooden pier, which is a rare sight in Japan, on this beach. At sunset, the sky turns orange and the scenery will be covered in deep-blue colors, creating a fantastic, charming atmosphere.
Mitsui Outlet Park Kisarazu - Shop until You Drop
The outlet park at daytime.
Mitsui Outlet Park Kisarazu re-opened in the fall of 2018 after remodeling. The facility boasts more than 300 shops, being one of the largest outlet malls in the Kanto Region. A wide variety of brands, both domestic and international, have shops in this facility.
The outlet offers various services along with its great number of shops. Inside the service lounge there is a space for children as well as seats equipped with sockets. Also, the staff at the duty-free counter speaks English and Chinese.
There is even a free checkroom, so the visitors can shop to their hearts' content.
If you plan to head to Tokyo after the shopping, take the Tokyo Bay Aqua-Line, a tunnel expressway connecting Chiba Prefecture to the Tokyo area. It is the shortest route to the Tokyo-Yokohama area.
At Umihotaru, a parking area floating in the bay, visitors can take in the panoramic view while enjoying an ashiyu (foot bath).
In Conclusion
By renting a car you can go to places that may be difficult to visit by train. You won't have to worry about the baggage, and also save the time you would lose switching trains.

It only takes an hour or two to visit the spots mentioned above, so do give it a try.

Written by Chien
Sponsored by Narita International Airport Promotion Association

The information presented in this article is based on the time it was written. Note that there may be changes in the merchandise, services, and prices that have occurred after this article was published. Please contact the facility or facilities in this article directly before visiting.