Mt. Tsukuba - A Short Walk To Hot Springs, Outdoors, And Rice Crackers
Ibaraki's Mt. Tsukuba is only two hours from Tokyo. In addition to hiking and fall leaves, visitors can enjoy outdoor activities, day-trip hot springs, and delicious food using local rice. We introduce popular spots just 10 minutes by foot from Mt. Tsukub
Sightseeing and Local Food - Just 10 Minutes from Mt. Tsukuba
Picture courtesy of Tsukubasan Hotel Aokiya
If you take the Tsukuba Express from Akihabara Station in Tokyo, you can get to Tsukuba City in Ibaraki Prefecture in just 45 minutes.
In addition to science-related facilities such as the JAXA Tsukuba Space Center and the Tsukuba Expo Center, there is also Mt. Tsukuba, a popular hiking spot boasting views of Mt. Fuji and of the Kanto Plain.
Mt. Tsukuba is famous for its magnificent views. In addition, just ten minutes on foot from the mountainside bus stop of Mt. Tsukuba, visitors can also enjoy outdoor activities, hot springs, and delicious local food!
In this article, we'll tell you how you can visit popular spots in the Mt. Tsukuba area by simply walking.
Direct Access by Tsukubasan Shuttle Bus from Tsukuba Station
If you use Exit A4 of Tsukuba Station (Tsukuba Express Line), the Tsukuba Center Bus Terminal will be right in front of you.
Tsukubasan Shuttle Bus, which offers direct access to Mt. Tsukuba, leaves from bus stop number 1 at the above-mentioned bus terminal.
It takes about 36 minutes to get to the Tsukubasan Jinja-iriguchi bus stop, where we'll get off. The fare is 720 yen for adults and 360 yen for children. Please refer to the official schedule (Japanese) for bus times.
After arriving at Tsukubasan Jinja-iriguchi, let's first head for a facility that's located close to nature!
10:00 - A New Way to Have Fun with Friends! Forest Adventure TSUKUBA
Tsukubasan Jinja Iriguchi stop → Forest Adventure TSUKUBA, 7 minutes on foot
Picture courtesy of Forest Adventure TSUKUBA
When meeting with friends, you might usually go to a fashionable cafe. However, in an environment free from the stress and worries of daily life, how about doing something different?
You can gaze out at magnificent vistas and capture the beautiful scenery on camera with your friends. Scream at the top of your lungs and release stress, while surrounded by Mother Nature! Being active and moving around will help you feel a lot better.
Come with your friends to relax and have fun at Forest Adventure TSUKUBA, a spot in Tsukuba that gathered a lot of attention lately.
At Forest Adventure TSUKUBA, you will find the Adventure Course, which is for fourth grade elementary school students and up, or for guests 140 centimeters or taller, and the Canopy Course, which is for children who are 110 centimeters or taller.
Before joining these outdoor activities, participants will receive a twenty-minute safety lecture from the staff members.
For safety reasons, all courses at Forest Adventure TSUKUBA require participants to wear a harness. There is no need to worry--just follow the staff instructions and you can enjoy this outdoor experience.
The Adventure Course lasts about two hours to two and a half hours, and the Canopy Course is one hour long.
Picture courtesy of Forest Adventure TSUKUBA
All the courses offer activities such as a zip slide, or zip line, and a mid-air walk, which will have you shouting with excitement! In particular, the one-hundred-meter-long zip line is very enthralling.
In particular, during February and March, when the Japanese plums start to bloom, you can glide down directly above a white carpet woven by the blossoms!
*Before coming to Forest Adventure TSUKUBA, please make a reservation by either using the Japanese homepage, the English homepage, or by phone.
*The Forest Adventure + Rice Cracker Making Experience is a set program that is offered by Forest Adventure TSUKUBA and CAFE Nisyouan (introduced later in this article). For details please refer to the information tab below.
12:30 - Outdoor Hot Springs with Kanto Plain Views! Tsukubasan Hotel Aokiya
Forest Adventure TSUKUBA → Tsukubasan Hotel Aokiya, 10 minutes on foot
The Tsukubasan Hotel Aokiya is a long-standing hot spring (onsen) hotel. It is an accommodation facility, but also allows non-hotel guests to use the hot springs here.
Tsukubasan Hotel's onsen is an alkaline hot spring that is said to have beauty-enhancing qualities for skin, and medicinal benefits for neuralgia, body fatigue, and other physical ailments. After having a good workout during the forest adventure, you can come here and recover from your tiredness.
From the rotemburo (open-air bath) on the hotel's roof, visitors get a 180 degree visual panorama of the local surroundings. On days when the sky is clear, you might be lucky enough to see Tokyo Skytree and even Mt. Fuji!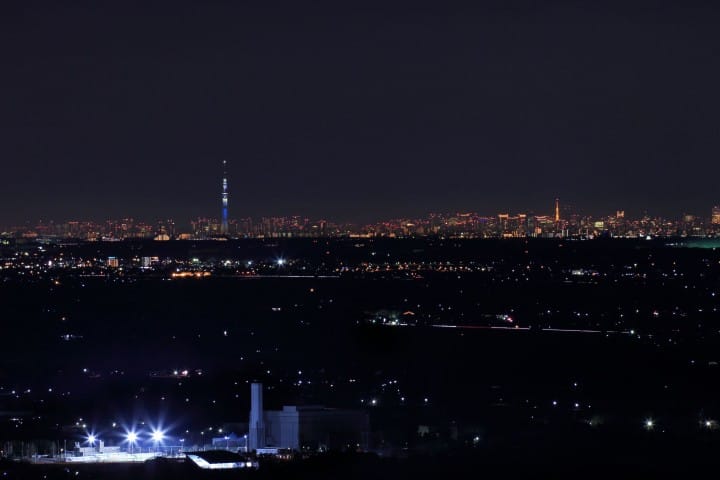 Picture courtesy of Tsukubasan Hotel Aokiya
We recommend staying overnight at the hotel for guests who feel that trying the onsen here just for the day isn't enough.
At night, you can get a romantic evening view of the Kanto Plain down below, an amazing sight that is exclusively available to hotel guests. The night view from the hotel has even been officially designated as a "Japan Night-view Heritage" by the Japanese government.
14:00 - Great Food Made with Hitachi Odamai Rice! Tsukubasan Enmusubi
Tsukubasan Hotel Aokiya → Tsukubasan Enmusubi, 5 minutes on foot
Near Mt. Tsukuba, koshihikari (*1) rice (Hitachi Odamai) is cultivated using fresh groundwater that flows from the base of Mt. Tsukuba.
This rice is characterized by its stickiness and full-flavored sweetness, and a chewy texture that remains even when the cooked rice is cold.
For visitors who would like to try tasting this brand of rice, we recommend Tsukubasan Enmusubi, a shop where you can sample a wide variety of onigiri (rice balls).
*1 koshihikari: a popular rice variety in Japan.
The shop's most popular item is the Hitachi Odamai set, a full and satisfying meal consisting of rice balls (onigiri) and fried Japanese chicken (karaage), pickles (tsukemono), and miso soup.
At Tsukubasan Enmusubi they offer more than twenty different kinds of onigiri. When you order the above-mentioned set you can choose the two onigiri you would like.
We ordered one onigiri with salmon, a popular filling, and another onigiri filled with leaves from the wasabi plant (Japanese horseradish), a unique variety that is rarely seen at other shops.
The salmon was soft, moist and flaky, and the wasabi had a spicy flavor. Both ingredients tasted delicious with the Hitachi Odamai rice!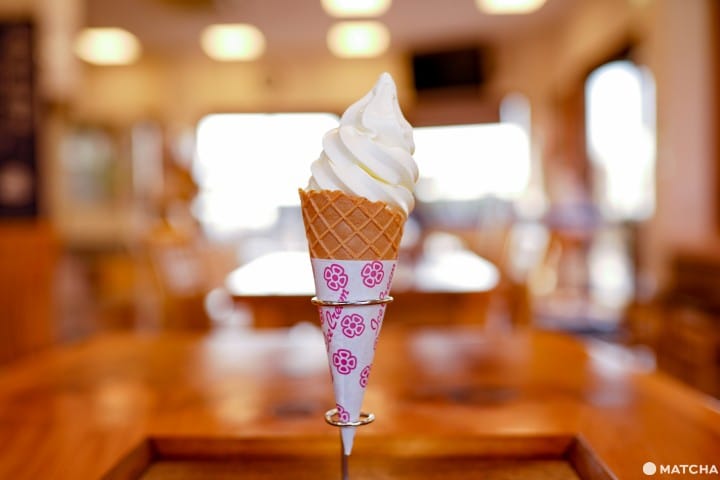 The soft serve ice cream is made with Hitachi Odamai rice and perfectly combines the rich flavored milk with the distinct sweetness of the rice. This dessert is different from typical soft serves, with a firm texture that allows you to enjoy the ice cream's consistency and full-bodied flavor.
15:00 - Bake Rice Crackers on a Hibachi at a Retro Cafe! CAFE Nisyouan
Tsukubasan Enmusubi → CAFE Nisyouan, 2 minutes on foot
CAFE Nisyouan is a one-of-a-kind place, with an exterior that looks like a traditional Japanese house, and an interior decorated with retro-style items. In addition to serving all kinds of hamburgers, you can also bake your own traditional rice crackers (senbei) on a hibachi grill.
These rice crackers are made perfectly thin using 100% Hitachi Odamai rice.
Once the rice crackers are baked on the hibachi grill and spread with shoyu (soy sauce) made in the Tsukuba area, you will enjoy the enticing, gradually intensifying aroma of the soy sauce and rice over the charcoal.
Though the rice crackers can be eaten plain, you can also enjoy the various changes in flavor by topping them with chocolate, Tsukuba shichimi powder (a mixture of seven spices), cream cheese, and other spreads.
Most surprising was the Tsukuba shichimi powder which uses Tsukuba's specialty, Fukure mikan oranges.
The aroma of the rice and shoyu, and the spiciness of the shichimi powder will surely stimulate your appetite with the refreshing taste and smell. You'll soon find yourself reaching for more rice crackers without even realizing it!
*The Forest Adventure + Rice Cracker Making Experience is a set program that is offered by Forest Adventure TSUKUBA and CAFE Nisyouan. For details please refer to the information box directly below.
Tired of Annoying Train Transfers and Walking Long Distances?
Stay in the Mt. Tsukuba Area and Have Fun!
On most trips, you'll often be faced with inconvenient and lengthy train and bus transfers, and destinations that are far from where you're located. However, only minutes away on foot from Mt. Tsukuba, you can enjoy activities in a forest, delicious food made with superb rice, and a hot spring with magnificent views of the local area!

Visitors who would like to enjoy Tokyo's surrounding vicinity with leisure should consider visiting Mt. Tsukuba.

For those who want more information on Tsukuba city sightseeing, please refer to MATCHA's special feature on Tsukuba!

Written by Chen
Sponsored by the City of TSUKUBA

The information presented in this article is based on the time it was written. Note that there may be changes in the merchandise, services, and prices that have occurred after this article was published. Please contact the facility or facilities in this article directly before visiting.