Mount Tsukuba: Take A Day Trip From Tokyo To See Unforgettable Vistas!
Today we introduce Mount Tsukuba, ranked alongside Mount Fuji as one of Japan's great mountains. We recommend Mount Tsukuba's summit for those who'd like to enjoy Japan's rural nature and scenery, and for those interested in shrines and temples.
Mount Tsukuba: Worshiped Since Ancient Times
Mount Tsukuba is a mountain in Ibaraki prefecture, with two separate peaks. Since ancient times, both Mount Tsukuba and Mount Fuji, Japan's tallest mountain, have been referred to as nishi no Fuji, higashi no Tsukuba, or Mount Fuji to the west and Mount Tsukuba to the east.
Mount Tsukuba stands at an elevation of 877 meters. The mountain is serviced by a cable car, ropeway, and a road leading up to the summit. So visitors don't need to bring any trekking equipment in order to have an enjoyable experience.
On the mountainside there's also Mount Tsukuba Shrine, famous for its matchmaking powers, and this revered mountain is a recommended spot for those interested in nature, and shrines and temples.
Today we'll be introducing a model route taking you from Tokyo Station all the way to the summit of Mount Tsukuba.
Getting from Tokyo to the Peak of Mount Tsukuba
1. From Tokyo Station to Tsukuba Center
To go from Tokyo Station to Mount Tsukuba, the highway bus is very convenient. You can catch the bus at the Yaesu-South entrance of Tokyo Station. Here you can board a highway bus that will take you as far as the Tsukuba Center Bus Terminal.
One way bus fare is 1180 yen, including tax. Depending on highway and traffic conditions, it usually takes about one hour to get to the Tsukuba Center Bus Terminal. Bus tickets can be purchased at the Highway Bus ticket office, located at the Yaesu-South entrance of Tokyo Station.
If you buy a Tsukubasan Story ticket (Tokyo and Mount Tsukuba tour ticket), you can go from Tokyo Station to Mount Tsukuba, and also enjoy riding privileges on the shuttle bus, ropeway and cable car as well. This can also be purchased as a return ticket.
Adults are 4000 yen (tax included), and children are 2000 yen (tax included), so buying one of these tickets will give you a savings of about 1000 yen, and is more convenient than buying all the required transportation tickets separately. This ticket is also sold at the Highway Bus ticket office.
2. From Tsukuba Center to Mount Tsukuba Shrine
At the Tsukuba Center Bus Terminal you'll be transferring to a shuttle bus. The bus will stop at bus stop number one (Mount Tsukuba), as seen in the above photo.
The bus fare is 720 yen, and this can be paid when you're leaving the bus. Just put your money into the fare box, located right beside the driver's seat.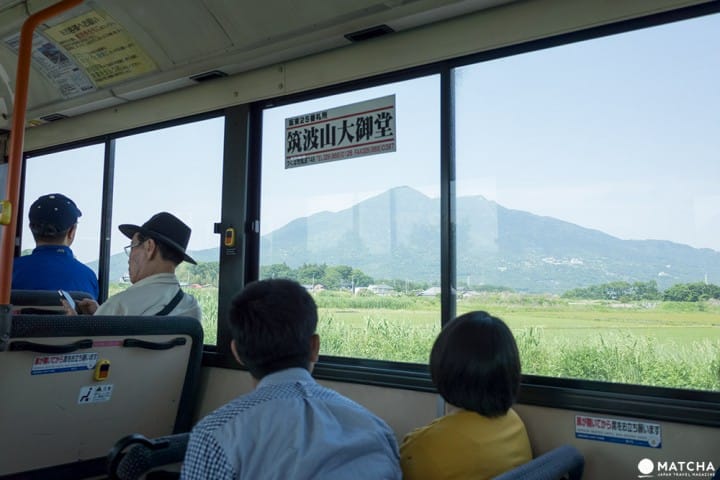 Inside the shuttle bus, a running commentary introduces passengers to Ibaraki prefecture's Tsukuba city and Mount Tsukuba. There's also commentary in English, so please enjoy the talk as you gaze out at the beautiful scenery of Mount Tsukuba and the town of Tsukuba.

The information presented in this article is based on the time it was written. Note that there may be changes in the merchandise, services, and prices that have occurred after this article was published. Please contact the facility or facilities in this article directly before visiting.