A Stay At SOWAKA, Kyoto - Immerse Yourself In Japanese Culture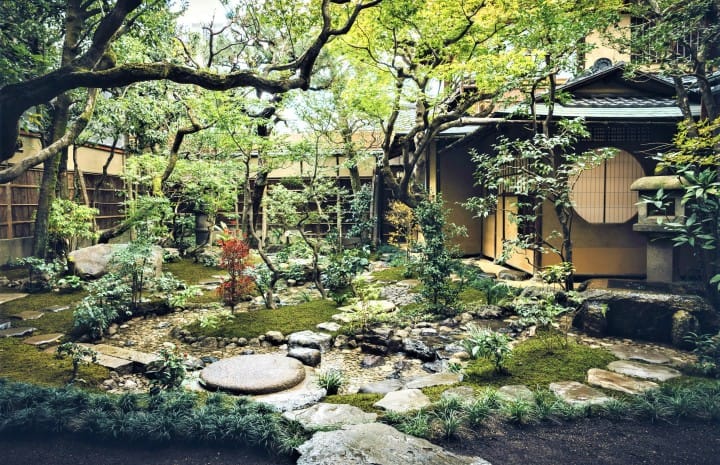 Spend your Kyoto trip at SOWAKA to experience traditional Japanese atmosphere in a comfortable, modern setting. Conveniently located in Gion, the district known for geisha, shrines, and temples, visitors can explore all that Kyoto has to offer.
SOWAKA - Tradition and Comfort in Gion, Kyoto
Picture courtesy of SOWAKA
It may be hard to decide where to stay when planning a trip to Kyoto, Japan's sprawling ancient capital. SOWAKA, a hotel located in Gion, the heart of Kyoto, allows its guests to experience Kyoto personally and in-depth while being in close proximity to public transportation.
Full English support is available for international guests.
Picture courtesy of SOWAKA
SOWAKA is a luxurious accommodation that began operations in November 2018 and opened an annex in March 2019. Located in a remodeled 100-year-old ryotei (traditional Japanese restaurant), visitors will feel the comfort and deep history of Kyoto with a stay here.
Experience Ancient Japan -
Take in the Culture of Tea Ceremonies and Art
Picture courtesy of SOWAKA
The name SOWAKA is Sanskrit for happiness. This sense of bliss is found everywhere in the hotel, as a prominent feature is suki, a term describing traditional Japanese culture and refinement meant to please guests.
Suki is associated with tea ceremonies and the arts. This dedication to preserving culture is coupled with modern comfort at SOWAKA.
SOWAKA is filled with exquisite details that will catch your attention at every corner. In addition, the hotel was created in collaboration with local craftspeople and artisans.
For example, each room offers products from one of Kyoto's most well-known skin and haircare companies, Kazurasei Shinise (pictured above, bottom-right). The products are made with organic Japanese camellia oil, renowned for its many health and beauty benefits. The adorable pouch can be taken home as a souvenir.
Tatami and Classic Japanese Comfort in the Main Building
The main building contains eleven rooms that range from 27 to 97 square meters. Originally constructed in the sukiya style, guests here can feel the history of these rooms in a contemporary setting.
Maisonette with Tea Ceremony Room
Picture courtesy of SOWAKA
A popular choice is the 60 square-meter Maisonette with Tea Ceremony Room, a two-story room. The main room features a comfortable bed and has a classic Japanese interior. The fusuma (sliding door) reveals the lush greenery outside.
The tea ceremony room with a window showing the inner garden. Picture courtesy of Sowaka
The maisonette has a cozy room with a low table and chairs ideal for sipping green tea, taking in the garden landscape, and even enjoying Japanese matcha. Guests desiring to experience Kyoto's tea ceremonies will be overjoyed with this room.
Deluxe Garden View
Picture courtesy of SOWAKA
The Deluxe Garden View is 54 square meters and faces the courtyard, giving the room a natural brightness from the sunlight and greenery. During your stay, you can appreciate the flora from the room at the table, or viewing it closer up by the paned windows.
Picture courtesy of SOWAKA
The changes in the flora allow guests to enjoy seasonal beauty any time of the year.
Stroll Through Kyoto Alleyways in the Annex
Picture courtesy of Sowaka
The annex, which opened in March 2019, features a modern and refreshing Japanese look. None of the rooms are adjacent to each other in the annex, creating a feeling of wandering through alleys and paths in Kyoto. This also makes each room very quiet, providing the utmost privacy.
Shown above is the Courtyard View with Balcony, a 45 square-meter room with a comfortable king-size bed and couch.
Picture courtesy of Sowaka
The room is longer than it is wide and faces the stunning courtyard with views from the bedroom and the bathtub. This is one of the most relaxing rooms in the annex. The tranquil view of the garden is sure to bring a sense of calm to those who stay here.
Picture courtesy of SOWAKA
Another recommended room is the Courtyard View Bath Higashiyama View. Higashiyama is a famous mountain located in eastern Kyoto. You can partially see its gentle slopes from the window in this room, and also from the spacious bathroom behind the bed. The wall mural adds an elegant touch to the minimalist interior.
Delightful Japanese Cuisine, and Drinks in an Intimate Setting
Picture courtesy of SOWAKA
La Bombance Gion is the restaurant at SOWAKA, offering modern Japanese cuisine that is visually stimulating and exquisite in taste. The restaurant has a location in Tokyo's Nishi Azabu area, which has been featured in Tokyo's Michelin Guide and is renowned internationally among gourmets.
The name "Bombance" means feast in French. Guests can do just that by tasting these inventive creations.
Pictured above is part of the course meal for dinner, featuring various ingredients from Kyoto, a region renowned for its rich agriculture and flavorful dishes. The menu changes each month, according to what is available. The kitchen will also accommodate guests with allergies or dietary restrictions if notified in advance.
Picture courtesy of SOWAKA
There is also a cozy bar open in the evenings where you can sip on local sake and other beverages. There are just four seats here, allowing for plenty of conversations between guests and the mixologist.
Special Tours and Nearby Activities
Picture from Kyoto's Cherry Blossoms - 15 Recommended Spots And Viewing Tips
SOWAKA is a place where guests can feel and experience the culture, craftsmanship, and community of Kyoto firsthand. The hotel also offers tours and special experiences for its guests.
For example, until April 26, 2019, visitors can reserve an exclusive visit to the Tairyu-Sanso Garden, a historical Japanese garden in Higashiyama that is normally closed to the public. This special 2-day plan runs during Golden Week, on April 28 or May 1. It includes a private viewing, breakfast, and free luggage delivery service within Kyoto.
For more information, please visit the official website of the facility.
Please note that tours and activities vary by time of year. Other events where guests can meet craftspeople and learn more about Kyoto's culture are often held. For information on events and activities, refer to the official website.
Picture from Kyoto's Gion Area - A Walking Tour
On their own, guests can enjoy exploring the streets of Gion, filled with shops and cafes. In addition, Yasaka Shrine, Kodaiji Temple, and Ryozen Kannon, a giant Buddha statue, are all within walking distance. The famous Kiyomizudera Temple is also nearby.
The serene surroundings and major sightseeing destinations make SOWAKA an ideal place for you to stay. In addition, Keihan Railway Gion Shijo and Hankyu Railway Kawaramachi Station are close by. Visitors have access to all that is in Kyoto within steps of their lodging.
Take in the Culture and Elegance of Kyoto
When traveling in Kyoto, one of the biggest influences on your trip is likely to be where you stay. Due to the spread-out nature of sightseeing locations, major shrines, and temples, it may be difficult to decide on a hotel or ryokan. The luxury and authentic Kyoto style of SOWAKA is bound to make your trip unforgettable.
Made in cooperation with SOWAKA and SUNNY SIDE UP Inc.

The information presented in this article is based on the time it was written. Note that there may be changes in the merchandise, services, and prices that have occurred after this article was published. Please contact the facility or facilities in this article directly before visiting.