Fuji Safari Park - Encounter Animals Up Close At Mt. Fuji's Base
Fuji Safari Park is a spacious, interactive zoo where animals roam free, located near Mt. Fuji. You can observe and interact with animals directly with Japan's most symbolic mountain in the background. Visit this safari park with family and friends for an unforgettable day of fun and learning.
Meet Animals at Fuji Safari Park
"What's a fun sightseeing spot that's also educational?"
While a museum might come to mind, don't forget about zoos!
For a zoo that combines entertainment and learning, we recommend visiting Fuji Safari Park: a safari-style zoo in Shizuoka Prefecture.
Opened in 1980, Fuji Safari Park spans 74 square meters in area. The exhibit area has two zones: the Safari and Fureai (Petting Zoo) Zone. The park also has multiple restaurants and a souvenir shop.
Here, you can encounter animals up close with Mt. Fuji in the background. We introduce what you can see and do at the park, along with the ever-changing seasonal scenery of Mt. Fuji.
Click here for Fuji Safari Park's official website!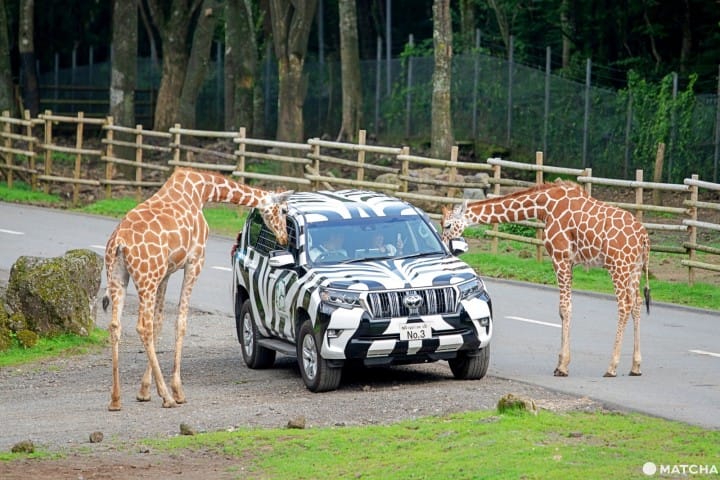 Drive Around the Safari Zone
Animals are roam free and unrestrained in the park's Safari Zone. You can drive your own car (car rentals are also permitted) through the zone. If you feel a bit uneasy about driving yourself, you can also board a bus operated by the park. Additionally, you can feed the animals from close quarters on this bus.
The Safari Zone is divided into the five respective zones: Bear, Lion, Cheetah, Tiger, and Elephant.
First, you'll pass through the Herbivorous Animal Zone, which is home to the giraffes, camels, blackbuck antelopes, and other species. Lastly, you'll head towards the Mountainous Herbivore Animal Zone where you'll find American bison, wapiti (elk), and mouflon sheep.
The striking Jungle Buses are designed in the shape of animal heads, like tigers and lions. These vehicles are great for those traveling with children.
There is also a Super Jungle Bus, which we highly recommend riding. This bus is equipped with a steel mesh that covers the vehicle's sides and ceiling, which makes it possible for visitors to watch animals clamber over the bus and feed them yourself.
The bus fare is 2,000 yen (with tax) per person (paid separately from admission) and operates around the Safari Zone for 60 minutes. Make your reservations on the official website (Japanese) or at the information desk in the park.
Click here to make your online reservation aboard the Super Jungle Bus! (Japanese)
When we rid on the Super Jungle Bus, a bear came and greeted us.
You can feed the animals through gaps in the mesh with tongs.
Some children on our bus even fed one of the lions. This activity is sure to create fun memories for kids and families.
Spot Wild Animals and Snap Photos on the Walking Safari!
The Walking Safari, a 2.5 km-course, is located just outside the Safari Zone. During the course, you can observe and feed animals while experiencing a peaceful stroll through the woods. The entire walking course takes around 90 to 120 minutes to complete and costs 500 yen (with tax). (*Paid separately from admission.)
You'll be walking through a nature-rich forest so be sure to wear appropriate clothing. However, the walk itself does not include hiking, so it won't be necessary for you to be heavily prepared.
A tall giraffe was what greeted us when we visited the park. (*Animals can be fed for a separate fee.)
The Walking Safari allows you to stop and observe your favorite animals for as long as you want. You can take as many photos as you wish, so we also recommend this course if you love taking pictures.
Some photographers even spend over two hours here snapping photos.
(The above picture of the lion was taken in the Walking Safari area.)
In the Elephant Zone, we spotted "underwater elephants" through the glass water tanks. You can see them swimming adorably as they splash around in the water (this was an exclusive summer event held from July to September).
As seen in this article, you can take as many pictures as you want of the gentle animals during the Walking Safari.
Interact with Friendly Animals in the Fureai Zone
In the Fureai Zone, visitors can enjoy touching, feeding, and closely interacting with animals. You'll find animals such as capybaras, red pandas, and kangaroos here. This zone also has separate areas with cats, dogs, and rabbits.
At the Fureai Zone, you can feed a variety of animals (the cost of food ranges between 100 and 500 yen (with tax) and varies by type of animal).
You can also feed animals from South America like capybaras and maras by hand.
There are, however, several animals that visitors are prohibited from touching and feeding by hand. Even if you're unable to interact with these animals, you can enjoy watching them from close proximity.
The Fureai Zone also offers other activities, including a meet-and-greet photoshoot with a lion cub.
This interactive photoshoot was held on the day we visited the park.
The baby lion was so adorable. It was chubby with a soft coat and felt like a giant kitten!
Click here for details on the Fureai Zone!
Only at Fuji Safari Park! Adorable Animals at the Base of Mt. Fuji
The best feature of Fuji Safari Park can be seen in the picture below! You can snap photos of both Mt. Fuji and adorable animals together in one frame.
Picture courtesy of Fuji Safari Park
Of course, you can see Mt. Fuji from other spots such as Lake Kawaguchi, Gotemba Outlets, inside the Shinkansen, or even from an observation deck in Tokyo. However, you can only capture a view of animals with Mt. Fuji in the background at Fuji Safari Park.
By the way, winter is the best season to see Mt. Fuji when the sky is the clearest.
Click here for Mt. Fuji viewpoints! (Japanese)
Cherry Blossoms, Fall Foliage, and Snow - Enjoy the Stunning Seasons
Whether it's the cherry blossoms in spring, autumn foliage in fall, or snow in the winter, Japan's nature draws in visitors year-round. At Fuji Safari Park, it's possible to enjoy the sight of animals and Mt. Fuji while experiencing the four seasons.
Picture courtesy of Fuji Safari Park
Cherry blossom trees bloom beautifully in the park during the spring. The first bloom in the park is in April, which occurs slightly after the blossoms in Tokyo. If you happen to miss the cherry blossoms in Tokyo, you can enjoy them and adorable animals during your visit.
Picture courtesy of Fuji Safari Park
On the other hand, the trees surrounding the park turn orange and red come fall. The lions will give a big yawn at the comfortable climate and pleasantly enjoy their afternoon naps.
Picture courtesy of Fuji Safari Park
As Fuji Safari Park is located at a high altitude, the temperature drops fairly low and receives heavy snowfall during wintertime. Sometimes you can even see animals playing around in the snow as pictured above.
Creative Dishes and Fun Souvenirs at Restaurants and Shops!
Next, we introduce the food and souvenirs available at Fuji Safari Park. The park houses a large variety of restaurants and food options.
A recommended dish is the striking Mt. Fuji Curry priced at 1,000 yen (with tax).
The meal features a mound of rice in the shape of Mt. Fuji, surrounded by five large ingredients inspired by the Fuji Five Lakes. There's also a hearty short rib that is meant to represent Fuji Safari Park. The curry's imaginative appearance and savory flavors make this a satisfying choice.
The souvenir shop offers original Fuji Safari Park snacks and goods as well as Shizuoka souvenirs.
Additionally, there are over 300 types of stuffed animals that make perfect plushie souvenirs. Find, buy, and take home a plushie of your favorite animal at the park!
Access to Fuji Safari Park
Picture courtesy of Fuji Safari Park
Fuji Safari Park is located far from any train station.
Using public transportation, the park is around 50 minutes by bus from Mishima Station. Mishima Station is also a stop on the Shinkansen line and some local train lines.
From Shinjuku Station, you can travel to the park by taking the express bus bound for Gotemba Station then transferring to a different bus and riding it for 30 minutes.
If you're traveling with a group or family, we suggest driving. For visitors with an international driver's license, how about renting a car?
Driving from Tokyo will take a while, but you'll be able to enjoy other sightseeing spots in the Mt. Fuji area.
You also have the option of taking the train to Mishima Station then renting a car in front of the station.
If you plan on driving your car rental into the Safari Zone, be sure to get automobile insurance at the time of your rental. By doing so, repair costs will be cheaper in the event that the animals in the Safari Zone end up damaging your car rental.
Click here for details on access!
A Place to Play, Take Photos, and Learn!
Many people might not think of heading to a zoo on their visit to Japan. But if you're at Fuji Safari Park, you can see and interact directly with animals with a stunning view of Mt. Fuji in the middle of nature.

There aren't many places where you can enjoy the outdoors and animals at once. Be sure to make a visit with friends and family for a day filled with fun and discovery.

Kogetsu
MATCHA photos by Chiaki Ono
Sponsored by Fuji Safari Park
Main image courtesy of Fuji Safari Park

Written by

The information presented in this article is based on the time it was written. Note that there may be changes in the merchandise, services, and prices that have occurred after this article was published. Please contact the facility or facilities in this article directly before visiting.