Accessible From Tokyo! Glamping In The Outdoors Of Gunma
Tomioka in Gunma Prefecture is filled with ways to experience the great outdoors. Myogi Green Hotel & Terrace is a glamping hotel on Mt. Myogi and makes an excellent location for relaxing and losing track of time. Why not try mastering the art of doing nothing, surrounded by nature in Japan?
A Relaxing Getaway in the Middle of Nature in Gunma
The Mt. Myogi area in Gunma Prefecture is where you can appreciate the grandeur of nature. Why not relax in a majestic place surrounded by nothing but beautiful outdoor scenery?
Here, you'll find the ultimate relaxation spot that will whisk away everyday fatigue. Keep your schedule blank when visiting.
Picturesque Glamping Near Karuizawa and Tokyo
Mt. Myogi, located in southwest Gunma, is known as one of "Three Most Scenic Places" (others are Yabakei Gorge, Oita, and Kankakei, Kagawa). The peak is famous for its rugged appearance lined with rocky walls and unusual shapes. In spring, the mountain comes alive with cherry blossoms and greenery. When autumn arrives, many visitors come to see the vivid foliage.
MATCHA writers traveled to Mt. Myogi to Myogi Green Hotel & Terrace, a place where you can enjoy its beauty all to yourself. It is accessible via car from Tokyo in two hours or Karuizawa in 45 minutes (both routes use the expressway).
Discover The Art of Doing Nothing
Myogi Green Hotel & Terrace first opened its doors in 2018. The accommodation has since teemed with regular visitors.
Its popularity lies in the luxury of doing nothing—an experience you can't have at a typical camping site. There are trendy tent-shaped guestrooms, high-quality meals made with local ingredients, and even a natural hot spring in the hotel's spacious campsite that is sprawling with natural grass. Here, you can lose track of your daily routine while spending time in nature.
Most spectacular is the picturesque Mt. Myogi right before your eyes. A two-day, one-night stay below the starry sky felt like we were living in a dream.
Day One: Camp Nestled in Nature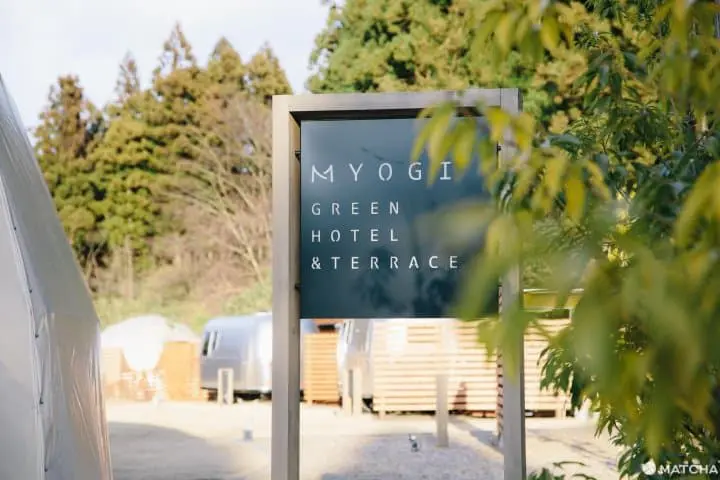 After driving through the mountains, we arrived at a forest path that led us to Myogi Green Hotel & Terrace.
We first checked in, which is done in the front building. The staff kindly gave us an explanation of the facility. While heading to the room, our anticipation grew as we wondered what kind of place we would be spending the night.
Comfy Tent-Shaped Accommodations
This is where we'll be staying in today. The room has a simple and cute dome-shaped design. It looks like a tent from the outside, making you wonder what it's like on the inside.
We entered the room feeling excited.
The room is stylish and spacious, with a tent shape and relaxing atmosphere.
The beds are also a comfortable size. We stayed in the Luxury Tent, a deluxe room that can accommodate up to four people. It also has a spectacular view of Mt. Myogi.
Enjoy! No Plans From Here on Out
We first set down our bags and shook off the fatigue from traveling. We were concerned about it being cold, but the room has a large air conditioner that kept the room cozy. After settling in, have a coffee and tea break with the complimentary refreshments.
You'll have the urge to listen to music while relaxing. The room is equipped with a Bluetooth speaker and WiFi, so guests have many ways to pleasantly unwind.
We opened the refrigerator and found beer as our welcome drinks!
The room also has towels and toothbrushes. An amenity set (*) with shampoo and shower gel from high-end brands is also included. Pajamas, however, are not provided. Please bring your own pair.
*Shampoo and shower gel are only available in the Luxury Tent.
After a short rest, head outside. You'll feel refreshed by the clear, crisp air and vast skies with no towering buildings in sight.
Take a deep breath and look around to see nature all around you. The natural gradation of faraway mountains and the surrounding trees will entertain your eyes for hours.
We admired Mt. Myogi from the terrace, rented out badminton equipment for a casual match, and returned for more relaxation in our room. The sun began to set as we savored the slow-moving time.
Is This Really Camping? Natural Hot Springs and a Luxury Dinner
As soon as the skies grew dark, it was time for dinner. Before the evening meal, soak in the bath and loosen up the tension in our bodies. Guests can dip into Myogi Green Hotel's nearby hot spring for free. Head to there by shuttle bus to bathe away built-up stress.
Additionally, there are clean shower facilities on the campsite. The showers are fully stocked with shampoo, conditioner, and body soap.
Female guests will receive natural skincare cosmetics upon checking in. Are you concerned about the cleanliness of the camp showers? Don't worry! These shower rooms are as clean as a hotel bathroom.
Once you've warmed up in the onsen, it's time for the much-anticipated dinner. Dinner is served in a pergola softly illuminated by a string of globe lights.
Using the outdoor cooking utensils provided, guests can cook meat, shrimp, and other delectable food. Pictured above are prawns and Joshu Beef: a wagyu beef brand from Gunma. You'll be able to taste the lean meat's delicious flavor with a simply seasoning. The experience of cooking your own dinner is one of the true charms of camping (*).
*An exclusive chef is provided with the Luxury Tent plan and will assist you with cooking the meat to perfection.
The meal will be served alongside other dishes as well. It's so decadent that you'll wonder if this is really camp food.
The menu this day was an assortment of appetizers including marinated smoked salmon and foie gras. There was also potpie, cheese fondue, and a baked white curry. This particular meal was served with an original crepe dessert.
Once the cooking preparations are done, it's time to say cheers with a drink and begin dinner. The menu changes seasonally and is determined by the head chef and hotel manager by trial-and-error. The local ingredients from Gunma give the dishes their delicious flavor. We enjoyed a wonderful full course meal grown in Gunma's nature.
Sip Drinks at the Bar and Under the Stars
After dinner, we went straight to the bar at the front building. To our surprise, the all-you-can-drink alcoholic beverages at the bar are free for hotel guests!
Enjoy a glass of beer or create your own original cocktail! You're more than welcome to bring the drinks back to your room or head out to the pergola. Drink to your heart's content, but be careful not to overindulge in your tasty nightcap.
Upon returning to the room, the sky above was glistening with stars. We went to lie down in the hammock and lost track of time while gazing at the starry heavens.
As the night continued, the wind gently blew the trees, making the branches and leaves flutter as if they were dancing. We wished to stay in this serene refuge forever.
After returning inside, we retired for the night and brainstormed tomorrow's itinerary. How about one more drink before heading to sleep?
Day Two: Wake Up and Watch the Sunrise
The next day, we woke up early and walked to the observation terrace. There, we saw Mt. Myogi lit up by the morning sunlight. At first, the mountains were pink, then gradually became red as if it were ablaze. The peaks beautifully changed in appearance with the passing of time. It is an unforgettable sight to witness.
As we lost track of time once more, our stomachs began to growl. It's a sign for breakfast to begin. We opened a box that arrived in the morning.
Inside, we found this picturesque breakfast spread!
The fresh eggs are for guests to cook. These fresh eggs from Gunma's free-range chickens have a brilliant hue.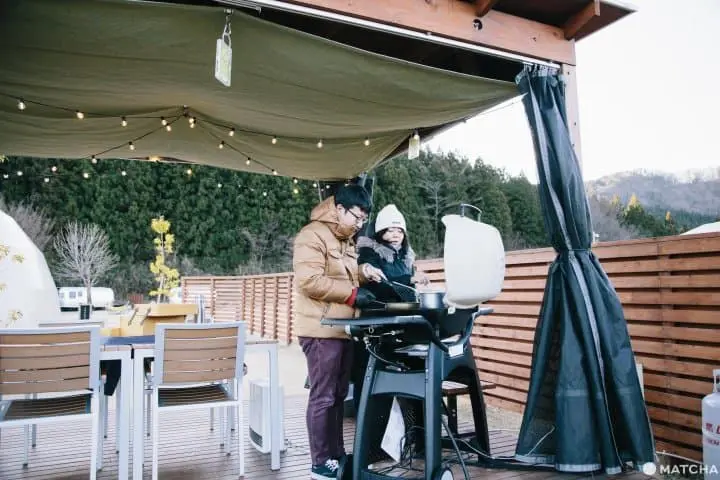 The refreshing morning air adds to the breakfast's exceptional taste. There's nothing like enjoying a meal outdoors.
After breakfast, we had a cup of coffee and admired Mt. Myogi for the last time. It's hard not to feel a bit reluctant when leaving as we enjoyed the peace and comfort of nature surrounding us so much. However, it was time to part with this luxurious time.
"We want to come back again!" we told the front desk as we checked out.
After one night, we understood why an employee told us, "Some guests make a reservation for the next year before heading home."
Now, what else is there to do around Mt. Myogi?
Sightseeing Spots Near Mt. Myogi
Myogi Shrine in spring. Photo by Pixta
Since we've come all the way to Myogi Green Hotel & Terrace, we want to visit some nearby sightseeing spots. On Mt. Myogi, you can experience the vibrant autumn foliage and other seasonal changes. During the sakura season, make your way to Sakura no Sato where 5,000 cherry blossom trees in 45 varieties bloom.
The brightly-decorated Myogi Shrine is another must-see destination. Additionally, the Tomioka Silk Mill, a UNESCO World Heritage Site, is just a 30-minute drive away. Retro alleys also surround the area of the silk mill.
Other sightseeing spots include Michi-no-Eki Myogi, which is stocked with local specialty products, and Momiji no Yu for those wanting to dip into more hot springs.
Karuizawa is only about a 45-minute drive away. We suggest shopping at the Karuizawa Prince Shopping Plaza.
Myogi Green Hotel & Terrace Room Rates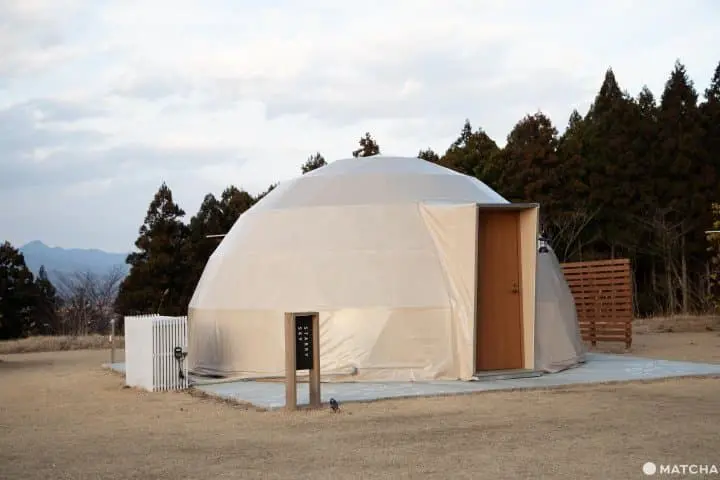 Standard Type
The accommodation fee for Myogi Green Hotel & Terrace begins at 16,000 yen per person for the Standard Tent. It is 21,000 yen per person (*) for the Luxury Tent.
While both room types have the same structure, the meals that are provided are different. The Luxury Tents also have views of Mt. Myogi.
*Both room types include two meals per night and free drinks. Rates fluctuate based on the day and number of guests.
Air Stream Room
Other room types include the Air Stream: a trailer-type room.
Suggested Clothing
When visiting, wear warm, protective clothing to keep you snug and warm in the winter. It's importnat to note that the hotel is located at a high elevation, too.
Bring down jackets and layers, like leggings and thermal underwear. A hat is also important in freezing temperatures. Wear at least two pairs of thick socks. Aside from the essentials, it would be a safe to bring leg warmers, boots, and other warm footwear alongside heat packs to insert in your shoes.
Enjoy a Glamping Getaway
If you've grown tired from the stresses and routine of every day, go on a glamping adventure underneath the picturesque sky in Gunma. You will have an unforgettable time while unwinding in the great outdoors!


Written by Mami Wakamatsu
Photos by Eri Miura
In cooperation with Myogi Green Hotel & Terrace, Accordia Golf Co., Ltd.
Sponsored by Tomioka City, Gunma Prefecture
The information presented in this article is based on the time it was written. Note that there may be changes in the merchandise, services, and prices that have occurred after this article was published. Please contact the facility or facilities in this article directly before visiting.