Tomioka - 5 Fun Things To Do In A Town Boasting A World Heritage Site
Tomioka City in Gunma is home to the Tomioka Silk Mill, a World Heritage Site. But its charm isn't limited to this historical treasure. Nearby, retro-style buildings and stylish cafes line the side streets, making Tomioka the perfect place for a stroll.
Explore the Tomioka Silk Mill Area
Mention Tomioka, Gunma Prefecture, and the Tomioka Silk Mill, a UNESCO World Heritage Site, often comes to mind. However, even after visiting, few people seem to spend time exploring the nearby areas.
What a shame, as this area boasts historic buildings, retro-style cafes, and everywhere you look, charming narrow side streets.
Even today—with the Heritage Site attracting worldwide attention—the residents go about their daily lives, just like their ancestors did many years ago.
Tomioka also has convenient access to the resort town of Karuizawa, so we recommend including both places on your itinerary.
Now let's go see some of the charms of Tomioka in detail.
1. Tomioka Silk Mill - So Many Things to See and Do!
If you come to Tomioka, you first need to visit the Tomioka Silk Mill, designated a world heritage site in 2014.
The group of buildings on this vast parcel of land laid the foundation for Japan's modern-day silk reeling industry. The locals have done an impressive job of preserving and maintaining the buildings, which look just as they did when first built in 1872.
Company Residence 76
But the Tomioka Silk Mill isn't the kind of place that only displays its history.
In April of 2019, Company Residence 76 (Shataku 76) was fully restored. These were living quarters for mill workers and their families. The buildings had a nagaya (*1)-like design and were built during the Taisho period (1912-1926).
Today, it's a space where visitors can see exhibits and have hands-on experiences.
*1 Nagaya is a traditional style of Japanese housing, also referred to as a 'row house'. A long, single building was walled off, creating several apartment units inside for families to live.
At Company Residence 76, there's an exhibit called Gallery of Daily Life. It gives visitors a glimpse into the Showa period (1926-1989) and the daily lives of the people who lived here and worked at the silk mill.
The building features an exhibition space that gives a close-up look at live silkworms, and also a hands-on space where visitors can actually come into contact with cocoons and raw silk material. Here, visitors can experience several activities including zaguri (silk reeling), a process in which silk thread is obtained from the cocoon using tools developed long ago.
Also, West Cocoon Warehouse, a national treasure that formerly served as a cocoon storehouse, was restored and will officially re-open in October of 2020. It now houses a display room for historical records and documents, as well as a multi-purpose hall.
As the Tomioka Silk Mill communicates its value as a cultural asset to future generations, visitors continue to sense its appeal and charm as a world heritage site where people gather.
2. Wander around Tomioka's Back Alleys
The Tomioka Silk Mill is now a tourist attraction, but it operated up until 1987.
Its designation as a World Heritage Site conjures up images from a long distant past, but people were actually working at the mill until quite recently. And even today, just like many years ago, right nearby, people are living their daily lives.
As you stroll around this town, you'll be attracted to explore its side streets.
There are nostalgic back alleys lined with old wooden homes, and shops that come alive at night. It's along streets like these that you'll find shops loved by locals for many generations.
This is Iriyama, a clothing store that opened in 1901. One after the other, local shoppers pour into this wooden structure that's been in operation for over a century.
"Right now we're in the middle of a bargain sale!" calls out shop manager Mr. Iriyama, as he busily tends to his customers.
The shop is bustling with customers, a festive mood that hasn't changed even after one hundred plus years in business.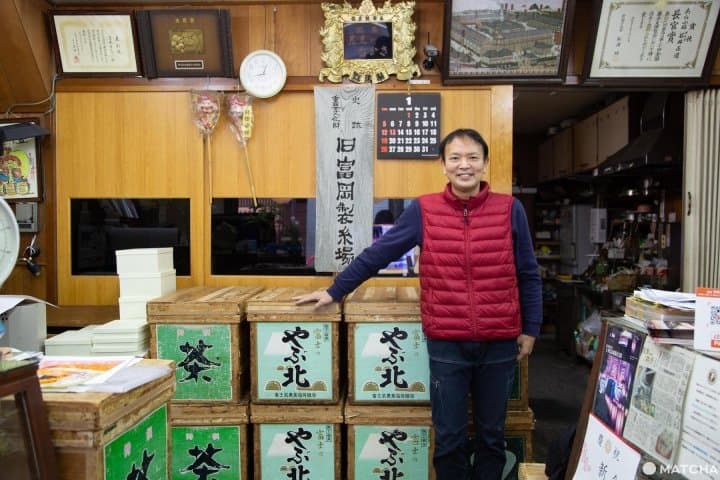 Next, down a side street, we found a rice cracker (senbei) shop with a quiet and relaxed appearance. Without hesitation, we stepped inside.
Mr. Ishii, the third-generation owner of Hanami Senbei, warmly greeted us.
We sampled one of the shop's popular items called Hanami no Silk Okaki. The soft and crispy texture was followed up by the aroma of shoyu (soy sauce).
Mr. Ishii commented, "We've added a silk protein called fibroin to the rice crackers." Just like the owner's smile, the flavor of the rice crackers is soft and gentle.
A visit to Iriyama feels like you're taking part in the daily life of Tomioka residents.
3. Kinu Kobo - Buy Ultimate Silk Soap as a Souvenir
As you leave through Tomioka Silk Mill's main gate, there's a shop directly in front.
This is Silk Studio Kinu Kobo, a specialty store where you can purchase silk products created using Tomioka's silk reeling techniques.
We were surprised to learn that nearby, this silk studio has their own factory where they raise silkworms and produce silk. Using this silk, they create original goods.
Their most popular product is Tomioka Silk Soap. It's a mini-size bar of soap (see above photo) that will last for up to one month for facial cleansing. Though it looks small, it really lathers up well.
Look at the size of this foam! When you actually try using the soap, the foam is silky soft and feels so good on your skin!
Not only will the foam's tiny bubbles lift off unwanted dirt and grime from your skin, but it also acts as a good moisturizer.
The soap doesn't contain any impurities or contaminants, aromatic compounds or foaming agents, making it ideal for children's skin as well.
At Kinu Kobo, visitors can even try weaving their very own coaster.
Shop staff will gently guide you through the process and your work of art will be ready in about fifteen to twenty minutes.
If there are openings available, you can have this hands-on experience the day you visit. But we recommend making a reservation ahead of time, either online or by phone. The cost for this class is 550 yen (after tax).
4. Take a Break at a Popular Shop
Cafe Drome - A Unique Atmosphere with a 150-Year History
When you walk from Kinu Kobo in the opposite direction of the silk mill, there's a sophisticated cafe with the air of an old private home. Before we knew it, we had opened the shop door and stepped inside.
This is Cafe Drome, a renovated row house (nagaya) that was built in 1875.
When we proceeded to the second floor, a whole new world spread out in front of us.
The traditional Japanese mud wall and wooden beams speak of the building's long history. There is also a glass door that rattles when the wind blows, and a tasteful ceiling made of exposed wood grain.
Amid the relaxed atmosphere of this Japanese house, the room is decorated with European-style furniture. This is a space where contrasting cultural elements harmonize with each other in a curious way.
Something you need to try is the purin sokoga miso (drink set is 1,000 yen).
On the bottom of this cute-looking pudding is a delectable homemade miso caramel sauce made with Tomioka-grown soybeans! The deep fragrance of the miso, the pudding's smooth texture, and richness make the perfect combination.
Enjoy relaxing with this original dessert in the unique cafe space.
Tsuchiya Uoten - Try Tomioka's Popular Products Here
We wanted to sample more of Tomioka's cuisine, so off we went to Tsuchiya Uoten, a shop that's been a local favorite for more than 160 years!
Here, you can pick up some delicious agemono, or deep-fried food.
The shop is known for two particular dishes. One is a Tomioka specialty called horumon age (60 yen including tax), which is chikuwa (a product made of fish paste) that's been dipped in a batter and deep-fried. The other one is konkatsu (120 yen including tax), in which konjac, a local Gunma product, is also put on a skewer and deep-fried.
Left: horumon age; right: konkatsu
The batter is fresh and crispy, and both items are actually quite filling!
The contrast of the springy texture of the konjac to the crunchy, freshly deep-fried batter is truly delicious.
For the konkatsu recipe, the konjac is boiled in a homemade sauce for 24 hours on the day before it's deep-fried and sold. That explains its outstanding flavor.
5. A Museum of Natural History with Fascinating Displays
Picture courtesy of Gunma Museum of Natural History
About ten minutes by car from the Tomioka Silk Mill is the Gunma Museum of Natural History, a popular place with many second-time visitors to Tomioka. This museum showcases exhibits on various themes, including ones on Earth, the history and origin of life, and Gunma's nature.
Picture courtesy of Gunma Museum of Natural History
The museum's permanent display features a complete dinosaur skeleton, and various plant and animal specimens. Visitors can learn more about the mysteries of life here.
Three times a year during the spring, summer, and fall, special exhibits are held. Being able to enjoy interesting displays throughout the year is just one reason why this museum is so popular.
Relax and Spend a Night in Tomioka
Without a storefront sign, Mabushiya looks like just another house that blends in with the neighborhood.
If you want to take your time and really enjoy exploring Tomioka, then it's best to stay one night in the town or in a nearby area.
Sitting quietly along a narrow back alley is Mabushiya, a traditional home that was converted into a guesthouse.
The interior of Mabushiya. Bottom right in photo: the owner Mr. Iriyama
Mabushiya's owner is the same Mr. Iriyama who manages the Iriyama clothing store, featured earlier in this article!
If you stay the night here, you'll be privy to all kinds of special information known only by the locals, including where the best eating and drinking establishments are located. So you'll be able to completely immerse yourself in Tomioka's daily life.
Nearby there's also Hotel Amuse (Japanese), and thirty minutes away by car you'll also find Myogi Green Hotel and Terrace, where you can experience glamping (*2) amidst the magnificent surrounding views.
*2 Glamping is glamorous camping. It refers to a style of camping with accommodations and facilities more luxurious than traditional camping. Sometimes also called boutique camping.
Access to Tomioka
It takes about two hours to get from Tokyo to Tomioka by car (via expressway).
When taking the Shinkansen from Tokyo Station, get off at Takasaki Station, then transfer to the Joshin Line and disembark at Joshu Tomioka Station. The one-way travel time is about two hours.
When traveling by car or rent-a-car from Tomioka, Karuizawa is 45 minutes away (via expressway), and the Mt. Myogi area is just 30 minutes away (via public highway).
Combining one or both of these popular destinations with Tomioka is a great way to enjoy this part of Japan!
Find Your Way in Tomioka
Home to a World Heritage Site, Tomioka is a special town with a retro-style atmosphere where you can come into contact with the daily lives of local citizens.
Mr. Ishii (Hanami Senbei), whom we introduced earlier in this article, said it best. "In a good kind of way, many people in Tomioka are somewhat nosy (osekkai). When they see someone having difficulty with something, without thinking, they'll soon go up to the person and offer their assistance."
Even during her visit, the writer of this article felt the warmth of Tomioka residents on many occasions.
While you take your time and enjoy exploring Tomioka on foot, why not go and enjoy some new encounters of your own?
Written by Mami Wakamatsu
Photos by Eri Miura
In cooperation with Tomioka Silk Mill, Hanami Senbei, Iriyama, Kinu Kobo, Cafe Drome, Tsuchiya Uoten, Mabushiya
Sponsored by Tomioka City
The information presented in this article is based on the time it was written. Note that there may be changes in the merchandise, services, and prices that have occurred after this article was published. Please contact the facility or facilities in this article directly before visiting.