Japan Cultural Expo 2020: Experience Japan's Traditions Up-Close
Japan Cultural Expo, held since 2019 until 2021, is a chance to learn firsthand about Japanese traditions and arts. We introduce the highlights of this event, such as Ainu culture, swordsmithing workshops, traditional performing arts, art festivals, Okinawan culture, and more!
The Beauty and Spirit of Tradition at Japan Cultural Expo
Japan has a ten-thousand-year history of reverence towards nature that remains represented culturally in various art forms such as sculpture, painting, and performing arts.
Japan Cultural Expo is a large scale event held at several locations in the country on the occasion of the 2020 Tokyo Olympics and Paralympics. Visitors can enjoy art exhibitions, stage performances, and festivals themed around Humanity and Nature in Japan.
This is a valuable opportunity to experience Japanese aesthetics, from traditional ukiyo-e and kimono to media arts, fashion, and local performing arts supporting post-disaster recovery.
In this article, we introduce selected events that show the traditional cultures of various regions providing opportunities to interact and learn on a deeper level about Japan.
Japan Cultural Expo official website: https://japanculturalexpo.bunka.go.jp/en/
*The dates for the events presented here may change or be postponed. Please confirm on each official website for details.
1. Interact with Ainu Culture at Upopoy
Imayonte. Picture courtesy of The Foundation for Ainu Culture
The Ainu are an indigenous people that have inhabited Hokkaido and the northern islands of Japan. Coexisting with the natural environment in Hokkaido developed this group's special culture, reflected in their traditional music, dances, rituals, their language, and in their clothing designs.
Traditional Ainu dance. Picture courtesy of The Foundation for Ainu Culture
The Ainu people have cultivated a unique, rich culture, passed on via oral tradition, as there is no written Ainu language. There have been few opportunities until now to learn about their culture in detail.
Learn About Ainu Culture at Upopoy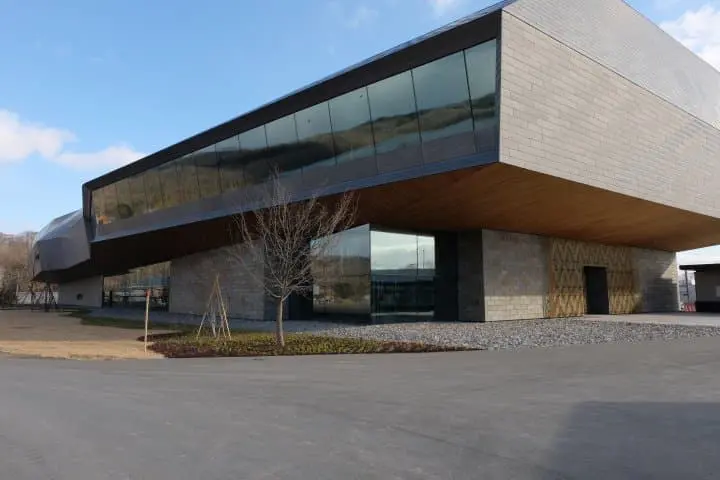 Upopoy. Picture courtesy of The Foundation for Ainu Culture
Upopoy, or the National Ainu Museum and Park, opens April 24, 2020. The facility hopes to preserve and revitalize this rare culture through its exhibits.
The facility's nickname, "Upopoy," is an Ainu term meaning "singing in a large group." The site is located on a lakeshore surrounded by lush nature and provides various activities to experience and learn about Ainu culture.
Chise. Picture courtesy of The Foundation for Ainu Culture
In addition, traditional Ainu houses called chise have also been reconstructed on the premise, so it feels like you're visiting an actual Ainu village!
Visitors can also enjoy watching Ainu traditional dancing, registered as UNESCO Intangible Cultural Heritage.
Dress up in traditional Ainu attire. Picture courtesy of The Foundation for Ainu Culture
You can also play musical instruments, like the mukkuri (bamboo mouth harp) and tonkori (5-stringed instrument), wear traditional clothes, and even eat Ainu food. In other words, you get to experience the culture with all five senses!
Learning about Ainu culture and its deep ties to nature will make your time in Hokkaido even more exciting.

2. Learn Authentic Katana Swordsmithing at Asano Kajiya
Picture courtesy of Asano Kajiya
It is said that the first original katana sword was made over one thousand years ago. The katana was initially created as a tool of war, but over the years it has been passed down as a work of art that represents Japanese culture.
Picture courtesy of Asano Kajiya
A craftsperson who creates katana swords is called a katana kaji (swordsmith). They heat up the steel used to make the sword, hammer it out, and grind it in a complex process to make a single katana.
Picture courtesy of Asano Kajiya
Asano Kajiya in Gifu, opened by swordsmith Taro Asano, who specializes in katana and kitchen knifes, hosts a 7-hour knife workshop over one day where you can create your own blade.
At Asano Kajiya, visitors can learn the traditional techniques used to make katanas from Mr. Asano himself. Because he also teaches in English, his workshop is very popular with travelers from abroad.
Picture courtesy of Asano Kajiya
Not only are the katanas stunning to look at, but the beauty resulting from the fire and forging process is an experience that can only be appreciated by those who participate in the workshop!
Workshop fee: 31,500 yen per person (with a group of 4) *The fee includes lunch.
Time period: All year long
3. Experience Japan's Traditional Performing Arts
Bunraku "Honcho Nijushi-ko" Okuniwa Kitsunebi no Dan (Kanjuro Kiritake) *The photo is a reproduction.
Japan has five traditional performing arts registered by UNESCO as Intangible Cultural Heritage: kabuki, bunraku (puppet theater), noh plays, gagaku (court music), and kumi odori (Ryukyuan dancing). They each have a long history, with kabuki dating back about 400 years, and gagaku around 1,200 years, showing the long tradition and significance of these performances.
The skilled techniques for each of these traditional performing arts have been passed down from generation to generation, and continue to have a major influence on the latest music and culture in Japan.
Left photo: Bugaku dance "Genjoraku" (*The photo is a reproduction). Right photo: Hannya Noh mask from the collection of the National Noh Theater.
There are usually not that many opportunities to readily come in contact with these traditional performing arts. However, a performance art exhibition starting at the Tokyo National Museum in March will present each of the programs in an easy to understand way using real stages and authentic costumes.
Oshikuma art "Onoe Kikugoro V as the spirit of the spider," 1897, owned by the National Theater of Japan
In addition, during the exhibition, demonstrations and public talks with professional performers will be periodically held, allowing more people, including international visitors and children, to experience Japan's traditional performing arts.
There is also an area where those in attendance can personally experience digital art of kumadori makeup used on actors in kabuki. This event is a chance to have fun experiencing traditional Japanese performing arts.
Official website: https://tsumugu.yomiuri.co.jp/dentou2020/en.html

4. Go to Art Festivals in Japan! Two Art Events to Visit
There are many art festivals that exhibit the characteristics and culture of a local region throughout Japan, such as the Setouchi Triennale which has over 1 million visitors from all over the world.
If you are going to be visiting Japan, how about planning your trip to come during the art festival season? Here are two art festivals to keep your eye on in 2020!
Northern Alps International Art Festival
Tree Photo, by wang hua
Omachi, Nagano serves as the stage for an art festival in a rural region with a commanding view of Japan's Northern Alps. Fram Kitagawa, who has been involved with the Setouchi Triennale, is the festival director. 2020 will mark the second time this art festival is held.
41 groups of artists participate from 14 countries and exhibit art pieces that blend seamlessly with the beautiful water, trees, land, and sky of the Northern Alps.
Official website: https://shinano-omachi.jp/
Ichihara Art × Mix 2020
One of the venues: Tsukide Kosha
Ichihara, located in Chiba, is about an hour away by train from central Tokyo. It is a beautiful city that still retains its rugged landscape and woodlands. This art festival is held next to the popular Kominato Railway sightseeing train, so it's also fun to go around to see the art while riding the railway.
There are also unique programs involving local Ichihara food and its retro buildings. Enjoy this sensory-immersive art festival!
Official website: https://ichihara-artmix.jp/
5. View Okinawa's Performing Arts at the National Theater Okinawa
Kumi odori dance "Shushin Kaneiri." Picture courtesy of National Theater Okinawa
Okinawa used to be called the Ryukyu Kingdom, incorporating cultural elements from surrounding countries like China and Japan to create a unique culture. Kumi odori, designated by UNESCO as Intangible Cultural Heritage, originated in 1719 as entertainment for envoys from China who visited the Ryukyu Kingdom.
Kumi odori is a traditional art form shaped by the tropical environment, lifestyle, and culture passed down since the days of the Ryukyu Kingdom. It was also influenced by the arts in China and Japan, which combined with local stories, dialect, music, dance, and costumes.
Kumi odori dance "Mekarushi." Picture courtesy of National Theater Okinawa
In 2019, kumi odori was performed on an outdoor stage recreated to resemble the one used 300 years ago for the first performance. The art has received wide attention domestically and abroad, as it has been shown in Japanese theaters in Paris and performed on stages throughout Japan.
Performance recreated outside of the first dance. Picture courtesy of National Theater Okinawa
The National Theater Okinawa works to promote and preserve Okinawan traditional performing arts and act as a place of exchange in the Asian Pacific region, showcasing Okinawa's unique history and geography. In January 2004, the theater opened in Urasoe City.
The southeast side of the theater. Picture courtesy of National Theater Okinawa
In addition to kumi odori, the exhibits also feature Okinawan and Asian-Pacific arts such as Ryukyu dancing (an Important Intangible Cultural Asset), and sanshin (three-stringed instrument) performances.
On April 25, 2020, there will be a performance of "Kenbo Sansen no Maki." This is a Chinese legend about Mencius and his mother, based in the Ryukyu Islands. It's a rare chance to watch this play.
Visitors can also enjoy an exhibition on Ryukyu dancing by young performers called wakashu odori. It is popular and sure to please all audiences with its vibrant and fresh interpretation.
Official website: https://www.nt-okinawa.or.jp/performance-info/detail?performance_id=644
Rediscover Japan at the Japan Cultural Expo
Japan has unique cultures that have taken root in each region and developed surrounded by the ocean and mountains. There are so many new interesting things to discover every time you visit Japan. Explore this diversity by visiting each of the areas where the Japan Cultural Expo is being held, where you can learn about new, fascinating aspects of Japan.

View, listen, touch, and experience beauty and art that have been passed down throughout the history of Japan.

Japan Cultural Expo official website: https://japanculturalexpo.bunka.go.jp/en/

Written by ISHIGAKI KUMIKO
Sponsored by the Agency for Cultural Affairs and Japan Arts Council
Main image courtesy of Agency for Cultural Affairs of Japan and Japan Arts Council

 

The information presented in this article is based on the time it was written. Note that there may be changes in the merchandise, services, and prices that have occurred after this article was published. Please contact the facility or facilities in this article directly before visiting.